There are restaurants weaving together the whole package, a melange of atmosphere, service and most importantly, memorable food. Sometimes there's the overarching solidity of a menu… other times, one walks away dreaming about that one specific item. Here are four such dishes from four locations, worth going out of your way for.
MARCELLA'S, Dogpatch (1099 Tennessee St. between 20th & 22nd, 415-920-2225)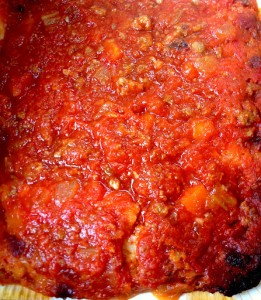 Lasgana… there are few foods as evocative of my childhood. Being Sicilian, my mother did pasta best. Her lasagna was always of the Bolognese kind, bubbling over with cheese, meat and perfect red sauce. Until now, Gaspare's in the Outer Richmond is typically where I'd get my old school lasagna fix. Since May, Dogpatch now has a lasagneria, of all fantastic things. Marcella's Lasagneria & Cucina is a humble corner shop selling Chef Massimo's aioli spreads/dips (like black truffle or spicy Chardonnay) and other food products produced on premises, as well as paninis, soups, and pizzas for eating in or taking out. Though pizzas aren't necessarily the strong point, who needs pizzas when you have six kinds of lasagna to choose from?
Jovial Massimo hails from Italy's Abruzzo region, regaling with stories of chef days in Italy (I'm charmed by the 1980's-looking photo of him above the counter in chef's hat with a glass of wine) or about his family, who clearly play a big part in the business. The shop is named after his daughter while his friendly son sometimes works the counter (note: currently they are only open Monday-Friday, 11:30am – 7pm). On a typical visit, lasagna options are butternut squash, bolognese, wild mushroom, spicy eggplant, spicy sausage and a pesto zucchini. Buying a whole lasagna for a family birthday (yes, it's celebratory-good), I thank Chef Massimo for making each available by the slice ($8.50). I'll bring home three slices for dinner, reveling in savory-sweet red sauce and ultra-thin pasta sheets redolent but not overcome with ricotta and mozzarella.
All recipes I've had or made of butternut squash lasagna have been white so that the squash shines. Here it still does, while benefiting from a bit of red sauce. Earthy wild mushroom, spicy eggplant or pesto ricotta are winning lasagna offerings, though in reference to my upbringing – and because meaty lasagna is the ultimate – I like classic Bolognese best (the Italian sausage lasagna is ideal for larger chunks of meat). Massimo corners balance: though layering each lasagna with bechamel sauce and fillings, there's not too much of any one ingredient. The entirety melts and dissolves soft in your mouth, as heartwarming as your Italian mama's cooking… or the one you dreamed of.
BLACKWOOD, Marina (2150 Chestnut St. between Steiner & Pierce, 415-931-9663)
Blackwood is an unusual Marina restaurant. There are not many Thai joints in the neighborhood to begin with (though Yukol Place has been keeping it real for years), and certainly not one like this. High ceilings and shades of black and grey set a chic tone, while non-traditional dishes like mushroom egg rolls and unfortunately named Marina Strips – Wagyu beef strips wrapped in baby hearts of palm – fill the menu. Many dishes are larger, more artfully arranged, versions of what you'd find in most Thai restaurants, like papaya salad or Pad See Ew (spelled Pad See You). Their Thai fusion label is apparent in a Thai Wagyu burger ($12) on brioche loaded with a Thai salad of cucumber, carrot, cilantro, sesame, or in generous, sizzling stone pots ($14-16), akin to Koran bibimbap, filled with rice, veggies, meat of choice (I like crispy red snapper in plum dressing) and topped with a fried egg.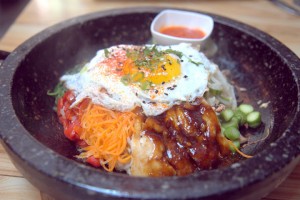 However, the one destination item is merely a $5 add-on to a breakfast platter (served daily, 8am-4pm) – and what an add-on! Though only open since June, Blackwood's Millionaire's Bacon has already been named on the Destination America's United States of Food on the Discovery Channel. Two hefty strips of bacon are dense, shimmery, chewy beauties, caramelized and slightly sweet and smoky. Despite bacon burn-out over the past decade, with bacon gracing every dessert and dish possible, these juicy strips renew and refresh the love, reminiscent of Southern ham in gourmet jerky-like form.

BLUESTEM BRASSERIE, Downtown/Union Square (One Yerba Buena Lane between 3rd & 4th Sts., 415-547-1111)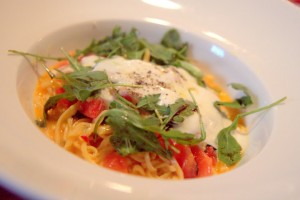 Bluestem Brasserie is not your typical downtown shopping break. In fact, it has improved since opening in summer 2011, honing in on its menu, house charcuterie and whole-animal butchery practices so no part goes to waste. With new Executive Chef Francis Hogan there is fresh life in the space frequented by tourists and locals shopping along Market Street or the business, tech, Moscone Center crowd. While wine on tap, grass-fed beef, and whole-animal practices are common in SF at large, being centrally situated downtown between SoMa and Union Square, Bluestem is exposing a range of clientele who otherwise would not be exposed to just how good sustainability can taste.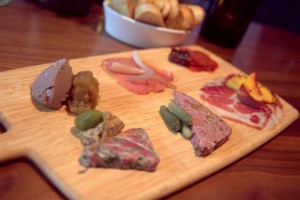 Besides satisfying house pates (on the charcuterie platter) of pork, pistachio and the like, a whole roasted branzino ($29) is flaky, perked up with roasted summer chilis (or your choice of side), while grass-fed 6 oz. filet ($31) or 12 oz. ribeye ($34) steaks are appropriately tender, medium rare, with choice of sauce ($3.75), like bourbon espresso or horseradish-roasted garlic cream.
The dish I found myself trekking back for whether at lunch or dinner is Calabrian chile spaghettini ($19). Though I would prefer some heat from the chiles (I detected none), the heaping bowl of pasta is topped with Early Girl tomatoes, arugula and basil, the pièce de résistance being melted burrata flowing over the pasta in lush waves. A gentle zesting of lemon rind perfects it.
Dessert ($9.50) is no afterthought. While the Peaches & Herb 'Reunited' Sundae was a layered summer treat, it's a jar filled with mini-cookies baked in-house, from lemon sugar to peanut butter, that made me feel like a kid again. There were so many cookies, I finished the rest for breakfast the next day with coffee.
EPIC ROASTHOUSE, Embarcadero (369 The Embarcadero between Folsom and Harrison, 415-369-9955)
With those stunning Bay Bridge views and a newly opened patio, a sunny lunch or brunch at Epic Roasthouse celebrates the beauty of San Francisco with a masculine-chic, light-filled dining room appropriately striking as the vantage point for such a vista. While historically their steaks were not among my favorites, Epic has a number of strong dishes and sides, though its most crave-worthy item has evolved into one of the best upscale burgers in the city. While $20 is steep, the Explosion Burger ($20) is more than one person can finish, changing over time to become an elaborate "explosion" of burger stuffed with cheese in the middle of the patty.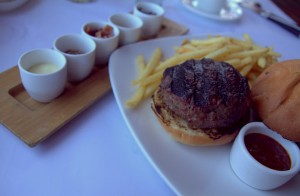 Whether morbier or aged cheddar, the giant patty oozes cheese, on a toasted, soft bun accompanied by a wooden tray of toppings in little cups, from a corn salad to just-grilled bacon bits, and an array of house pickles. The main issue I've had with steaks here is receiving them overcooke, even medium well, when I requested medium rare, but the burger comes appropriately medium rare, pink, drizzling with meaty juices. I cannot possibly finish one of these alongside crispy frites… but I am happy to try.