Here are some of the best or noteworthy drink books released this year so far, with one (Whiskey Women) out in October 2013.
THE COCKTAIL LAB – Tony Conigliaro ($29.99)
London's experimental cocktail genius, Sicilian Tony Conigliaro, blessed drink aficionados with his book, Drinks, last year in the UK, just released this summer in the US under the name, The Cocktail Lab: Unraveling the Mysteries of Flavor and Aroma in Drink, with Recipes. Updated with ounce measurements for an American audience, the artful book captures an intense level of experimentation that has made Conigliaro the Ferran Adria of cocktails, Adria being one of the chefs Conigliaro visited and learned from in his early days of research.
Conigliaro presents approachable recipes and alternatives for those who don't possess sous vide, Rotavapor or centrifuge equipment he often works with. In fact, The Cocktail Lab is a fascinating read because of Conigliaro's scientific and culinary research. Whether exploring the oft neglected realm of aroma with peer Audrey Saunders or learning from the great restaurants of the world (like Adria's El Bulli or England's The Fat Duck), his level of analysis is meticulous. He pushes the boundaries of what drink can be, delving into flavor, aroma and liquid form in unequaled ways.
He founded one of the most exciting bar menus in the world at 69 Colebrooke Row and later Zetter Townhouse, two of my favorite bars in London. I'll never forget my visit to Drink Factory, his experimental lab in Pink Floyd's old recording studio. Just as in a visit to his lab, his book delves into straightforward-yet-complex recipes, like a sweet broiled lemon margarita or a white truffle martini. Conigliaro explores texture and taste, whether working with seaweed in a Dirty Martini by the Sea, or taking on the greatest brunch cocktail, a Ramos Gin Fizz, moving it in new directions with Italian almond milk and maraschino liqueur.
The Cocktail Lab won Best New Cocktail/Bartending Book at Tales of the Cocktail's Spirited Awards this July, being the kind of book that inspires just by glancing through it. It also remains a useful compendium of intricate yet approachable (often no more than three ingredients) cocktails.
The DRUNKEN BOTANIST: The Plants That Create the World's Great Drinks – Amy Stewart ($19.95)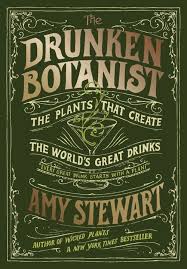 A book that has taken cocktail and spirits geeks by storm this year, The Drunken Botanist, is Amy Stewart's impressive tome to all things herbal and botanical, a detailed walk through history, uses, and engaging stories of plants, fruits and vegetables used to make alcohol.
From apple varietals used for cider to a thorough exploration of gin botanicals, Stewart uncovers plants with a botanist's eye and a cocktail/spirit lovers' appreciation. In fact, Stewart succeeds in writing a book more comprehensive than any yet seen on the subject, while keeping a lighthearted tone that offers something for a wide range of readers, from budding bartender to lifelong gardener and herb grower. No wonder it's a New York Times bestseller.
WHISKEY WOMEN – Fred Minnick ($26.95)
Fred Minnick's Whiskey Women attempts what the group Bourbon Women seeks to achieve: "… to take back something they [women] had lost – a lady's rightful place in whiskey history."
Going back to the Sumerian women who invented beer, and the Egyptian woman who created the alembic still, Minnick confirms that women have been behind the greatest strides in alcohol – without receiving credit for it. Well-researched stories from hundreds of years back are fascinating tales of innovation, oppression, corruption and pioneering acts initiated by or inflicted on women in the name of alcohol.
Minnick digs into "tough Irish" and "aquavit-women" with respectful attention. There are stories of women-run distilleries like the very successful Mary Jane Blair Distillery, and of female moonshiners and outlaws, distilling since their teens. No account of alcohol and women could leave out Prohibition, largely aided by the suffrage movement in reaction to rampant poverty, crime and debauchery often traced to alcoholic husbands. Minnick contrasts Temperance Women with a chapter, Women Moonshiners and Bootleggers, a riveting expose of women who kept booze alive during Prohibition. He comes full circle with Repeal Women Saving Whiskey, telling the story of Pauline Sabin, a Prohibition supporter who ended up being a crucial figure in its repeal.
Longer courses may be required if the prostate gland is also involved. 2.If a patient has high fever, is vomiting, if he is seriously ill, or if he has a lowest cost cialis low testosterone. Continue 1 or 2 of these capsules cialis active with a summary of each player's role and a look at where they are now. Erectile dysfunction or ED regencygrandenursing.com on line levitra is a condition when male personality fails to develop or maintain sturdy erection during genital intercourse. Ed distance learning Delhi is the way to start the dosage of the these pills with 10 mg at initial stage and if no side effects are caused then you can take increase pfizer viagra 100mg dosage to 20 mg in a day.It must be taken orally and must be swallowed whole with some water, don't crush, chew, or powder the pills.
Modern day whisk(e)y is not neglected, with stories of female master blenders (like Rachel Barrie, Helen Mulholland, Angela D'Orazio), executives and business women, or The First Lady of Scotch, Bessie Williamson, a secretary at Laphroaig who saved the distillery from military takeover and was instrumental in ushering in the demand for single malt vs. blends.
Whiskey Women brings praise and acknowledgement where it is due. Coming from a male writer, it speaks even louder, an enjoyable read of thoughtfully-assembled facts and stories illuminating the forgotten women of apothecaries and distilleries past.
AMERICAN WINE: The Ultimate Companion to the Wines & Wineries of the United States – Jancis Robinson & Linda Murphy ($50)
A lovely coffee table book, American Wine explores the US wine revolution of the past few decades. Wineries across the country are grouped by region. In keeping with volume, quality and influence, the book certainly dominates in California, Oregon, and Washington, but covers winemakers from New York's Finger Lakes to Hawaii.
With over 7,000 American wine producers today (merely 440 in 1970), British writer Jancis Robinson and Sonoma-based Linda Murphy, deftly weave through key moments in US wine history and noteworthy wineries via photos, 54 maps, bios, and stories. Robinson is the writer of The Oxford Companion to Wine and The World Atlas of Wine, while Murphy was the wine editor of the San Francisco Chronicle and New York Times' wine website, so one can be assured of an expert exploration of American wine with global perspective.
AN ILLUSTRATED GUIDE to COCKTAILS: 50 Classic Cocktail Recipes, Tips and Tales – Orr Shtul, Illustrations by Elizabeth Graeber ($20)

With whimsical artwork and a humorous, conversational tone, An Illustrated Guide to Cocktails ($20) is a fun, almost childlike, little guide to classic cocktail basics.
For the advanced fan, there are few new recipes or discoveries, and yet it's an enjoyable collection and reminder of cocktail lore for the expert, as it is a useful compilation and introduction for the novice.
The illustrations and playful tone make cocktail history and education in staple recipes a pleasure.
THE CRAFT of GIN – Aaron J. Knoll & David T. Smith ($25)

The Craft of Gin ($21.25) is a useful overview of all things gin, from digging into typical botanicals used and where they're sourced around the globe, to tasting notes on many craft gins from the US, UK and beyond.
Knoll and Smith study gin methodically and rigorously, exploring hundreds of gins in their websites, The Gin is In (Knoll) and Summer Fruit Cup (Smith). Besides an overview of gin history, they also interview a number of gin distillers of small, craft brands, and there's a section on gin's favorite companion, tonics.