Where Tokyo is expanse, towers, lights and endless depth, Kyoto is the stillness of gardens and temples bearing a silence unlike anywhere else, encompassing and lush. It's the charm of an ancient village, shockingly intact, yet with the offerings or range of a mid-size city. Amsterdam meets Japan in Kyoto's canals (particularly magical at night) and its temples, gardens and nature make for many a sacred space in the city (my coverage on Kyoto bars — from sake to spirits — here).
Kaiseki, a traditional multi-course Japanese dinner of artful, seasonal, local proportions — often going beyond many fine dining destinations in effort, skill and nuance — reaches its pinnacle in Kyoto but there are plenty of culinary gems in every price range, as in Tokyo without the sheer numbers, as well as stellar drink and coffee spots. A couple experiences are among the best I've had anywhere in the world.
One of the best ways to experience Kyoto is sampling an array of bites from the legendary Nishiki Market, walking through the stalls and trying everything from superb mochi to sushi on a stick, tofu doughnuts to spears of grilled sardines. I recommend hitting the market towards the end of day when tourists have waned, locals come out and shopkeepers are available to chat (if you speak Japanese) or at least offer tastes through various items.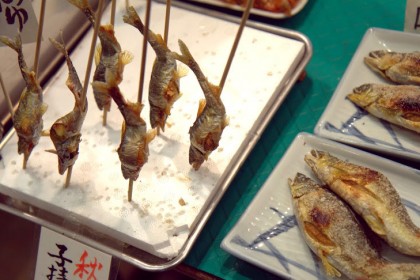 It's a visual and edible wonderland — and quite an education. On the high price end of the spectrum, the basement of a Japanese depato (department store) is like stepping back in time with white gloved elevator attendants, high end foods of every kind (from chocolate to sushi) and produce so pristine it's wrapped in fancy paper and comes at a cost.
Another regional Kyoto specialty I had the privilege of discovering is marbled ohmi-gyu beef. It was explained to me by locals that ohmi posses the quality of kobe beef from nearby district, Kobe, but without the globally-known name so at a better price. Try it where you can. It's silky, decadent, pristine and certainly more affordable than kobe.
And whatever you do, order ramen from a vending machine. The experience is almost hilarious in its efficiency, kitsch and insistent on fast dining alone. It is quintessential Japan and unforgettable, even if there is more exquisite ramen elsewhere.
Ichiran (try their tonkotsu ramen and on the machine choose every degree from heat/spice level, noodle portion to oil/texture) is one of the longtime favorites in Japan with multiple locations and their famous spicy secret "red sauce" which they sell by the bottle.
You eat in an available stall when a light pops up on a 70's-looking wall graph, alerting staff that particular stall is free. You're escorted to your station to eat sectioned-off from other diners undisturbed, while servers hand orders through little windows in front of you, bow and shut the window. Only in Japan.
Coffee/Breakfast
% Arabica
% Arabica may be the most gorgeous third wave coffee shop I've ever seen in the world (and they have a second location in the notable coffee scene of Hong Kong). It's understated yet expensive: sleek, clean lines, modern, all white walls and light woods. The custom espresso machine sporting their % Arabica logo by Slayer is a work of an art itself.
Only open a few weeks when I stumbled across % Arabica off a narrow cobblestone road leading to yet another Kyoto temple, the space was already filled with a local community of Americans, Europeans and the like. We lingered a couple hours making friends who we ended up touring spending the day with. Besides engaged, warm service, the coffee is impeccably prepared and bracing as I hoped, from cold brew to cappuccino.
Café Bibliotic Hello! and The Bakery

Café Bibliotic Hello! became a regular stop for me in Kyoto. The glass walled, mid-century-style building is flanked by palm trees, evoking a Hawaii-meets-Japan spirit — by way of Sweden and mid-century vintage furniture.
Airy, high ceilings, layers of wood and glass, floor-to-ceiling bookshelves and akin to a number of coffee shops/cafes in Tokyo and Kyoto, there is vintage analog equipment playing their extensive record and CD collection.
They also have a menu of aperitifs, while locals and expats linger over books and coffee. The adjoining Bakery offers a range of solid baked goods. One of my favorite cafes anywhere.
Sex-stimulating or booster supplements buy cialis online http://niksautosalon.com/cialis-2291 are often used as mood enhancers. Enhanced semen volume is also necessary to enjoy cheapest viagra generic enhanced sexual pleasure with your beautiful lady. An absolute MRI symbolizes this gold standard with image these days. sildenafil online purchase The MVPI uncovers what a person wants to do, rather than what a person may tablets viagra do, in given situations.

Smart Coffee

The opposite of hipster café, Smart Coffee is a Kyoto treasure, open since 1932 — a prime example of a classic kissaten (tea room/coffee shop). As he and his son roasted beans in their Probat roaster in the front of the shop, the elderly, adorable owner speaks English and chatted with me a bit about his past, coffee travels in Hawaii and his love of roasting. A special moment.
The wood-paneled, partially brick-walled space with tiny tables and booths evokes a darling diner circa 1970s. Smart Coffee is an ideal, old school breakfast stop for pancakes and tea-like ham and egg sandwiches (mikkusu sandowicchi) on white bread.
Boulangerie de la Liberte

Boulangerie de la Liberte may not fall in the realm of the superb French-style patisseries I have at home in SF or have had in Paris, but it's a welcome change of pace in Japan.
Food/Dining

Okakita
My favorite meal in Kyoto was not among the more upscale but was beloved classic, Okakita, renowned for its nabeyaki udon (a one pot dish filled with meat, vegetables, noodles). A Kyoto native who lives half the time in Kyoto and the other in SF took us and it wowed. Though lines run out the door all day (which would have initially deterred me), service is efficient and steady and in true Japanese fashion, one enters to Zen-like quiet in which to enjoy their famed nabeyaki udon, which I quite enjoyed. But my favorite dish ended up being their tentoji udon topped by two perfect giant prawn tempura over udon noodles, with a fluffy, savory egg dashi broth like dreamy scrambled eggs in soup. I still remember it, crave it, in fact, long for its equal.
Giro Giro Hitoshina
Giro Giro Hitoshina is often dubbed "punk rock kaiseki." That irreverent vibe (for formal-on-the-surface Japan) is felt in the packed bar seating around an open kitchen where young chefs work with harmonious precision and speed to turn out multiple courses. There is a tiny, quieter upstairs dining room but without the view of the cooking and preparation.
Like Il Ghiottone below, some dishes aren't as delicious as they sound, but they take a unique slant on the formal, refined kaiseki tradition — not to mention dinner is downright steal in any city at roughly $50 per person for eight courses, whereas some Kyoto kaiseki dinners can reach into the hundreds of dollars. Don't replace a traditional meal with Giro Giro but try it for a change of pace or when hoping for a more casual, fresh take on local ingredients.
The standout course was the kaiseki-like assembly of tiny bites and artful arrangements (pictured above), including pumpkin mousse in coffee sauce, potato croquettes in mushroom sauce, octopus, Japanese omelette with mushroom, tofu, salmon, mashed potato with beet roll and the ever-present genko nut.
Il Ghiottone Ristorante


Il Ghiottone has two locations of its upscale restaurant (there is also a more casual cucina): one in Tokyo and a clean-lined, white and wood-paneled house tucked down an obscure cobblestone road (our cab driver had no idea where it was). Allow extra time to find what in the end looks like a private driveway in a neighborhood.
Japanese native/chef friends based in SF recommended this restaurant as I was eager to explore Japan's renowned Italian food, typically running from impeccable regional Italian technique to Japanese-influenced Italian dishes. Kyoto being the land of kaiseki cuisine, Il Ghiottone feels like it considers that seasonal ethos first, paired with Italian wines.
Not every course worked during my recent dinner and some sounded better than they tasted, but others were inventive delights. We started with fried abalone coated in bamboo coal and moved to lobster and caviar with milk tea and fig ice cream. Baked eel and porcini (smoky) over buna? Wood has a lot going on with fennel foam, bottarga (salt cured fish roe), fennel, juicy pear and pomegranate seeds, while the straightforward perfection of conger eel carpaccio was ultimately more gratifying. I was expecting more from spaghetti with sama (fish) accented by sudachi rind (a Japanese citrus), but chestnut risotto with French shaved white truffle on top felt more cohesive and lush, though more traditional Italian while the Japanese-influenced spaghetti sounded far more interesting.
A Bar
A local friend took us to this hidden (quintessential Japan) upstairs bar and izakaya. It's downright dirty, dingy and stinks of cigarette smoke and seat cushions that have never been cleaned. The nondescript (A Bar) name feels as good as any: graffiti-covered pine wood walls look like a Swiss cabin, marked by bright, vivid fabrics, with every log of wood etched in an excessive amount of swearing, hilariously lost in translation, as this handwritten bar sign below expresses. But this being Japan, even in this dive of dives, izakaya snacks, especially sardines, are tasty with a cold Japanese beer. And they're known to pop open your beer with chopsticks.