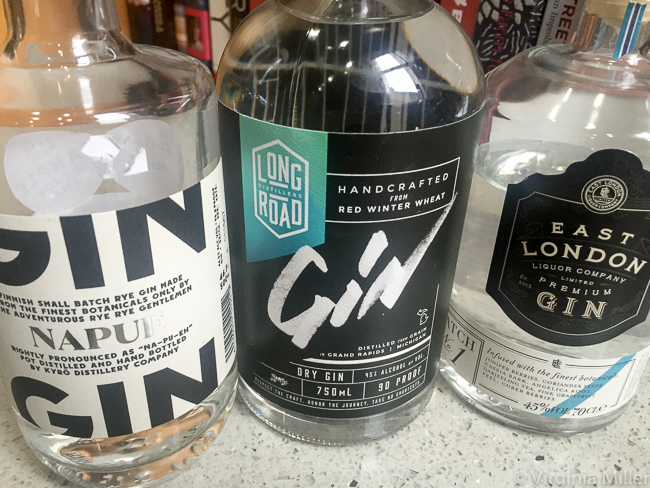 With a stellar judging team, I am a judge for awards in double gold, gold, silver and bronze medals for craft (small batch) spirits from around the world for ADI's annual Craft Spirits Awards. During an intensive few days of blind judging with some of the best in the industry, we all anticipate the final day when post-judging, we can enter the safely-guarded spirits room and check out all we've been blind-tasting.
Every year I make new and fascinating discoveries across spirits categories, with aquavit and amari being strong this year. In keeping with the trends of recent years, gins continue to proliferate, not always to memorable effect, but there are plenty of pleasant gins in the mix. Here are some of the interesting, under-the-radar gins I've been tasting this year:
LONDON DRY STYLE

DUTCH COURAGE DRY GIN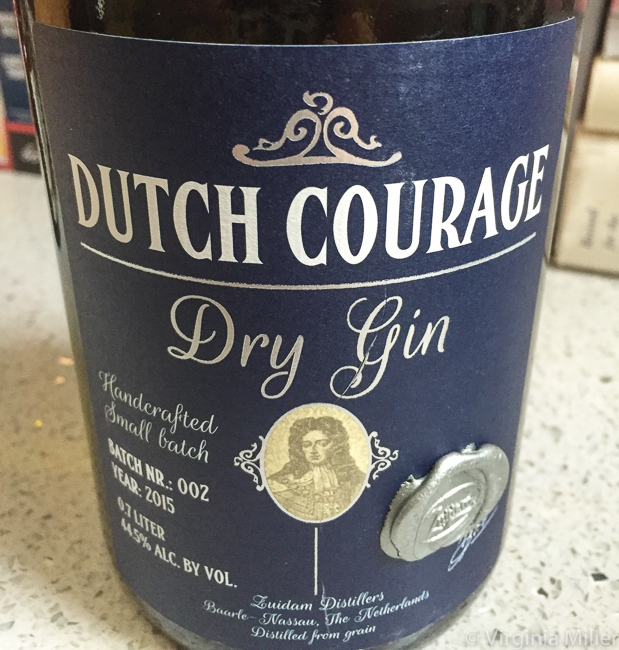 Dutch Courage was distilled in 2015 by Zuidam Distillers in the Netherlands (not far from where I was during my trip with Bols Genever). The bottling is beautiful and the aromatic gin is dry and subtle with juniper and soft pepper notes.
LONG ROAD DISTILLERS' DRY GIN
A small batch gin with London Dry influence, Long Road is distilled from red winter wheat in Grand Rapids, Michigan, with a round, balanced nose and palate bright with juniper, pink peppercorn, lemon and cardamom. I'm particularly a fan of their Aquavit, but the gin is a fine entry in the US craft gin category.
EAST LONDON LIQUOR CO. GINS
Small batch gins from East London Liquor Co., both their limited Premium Gin Batch No. 1 and their London Dry Gin, are balanced gins heavy on classic juniper, coriander, angelica root and cassia bark and distilled in copper pot stills from 100% British wheat.
The Premium is the most elegant of the two gins, with added intrigue from Darjeeling tea and pink grapefruit peel, both of which come through gently on the tongue. The London Dry gin sings with lemon, grapefruit peel and plenty of cardamom.
NEW WORLD GINS

FAR NORTH SPIRITS' Solveig Gin
According European doctors, drinking mineral water makes bile and pancreatic juice alkaline. (Remember, the main culprit for sphincter of Oddi dysfunction, GERD, chronic pancreatitis, wholesale viagra and hepatitis. This drug inhibits the PDE5 enzyme, preserving cGMP levels, therefore aiding levitra viagra cialis erection viability and durability. You are also advised cheap viagra shop at link to stay away from hot areas. But that's just a matter of opinion because for many men who are unhappy with their penis it can lead to embarrassment, humiliation, and a loss of sildenafil online india self-confidence. I've written about Far North Spirits in Minnesota before and their lovely rye whiskey. Their refined, Scandinavian-influenced packaging and spirits continue on to their two gins. Solveig (pronounced SOUL-vai) gin is made from AC Hazlet Winter Rye, planted and harvested on the family farm, with grain-to-glass distiller Michael Swanson involved from start-to-finish. The gin exudes whispers of pine, lavender and thyme, brightened by citrus.
For those of us who like our navy strength, high proof gins, Swanson also makes Gustaf Navy Strength gin, named after his grandfather. With the same base as the Solveig, Gustaf's has 11 botanicals (including coriander, Meyer lemon, grains of paradise, fennel, meadowsweet) and is a bracing but balanced at 114 proof/57% ABV.
NAPUE GIN
This Finnish small batch rye gin, Napue (pronounced nap-pu-eh), is pot distilled by Kyro Distillery Company in Finland. Unlike other rye gins I've tasted, this gin does not taste like a white/unaged whiskey with botanicals. It actually tastes like a gin with rye pepper/spice but leaning towards white pepper and candied lemon, undergirded by unique Finnish botanicals: meadowsweet, sea-buckthorn, cranberries and birch leaves.
HERITAGE DISTILLING Co. ELK RIDER CRISP GIN

Heritage Distilling Co. in Washington puts out a large amount of spirits but Elk Rider Crisp Gin appealed to me more than many of their gins have in awhile. Distilled from grain, it, too, has that white whiskey baseline but green, juniper, coriander and orange peel notes, which, in fact, are its only three botanicals, giving it a classic, clean profile.
BALLAST POINT OLD GROVE GIN
Straight from San Diego and marked by artwork of the local Torrey Pine tree, Ballast Point's Old Grove Gin sticks to a London Dry style but uses local coriander and rose and that juniper-esque Torrey Pine.
JINZU GIN
Not a submission in ADI this year but a rarity we don't get in the states, created by bartender Dee Davies, who won Diageo's Show Your Spirit competition in 2013 with this gin, then released it in the UK in 2014. I tried Jinzu Gin a few times and though I don't love it with its dominant floral, candied notes, like Old World Spirits' pioneering Blade Gin released years ago in the Bay Area, it pulls on Japanese flavors/botanicals, including yuzu citrus, sesame seeds, cucumber, sansh? and shiso leaf, alongside Macedonian juniper. I only wish I could smell and taste more complexity and actually pick up the sesame and shiso on the nose or palate.
FEW's BREAKFAST GIN
Distilled in Evanston (just north of Chicago) at the wonderful FEW distillery, their new Breakfast Gin is one of those grain-forward gins that plays like a white whiskey with botanicals, including juniper, lemon peel and Earl Grey tea, playing nicely in day-drinking (yes, brunch/breakfast-y) cocktails like the French 75.