My article was first published here on our national Table8 blog where I am national editor.

Despite what seems like a limited category at first glance, there are many a Middle Eastern gem hidden around San Francisco, some of the best places having been around for years. There is the ever-fantastic Afghani dishes at one of our great food treasures, Helmand Palace; delicious Lebanese food served with a smile at Hayes Valley's Mazzat; Persian North Beach favorite since 1982, Maykadeh; Mission hole-in-the-wall and longtime great Old Jerusalem; the modern, clean lines of Troya on Fillmore; or Tenderloin dive and treasure Yemen Kitchen, specializing in dishes from Yemen.
Here are three additional recommends specializing in different niches that should be on your go-to and take out lists.
JANNAH, NoPa/Western Addition

From Iraqi master chef Yahya Salih, Jannah (also called YaYa after chef's longtime, prior SF restaurant) is an affordable Middle Eastern restaurant serving excitingly uncommon Iraqi dishes with home-cooked flare and heart. In a humble, mellow neighborhood space in NoPa/Western Addition, there is plenty of room for families and groups and it's all about the food rather than the setting.

Recommended Dishes: Try phyllo pastry-covered savory "pies" (lamb, chicken, beef, vegetarian) — my favorite is perdaplow, the chicken version, historically served as one large wheel, currently served as a bunch of mini "pies" (in a similar vein but different than Moroccan bastilla). Perdaplow is shredded chicken, rice, almonds, golden raisins and cardamom in a phyllo pastry crust with warm apricot sauce for blessed sweet-savory contrast.

Also try unusual dips like mama ghanoog (eggplant, carrot, tamarind) or hudhud ghanooge (eggplant, turnip, date) alongside more common hummus and the best baba ghanoog in town. My favorite is muhamara or roasted red bell pepper dip laced with cumin and walnuts. Save room for kenafa for dessert: shredded, crispy phyllo stuffed with mild, savory Middle Eastern cheese, covered with pistachios and date syrup.
KITCHEN ISTANBUL, Inner Richmond
Open at the end of 2014, charming Kitchen Istanbul in the Inner Richmond is a comfortable, sleek space offering a warm welcome from owner and executive chef Emrah Kilicoglu (co-owner of Troya), serving elevated Turkish food.
Recommended Dishes: This is arguably the best moussaka ($22 for classic lamb version, $19 for vegetarian) in the city, the standard version being rich with ground spiced lamb, eggplant, bell pepper and bechamel sauce.
Their muhammara dip ($6.50 with pita bread), a traditional red pepper dip, is a stellar version and classics like a black lentil bulgur salad ($11) are bright and memorable, laced with golden raisins, tart cherries, feta cheese, almonds, cucumber and mint.
Popular lamb beyti ($21) is like an enchilada-meets-cooked-maki as filling rolls of lavash bread packed with Adana-style ground lamb, drizzled in tomato yogurt sauce.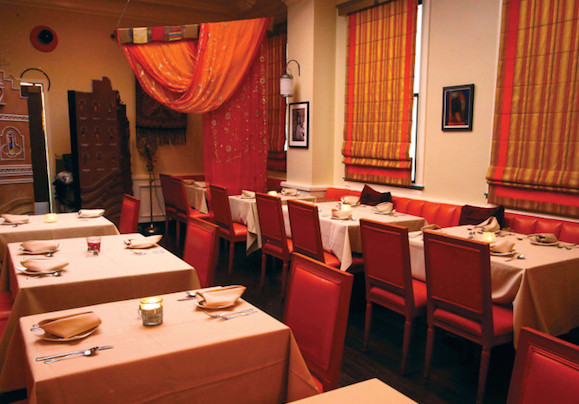 SAHA, Lower Nob Hill/TenderNob
Imparting a magical, Arabian nights vibe in the back of the Hotel Carlton, Saha has been a Middle Eastern favorite of mine since 2005. Husband and wife team, Mohamed and Marmee Aboghanem, serve Yemenese Arabic cuisine (Mohamed is from Yemen, on the southern end of the Arabian peninsula) combining cooking influence from his European travels with NorCal ingredients in his Yemen cooking, while Marmee is the wine expert and can recommend pairings.
Recommended Dishes: A good half of the menu is vegetarian so it's strong option for the vegetarians among you but there is something for everyone. Kibbeh three ways ($15) are traditional cracked bulgur wheat croquettes stuffed with beef, crab and wild mushrooms, while their lobster knaffe ($16) — there is also a vegan version — is a "cake" of lobster meat, shredded phyllo dough and Yemen bisbas (a chili, garlic, cumin condiment) in lobster saffron sauce.