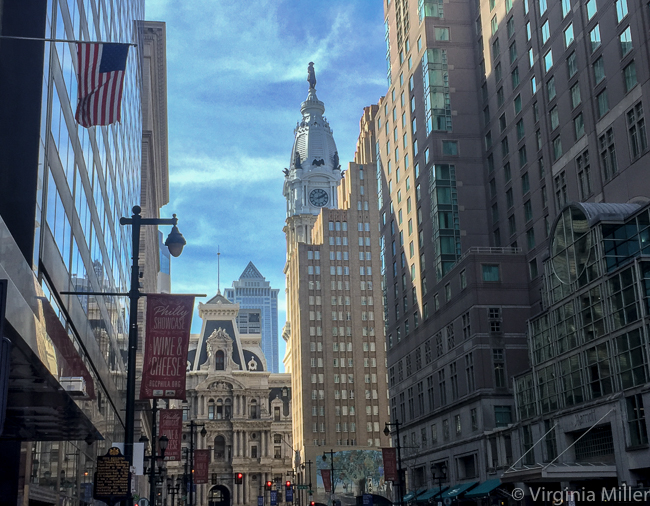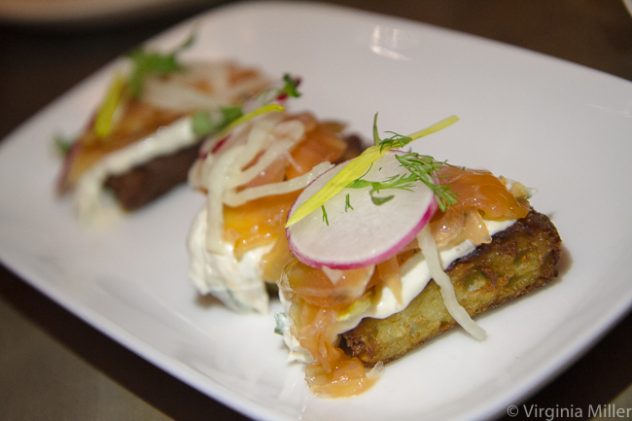 Philadelphia is as much the food lover's town as you've heard — or maybe you haven't and need to get schooled. There are some seriously fantastic eats here, whether you're going old school and hunting for cheesesteaks or hitting up some of the best Middle Eastern and hip, Jewish-influenced restaurants in the country.
While the cocktail scene has a few key bars but a smaller number of greats than many a top cocktail city (more on that soon), on the food side, the range found around walkable Philly makes it a true food destination offering one great meal after another.

HIPSTER JEWISH/EASTERN EUROPEAN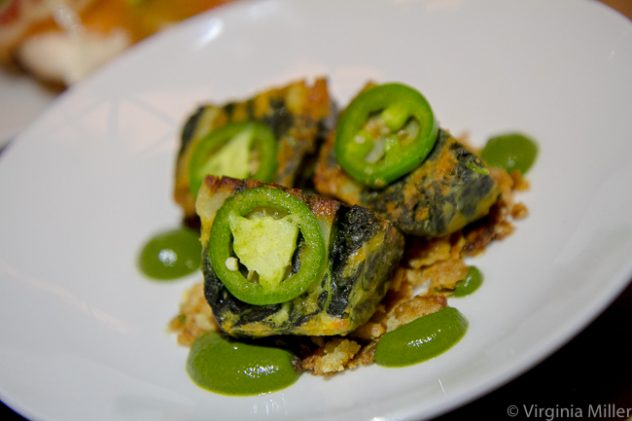 From the same restaurant group as the great Zahav (see below), Abe Fisher is exactly the kind of restaurant I wish I had in my own city. Self-described as "inspired by the cuisine of the Jewish diaspora," it plays with Jewish and Eastern European flavors and classic dishes in creative, forward-thinking ways. Thankfully served in small plate portions, one can have fun trying a range of dishes.
Highlights include a corned pork belly Reuben with pickled green tomatoes ($13), veal schnitzel tacos with anchovy mayo ($15) and pickled mackerel in Old Bay remoulade with cucumber and onion rings ($13). There is a proper, modernized chopped liver on toasted rye ($11) smeared with pastrami onion jam.
VEGETARIAN DESTINATION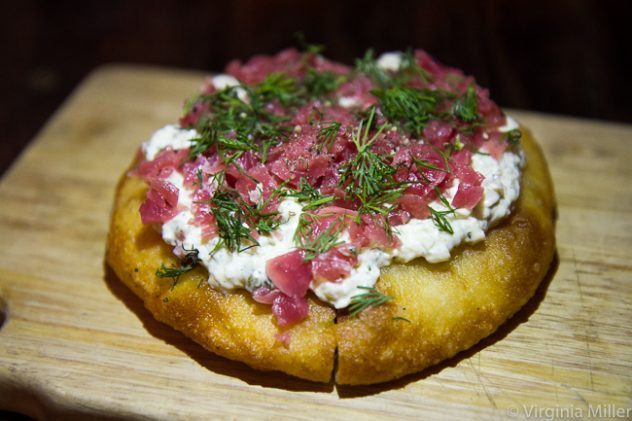 Yes, Philly is known for their excellent vegetarian food. While the often cold Northeast may not grow a wealth of year-round produce like I experience at home, the city has managed to have not one but a few notable vegetarian restaurants that have left their mark and inspired more creative vegetarian and vegan food across the city.
I found myself rather disappointed with the mediocre dishes and cramped, almost unbearably noisy space at V Street, one of the highest rated vegetarian restaurants. Though they serve a non-traditional langos ($11) or Hungarian fried bread, it is still a good bread on its own merits, topped with smoked chioggia beets, dill and sauerkraut remoulade — but different from what I've had in the Hungary countryside over a decade ago which was more closely recreated at Bar Tartine in San Francisco for years.
But things go downhill from there with odd, even bland, dan dan noodles ($12) and an uninspired-tasting carrot asado salad ($10). Though cocktails sounded good, like Cruz Control ($12), combining tequila, horchata and tepache, all were too sweet.
Vedge, on the other hand, held numerous standouts. Another often raved about vegan restaurant, the multi-room space was a more peaceful experience, the cocktails were interesting and generally well-balanced, and some of the dishes were downright excellent.
What they were able to accomplish sans cheese in their rutabaga fondue ($12), with charred onion and a soft pretzel and pickles, led to a "wow" moment. Mimicking the texture and luxuriousness of cheese, and as a intense fondue lover, I could easily eat this and feel like I wasn't sacrificing anything.
A massive, wood-roasted carrot ($14) — maybe the biggest carrot I've ever seen — was served as an entrée. A bit questionable at first glance, the roasted carrot gained nuance from accompaniments like kimchee "reuben" on pumpernickel toast, sauerkraut and carrot mustard. Chioggia beets are done "poke" style ($8) and served over barley congee, given heat from sambal. House ice creams and sorbet ($6 for 3 scoops) are likewise vegan and lovely, from sumac cherry sorbet to black strap molasses pineapple or sage ice creams. One wishes vegan food was always this inspired.
SOUTHERN WELCOME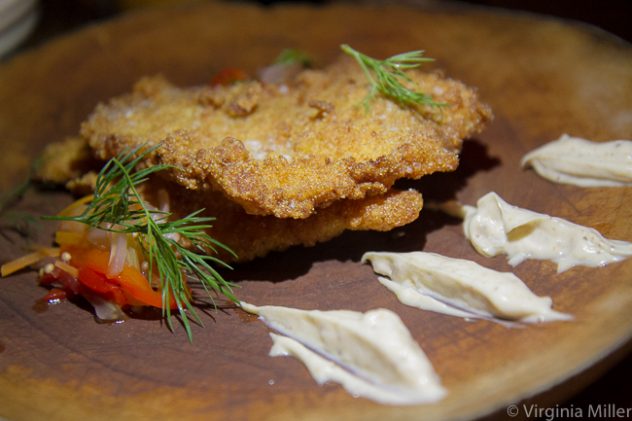 As part of Top Chef-winner Kevin Sbraga's restaurant group, The Fat Ham was an unexpected surprise. I could have been in Nashville, Louisville or Atlanta, dining on hip, modern southern food that is as playful as it is heartwarming.
Nashville-style hot chicken is everywhere these days, including Fat Ham's version ($15), served proper though modernized with brioche, dill pickles and ranch dressing. Sides like mustard greens ($8) in hot vinegar dressing delight with the addition of peanuts and benne seeds, while creamed kale ($8) flecked with oyster mushrooms and pearl onions is decadent and tough to resist.
A range of chicken wings is another joy, from subtle lavender honey wings ($12) dotted with pink peppercorn, to Country Captain wings ($12) accented by curry and chow chow aioli. Another surprise is shaved catfish ($14) with escabeche, almost like a catfish schnitzel, given even further hints of the sea — and the South — from crab boil aioli. And I never turn down pimento cheese ($7) or buttermilk pie ($6), both good here. The drink list veers towards American whiskey while wines, like a Hybrid Vermentino from Lodi, CA, are on draft.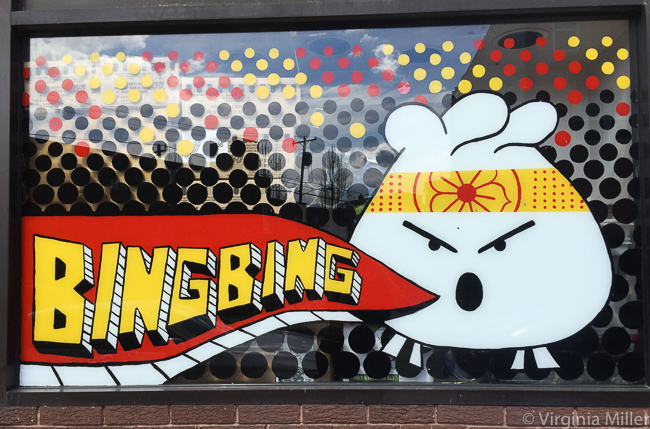 YEP, ASIAN FUSION IS HERE, TOO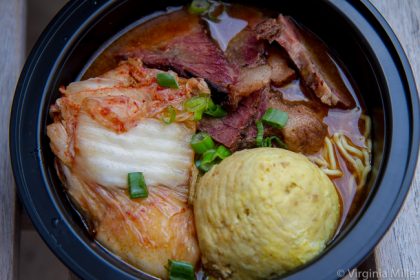 Hipster Asian fusion is now mainstream across the country with Korean and Singaporean flavors intermingle with Thai, Vietnamese and Chinese food — or Europe, South American and beyond.
The trend is in Philadelphia, too. Although in all the countless have Asian spots I've been to around the country, I have never had brisket ramen per se, laden with a matzo ball and kimchi in a red chile broth, which is exactly what Cheu Noodle Bar serves. They also serve al pastor dumplings ($6). YES, pork, pineapple and queso fresco dumplings. Genius, right? And black garlic wings ($10 for 6), so you know you're in for a good time.
In the hot Passyunk neighborhood, Bing Bing Dim Sum, which just opened early 2015, is another very cool spot with laid back service, packed at nights but wonderfully chill for a weekend dim sum brunch.
Caterpillar bread ($7) slathered in sesame, BBQ pork and caramelized honey stands out, as does a ridiculously good turnip cake ($8), traditional on the surface but then marked by matzo (are you catching the Jewish influence running through many of these restaurants?), maple soy, bonito flakes and a fried egg.
Cocktails are simple but similarly whimsical, maybe a boozy Vietnamese coffee at brunch or Do Yuzu ($9), refreshing with blanco tequila, Lillet, yuzu (Japanese citrus), lime and salt, topped off with club soda.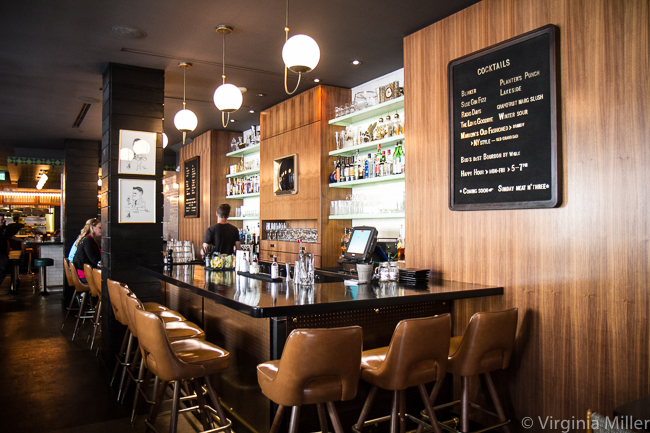 RETRO COOL, 70's-STYLE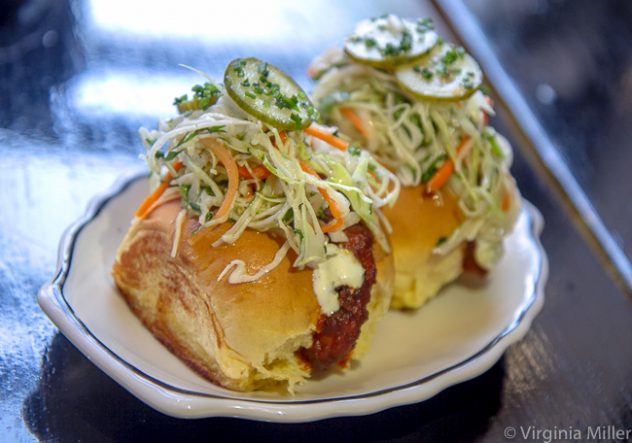 Open late summer 2015, Bud & Marilyn's is another spot where I'd like to spend a lot more time. It's retro and kitschy, my "jam", but instead of being merely '50s-60s/mid-century kind of retro, it leans more towards the '70s in painstaking, and even high class, detail. There are a number of bars around the world that do this era right but the list of restaurants is a shorter one down. Here, the decor is fantastic decor and dishes comforting, like popular and tasty fried chicken in a bucket ($15) or fontina and chard-stuffed meatloaf ($17).
There is Nashville hot chicken yet again, but they play with it in bun/slider-sized form in Nashville hot buns ($10 for 2) overflowing with hot fried chicken, pickles, ranch and pickle brine slaw. At lunch, they smartly do a French onion grilled cheese sandwich ($11), mimicking the soup, melting with Gruyere and Comte cheeses, green apple and sherried onions.
Sipping a Gin Rickey or Rhubarb Basil Slushie cocktail, Bud and Marilyn's is a delight at the bar or for lunch, dinner or brunch. It is also conveniently located a few short blocks from Rittenhouse Square.
MIDDLE EASTERN MECCA
Much has been made of chef Michael Solomonov's Zahav since it opened in 2008 in Old City Philadelphia — and rightly so. This is the kind of Middle Eastern, modern Israeli cuisine I (and many others) long to see more of around the country (locally, it's done well at casual spots like Ba-Bite but not at this higher level).
Solomonov is often spoken of in the same conversation as the great Yotam Ottolenghi, whose cookbooks I adore — and I've been to his London restaurants. But I actually like Zahav better.
From the moment the salatim (or daily selection of salads) and hummus arrives ($16/28, depending on portion size), served with warm laffa bread baked in their wood-burning oven, I'm hooked. In fact, this would be a fantastic meal just with these starters alone, right down to grilled garlic hummus, laden with butter and dreamy sopped up with the laffa.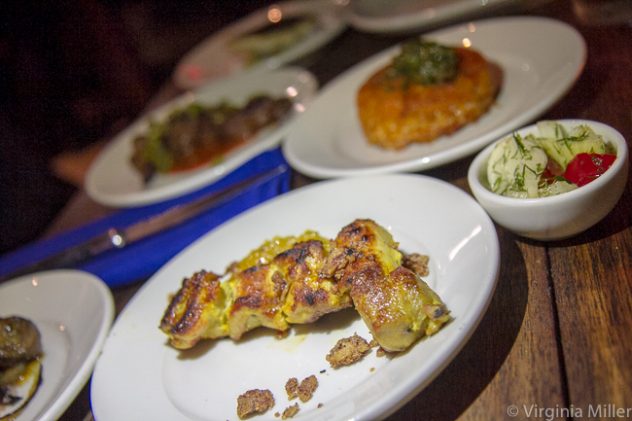 But then there are rounds of mezze ($10), or small plates, all comforting, some memorable. Fried cauliflower labneh with chive, dill, mint and garlic is rightly one of their most popular dishes. But then there is tuna crudo babaganoush, accented by pickled eggplant and za'atar spices. Or kibbe naya — raw lamb — over bulgur with castelvetrano olives in charmoula marinade.
One of my top dishes was surprisingly haloumi, a mild cheese I can sometimes find bland, but here it is almost earthy and smoky grilled, then accented by walnut, dates and apples. They used to source the cheese directly from Cypress where haloumi originated but now get their haloumi — done in Middle Eastern-style — from Valley Shepherd Creamery in New Jersey.
The joys continue in the Al Ha'esh, or grilled over coals section, of the menu ($14 each). Unexpectedly, chicken shishlik was my favorite (even over beloved branzino or eggplant), brightened by amba (a Middle Eastern pickled apricot condiment). The $45 "tay im" or "taste of Zahav" menu is an affordable and ideal way to taste a cross-section of the menu.
In addition, wine pairings are exciting rarities from Israel, whether a crisp 2013 Cremisan Cellars Dabouki from the West Bank or a mineral, lovely 2014 Kavaklidere Calkarasi Rosé from Galilee.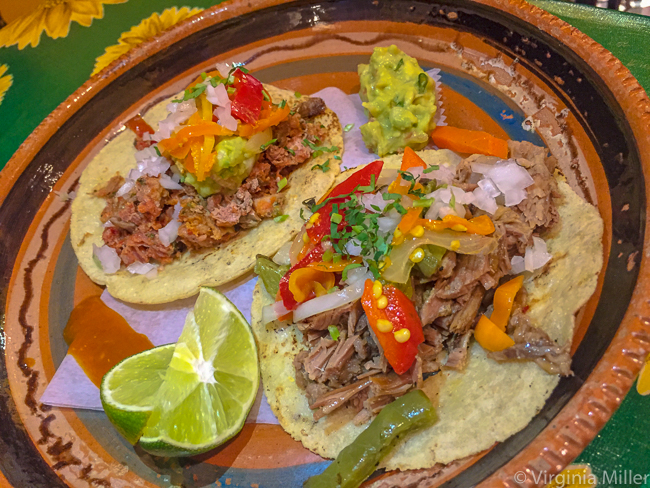 OF PIZZA, GELATO & BARBACOA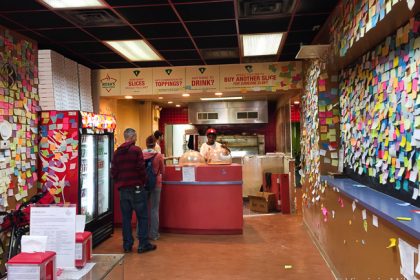 Rosa's Fresh Pizza is a special, humble place opened by Mason Wartman as he returned to his hometown after working on Wall Street in NYC. Now he turns out $1 slices of pretty damn good NY thin crust in a place with a purpose: buy a slice, give a slice for $1 each and homeless and hungry from all over can come and grab a slice you "donated."
South Philly Barbacoa is a special haven for authentic Mexican barbacoa (shredded, steamed/slow-cooked goat) from a two person team during my visit. The brightly colored, intimate neighborhood space and authentic food transported me right back to California — and Mexico. The menu is short and sweet, basically a barbacoa taco, sometimes a taco special and a torta with accompanying pickled vegetables and house salsas. Better yet, they do plenty locally to support immigrant restaurant workers.
Quality, inventive ice cream and gelato, like I've long known to thrive and start trends in my own town, isn't something I found much of around Philly — but I did find one: Capogiro Gelato.
A local favorite, their ice creams and sorbets are available in 5 cafes and at local grocers (where to find it here), as well as a couple of their own shops. With proper texture, some of the flavors are vibrant and dreamy, especially Thai coconut milk laced with rum, lime cilantro, Saigon cinnamon or grapefruit with Campari.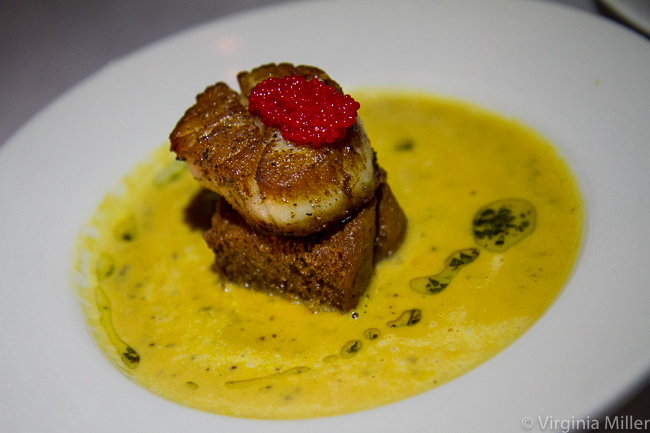 SCANDINAVIA to SPAIN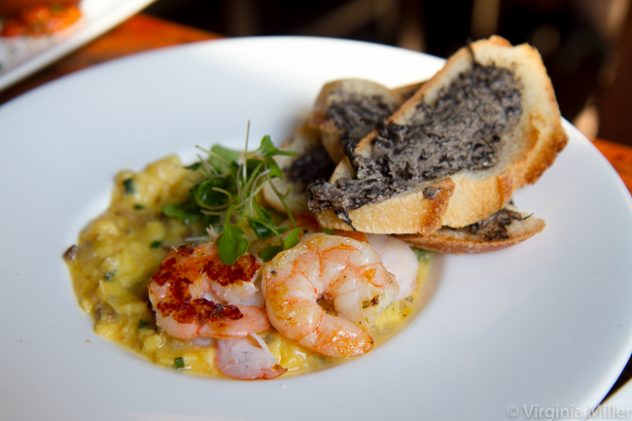 I was looking forward to dinner at Noord more than most of my reservations in Philly as I've long loved Scandinavian food and crave the clean lines and cured fish — there's a touch of the Dutch here, too, with the likes of bitterballen.
Dishes were a bit heavier and heartier here than at some of my Scandinavian favorites (and its hard to top the exquisite smorrebrod I've had at Bar Tartine in years past) but that aside, the service was the best I had anywhere in Philly.
Also, the cozy, intimate atmosphere gazing out on the streets of the hip Passyunk neighborhood makes Noord the idyllic neighborhood restaurant with the kind of vibe that makes one want to linger for hours and feel like a regular from first visit. Mustard soup with a large, seared diver scallop in the middle ($12), is rich and flavorful, vividly marked by red caviar/roe, tarragon oil and a rye crouton.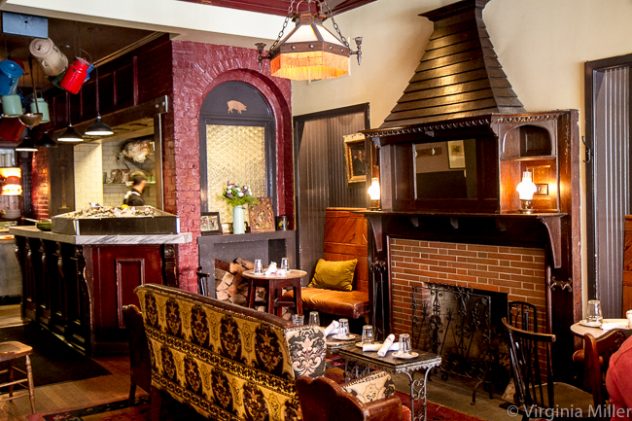 Famed Iron Chef Jose Garces is one of the most well known chefs in Philly with multiple restaurants, Amada being his flagship Spanish tapas restaurant in Old Town, a spacious restaurant and bar with open doors on sunny days, feeling like a Spain respite with a glass of Rosado and an array of tapas. My favorite dish is the almost creamy revuelto (scrambled eggs), marked by plump shrimp and earthy with wild mushrooms spread on toasts. I wish I could have this for breakfast.
AND AN BRITISH-INDIAN PUB FOR GOOD MEASURE
Conveniently downtown near Rittenhouse Square, the multi-level, multi-room, historic space at The Dandelion is reason enough to go, recalling old England with a menu incorporating England now, serving London-style, British-Indian pub food. However, having to divvy up the 5-7 places I visited a day for an intensive week of research, I was disappointed to find a more toned-down lunch menu focused mostly on the most straightforward dishes with the Indian influence all but missing. Still, the British house space with fireplaces, multiple dining rooms and bars, extensive selection of English/British ales and rabbit pies charms and woos.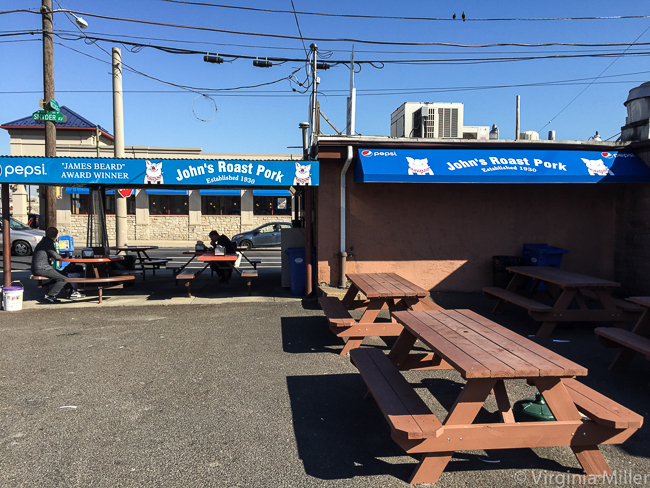 AND, YES, THERE'S PHILLY CHEESESTEAK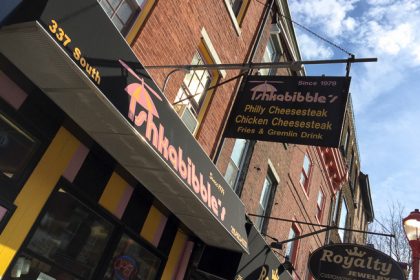 While tourists flock to Geno's and Pat's — and some locals roll their eyes at the mention of cheesesteaks, except for Uber, Lyft & cab drivers who are quick to share their favorites — I Ubered far and wide to try a range of cheesesteaks, whether tossed in Cheez Whiz or melting under provolone.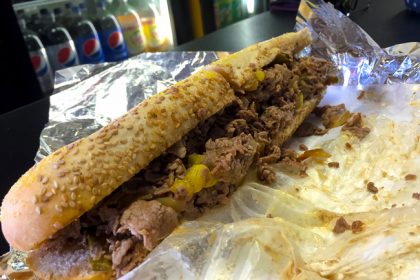 The original location of Ishkabibble was a heartwarming spot with friendly staff who chatted us up as we filled up on a cheesesteak tossed with onions, provolone and Cheez Whiz for breakfast. They offered us their popular Gremlin juice — half lemonade, half grape juice — thankfully more tart than sweet.
While Cosmi's (open since 1932) wasn't necessarily my top cheesesteak, it's still a gratifying, massive one served on a seeded bun in a humble corner liquor store in South Philly. We enjoyed chatting with the great guy behind the counter about Philly and it's food and people as we crammed down another cheesesteak.
Without a doubt, my favorite was John's Roast Pork, known as much for its roast pork sandwiches as its Philly cheesesteaks (and there is a line designation for each, although on a weekday morning, there was no line).
Open since 1930 in South Philly, its location on the docks and its weekday-only hours remain in deference to dock workers, who were the only other customers besides us on a mellow weekday morning. Besides being the best cheesesteak, it was also the most appealing setting of all the cheesesteak spots I hit. Their roast pork is likewise fantastic but their cheesesteak is pretty much perfection on crusty, seeded house rolls from nearby Carangi Bakery, with cheese and onions folded into the meat directly on the grill. I am dreaming of returning.