My May 26th Oakland Magazine feature article ran in both June print issues of Oakland and Alameda Magazines, covering two romantic escapes in Beverly Hills and on the beach in Santa Monica as well as where to eat and drink nearby.
My other Oakland and Alameda Magazine articles include going well beyond wine in the Willamette Valley with beer, spirits, ciders, mead and, yes, wine — and Orange County's Huntington Beach in one walkable coastal mile, complete with SoCal sunsets and chill surfer vibe.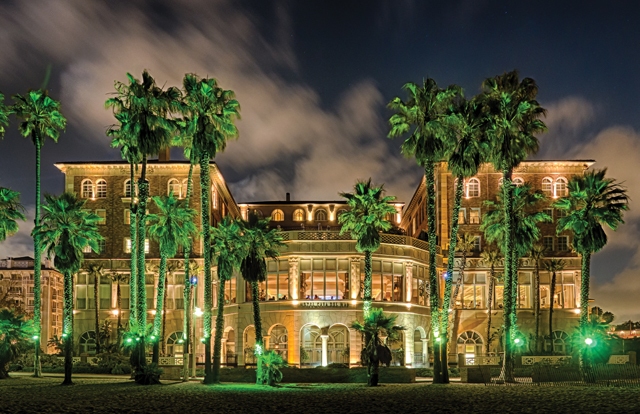 Though that Old Hollywood feel often remains elusive across the massive metropolis of Los Angeles, the city hides opportunities for romance and pampering with 1920's roots. Endless traffic and sprawl can be a detractor when envisioning a weekend getaway but the treasures of the City of Angels are worth seeking out. LA's dining, cocktail and fashion scenes are stronger than ever, growing far beyond the city's long-excellent ethnic enclaves packed with authentic, cheap cuisine.

Seeking luxury with a historic bent and notable nearby food and drink can be tough to come by in LA but there are walkable hotel hubs, supplemented by utilizing rideshare apps — and not just in hot downtown LA. The best hotels are costly, but mid-week and off-season (when the weather is still gorgeous) can offer better rates at two of the dreamiest LA hotels.
It is hard to top the service at the Four Seasons' Beverly Wilshire, which was built in 1928, from gracious staff who remember you throughout your stay, to the option of vodka cocktail service in your room at dusk. In a whimsical turn, the Wilshire celebrates the 25th anniversary of "Pretty Woman" this year, which was filmed in and around the hotel, while movie stars casually pass through the lobby — a true Beverly Hills experience. 
From higher floor rooms, striking views of the city, surrounding mountains and foothills inspire, while the hotel stands grandly at the head of Rodeo Drive, prime for window shopping and people watching. Elegant, modern and so much more than a steakhouse, the superb wine list and eclectic dishes at Wolfgang Puck's Cut, conveniently downstairs, makes it one of the best steakhouses in all of SoCal. Also in the hotel, THE Blvd serves afternoon high tea and artful, decadent desserts. A couple blocks walk from the hotel is Beverly Hills' best coffee source, the friendly, husband-wife-run Aharon Coffee & Roasting Co. 
Head to West Hollywood for cocktail hour — a short Lyft or Uber ride away (which has fast become the easiest, and surprisingly affordable, way to get around LA). Gracias Madre serves striking agave spirits cocktails pulling from an extensive tequila and mezcal collection, while Now Boarding feels like you've been transported to a 1960's airport lounge, all retro cool and laid back on weeknights (go weekends for the party), serving playful cocktails and mid-century classics. 
For equally luxurious romance right on the ocean, Casa Del Mar is the stately queen of Santa Monica since it was built in 1926, a short stroll from the pier, Muscle Beach and the waves. Watching the waves and sunset from the stately lobby and restaurant — or better yet, poolside or from ocean view rooms — is as soothing as the cool blue and white tones of Casa Del Mar's rooms.
Nearby, Santa Monica Yacht Club, is the most fulfilling of the new Santa Monica restaurants, with a refined nautical theme, dark woods and impeccable cocktails from engaging bartenders. Silky crudo, lobster burrata toast or even an unforgettable apple and white cheddar salad are just a few joys on the seafood-driven menu. The Santa Monica outpost of Belcampo Meat Co. is quite different from the Marin location due to showstopping cocktails (think an elevated Appletini with house sour apple pucker and chlorophyll or Ramos Cereal Milk, a twist on a classic gin fizz with Fruity Pebbles), while even alcohol-free house phosphates, like tart-fresh raspberry, are memorable, paired with dishes showcasing meats from their sustainable, humane, organic farms (sold in their butcher shop next door).
Spend a few dollars on Lyft to avoid driving, savor (creative) cocktail hour and a decadent meal, watch the sunset over the Pacific Ocean from a historic hotel… the relaxing way to do LA.