Philadelphia is definitely a food lover's town and my recent explorations just began to scratch the surface. The cocktail scene is smaller, especially compared to other cities of this size, a bit behind or not in keeping with other cities of this size or such a palate for great food. But what is here is strong, vibrant and growing.
Unless you crave the sweet, beware a citywide tendency towards a touch too sweet even at bars that look good "on paper" like V Street or Bar Bombon, the latter of which also suffered on the from one bartender offering terrible service. You'll find solid if not necessarily destination-worthy cocktails at many restaurants, including the delightful, retro Bud & Marilyn's, straightforward, American whiskey-centric cocktails at The Fat Ham, industry hangout favorite, The Townsend, or unexpectedly unique cocktails (like The Hornet's Nest: mezcal, shishito peppers, lemon, orange flower water, Korean chili flakes) at vegetarian destination, Vedge.
Here are my top five cocktail bar recommends in Philly now, places that have not one but numerous standout drinks along with warm service and/or memorable atmosphere.
1. HOP SING LAUNDROMAT
Talk to local bar managers and bartenders about Hop Sing Laundromat and its notoriously evasive "owner" Lê, and you'll hear all manner of responses — many of them less than ideal. Even as one who tastes thousands of cocktails annually and visits hundreds of the best bars all over the world, I weary to even hear the words "no sign", speakeasy-esque, cranky, discriminatory about who enters.
Living most of my life in vintage dresses, I'm all for dress codes, grown-up places where one can or even should dress up, where cell phones are not to be used unless you step into the hall or outside. I get it. I am all about no shorts or sneakers allowed. Yet I feel those things should be clearly listed on websites or even outside the bar, not as a prejudiced hassle but to create a mood and setting. But there is nothing worse than to feel someone is turning you away for some undisclosed reason or because they've made an assumption about you at a glance — again, believe me, as one who all too often finds memorable menus/cocktails and settings absolutely ruined by inconsiderate to downright douche-y crowds/patrons, I respect the intention.
After having our drivers licenses reviewed and put on file (?), I was already over the hassle. I have too many bars to visit every week in every city where I'm researching to have to jump through hoops just to check out a place. There is too much that is good out there in the world.
But with my husband, we were in our usual dressy garb, were let in to Hop Sing by a kindly doorman who explained the process as we sat on a church pew, then we were led into an almost empty bar with only one other couple present.
But here is where I was converted. The dim, candelit setting illuminates vintage liquor advertising, vintage accoutrements and an impressive bottle collection that looks downright obsessive — but doesn't reflect in the cocktails and isn't listed in the pour list. Mostly big brands go into the drinks and are listed on the reasonably priced spirits list (by request only). But cocktails are even better than they sound, especially the most "risky" ones, like The Memphis Mystery Train ($13), mixing Russell's Reserve Bourbon and fresh honeydew, or the downright lovely Henry "Box" Brown ($13): Gosling's Family Reserve Old Rum with fresh red grape juice. Instead of being too sweet or juice-heavy as I feared, both are refreshingly bright and boozy, well balanced and lush. Saigon Flip ($14) feels downright tropical with Don Q Gran Anejo Rum, Licor 43, condensed milk, egg yolk, lime and Fever Tree club soda to lighten it up.
Hop Sing (open since 2012) recalled some of the most unforgettable, atmospheric bars in Japan, a country where the bars feel literally like another world — not because Hop Sing is like any bar in particular but because it similarly evokes a secret world or time gone by. For "old souls" like myself, those of us that pursue craft, quality, romance, superb tastes, the best (music, film, fashion, architecture, etc.) of all eras, this is our kind of bar.
Which makes me almost grateful that the many who don't/won't care and are only going because it's buzzy, "secretive" or even infamous. Here's hoping the gracious team at Hop Sing can call us out when we arrive because this is the kind of place for those who respect and care for a more mannered time.
2. THE OLDE BAR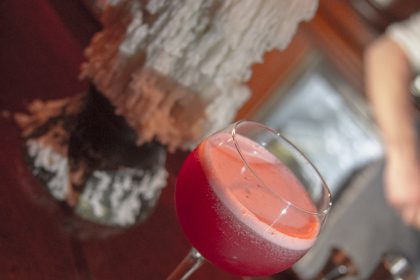 In Philly's Old City, The Olde Bar is a history lover's gem as the legendary Bookbinders' seafood restaurant where even Frank Sinatra's had his own booth (just ask them to point it out) in the corner. Thanks to Matt Polzin and team, the bar is a destination in its own right with a long wood bar (a fine companion to the restaurant's old school food menu and raw bar), serving excellent house cocktails that pull from the classic ethos.
Drink Examples: Unique joys lie throughout the changing menu. Ophelia Winthorpe showcases tart-creamy, yogurt-washed gin with Crème de Mûre blackberry liqueur, ginger and lime. With a play on the Tiki/rum side, Pinkerton's Folly goes with Cruzan Blackstrap Rum, clove, cinnamon, lime and orgeat — all expected Tiki cocktail ingredients — then throws a curve ball with chicory, white peppercorn, coriander and fennel.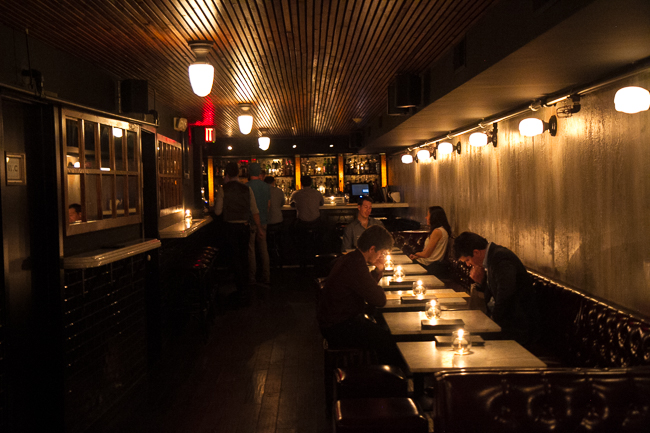 3. THE FRANKLIN BAR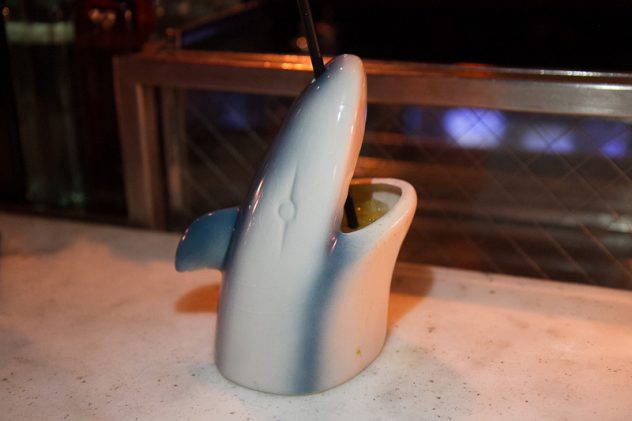 The Franklin Bar is easily one of Philadelphia's best bars and has been for years. Us industry folk recognize it as the kind of cocktail haven long typical in our pioneering cocktail renaissance cities of New York and San Francisco, hidden in a dim basement with a robust spirits and cocktail fan's kind of menu.

Thankfully, GM Sara Justice and team ensure a relaxed vibe and drinkable menus, including way too fun, three course cocktail tasting menu ($35 for 3 cocktails), like the recent Willy Wonka-themed "Pure Imagination" menu, laden with treats like a coconut-washed, clarified pina colada with Dark & Stormy foam (dubbed "The Golden Ticket").
Smart call: they more recently opened a casual upstairs bar for those who want a livelier scene but still quality drink, while downstairs remains intimate, ideal for conversation and lingering.
Drink Examples: In addition to the tasting menu and a section with some of the bar's drink favorites over the years, changing, new drinks include the likes of There is No Dana, Only Zuul, mixing blanco tequila, cream, house lime cordial, graham cracker, cinnamon and egg white for a light, tart key lime pie feel.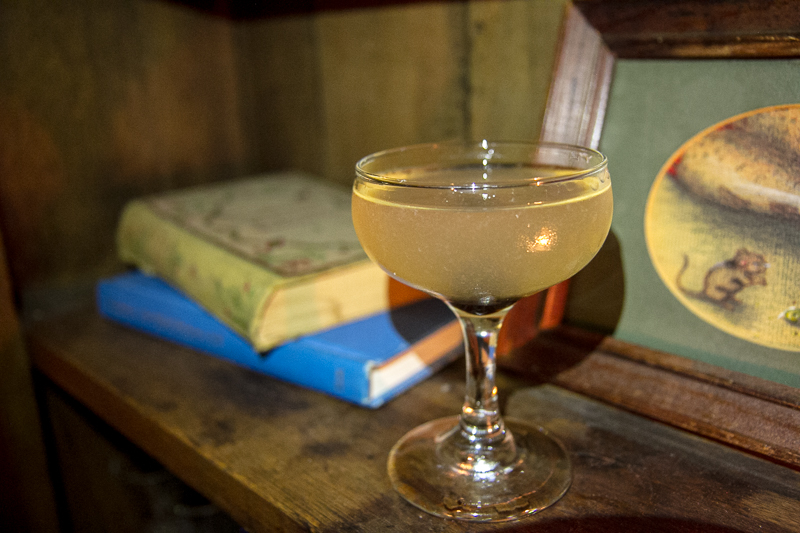 4. CHARLIE WAS A SINNER
Vegan cafe and bar, Charlie Was a Sinner, is a quirky-chic drink sanctuary thanks to J. Christine Lamb's cocktails and a candlelit, intimate setting. Paired with bites like avocado toast or carrot mousse, cocktails boast a classic aesthetic with modern touches, while the vegan mindset shows up in drinkable options like wheatgrass "shots" heavily laced with Green Chartreuse (my kind of "healthy" drinking).
Drink Examples: With a lovely literary nod (D.H. Lawrence), Women in Love combines Bluecoat Gin with celery, lime, basil, cucumber, black pepper and house jasmine simple syrup. On the brown spirits side, farro-infused Woodford Reserve bourbon is subtly layered with Amaro Meletti and absinthe.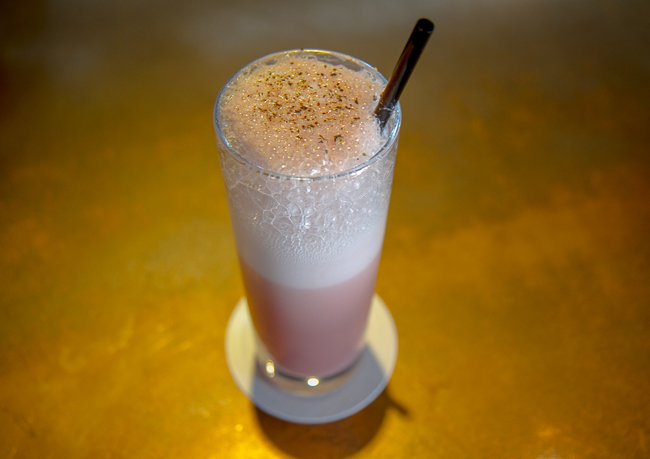 5. a.bar
Just off of Rittenhouse Square next to neighboring restaurant, a. kitchen, a. bar is the more intimate side but sunny and welcoming with an all-day menu of burgers, ceviche and cocktails from bar manager Dan Hamm.
Drink Examples: An intriguing Au Natural ($15) sounds simple but is refined, unique and for the spirits lover as much as it is approachable for the average drinker. The straightforward yet complex drink mixes Boulard Calvados with a mulled wine reduction and dash of Angostura bitters, served at room temperature. On the refreshing side, drinks still can veer blessedly unique as with a Moravian Fizz, combining Appleton Reserve rum, lemon, mulled wine (again) and a dash of black pepper with creamy-frothy texture from house buttermilk and egg white.
Save
Save
Save
Save
Save
Save
Save
Save
Save
Save