This article was first published here at Table8 where I am national editor.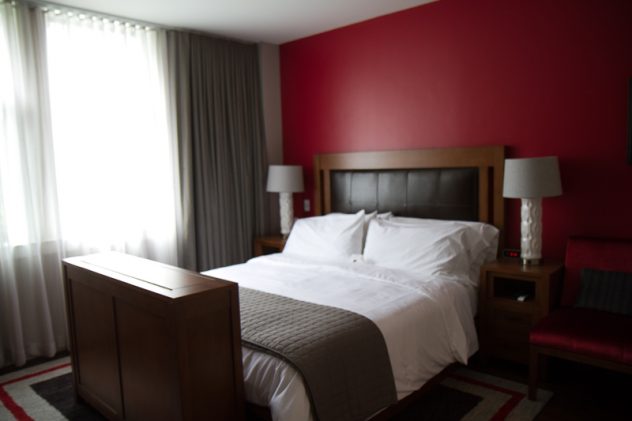 Weekending in Sonoma is always a pleasure. In the Bay Area, we are downright blessed to have a region (among California's endless stunning regions) of such variety and beauty a stone's throw away. I've been weekending there for 15 years and know the towns and villages intimately.
I may prefer the wild west-meets-Europe (punctuated by one of California's Spanish missions) architecture and look of the town of Sonoma's square. But Healdsburg, with its charming town square, is decidedly the strongest for food and dining, alongside the more suburban, plentiful options of Santa Rosa.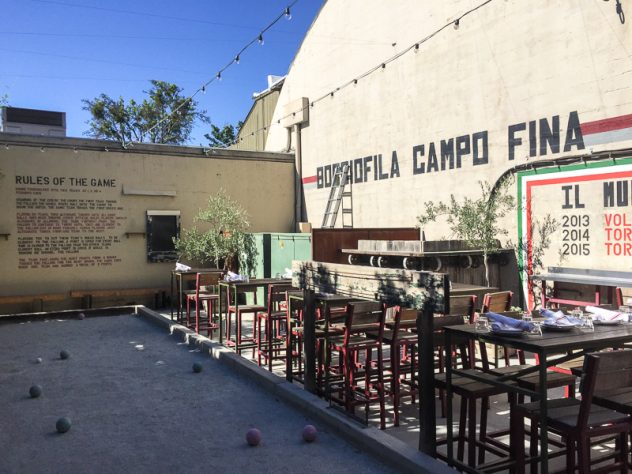 Returning to Healdsburg, it's hard to top the ease and quality of Two Thirty-Five Luxury Suites. Conveniently hidden just off the square upstairs in a large complex, this is the place for families or groups of friends to each have bedrooms and spacious bathrooms, kitchens, dining tables and living rooms. There are only four apartments/suites and at three bedrooms/three bathrooms each, they are equipped with every convenience, from a full kitchen with utensils to high thread count sheets.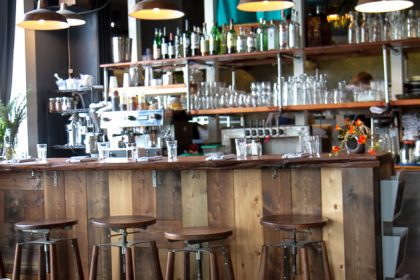 Longtime favorites in Healdsburg include Campo Fina for pizza, cocktails and bocce, Noble Folk for fantastic ice cream and pies, The Parish Cafe for New Orleans' po boys, Agave Mexican for some authentic Oaxacan dishes and a robust agave spirit selection, Flying Goat for coffee and, of course, baked goods and pastries at the classic Downtown Bakery. Now, here are new favorites and new openings, all within walking distance of each other on the square.
ON THE DRIVE: Wishbone in Petaluma
Though further south in the bustling town of Petaluma, Wishbone, open since late 2013, is a friendly little stop for breakfast/lunch most days of the week, housing two small, wood-paneled dining rooms.
Sweet staff bring out breakfast hash or the likes of a Hot Mess ($12): polenta cake with kimchi, roasted mushrooms, kale, fermented hot sauce, pickles and a fried egg. I particularly liked the chicken curry ($13), available as a salad or a sandwich on sourdough bread. Generous chunks of tender, organic chicken are tossed in house curry with pecans, raisins and red onion — it's a standout version of a comforting classic.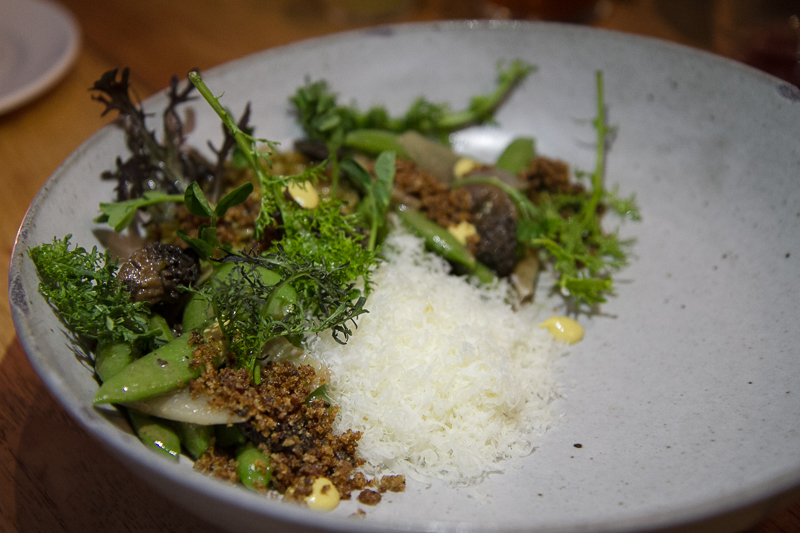 Dining/Food
Inspired Shared Plates: SHED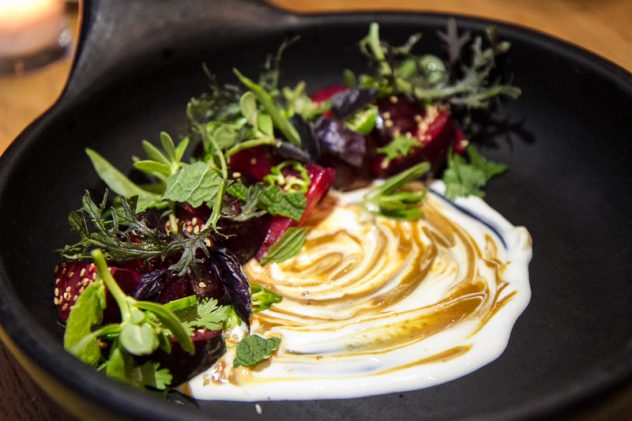 Open since 2013, SHED won a James Beard Award for restaurant design in 2014 for its massive, modern "shed" housing cafe, shop, market, wine/beer bar and an open kitchen turning out inspired dishes in the restaurant/cafe area and outdoor tables. But "cafe" is a deceptive word when it comes to some of the more inspired New American dishes in all of Sonoma AND Napa counties. Yes, it's that good.
Many ingredients are sourced from their own farm but it's chef/culinary director Perry Hoffman (a Wine Country native, cooking in both Napa and Sonoma regions, joining SHED in fall 2015) and team who take produce grown within a 10-mile radius, turning it into artful, unique dishes. This is fine dining quality in casual, laid back form.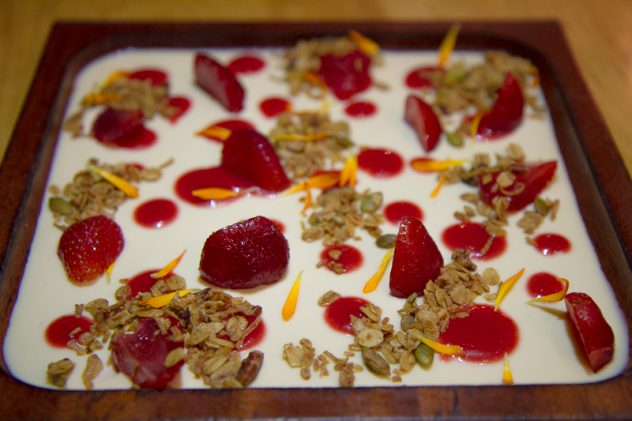 Paired with local wines (like the unfiltered, natural loveliness of a 2015 Fable Pinot Meunier from the surrounding Russian River Valley), even seemingly "simple" local sardines on toast ($15) is a luxurious dish silky with sardines, Meyer lemon aioli, radishes, celery and shaved carrots. Snap Peas and farro verde ($17) are enlivened with morel mushrooms, shaved sheep's milk manchego-style cheese and bright hot Mustard.
The Middle East shows up in blanched Monterey squid and sprouted lentil salad ($16) dotted with a lemon ginger sauce, fermented carrots, avocado and cumin. International influence continues as Japan-meets-NorCal in a stunning plum salad ($15) showing off tart local plums with gorgeous, savory layers of salted yogurt, umeboshi (Japanese salt plums) sesame seeds from Japan, shishito peppers, mint and lime.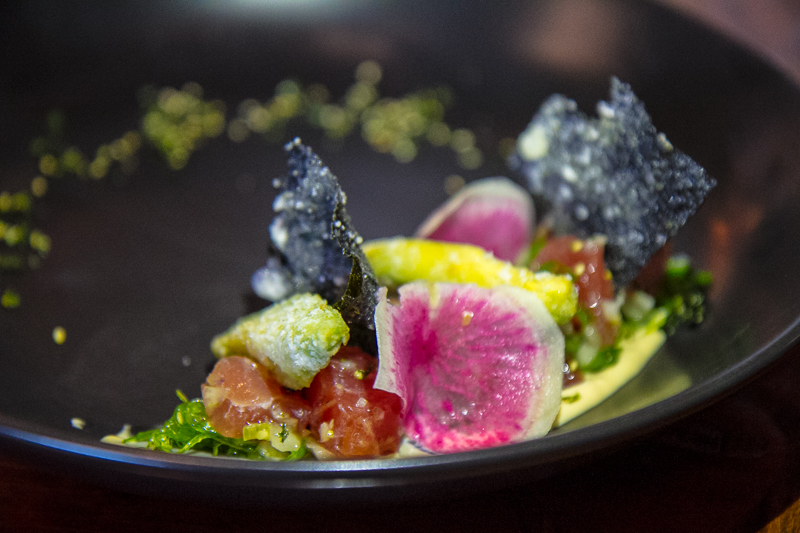 Upscale Quality with a Relaxed Vibe: VALETTE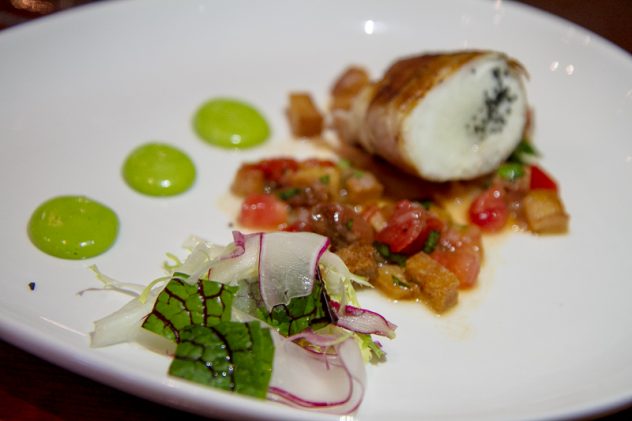 Open in spring 2015 by brothers Dustin Valette and Aaron Garzini, Valette brings an upscale elegance to downtown Healdsburg, especially with Chef Valette's "Trust Me" tasting menu ($15 per course with a minimum of four courses). Yet the vibe is comfortable, even lively, the service inviting, making this a Sonoma destination.
Cocktails may include housemade spirits like a finger lime-Thai chile liquor, while the wine list leans heavily toward NorCal and France. Dishes change but look for seasonal courses like Summer squash and saffron soup ($12) accented by candied jalapeno jam, rock shrimp and coconut crème fraiche, or artful Hawaiian ahi 'poke' ($15) marked by wakame Salad, lightly fried avocado and a soy kombu (sea kelp) emulsion.
Dessert is no afterthought. Case in point: a dreamy, toasted brioche, dubbed "Bread, Butter & Jam" ($9) is buttery and moist, marked by strawberry 'jam' and salted brown butter ice cream.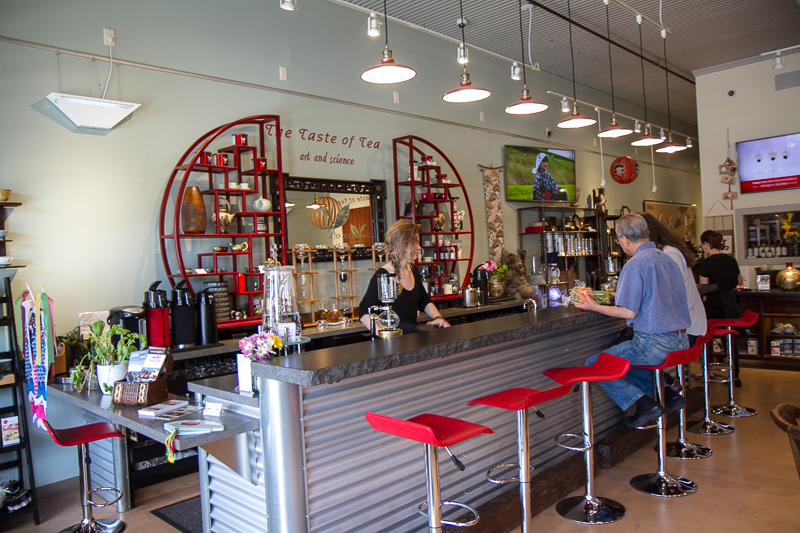 Japanese Tea with a Zen Spirit: THE TASTE OF TEA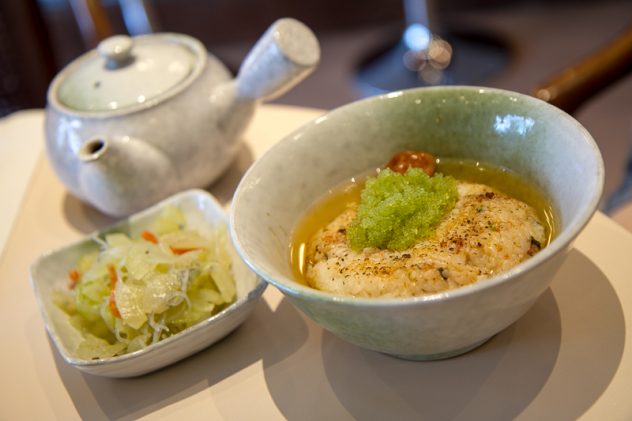 Open since early 2015, The Taste of Tea is a family affair, a respite for tea and Japanese peasant dishes dad cooks as daughter runs the cafe.
Clean lines and a range of teas — with a whole section just for matcha — make the cafe appealing. The highlight is the Japanese dishes, like a cold green tea soba noodle salad ($11), just a tad heavy on the miso sesame ginger vinaigrette, or especially soothing salmon ochazuke ($15), a grilled rice mound laced with smoked sockeye salmon, topped with wasabi caviar and doused in Kyoto banchan tea, also paired with the dish. The space is sunny, charming and soothing, as is a meal or tea hour spent here.
Mexican Respite with Oaxacan Touches: EL FAROLITO
El Farolito is old school, to be sure. Think rice and bean platters and sweet staff turning out classic, quaffable margaritas.
They do right by brunch/day time classics, hearty chilequiles or huevos rancheros. Though not the complex kind of mole one finds everywhere in Mexico's dreamy region and city of Oaxaca, the addition of a few Oaxacan dishes makes me smile, namely the house mole negro, layered with chiles and chocolate, available over carnitas (pork) or chicken or on enchiladas (for more Oaxacan dishes, check out Healdsburg gem Agave Mexican in a nearby shopping mall).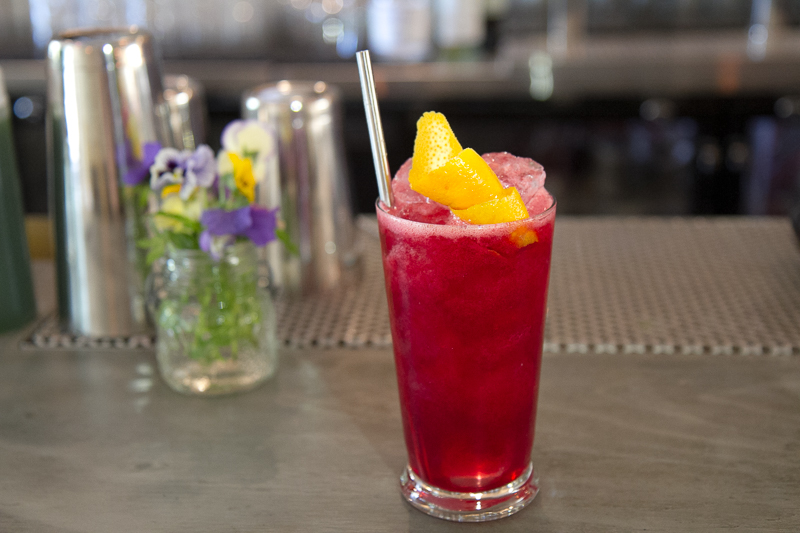 Cocktails
The Shining New Cocktail Destination: DUKE'S SPIRITED COCKTAILS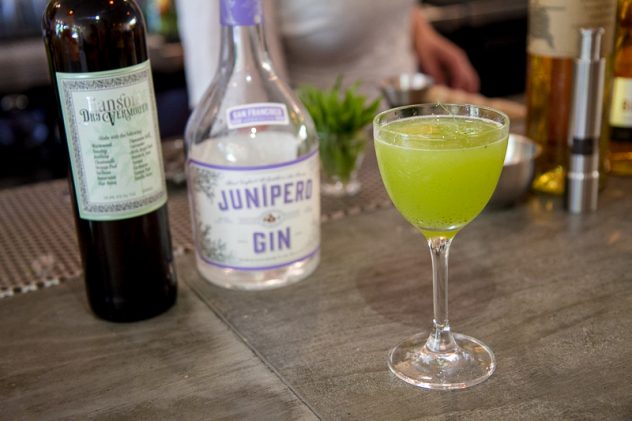 Just open as of June 23, Duke's Spirited Cocktail Bar is set to be a cocktail destination in all of Wine Country if my cocktail tasting prior to opening was any indication. Spoonbar alum, Laura Sanfilippo, Tara Heffernon and Steven Maduro, each bring honed palates and drink experience to the bar — and most importantly, an engaging friendliness and true sense of hospitality that will put regulars and visitors alike at home in their long bar, sunny with a skylight and big front windows overlooking the square.
They play with produce and local spirits, including ingredients from Heffernon's farm. Maduro curates the beer list and there are snacks from nearby Chalkboard chef Shane McAnelly (think rosemary mixed nuts or pickled veggies) as well as Noble Folk ice cream sandwiches. They all collaborated on the cocktail menu with its impressive range of cocktails and spirits.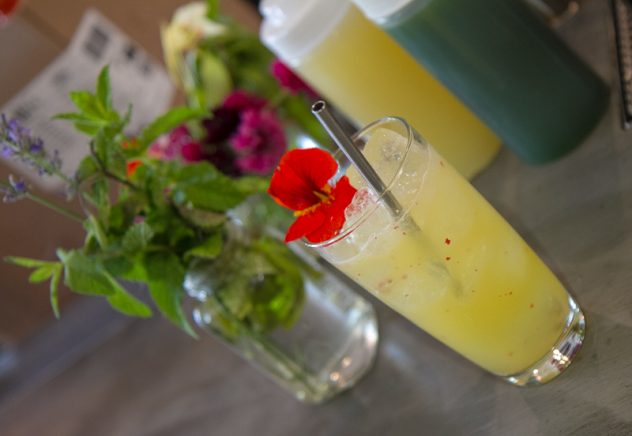 There are enough initial standouts from 18 cocktails, it's hard to choose a favorite. A few examples: Paterson Sorrel ($10), pictured above, is a rosy beauty showcasing Sanfilippo's fantastic sorrel recipe (a spiced Jamaican hibiscus tea) with a blend of Wray & Nephew rum and Chauffe Couer rhum, a vibrant house ginger brew (drinks nicely on its own, too, like a fresh ginger beer with just enough heat) and Tiki bitters.
Jolly Rocket ($13) is green, spring like and voluptuous, with Anchor's Junipero Gin as a base, a house syrup made of snap peas and arugula with fresh tarragon muddled in, balanced by lemon and a dash of black pepper. Bitter Root ($11) is my ideal aperitif/low proof cocktail with the right balance of bitter, sweet and dry in a blend of Leopold's Aperitivo, Cocchi Rosa, Cappelletti Aperitivo, sparkling wine and blood orange bitters.
Or why not Maduro's award-winning Rangpur More ($11) cocktail? Savory and fresh, it highlights Opihr Gin mingling with a house rangpur lime shrub, saffron bitters, pink peppercorns and a house tonic. The pleasures are many as Duke's drinks showcase NorCal bounty in a complex array of ways, while booze-forward presence still remains. Everything housemade I tasted, from an addictive root beer to that lovely ginger brew, all confirm the skill that went into this menu and this gem of a new bar.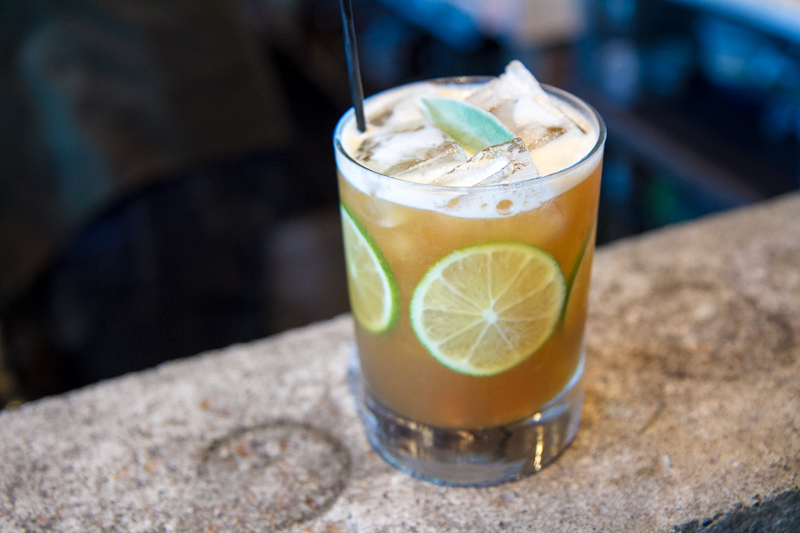 Still a Cocktail Go-To: SPOONBAR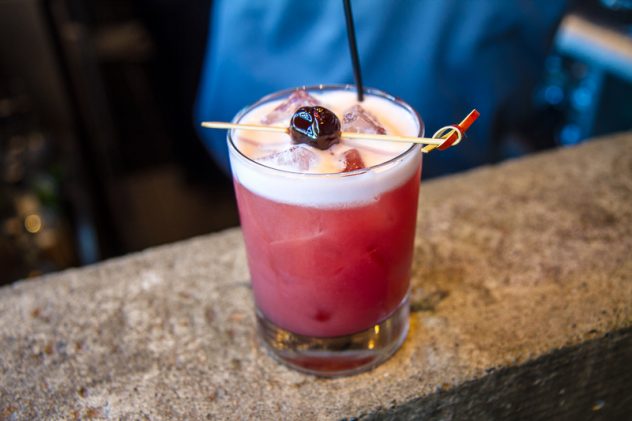 Spoonbar was initially put on the "bar map" by opening bar manager and Sonoma cocktail pioneer Scott Beattie, launching many a great bar manager and bartender ever since.

Thankfully, under current bar manager Alec Vlastnik, the tradition of the restaurant's bar being a draw for balanced, expertly-crafted cocktails continues.
While you can go light and easy with drinks like a Cali Collins or be converted to bourbon with a soft Cherry Bounce Sour ($11 — Smooth Ambler 7 yr. Bourbon, cherry bounce, lemon, egg white, burlesque bitters), the most exciting current drinks reach just a bit further.
Blind Tiger ($11) shows off St. George absinthe — ideal for absinthe or fennel, black licorice, anise fans — brightly accented by Aperol, Benedictine, lemon, yuzu (Japanese citrus) and hibiscus. Another bracing yet refreshing beauty is Strange Times ($11), an on-the-rocks combination of W.L. Weller 7 yr. Bourbon, Cynar and amaretto, the bitter-almond-caramelized notes brightened by lime and sage, resulting in a subtle yet memorable whole.
Share bar bites like cheese-stuffed fried pretzels ($8) dipped in lemon mustard sauce, duck fat popcorn ($8), tequila lime-glazed confit chicken wings ($8) or ahi tuna ceviche ($10) laced with charred avocado, cucumber and mango, scooped up with black rice chips.
Wine & Beer Bar
Hip Wine & Beer Lovers' Hangout: BERGAMOT ALLEY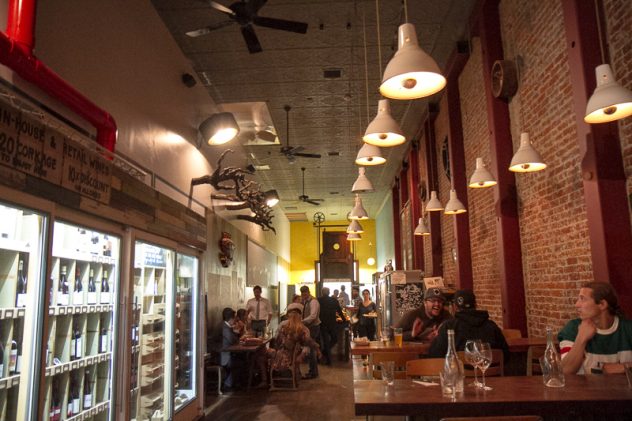 Open since the tail end of 2011, Bergamot Alley is (rightly) the industry and local's late night hangout (for Healdsburg: until 1am, Tuesday through Saturday, 11pm on Sundays).
It is a wine bar and shop serving craft beers and interesting, often cult wines — none of them American. Husband and wife, Kevin Wardell (formerly of A16 and Flour + Water in SF) and Sarah Johnson, run a hip, comfortable space where vinyl spins all night, there is live music some nights, Cards Against Humanity tournaments and you can grab bottles to go or linger over glasses or bottles.
Underrated Italian wine regions, pét–nat (pétillant-naturel wines), orange wines, Eastern Europe, France's Jura, even sake and sherry — wine geeks will find plenty to delight here, alongside a menu of grilled cheese sandwiches and bites. One of the standouts during my recent visit was a natural, biodynamic wine from France, Les Maisons Brûlées, with just the right amount of character and funk balanced by elegance and acidity.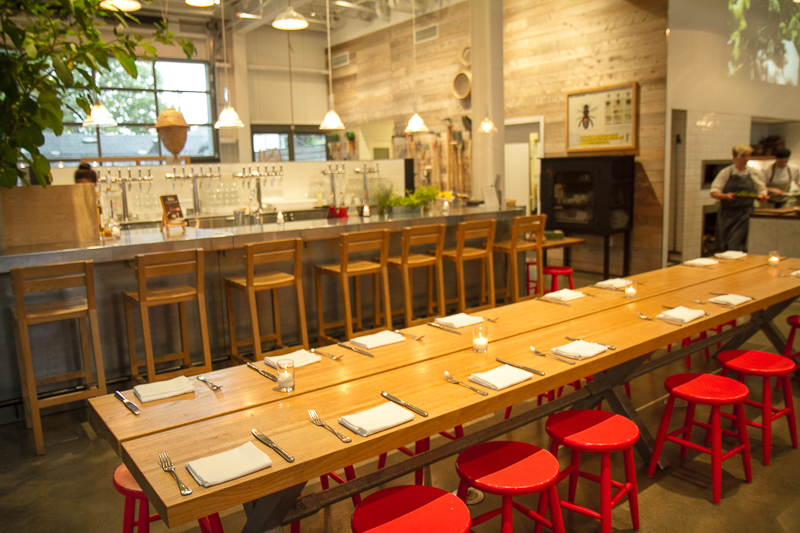 Save
Save
Save
Save
Save
Save
Save
Save
Save
Save
Save
Save
Save
Save
Save
Save
Save
Save
Save
Save
Save
Save
Save
Save
Save
Save
Save
Save
Save
Save
Save
Save
Save
Save
Save
Save