This article was first published here at Table8 where I am national editor.
The 9 key restaurant and bar openings of June are Louie's Gen-Gen Room, Tawla, Dum, In Situ, Two Birds/One Stone in St. Helena, P.C.H. (Pacific Cocktail Haven), Tratto, Duke's Spirited Cocktails in Healdsburg and Agave Uptown in Oakland. Corridor, which opened at the end of the month, will be in our July openings feature.
On the bar front, both P.C.H. in San Francisco and Duke's Spirited Cocktails in Healdsburg (Sonoma County) are excellent and destination-worthy cocktail newcomers. As for the restaurants, while there are strengths at each — I haven't had a chance to make it up to Napa to visit Two Birds/One Stone yet but visited all others — here are my top newcomers… and why they stand out.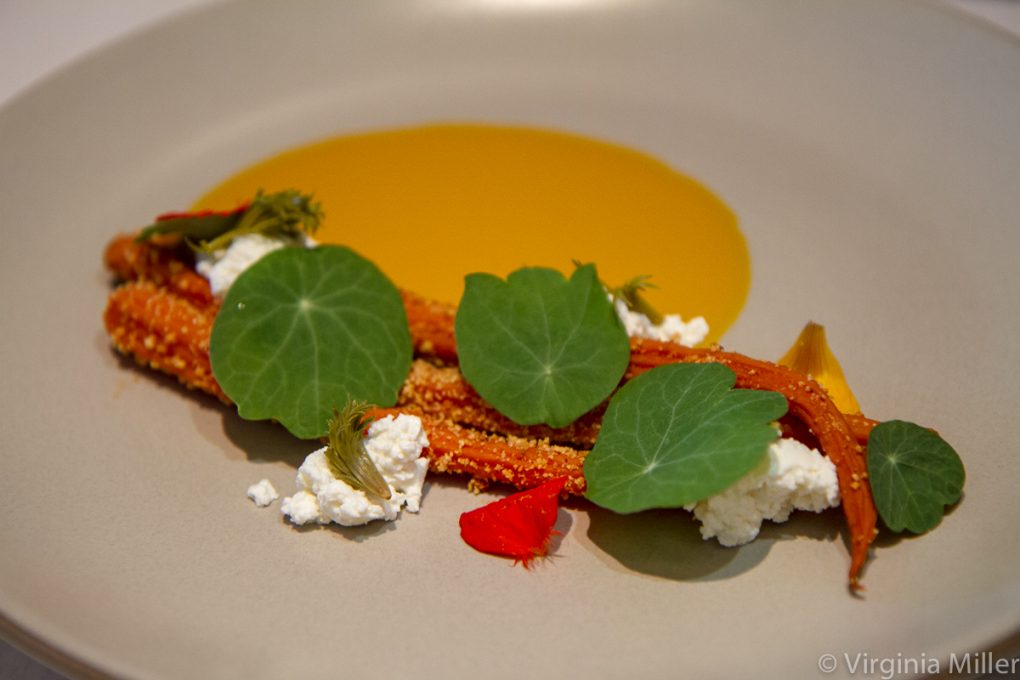 IN SITU — SoMa, SF
Imagine, as a hard core food lover who travels the world in search of superlative flavors — or maybe just restaurant obsessed, checking your way through Michelin starred and Pellegrino World's 50 Best restaurants — that there was a restaurant serving dishes from some of those restaurants. Not just serving them, but to exact specifications from recipe to plating. If this was pulled off right, it would be like traveling the fine dining globe at one table. In my initial experience at In Situ in the newly-reopened San Francisco Museum of Modern Art (SFMOMA), they are pulling that off. The dining room is sleek and minimalist, designed by Aidlin Darling Design, under a wood ceiling canopy with a front lounge area.
THE WHY: Though chef Corey Lee of three Michelin-starred Benu (around the corner) is over the concept, chef Brandon Rodgers is on the ground in the dining room, turning out rotating á la carte dishes from the likes of Thomas Keller, René Redzepi,, Alice Waters and even vintage Cecilia Chang from the 1960s. The lounge offers a short "bites" menu while the restaurant serves a separate, full menu. This concept is special and execution initially is keeping up with the vision — also, servers know the menu intimately and wine offerings are of high quality thought available in too large portions (a couple glasses worth as the smallest size).
DISH RECOMMENDS: On the lounge menu, you might see the likes of a lettuce sandwich ($12) of fermented romaine and goat cheese from Christian Puglisi's famed Relæ in Copenhagen or ketchup fried rice ($12) with fried egg from Roy Choi in Los Angeles.
Initially, there are many highlights on the "dinner" menu which is currently only served during the day with dinner hours to expand soon. From the now-closed wd~50 in NYC and chef Wylie Dufresne, "shrimp grits" ($14) is a layered dish of creamy grits unfolding with pickled jalapeño and shrimp oil, while guinea fowl larp Chiang Mai ($24) from David Thompson at Nahm, Bangkok, circa 1999, is proper Thailand, burn-your-mouth-out spicy. There are dishes from some of my favorite restaurants in the world, like the octopus seaweed dish from Virgilio Martinez's Central in Lima or a divinely unique lobster, Thai-influenced dish from Tim Raue in Berlin.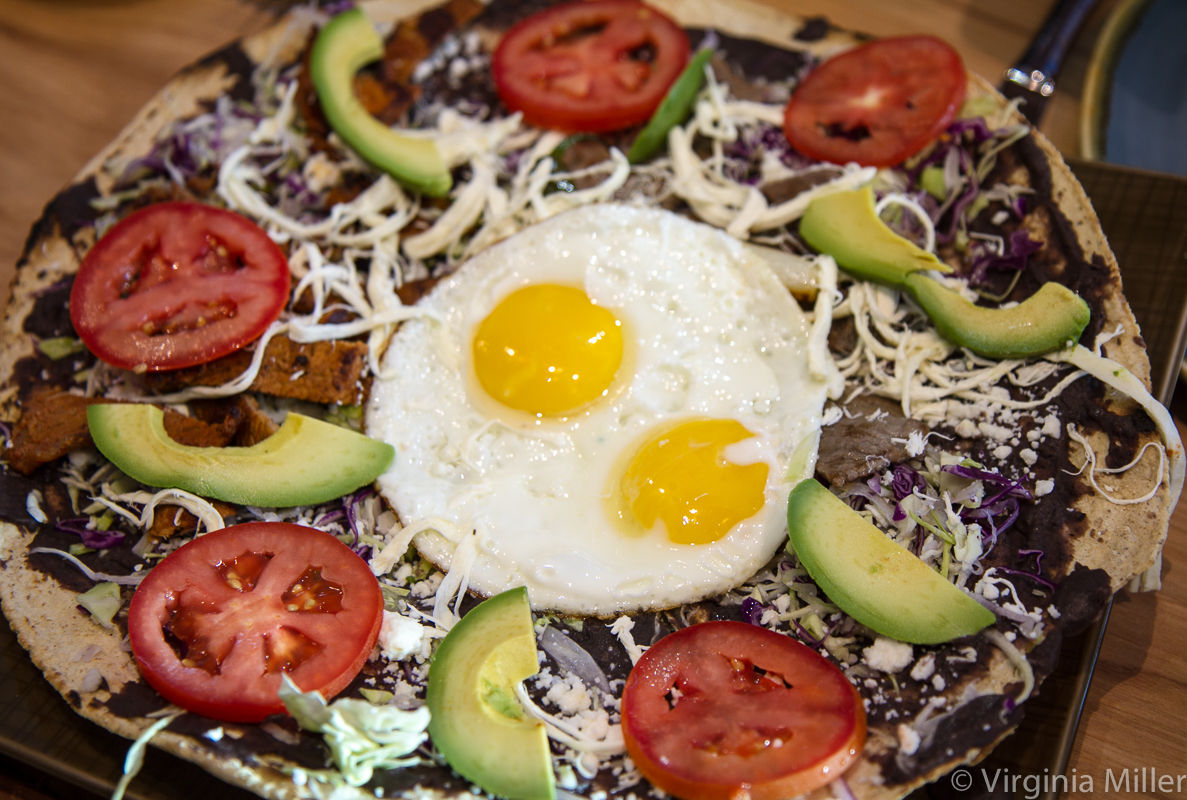 AGAVE UPTOWN — Oakland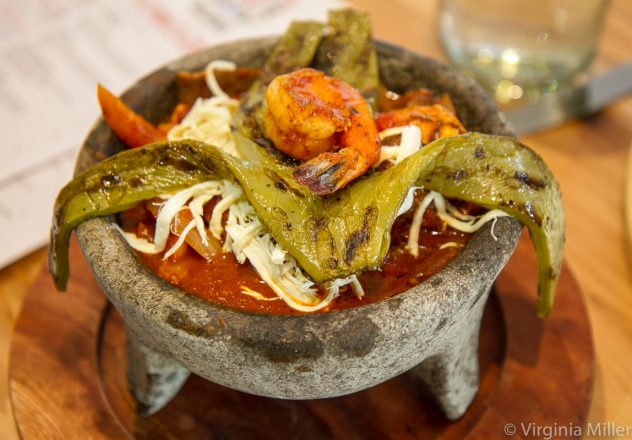 From executive chef Octavio Diaz (behind Agave Mexican in Healdsburg, whose praises I was singing at Zagat back in 2014), Agave Uptown is a sunny, airy, bustling newcomer in Uptown Oakland with servers as sunny and heartwarming as the food and space. Pulling from his roots in Santa Gertrudis, Mexico (southwest of Oaxaca city) — and grandma's lush mole negro recipe — Oaxacan dishes not easy to come by outside of Oaxaca, like tlayudas (pictured top) and molotes (masa "empanadas"), are a real draw.
THE WHY: The food and the cocktails are on point across the board, even with the first two weeks. Sitting beneath a Oaxacan mural tributing the cuisine and state elixir, mezcal, the smell of freshly made tortillas from the visible tortilla station warm up the space. But waitstaff sealed the deal with some of the most engaging and heartwarming service I've had in a long while. We were treated like old friends.
DISH RECOMMENDS: Ceviche ($12) in aguachile and fresh crudo of the day are crisp, clean and of the sea starters. Molotes (1/2 dozen $7, 1 dozen $13) are mini-masa/tamale-esque bites filled with chorizo, potato and cabbage. Alongside the mole negro de Oaxaca, served in a number of forms including over tender, organic Rocky's chicken ($19), molcajete ($19) is the standout entree, served in a stone molcajete, packed with chorizo, prawns, tasajo (dried beef), grilled chicken, onions, peppers and nopal (cactus), in a savory, tomato-rich sauce.
DRINK RECOMMENDS: An extensive mezcal selection feels like the most appropriate pairing with Oaxacan dishes, served properly as in Oaxaca with orange wedges and sal de gusano (agave worm salt). Try the slate-y, earthy goodness of Mezcal Vago Candelaria Yegolé Cuixel ($18 a pour). But don't miss the cocktails: balanced, refreshing, delightful and often layered, as with a Remedio De Santiago Matatlan ($12) combining Pelotón de la Muerte Mezcal with Green Chartreuse, kiwi, grape marmalade, lemon and absinthe. An utterly drinkable El Mixteco ($12) plays off tamarind margaritas with a refined mix of Don Julio Tequila, Mezcal de Pueblo, pineapple syrup, lime, orange and spicy, fresh tamarind juice.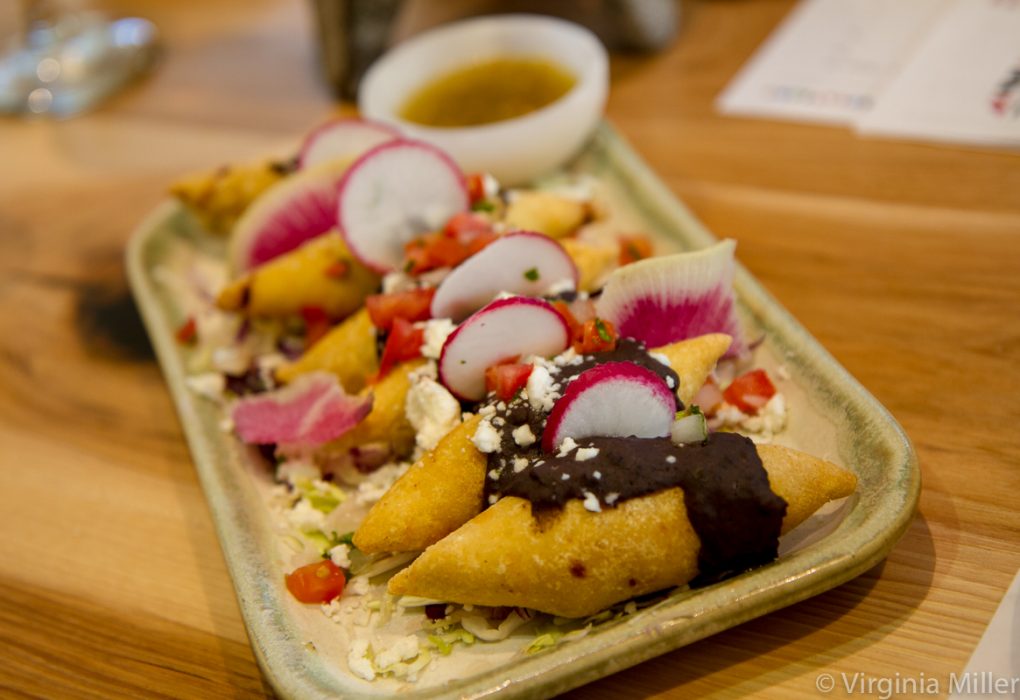 PROMISING, BUT…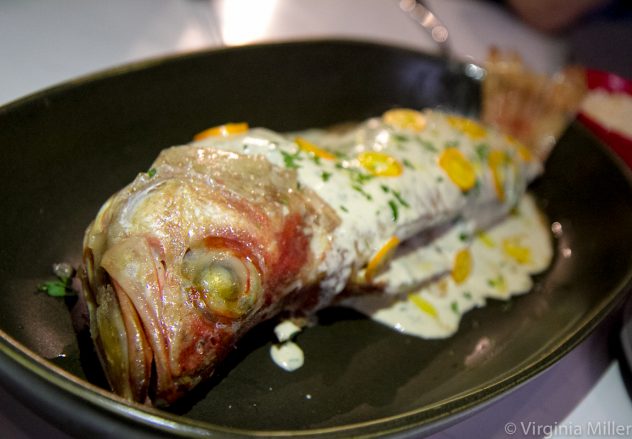 The most promise among the places I didn't include was Tawla, which is bringing a much-needed Middle Eastern focus in the vein of places I love and are universally raved about: Zahav in Philadelphia and Ottolenghi in London.
Though trying a good chunk of Tawla's menu, it was uneven despite strengths: that house bread! And the mujaddara! (lentils, rice, a divine house yogurt, cherry tomatoes and fried onions). But then there were some questionable moments: the $55 rock cod whole fish special tasted solid mainly due to the walnut "stuffing" akin to muhammara dip, but it arrived smelling almost oppressively fishy, was raw in some spots and was nearly drowning in an excess of tahini sauce. Portions can be minuscule for the price in some cases, but other dishes are more generously portioned, like topik (chickpea potato pie). Then there were some serious service issues. It was disappointing, to say the least, for a restaurant in a category many of us long to see more of.
HONORABLE MENTIONS
Here are three additional new openings worth noting for a range of reasons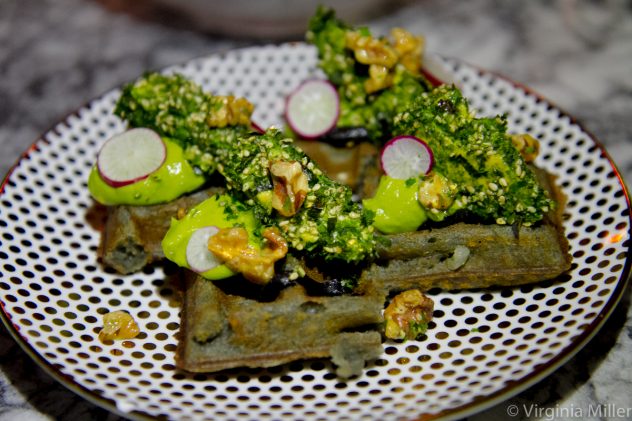 LOUIE'S GEN-GEN ROOM, TenderNob: Essentially a basement bar inside the acclaimed Liholiho Yacht Club (one of my top restaurants of 2015 at both Table8 and Zagat), Louie's opened this June as a magical, sexy getaway — more chill than the bustling Liholiho upstairs — glowing with candlelight, teal blue banquettes and a hot pink palm tree mural, recalling intimate, tropical splurges like ZZ Clam Bar in NYC. Cocktails are created by Yanni Kehagiaras, who also oversees Liholiho's bar, offering some of the upstairs drinks alongside new cocktails. Better yet, Louie's serves an exclusive food menu downstairs. Let's just say I'm already smitten with caviar French onion dip and potato chips ($12.50 for trout roe caviar or $38.50 for Tsar Nicolai estate caviar) and those dreamy waffles ($9.25-15.25), like the bone marrow butter waffle, okonomyiaki waffle with housemade spam or a fantastic, buckwheat furikake waffle topped with avocado, toasted walnuts and black sesame.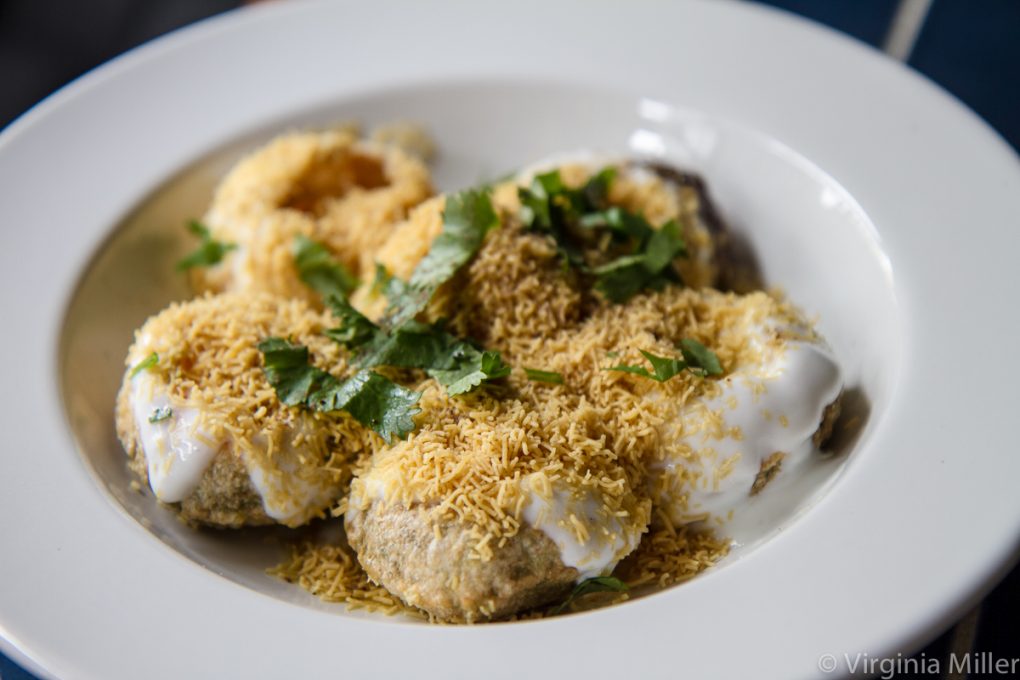 DUM, The Mission: From popular food truck to brick-and-mortar this June in the Mission, Dum has been beloved for its biryani (Indian rice dishes) with tender, quality lamb or chicken. But they also do right by kati rolls ($6) – try the comforting pork vindaloo – or chaat (Indian street food/snacks), like dahi puri ($8), a handful of semolina puffs oozing with sprouts, yogurt, tamarind, cilantro and crispy vermicelli. Run by Indian staff serving authentic Indian eats, the space is modern, casual, comfortable and open for lunch and dinner.
TRATTO, Union Square: We may have seen rustic Italian pastas and pizzas with amaro-influenced (and beyond) cocktails countless times before. But the new Tratto  in The Marker (a Joie de Vivre Hotel) in the Theater District (and tourist central near Union Square), initially does right by the category with warm, engaging service, comforting dishes and well-executed cocktails that bring value for the price.
Executive chef Kevin Scott (formerly at The Big 4) delivers gratifying versions of Calabrian sausage pizza ($14), baked eggplant penne pasta ($16) and an impeccable fritto misto ($11) laden with fried calamari, rock shrimp, fennel, lemon, red peppers, yellow squash and zucchini dipped in Calabrian chile aioli. In addition to wines on tap and by the jug, beverage director Cynthia Tran manages to take the standard Negroni and have a bit of fun with light, frothy and appropriately bitter Negroni Flips (classic whole egg cocktails), bottled cocktails, Italian cream sodas and a fantastic housemade limoncello as well as an orangecello and grapefruitcello. Note the striking San Francisco murals around the restaurant by local artist Amos Goldbaum.
Save
Save
Save
Save
Save
Save
Save
Save
Save
Save
Save
Save
Save
Save