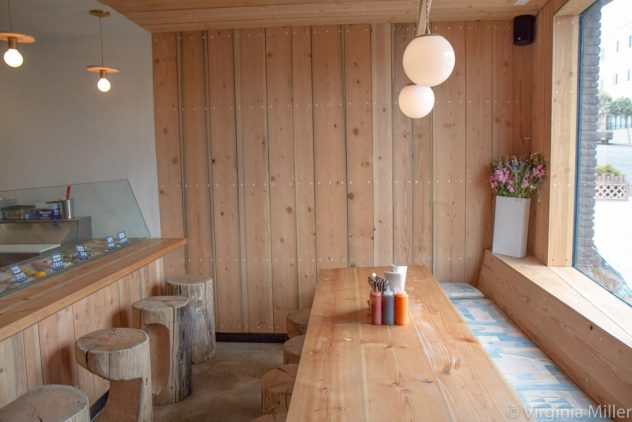 June's notable restaurant openings were RT Rotisserie, Duna, Alta from Daniel Patterson Group in late May, seafood gem Hook Fish, poké and Asian fusion (Korean-influenced burritos, tacos, bowls, etc.) Saucy Asian, another locale from the Big Night Restaurant Group, Petit Marlowe and Mockingbird in Oakland.
It's been a short but mighty list of openings this month, whether opened by a restaurant group, as with Alta, or a tiny neighborhood gem like Hook Fish, which offers truly local (caught off the shores of SF and the Farallon Islands) seafood to take home alongside a short, thoughtful seafood menu. After a couple visits, I appreciate the warm welcome and spanking fresh seafood (and that hefty smoked trout salad).
Here are my top three newcomers of the month… and why they stand out from the rest.
ALTA — Dogpatch, SF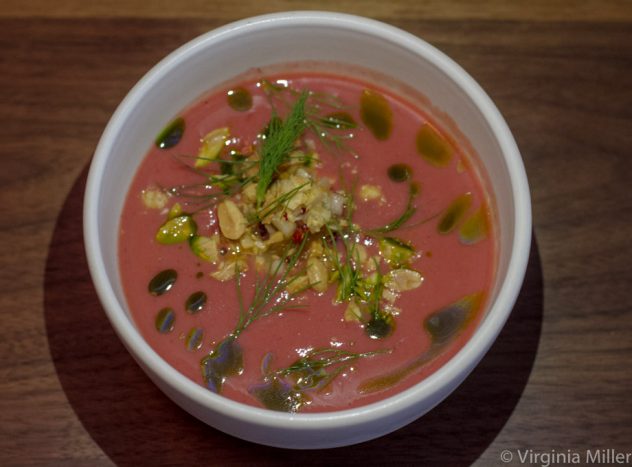 Open May 23rd in the Minnesota Street Project building, Alta already wins by being located in this forward-thinking, affordable gallery "hall" for artists, non-profits and events. It's such a pleasure walking through here pre- or post-meal at Alta with ongoing events, signings and exhibitions.
The original Alta opened on Market street in 2013 from master chef Daniel Patterson and Daniel Patterson Group (DPG), while his shuttered Oakland restaurant, Haven, will reopen next spring as a third Alta.
I was pleasantly surprised to find the Minnesota St. Alta is not merely Alta, part two. In fact, it stands out as its own Californian-New American menu, even stronger than its predecessor right out of the gate. Though a seemingly typical industrial, wood, concrete, minimalist dining room with long communal tables, there is a warmth to the space, enhanced by servers and staff who seem happy to be there. I continue to appreciate DPG's commitment to a no tipping model (as in Japan and other countries), so expect prices to be a few dollars more than other mid-range restaurants but to conveniently include all tax and tip.
Eat This (Menu $5-33): Former Haven chef Matt Brimer is bringing an elevated stance to casual dishes, making the experience more memorable than I expected. The menu runs all day with different options for breakfast, lunch and dinner, as well as pastries from Nick Muncy (COI's former pastry chef) — changing often with ingredients of the season. In fact, seasonality and contrasting textures is where Brimer shines.
A cool Santa Rosa plum gazpacho ($15) is downright beautiful laced with lemon cucumbers, marcona almonds and dill. His Brentwood corn ($17) dish tastes of the best of summer, standing out from the many Brentwood corn dishes I've had this month alone, marked by skinned sungold tomatoes, smoked trout roe and padron peppers.
Likewise, local halibut crudo ($18) jumps out from the ubiquitous crudo dish contrasted with nectarines, puffed quinoa, turnips, lemon verbena and Fresno chiles. Elegant comfort is found in Monterey squid porridge ($28) with its base of squid ink koshikari rice graced with spring peas, preserved lemon and Fresno chiles. Brimer's dishes are colorful as they are delicious.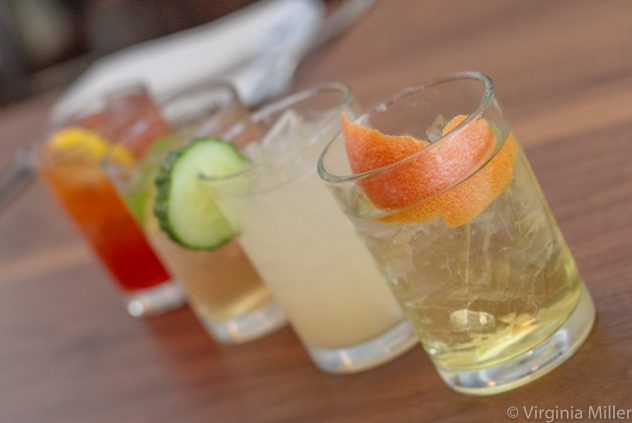 Drink This: DPG's beverage director Aaron Paul has crafted a menu that keeps in refined step with the dishes, all about playful, light and easy drinking.
Yes, this is another "low proof" cocktail menu and as is the case with all the great pioneering low proof menus of the past few years in this town, this menu stands on its own, unique to other low-ABV menus around SF.
Four sparkling wine cocktails on tap ($12 — remember, tip included) delight. All four on my initial visit were lovely but I especially loved Hotel Valentine, a Carpano Bianco vermouth and sparkling wine drink intriguingly layered with cherry, peppermint and birch, resulting in a minty cherry root beer effect.
Among the regular cocktails ($12), I took to the The Jamel Shabazz with its robust yet seamless blend of Punt e Mes sweet vermouth, Contratto bitter, a house Classico bitter blend and Imbue Petal & Thorn vermouth. This is the one for those looking for something more "spirituous" or bold. There are great beers on draft from neighboring Harmonic Brewing down the street and non-alcoholic, interesting juices ($7) like Fountain of Roots (beets, yogurt, carrots, Indian spices, serrano chiles).
RT Rotisserie — Hayes Valley, SF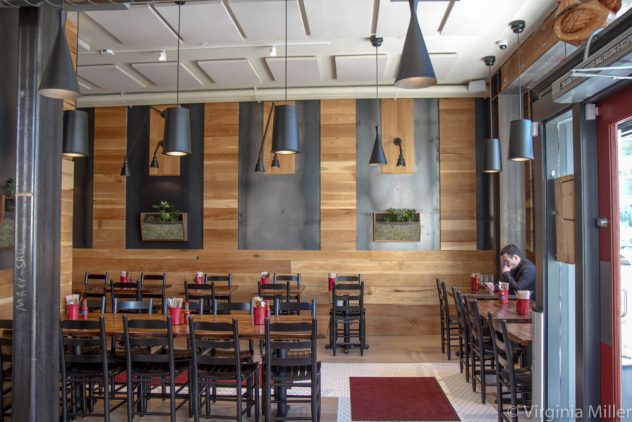 Open May 30th, I already pretty much knew I'd be a fan of RT Rotisserie, for two reasons:
1) It's the second Hayes Valley restaurant from husband-wife Sarah and Evan Rich, whose Rich Table was not only one of my top restaurant openings of 2012, but has proven to remain one of our city's all-around best restaurants, from food to drink, down to its James Beard nomination.
2) As a casual, counter-service rotisserie (sporting a red Rotisol rotisserie) serving high quality food within a couple blocks of all the Hayes Valley theater/show goings-on (SFJazz, SF Symphony, the ballet, opera, etc.), RT seemed a shoo-in to be a regular pre-show meal — I'm a jazz-music-theater-obsessed kind of a girl.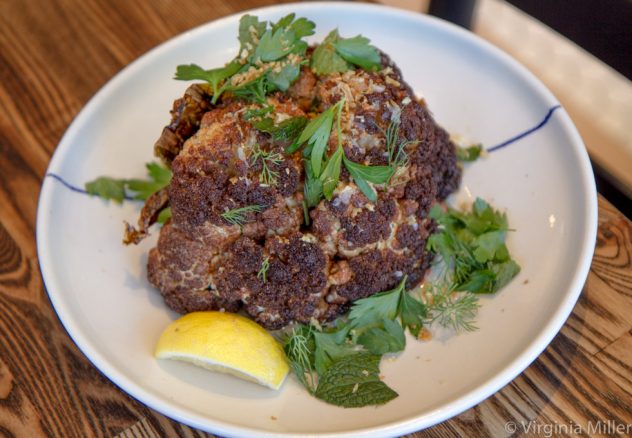 Eat This (Menu $5-19): In RT's cozy (800-square-foot), sunny corner space, the food is as strong as I expected after trying almost all of the initial menu.
Whether you go with rotisserie on its own, in a salad or as sandwiches (on house Dutch crunch bread), buttermilk-brined chicken (from Rocky Jr.) or pork (from the always fantastic Olivier's Butchery in Dogpatch) are both tender and gratifying, cooked in smoky garlic oil and herbs.
But that whole grilled cauliflower served steak-like or on a sandwich with beet hummus, threatens to steal the show. So does a surprisingly fantastic charred cabbage and almond salad. Ditto unique sauces like Douglas fir sour cream or a vibrant chimichurri of local herbs. There is plenty for food lovers here, top-notch considering it's an easy take-out joint.
Drink This: One changing draft beer and a handful of sodas and wines equals a short-but-sweet drink list. For me, it's all about a glass of Sonoma-based Kivelstadt Cellars' crisp Twice Removed rosé or the surprisingly balanced (acid and fruit) Kivelstadt Zinfandel bottled just for Rich Table from Mendocino grapes.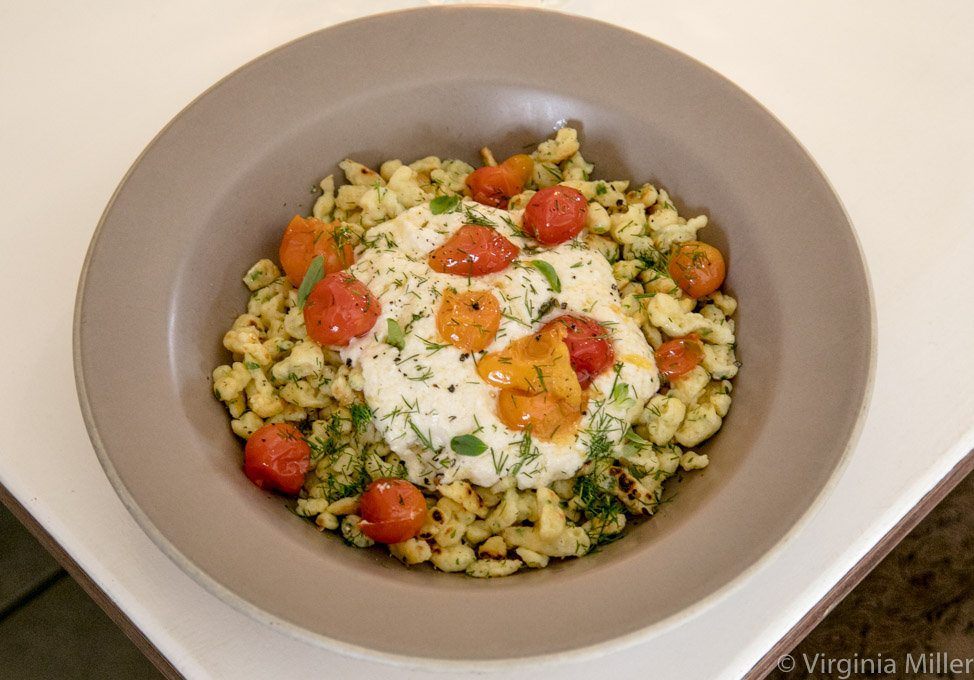 DUNA — Mission, SF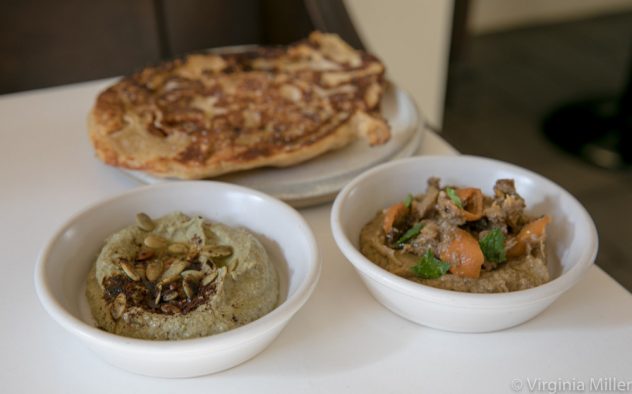 Duna (Hungarian for the Danube river) opened June 1st from Nick Balla and Cortney Burns in the Mission space that housed their Motze concept. I delighted knowing their inspired Central and Eastern European-influenced food was back since the closure of one of my favorite SF restaurants, Bar Tartine, where they long served the kind of forward-thinking Eastern European food one can hardly find anywhere in the country.
Duna's streamlined space is airy and casual and the food as good as ever, as is the warm service. Even better, they are doing hyper-regional Eastern European Sunday Suppers (ticketed tasting menus only) focusing on regions like various parts of Hungary (where Nick used to live) or Poland (upcoming dinners here).
But… the downside is with order-at-the-counter service, dishes come out in a quick flurry within minutes of each other. Great if you're in a rush but not so great if a) you've already run out of room at the table and have to hurry to finish one dish to make room for the rest, and b) you've just spent $150 on a meal for 4 that you finished in 45 minutes because it all arrived at once and was getting cold. Here's hoping they start figuring out coursing out dishes with a little breathing room in between. Since you can leave your tab open, the only solution I can think of is next time I plan on walking up to the counter to order each course and thus control the speed myself.
Eat This (Menu $3-19): Continuing their Bar Tartine traditions of rustic-modern Eastern European dishes and an extensive collection of house fermented ingredients and pickled vegetables, you'll still fill find subtle whispers of Japan, where Balla also lived, in their cooking.
Some dishes from Bar Tartine remain or have morphed into new versions, whether sprouted lentil croquettes ($15) or smoked potato flatbread ($4), the latter lovely with house spreads ($4 each) like pumpkin seed dip or preserved eggplant dip with kumquats.
It's hard to resist near perfect spatzle doused in fresh farmers cheese ($16), contrasted with sweet, stewed tomatoes, or stuffed cabbage rolls ($19) packed with ground pork belly, accented with sausage, mushrooms, dried apples and the usual fresh dill and sour cream. Both dishes are crowd-pleasing delights.
Drink This: The short-but-sweet drink list including the aromatic likes of house anise sparkling soda ($4) or Hungarian wines alongside a local 2016 Pomebandit Sonoma Cab Franc Rosé made just for Duna.