Published by Where Traveler (my other Where articles here) in April 2019, my article on six new restaurants in San Francisco — from an A5 wagyu temple to forward-thinking casual Mediterranean dining. Places, dishes & drinks standing out now at Niku Steakhouse, The Butcher Shop by Niku Steakhouse, Verjus, Noosh, Commons Club at Virgin Hotels SF, Udon Time.
Article here: www.wheretraveler.com/san-francisco/eat/your-san-francisco-dining-checklist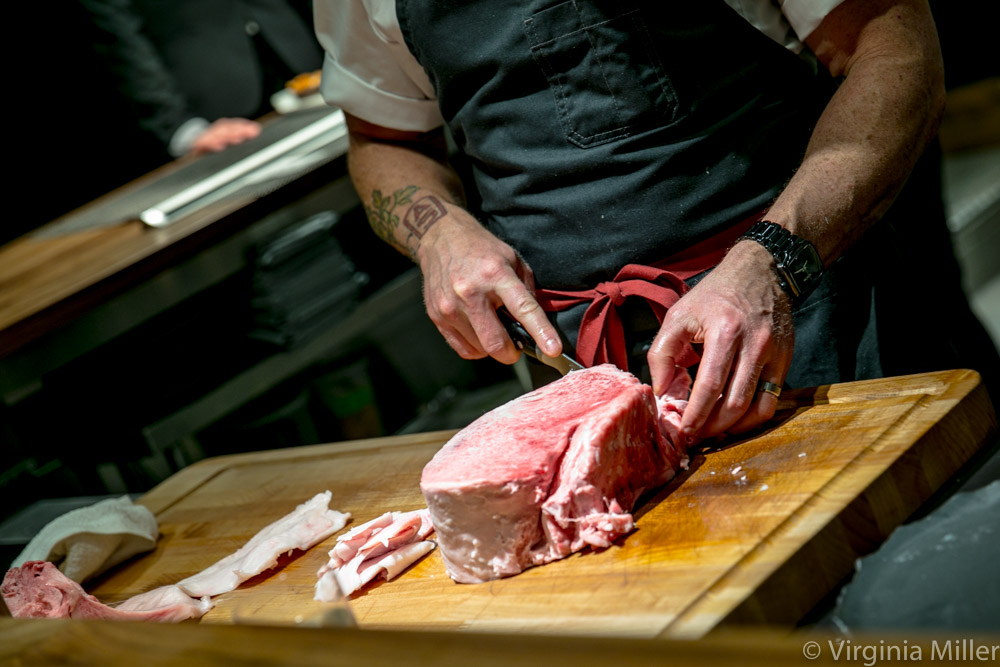 San Francisco is a city where new openings continue at a rate so steady, even those of us who spend most nights dining out, can't keep up. But if you want to know what's both new and hot and worth visiting, we've got six standouts.
Niku Steakhouse, SoMa/Design District
With the butcher shop-to-surpass-all-butcher shops new next door — The Butcher Shop by Niku Steakhouse — Kash Feng and Jackson Yu's Omakase Restaurant Group takes A5 Japanese and American wagyu steak to the next level at Niku Steakhouse, open in February. The modern, Japanese-influenced steakhouse sports an 18-seat chef's counter warmed by open flame cooking at the binchotan charcoal grill, and a festive, relaxed vibe despite the upscale offerings of premium A5 grade beef, rare spirits, fine wines and pricey cocktails. Chef Dustin Falcon hails from none other than Lazy Bear and The French Laundry, while house butcher and meat-master, Guy Crims, will change your steak-at-home game at the neighboring shop.
Order This: Boiled, mashed and chilled nitro potatoes — as well as brioche in A5 Wagyu butter fat — are already favorites weeks in, but sleeper hits include charred koji yeast cabbage touched with anchovy aioli, peanuts and puffed rice, or a divine bone-in skate wing you scrape of its bones partnered with 48-week-fermented kimchi. Of course, the steaks are divine and thoughtfully sourced from the best in the world, whether tender Imperial wagyu hanger steak or marbled A5 cuts like satsuma NY strip (4 oz. $110; 8 oz. $205), Kobe ($160/305) or Ono NY strip ($100/185).
Drink This: Bar manager Julien Bertrand (formerly at Frida in Bordeaux, France, Bar Fluxus in SF, Michel Bistro in Oakland) crafts subtle drinks, the most balanced we tasted being True Romance (dark rhum, braised pineapple, vermouths, amaro, coconut, golden beet with dehydrated beet garnish). Wine director Brian Kulich delights with over 100 wines by the glass, thanks to a Coravin, including particularly savvy California wines to please the Old World wine lover (like a lean, Chablis-esque Fort Ross Seaview Charles Ranch Chardonnay from the Sonoma Coast (shockingly part of the Mondavi portfolio) or the balanced acid and fruit of a 2014 Porter Creek Syrah from Sonoma.
Décor: Designed by Aya Jessani, a dramatic, glass walled wine selection separates the private dining room from the main dining room, while the glowing bar is accented with dark woods and leather chairs.
Cost: $13-305, depending on grade of meat chosen.
Verjus, Financial District/Jackson Square
From Michael and Lindsay Tusk — owners  of one of the greatest Italian restaurants in the US: 3 Michelin-starred Quince — Verjus opened in January as a proper European wine bar with seating and standing options to grab a bite, a glass or a full meal of French-centric dishes and an international wine list. LPs from the personal vinyl collection of chef Tusk and managing partner Matt Cirne are played on a vintage McIntosh stereo, adding warmth and personality to the space.
Décor: The two-room wine shop and restaurant is marked by a massive, glowing marquee above the kitchen, listing dishes of the day (also marked on a chalkboard in the wine shop room). Communal tables and a cozy, corner booth lined with books contrast the standing bars in true European style, ideal for a bite and a glass of wine.
Order This: From Tusk and chef de cuisine David Meyer, the pistachio-studded paté en croute (in pastry) is the ultimate wine bar offering, a beautifully approachable paté indeed (even for those who don't think they're into it). Other French-classics —from creamy omelette boursin to heartwarming duck confit— intermingle with housemade sausages (boudin blanc to smoked knockwurst), cheese and charcuterie.
Drink This: Cirne pours fascinating wines like a French rosé brewed with rose petals (2017 Six Roses La Porte St. Jean VDF, France) or a natural 2017 Inconnu Chardonnay from California's Contra Costa County.
Cost: $8-38.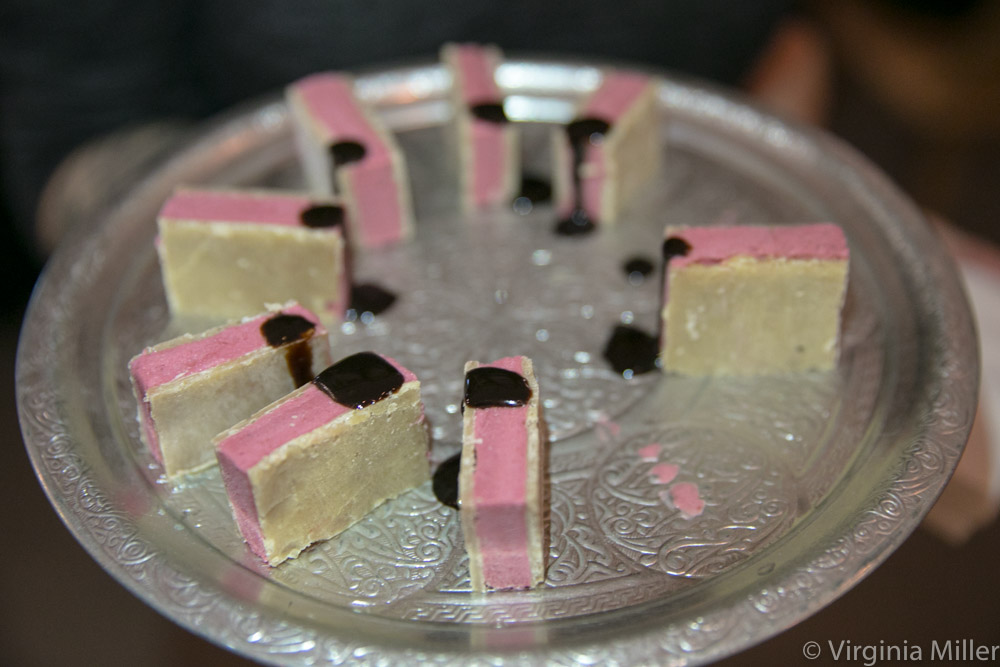 Noosh, Fillmore/Pacific Heights
Soft opening March 6th, Noosh founders Laura and Sayat Ozyilmaz (of the popular Istanbul Modern pop-up on Feastly, Eleven Madison Park and Le Bernardin in NYC, Saison and Mourad in SF), along with partner John Litz of Lazy Bear, bring impressive fine dining backgrounds at The World's 50 Best/Michelin-starred restaurants to their elegant, fast-casual, Eastern Mediterranean newcomer. Dishes pull from Turkey, Israel, Greece and Armenia, while the high tech order-at-the-door system allows easy take out or eat-in dining. Roaming staff can assist if you want to add on to your order.
Décor: The glowing white space soothes from the lounge area dotted with glass pendant lamps, along a white-tiled bar to an intimate mezzanine.
Order This: Grilled sunchoke kebabs in lemon zhug could convert meat eaters; red pepper muhammara dip; grilled housemade halloumi cheese in Szechuan rose honey. The "sleeper hit" sandwich is a "Greek po'boy" of fried calamari, tsatsiki and pickles, while another standout is a sour cherry, urfa chocolate sauce ice cream sandwich.
Drink This: Bar manager Andrew Meltzer's cocktails are straightforward classics with welcome twists, like Audrey Saunders' modern day classic, the Old Cuban (Bacardi 8year rum, mint, maraschino, cava) here accented with Persian rose, or the lovely Kookoo Gimlet (California Aqua Vitae aquavit, mastiha, parsley, lime, Giffard banana liqueur).
Cost: $5-17.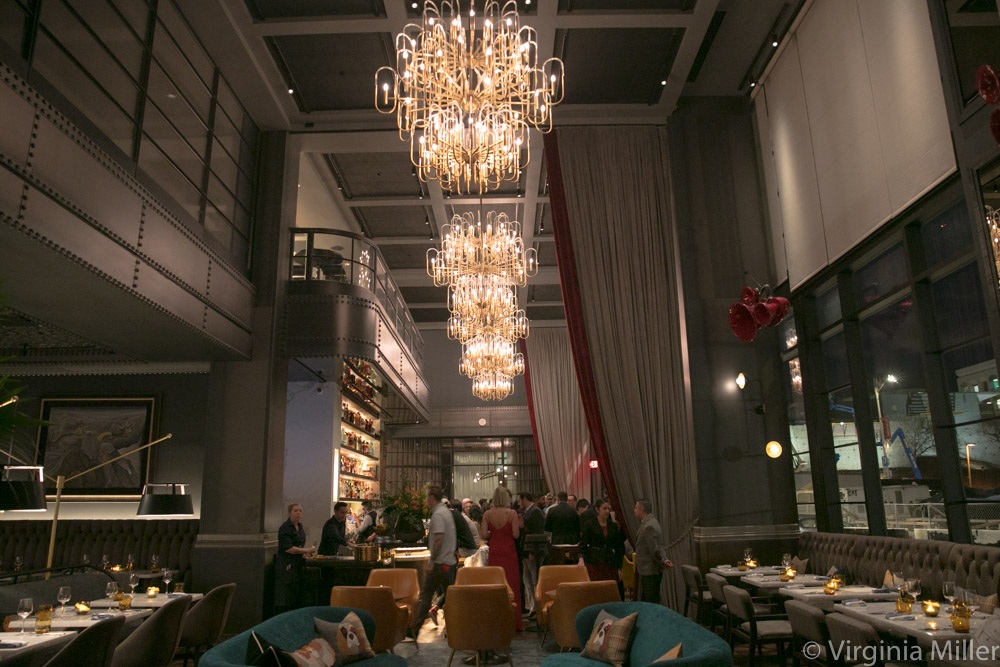 Commons Club at Virgin Hotel SF, SoMa
The opening of SoMa's new Virgin Hotel also brought Commons Club this March, an ideal meeting spot downtown for breakfast, lunch, mid-afternoon bites and dinner from Adrian Garcia (most recently chef de cuisine at 3 Michelin-starred Quince). This week, their 12th story rooftop bar Everdene just opened, romantically named after the independent heroine, Bathsheba Everdene in the classic Thomas Hardy novel, Far From The Madding Crowd.
Décor: A blessed splash of drama follows the velvety-chic Shag Room lounge to lofty, chandelier and mural-lined bar and dining room.
Order This: While entrees or pastas can be hit-and-miss, starters immediately please. Try a 'Fish & Chips' crudo of hamachi, kumquat and pink lady apples, or the show-stealer: fresh, vibrant crudité (like perfect, crisp red Belgian endive, lettuces, carrots) dipped in whipped, light buttermilk. It makes for a crazy-healthy bar snack and is damn delicious, too.
Drink This: Tommy Quimby (formerly of the great Rich Table) crafts bright, sweet drinks like Tangerine Dream (Absolut Elyx vodka, Aperol, tangerine juice, peppermint, ginger) or an addictive refresher, Never Mind The Bullocks (Rittenhouse Rye whiskey, Lo-Fi Gentian Amaro, Averna, Hank's Birch Beer, Pernod Absinthe).
Cost: $7-45
Udon Time, SoMa/Design District
Kash Feng and Jackson Yu's Omakase Restaurant Group's new Udon Time opened in January with an order-at-the-counter udon menu, tempura "bar" and onigiri to-go. Like the quick and easy — but always high quality — udon shops of Japan, springy udon noodles are made fresh in front of you at the counter.
Décor: Breezy and window-lined, this an order-at-the-counter, fast-casual experience with communal tables available as people come and go.
Order This: Chef Edgar Agbayani (who was schooled at Japan's Sanuki Menki Noodle School in Kagawa) does right by classic tempura onions or a curry potato patty, as well as salmon onigiri. Udon comes in a few iterations and styles, from the buttery Parmesan kamatama udon, to a hearty-yet-delicate Niku udon featuring feathery cuts of beef from their neighboring butcher shop, The Butcher Shop by Niku Steakhouse, in a savory broth with ginger, sweet and green onions.
Drink This: Canned sake (like robust, 18% ABV Bushido Way of the Warrior) or canned wine from local Sonoma producers West+Wilder (try their crisp Pinot Noir, Carignane and Zinfandel rosé).Cost: $1.50-14