When I mention Portola as an SF neighborhood, most locals look confused. Like me, you probably don't spend a lot of time eating south of Bernal Heights. But I've kept quiet for too long about two gems full of dingy charm on San Bruno Avenue. In the midst of Asian food hole-in-the-walls, fast food joints, banks and ethnic markets, lies these two delicious, thankfully unhip food havens:
Breakfast at Tiffany's
2499 San Bruno Avenue (between Felton St & Thornton Ave) 415-468-0977
When I want sheer comfort with a side of 1970's blue collar camaraderie (and Audrey Hepburn looking on from a faded poster), I head to Breakfast at Tiffany's. Did I mention it's cheap, hearty and unpretentious? Servers call you "hon" as Beach Boys play on cassette tape (no lie!) I sip coffee under Audrey's watchful eye. Leave it to Ms. Hepburn to brighten up cheap wood paneling. But this dingy dive is not merely ironic.
There's massive plates of French toast and egg scrambles, though I particularly love Tiffany's pancakes loaded with fresh blueberries. They taste even better after you've sat at the counter, watching them transform on the griddle from batter to fluffy cakes. For savory contrast (if you have room), I go for hash brown "sandwiches" stuffed with ham, cheese, onions. Layered between a massive of crispy shredded potatoes, it defines bad-for-you-goodness. The setting feels straight out a movie: the classic diner or truck stop where everyone seems to know each other, treating you as if you're regular… even if it's your first visit.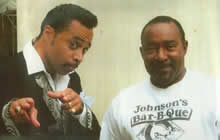 Johnson's Barbecue
2646 San Bruno Avenue (between Bacon & Burrows Streets) 415-468-0977
For this avowed BBQ lover, I have to admit SF isn't exactly swimming in BBQ joints reminiscent of the Deep South. I've yet to find much that resembles the joys found in my two week road trip through four Southern states eating BBQ in each. There are a few gems here, of course, the best outside the city: Uncle Frank's in Mountain View.
One of my city favorites is Johnson's, also on San Bruno Ave right by Breakfast at Tiffany's. This is Arkansas style BBQ… when they say their sauce is hot, they mean it.
Lunch is a deal: for $6.75, I get a half order of the "pork sandwich" plus two sides (coleslaw, baked beans, yams, etc…), which is actually a huge heaping of BBQ pulled pork over a slice of bread (worth it even if you don't want the bread!) They serve ribs, catfish, oxtails, links and more. I have to say the dingy environment is not appealing, though authentically like many of the best BBQ joints in the South.