I realize Oklahoma is far from a culinary mecca and I do struggle to find noteworthy meals here. Variety and quality are not standards in any area but one: beef. Similar to neighboring Texas, OK has tasty beef everywhere, from steakhouses to BBQ (albeit sadly not grass fed or humanely raised in most cases). If you find yourself in the OK state, here are local gems I frequent when visiting family: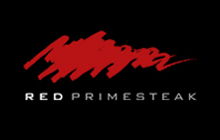 Red Prime Steak: A welcome addition to downtown Oklahoma City (from the owners of wonderful Iron Starr) in a converted, 100 year old brick building, this spot may signal a welcome upswing in OKC dining? Yes, it's steak again (where, oh where, is any authentic or creative Asian or Indian, to start?), but Red Prime takes traditional steakhouse fare, infusing it with modern playfulness. Though some drinks fall short of their vision, the cocktail menu at least attempts unique drinks, if none I tried actually succeeded. Enter the strikingly artistic, if cavernously chilly warehouse dining room, in reds and blacks with hanging "walls" making a pathway down the center. Playful starters please the tastebuds, such as mini-Sloppy Joe's or Fried Green Tomatoes served Caprese-style with fresh mozzarella and basil. Steaks (at big city prices of $29-$45) are done to perfection accompanied by your choice of intriguing crusts (such as fresh cracked pepper, coffee, Maytag blue cheese) or sauces (like brandy mushroom, creamy horseradish or roasted poblano chimichurri). For non-red meat eaters, Fried Chicken is tender and crispy in just the right way, and seafood dishes are good but not as strong as the steaks (this isn't seafood territory!) "Accessories", or sides, come in huge portions and are excellent: Blue Cheese Biscuit Pudding – wow! Smoked Bacon Creamed Corn, another highlight. It's pricey but you get plenty of food so, by all means, share.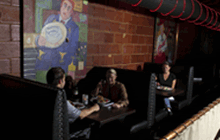 Iron Starr: Probably my favorite spot when in OK for its affordability and consistent quality. Casual and tasty, Iron Starr freshens-up traditional BBQ and Southern food. Go ahead and order spicy Prairie Fries smothered in jalapenos and sweet Texas onions or Chili topped with cheddar cheese and red chili crème fraiche. I get the "lite" portion (still hefty) of Pulled Pork Smoked Plate (choose between Pork, Beef Brisket, Turkey or Sausage), then, with difficulty, narrow it down to two of the top notch sides (mac n' cheese, slaw, baked beans). Indulge in Buttermilk Pie or Key Lime Pie for dessert. The brick-walled dining room with funky, colorful paintings is spacious, laid back, modern.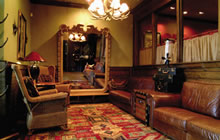 Ranch Steak House: If you're not burnt out on steak yet (even if you are, best to stick with what's good), and your wallet holds an extra wad of cash, you'd do well to visit this OKC classic. Around for many years, it provides what they call an "Old West" dining experience. Dining rooms show simple elegance, in dark woods and browns, and service is friendly, livening up what could be a staid atmosphere. Again, steak is king (a $23-$53 price range) with sizes large enough for a few (22 oz., anyone?) They serve surprisingly fresh Lobster from Australia with melted butter. Traditional sides and salads are simple and satisfying at this celebratory restaurant.
Redrock Canyon Grill: Though I am reluctant to mention a chain restaurant, this Kansas/Oklahoma based chain has only three locations in entirety (others in Tulsa and Wichita), so with narrower options for great food here, I'll make an exception and steer you here. The Oklahoma City locale sits idyllically on a lake, gorgeous at sunset. Massive portions of hearty food, like skillet cornbread, tender rotisserie chicken, impeccable ribs, or perfectly tart key lime pie, make this a local highlight. Unless you can eat enough for three, be sure to share – portions are gigantic!