BREAKFAST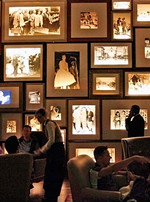 Luxurious brunch at my fave 1300 on Fillmore; order a generous entrée portion of Barbecue Shrimp & Creamy Grits (one of their best dishes, $14), perfect Scones (Three: Lemon, Blueberry, Raisin w/ Strawberry Rhubarb Preserves, $4), or a Hang Town Fry with egg, fried oysters (yes!), potato, bacon and toast ($9).
SAVORY – VEGETARIAN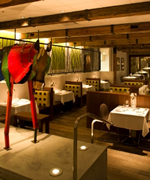 At slick new Urban Tavern, I dined two nights after opening and service was earnestly attentive. The food? Entrees were good to mediocre for the price, while appetizers and cocktails all hit a home run… so my first/early take is go to the lounge/bar area for drinks and apps; my favorite app was a Special-of-the-day: comforting Tomato Bisque with Crème Fraiche, Basil, Red Pepper, EVOO, with a Provolone Grilled Cheese Sandwich layered with a sweet honey to dunk in the soup… if only I could have this when I'm sick, it would cure all ($8).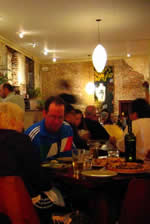 Using the best Anson Mills' grains, a rich Polenta ($6) topped with your choice of Grana, Mascarpone or Gorgonzola at one of Oakland's best neighborhood restaurants, the heartwarming (if mobbed) Pizzaiolo.
Over the years, I've eaten at well over a dozen restaurants in Burlingame but have yet to find much beyond suburban mediocrity ("best" options are local chains that originated in SF, like Straits Café). A new Burmese spot, Mingalaba isn't going to change the fact that one needn't venture from the city to dine here (Burma Superstar, even Nan Yang or Mandalay, it ain't!) Many dishes are basically Americanized Chinese (Honey Walnut Prawns, anyone?), but if in town, Burmese Mango Salad ($8.50) is a refreshing traditional dish, with slivers of mango, cucumber, green pepper, onion, fried garlic chips, cilantro.
SAVORY – MEAT and SEAFOOD
One of my favorite restaurants in SF, the surprisingly still under-the-radar (though not according to Michelin or Michael Bauer's 3-star rating), ever inventive, decadent Bushi-Tei. I adore their mainstay appetizer, Lobster & Crab Salad (fresh chunks of meat, $18) with Chrysanthemum leaf lettuce, papaya, bacon, tossed in ginger cream and curry oil.

Cheesy Shrimp and Grits with Roasted Tomato and Bacon ($9) – a Special at Brenda's French Soul Food, SF's New Orleans' gem. Oh, Brenda, please put this hearty, satisfying dish on your permanent menu! It's one of the best things I've eaten there since it opened.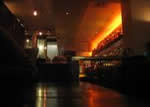 Coffee Roasted Duck Breast in Port Cinnamon Sauce on a bed of diced Caramelized Pear and Fingerling Potatoes ($25) – a surprisingly balanced, sweet/savory entree at Oola.
SNACK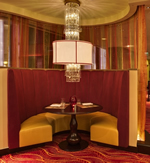 Crispy Calamari with Preserved Meyer Lemon Remoulade ($10) at Level III in JW Marriott's gorgeous, entire third floor bar/ restaurant, a classy, roomy space, with intriguing nooks and elegant couches – linger post-work with a fab half-price Happy Hour menu (4-7pm).
SWEET
Chewy Ginger Molasses cookies with chunks of crystallized Australian ginger from the incomparable Bakesale Betty's.
DRINK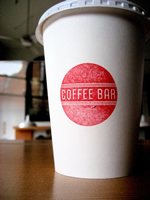 Clover Coffee at Coffee Bar – One of SF's best cafes, serving excellent Mr. Espresso or an amazing cup of coffee made in a crazy expensive Clover machine from your choice of ever changing beans. You can drink your way around the world (Kenya, Papua New Guinea), as they freshly grind and brew each individual cup – the right way to start the day.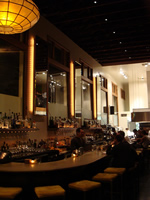 Minero Cocktail at NOPA – an herbal, aromatic, unique Pisco-based drink made with Quebranta Pisco, St. Germain, Lemon Juice, Egg White, Sunshine Bitters ($9).
Subtly sweet and smoky, smooth house-made Longan Juice (a fruit similar to lychees in appearance and texture; $3) at Basil Canteen, SoMa's brand new Thai spot in the gorgeous space that was The Public.