You're out in the 'wilds' of the Richmond, near the ocean or the Presidio, in the middle of housing grids where restaurants are infrequent and predominantly Asian. But there's way more to the Outer Richmond than its fabulous array of authentic, cheap Asian food. Like just about every neighborhood in the city, Outer Richmond holds treasures aplenty, varied and affordable — and the entire Richmond is one of the most underrated.
CAFES/TEA & COFFEE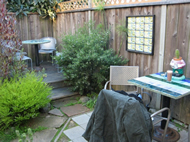 One of my favorite quirky, personality-filled cafes, it's too bad the drinks/coffee aren't great. Utilitarian coffee, tea and pastries warm up a morning or evening — but you come for the idyllic neighborhood café setting, to linger over conversation, a good book or to write. Inside it's eclectic and homey, with storytelling nights or sing-a-long/open mics around the piano. The back patio is a magic (if unkempt) secret garden that makes you wish it was your own backyard. It almost feels like it is…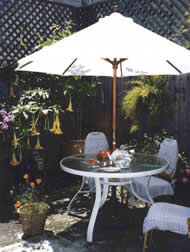 With another delightful back garden and impeccable British tea, this Polo Shop/Tea Haven is a unique place you cannot find the equal to anywhere. The owners of this family run shop are amazing people who will make you feel like old friends stopping in for a 'spot of tea'.
BBQ
Randomly situated on a golf course in Golden Gate Park, next to the Archery Field (with parking!) this unexpected BBQ mecca offers some of SF's best pulled pork, brisket and BBQ Sauce. Using a rare Wham Turbo BBQ Pit from Memphis, meats are 100% oak-wood fired. You can order juicy ribs or chicken but I'm a pulled pork girl first (in keeping with the Deep South definition of barbecue) and theirs does not disappoint. Sit outside overlooking the golfing green, whether foggy or sunny, for a unique experience of down home BBQ by the ocean in GG Park. I've been happily going since they opened.
MOROCCAN & MIDDLE EASTERN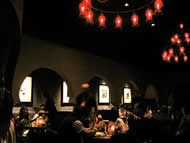 Pricey for the Richmond, Aziza, with elegantly subdued Moroccan décor, is recognized citywide for Mourad Lahlou's refined Moroccan cuisine and for their well-crafted cocktails. Chicken almond bastilla (or basteeya; $18) is exquisitely flaky, sweet, savory. They serve dishes like fig lamb chops ($26), rabbit with dried cherries ($24), Vegetarian ($17) or meat couscous ($21) platters and a range of intriguing small plates, such as watermelon with honey, feta, rosemary, honeydew ($9). Cocktails ($10 each) explore the herbal and exotic with the Tarragon (made with cachaca and aromatic, floating cardamom pods), or the Kumquat balanced with rum and thyme. There's also extensive wines, beers and teas.
Not as experimental as Aziza, I love that El Mansour offers a more traditional Moroccan meal, though the place is by no means staid. Reminiscent of feasts I actually had in Morocco (note: you'll be eating with your hands), sink into low, pillow-drenched couches in a vibrantly colorful (if a bit dingy), tent-like draped room, until first course (and belly dancer) appears. The whole experience is transporting. Prix fixe menus are the only option so come prepared for a multi-course event — a great place to bring a group.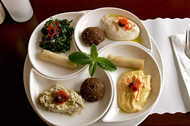 Layaly:
(
2435 Clement Street at 25th Ave; 415-668-1676; Lunch/Dinner
)
Another Outer Richmond surprise, this affordable mid-range Middle Eastern/Mediterranean café serves classic hummus, mezze platters, kabobs and more in a crisply clean setting, with generous service. The price to quality/taste ratio makes this a real neighborhood find.
PIZZA/ITALIAN
Gaspare himself is from Sicily (my heritage, thank you very much), serving thin crust pizzas ($10.50-$22.50, depending on size) since the '80's on Geary Blvd. It's Old School in all the right ways. Though far from the best pizza in the city, it's comforting and classic American Italian. Put some coins in the table jukeboxes while you chow down on a pepperoni pizza, a "Gaspare's Special" with fresh tomatoes, roasted bell pepper, feta and mozzarella, or a spicy Enrico's Pizza Caliente, loaded with jalapeno, sausage and onions.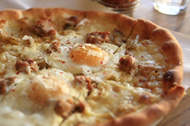 A long time favorite for creative, Neapolitan-influenced, thin crust pizza ($9-14; serves 1-2), their pizzas actually remind me of great pizzas in Italy with uber-quality meats and vegetables, crispy crust, olive oil or an egg on top. I've been going here years before Pizzeria Delfina opened and find Pizzetta 211 far superior to Delfina. Pizzetta's space is not much bigger than a closet so get it to go, or come early/late to sit at one of few indoor or outdoor tables. It's all about the food here… even the daily changing baked goods and desserts are worth stopping in for.