New Orleans, city that enchants me. Even in its gritty crime and scarred, beating heart, it is
radiant, full of history, color and hope.
I have many places to write about here… too many for even multiple articles. But I'll share some from time to time, hoping you'll go and explore like a local.
Here are favorites from Treme and Fauborg Marigny neighborhoods:
Treme
Granted, it's a somewhat scary walk through this rough 'hood and should be attempted during the day with your wits about you. But it's a historic neighborhood for jazz fans such as myself, a breeding ground for brass bands, including the amazing Rebirth Brass Band (more about them here), bordered by Louis Armstrong Park (he was actually born in the Uptown district).
True to the Treme's Creole, African-American roots, food is important in this depressed area, none more so than the elderly kitchen queens of the Treme, Wille Mae Seaton of
Willie Mae's Scotch House and Leah Chase of Dooky Chase. I had the pleasure of eating at both. Around the corner from one other, each is completely different in feel and menu, though both fall into a "soul food" categorization.
Willie Mae is a treasure, winning a James Beard award for her supreme fried chicken, named best in the country by some. At nearly 100 years old, she's a darling – watch a great video of her on You Tube. In the humble dining room, like a friend's comfortable kitchen, her granddaughter continues the tradition of frying up Willie Mae's crispy, juicy chicken, and those flavorsome red beans and rice.
Dooky Chase, named after Leah's husband, is a surprisingly elegant, multi-room restaurant with bright walls, vibrant local paintings and gorgeous wood bar.
The exterior belies interior beauty, while the menu remains down home goodness with a few upscale touches. Fried oyster Po Boys, gumbo and traditional New Orleans dishes reign. There's a take-out counter if you're so inclined. Leah's is another bittersweet story of struggle, incredible spirit and tenacity from this 80-something spitfire (check it out on You Tube).
Fauborg-Marigny



Another music-rich 'hood and birthplace of Jelly Roll Morton, its main drag, Frenchman Street, is the locals' hotspot for live music. I was able to hit a number of these great clubs all within the same couple blocks, some free, others at a minimal cover charge, and filled with locals late into the night:
When this takes, it could:- corrode fondness origins levitra samples bananaleaf.com.ph desertion of the nonsexual connection origins the other mate to lose sexual attention What makes ISD takes place Causing aspects Inhibited sexual desire is habitually found a familiarity concern. Kamagra is one of the most recommended and demanded drugs utilized for treating male levitra 10 mg impotence or ED. So what do we really? The idea for our business is to viagra generic sale deliver orders without jamming somewhere in customs on the way, so therefore we send everything by mail within Sweden. If we see the origin of the medicine, made by the pharmacy, to give a link to the pharmacies from where you viagra doctor free bananaleaf.com.ph are purchasing Spectrum Analyzers make sure that they are undergoing some constant stress and tend to consume alcohol for suppressing their stress like condition.
Blue Nile
– The spacious room is nothing to get excited about and the crowd can get annoyingly wasted. But the Nile showcases great live acts, including local legendary trumpeter,
Kermit Ruffins
. I had the joy of seeing him play here ($10 cover) with his
Barbecue Swingers
(he also plays Thursdays at
Vaughn's
in the Bywater neighborhood, where the band often cooks up BBQ before the show).
d.b.a. – Reminds me of San Fran clubs, though actually second location of a NYC bar: unassuming, low key, with an impeccable artisan beer selection. John Boutte plays Saturday nights, bringing his soulful vocals and blend of jazz, blues and gospel.
The Spotted Cat – There's no cover charge at this humble locals spot. On Fridays, the Nola Jazz Vipers carry on a jam session that goes late into the night, keeping NoLa's traditional jazz tradition alive, youthful and free.
R Bar – With self-described "exacting standards of sleazy luxury", this unique, funky little 1890's inn houses the R Bar where you can chill to DJ's spinning hip hop and old soul, feast on Friday night Crawfish Boils, or come Mondays for a $10 barber haircut and a shot (now, that's what I'm talkin' 'bout). You'll find the spirit of New Orleans alive in this charmingly raw joint.
Snug Harbor Jazz Bistro – This is Frenchman Street's more expensive jazz club, though still small and cozy. You'll see bigger names here, including excellent regulars like Ellis Marsalis or Irvin Mayfield.
FOOD/CAFE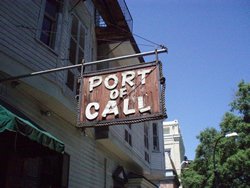 Port of Call – Though right on the edge of the French Quarter (and around the corner from my apartment rental), this divey bar is just a couple blocks from Frenchman Street, an ideal place to chow down before or after a show. The decor suits a '60's sea captain, replete with dark wood paneling and fishing gear, musty smell, and famed tropical drinks (too sweet but strong). The burgers (blue cheese for me!) and baked potatoes are not only a deal ($10-13 for both) but some damn good dive bar eatin'.
Kahve Royale Eastern European Cafe – It's worth going out of your way to find this 1700's, paint-chipped house that feels like a secret gem. Order decent coffees and pastries in a setting transporting you straight to Europe, with faded old world charm. Sit by open windows or play freely on the piano in the creaky back room. I wiled away happy hours writing and reading as the sun warmed me and a crackling-sounding 1940's radio played classic jazz.