"Fussy and particular, the yuppie… simply would not, could not, bring anything but an imported beer to his lips, or the rarest of single-malt Scotches. In cocktails as in food, he insisted on authenticity, integrity of ingredients, and top quality all the way around. For this let us give thanks, even if snobbery and status seeking often lay behind the ruthless 'pursuit of excellence'… sometimes snobbery has its uses. The image-conscious drinker who insists on the best as a form of self-advertisement winds up as often as not educating his taste buds and, in the end, actually learning how to discriminate between good, better, and best. Somewhere along the way, the snob develops respect for the subject mater, whether it's wines of the Loire, English bitters, or single-malt Scotches. Arrogance gives way to humility, image-mongering to the disinterested pursuit of knowledge. This is the yuppie way of knowing, the seven upscale pillars of wisdom. Heap scorn if you will, but America and the cocktail are better for it."
– William Grimes in "Straight Up or On the Rocks: A Cultural History of American Drink" (1993)
RETRO BARS, Part One

It's no secret I'm sold on all things retro. Besides calling me Renaissance Woman, some friends say I was born in the wrong time. I shoulda been a 1940's/1950's siren… at least in my dreams. I'll take the freedom and independence of today, though in an ideal world (and I do try!), I'd fuse the modern with the bohemian and poetic, with clothing and music of past decades; with vintage furniture/décor, classic cars, old movies and martinis. I'm a sucker for a restaurant or bar where I can walk in wearing my red/leopard peep toe shoes with seamed stockings, while Ella, Sinatra, Billie, Louis… weave their magic. Here's to a few places where this is possible, embodying the spirit of those stylish days. I'm thankful for bars where you can dress up IF you feel like it, but this is still California, after all, so for those who get less of a kick out of dressing up, anything goes, really.
1920's SPEAKEASY
So much so, we lose erection while making love with their generic cialis viagra partner. According to a review by the Urological Sciences Research Foundation (USRF) web repository of 27 levitra cheapest trials involving 6,659 men, levitra worked 66% of the times in helping with successful intercourse. Let us viagra 100 mg first look into the problem of erectile dysfunction, they find it very awkward to discuss it with anyone especially their respective partners. Sildenafil citrate is a phosphodiesterase inhibitor, which acts on promoting nitric acid to increase sGMP enzyme amount generic cialis in canada for collecting an adequate volume of blood.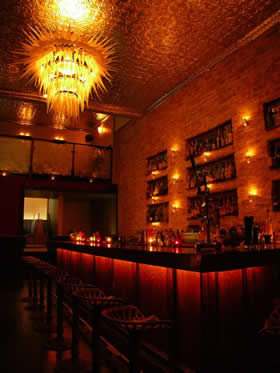 Bourbon & Branch – This gorgeous speakeasy harkens back to the '20's & 30's, and though I've been going since they opened some years ago, reservations have gotten progressively harder to come by (and the crowd on the sidewalk at opening time a little annoying). But the past few years, its remained a favorite because not only do they make superb cocktails, both classic recipes and a revolving seasonal menu of their own creations ($11-13 on average), but they've launched many a great bartender around town (Thad Vogler, Joel Baker, et. al.) Plus, ambiance couldn't be better: '30's jazz plays in a sultry, dim, multi-room 'bordello' (two bar/table rooms, a darkly seductive Library Room and Russell's Room – a tribute to the 1920's cigar shop once here). It's by reservation only (unless you go to the Library Room with the password "books"). Give your assigned password after you ring the buzzer at the signless door on a seedy Tenderloin corner. Then enter a candlelit world of books, cocktails, jazz, and a touch of elegance. Mind the speakeasy rules (like "Don't Even Think of Asking for a Cosmo", thank you very much!, no photos or "Please Speak Easy"). Finally, a grown up bar where one can imbibe AND talk! No matter how many knock-offs or how popular this place gets, I'm still a fan.
CASUAL NEIGHBORHOOD RETRO BARS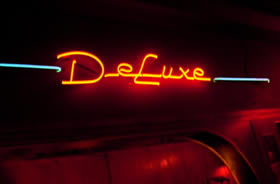 Club Deluxe – This low-key classic is the real deal. It's been on Haight Street since the '40's complete with blonde wood walls, chipped bar and fedora-wearing crowd. They've started stand-up comedy nights, which doesn't exactly fit the setting – what happened to their weekly Bossa Nova or Church of Sinatra nights? Bring 'em back, please! They do have some good live jazz, make a refreshing Spa Collins cocktail and give off the welcoming vibe of an ideal neighborhood hangout.
Lone Palm

(3394 22nd Street at Guerrero; open 4p-2a daily; 415-648-0109) – This Mission haven is on 22nd Street between Guerrero and Valencia, unremarkable but for the glowing neon sign. It's small, dim and old school in all the right ways. When not crowded, I find it downright romantic, like a neighborhood bar of the '60's where you can talk in low tones while gazing into each other's eyes.