Back to incomparable New Orleans… I continue to share of my long list of finds after recently renting an apartment on the edge of the Quarter, exploring every neighborhood I could (here's my last installment, more to come). The French Quarter, touristy though it may be, is everything it's reputed to be and more (next time I'll share fave jazz clubs and drink spots in the Quarter). With Euro-French flair by way of Africa and Latin America, it just feels like New Orleans – a standard on its own, unlike anywhere in the world.
Beyond what can be the downright gross Bourbon Street, one steps into another world, unmarred by the mobs relegated to that infamous party street. Intriguing storefronts, rousing street musicians, scents of mouth-watering food, colorful characters and gorgeous architecture are all enchanting, but in some ways it's as elemental as the unique smells, the tone of the clouds in the sky, sultry afternoon thunderstorms in summer or crisp fall air that linger with you long after you've left.
FRENCH QUARTER BITES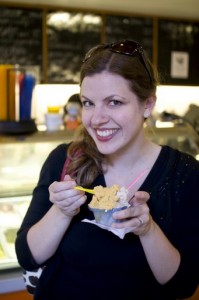 • La Divinia Gelateria is truly divine. There are two locations in NoLa, one in the Quarter, another on the Garden District's Magazine Street, with gelato made from scratch and creamy as heck. I happily visited both locales, though frequented the Quarter location, thankfully blocks from my apartment. Not only serving robust cappuccinos, gelato flavors are unique, even for one like myself who has many adventurous ice cream options at home (like Humphry Slocumbe). Divinia makes one of the better Bananas Foster ice creams ever – tastes like ripe, fresh banana with a hint of brown sugar and rum. Creole Cream Cheese or Louisiana Mush Melon represent local flavors. Lush Sweet Potato? Brilliant. Absinthe Sorbetto? Right on! Saigon Cinnamon, Carrot Ginger Mascarpone, Candy Cane Stracciatella, Aztec (Dark Chocolate, Cayenne, Honey)… the list goes blissfully on.
• Coop's Place – Described in Zagat as the place where "the not-so-elite meet to eat", this is an 'only-in-Nawlins' type of dive bar with crusty bartenders, colorful locals and young people from nearby Fauborg. But I kept coming back for one reason: Rabbit & Sausage Jambalaya ($4.75 a cup), which works as a mid-afternoon or late-night snack. It just plain works. Tender, shredded rabbit, spicy Andouille sausage, sweet tomatoes, chewy rice. I'd order at the bar and happily walk down the street eating the best jambalaya ever. They've also got gumbo, po boys, blackened fish.
• Gumbo Shop – This old school classic is not a dining priority, nor did it's famed gumbo thrill me. But on a cold NoLa night, Chicken Andouille Gumbo ($4.99 a cup) comforted with its brown roux and rice. It helped tide me over waiting in line for oysters at Acme Oyster House's oyster bar, a colorful experience to be sure (though I fear I'm not one for bulbous Gulf oysters – I prefer delicacy in my bivalves. Anyway, I digress…)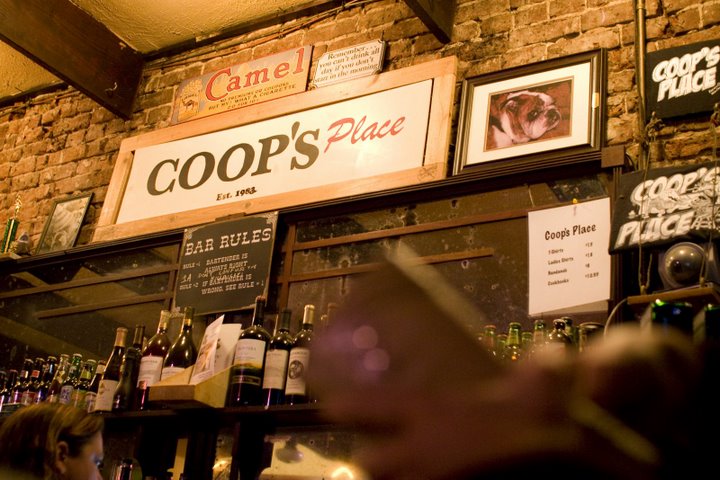 • Central Grocery – It's a must to hit this legendary, dusty, little market on Decatur Street opened by Sicilians in 1906, for famed Muffaletta sandwiches. Even a "half muff" is massive, though still worked as a shared 'snack' with the Renaissance Man. Salami, mortadella, olive spread, provolone, is classic Italian, though I found the stuffing of meats and cheeses just a little thin and the overall taste a bit disappointing compared to expectations. Stuff that baby! A classic NoLa taste experience, rich with history.
• Croissant d'Or Patisserie – This cozy French patisserie was a couple blocks from my apartment, with decent pastries, cappuccinos and a clientele of predominantly locals, being off the beaten Quarter path. To me, it wasn't as fresh or buttery as favorite patisseries back home but it worked for breakfast I could bring back to my pad and eat on my balcony, certainly preferable to nearby cafes.
FRENCH QUARTER RESTAURANTS
•    K-Paul's – I remember watching Paul Prudhomme on TV as a kid, thinking he and Dom Deluise were one in the same man. With that lifelong association and his Cajun spices on my brain, my first New Orleans' dinner reservation was K-Paul's, the cooking legend's restaurant, which has not lost its luster with age. When the basket of varied homemade breads arrived (including a stellar cornbread, Jalapeno cheese bread and the like), each one filled me with such buttery goodness, I was ready to call it a meal. Fortunately (unfortunately for my stomach), it was barely the beginning. After my always-order-it-when-on-the-menu dish of Fried Green Tomatoes ($11) in cornmeal batter with plump shrimp and Paul's renowned remoulade sauce, followed by a housemade Sausage ($8.50) of roasted Vidalia onion, chipotle and cheddar in a creole sauce, I entered another dimension. Blackened Drumfish with Crabmeat ($31.95), Triple Chocolate Bread Pudding ($6)… you probably should be stomach-pumped after a visit here, so my warning for us Californians or healthy eaters (I'm the former, not the latter!), as with Southern food in general, is to pace yourself. With caring service and casually elegant brick-walled dining room, I found K-Paul's classic, quintissential New Orleans cooking.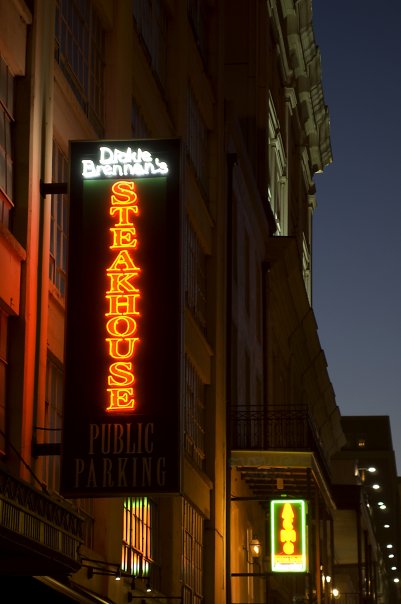 • Dickie Brennan's Steakhouse – Dressed in our retro finest, the Renaissance Man and I came to Dickie Brennan's for a Rat Pack era steakhouse experience, replete with martini and in Nawlins' tradition, Turtle Soup ($6.50). I was thrown off upon entering to find the place packed with families, kids and noisy frat-type groups. Not what I'd hoped for in a pricey steakhouse. But as we were celebrating an anniversary, they gave us a full booth to ourselves and the endearing servers charmed us into (almost) forgetting the less than transporting surroundings. With a fabulous steak ($28-42) and even more fabulous lobster from Nova Scotia, we were won over. A hefty Napoleon ($7.50) tower of tomato, Danish blue cheese and garlic aioli croutons, topped with a remoulade, should be standard at every steakhouse.
• Mona Lisa Pizza – A block from my apartment, Mona Lisa was an ideal 'stay-in tonight' meal and oh, so good. In general, there were certain cuisines, Italian among them, which I decided to avoid on this trip to free up time to focus on uniquely local cuisines (though the Creole Italian of the region is something I want to explore more of). But Mona Lisa's cheesy, thickishly-thin crust pizzas reminded me of my childhood beacon in La Mirada, California, where I lived a couple years as a kid, Gondola Pizza: a family-run establishment with pizza that evokes happiness in every bite. Essential in my book to great pizza is sauce that is sweet-savory, tons of cheese and crust the right blend of crispy and doughy. Mona Lisa had all that, carrying me back to childhood elation when Dad would walk through the door with a pizza from Gondola.
• Nola – I had to try one of three Emeril restaurants on his home turf, having only been to his Delmonico's steakhouse in Vegas. After much research, Nola seemed to be the best-reviewed of the three. As I feared, it was one giant plate after another, impossible to finish, even when shared. But each plate was a good time from hefty Miss Hay's Stuffed Chicken Wings ($8), stuffed with cellophane noodles, mushrooms, onions, to Shrimp & Grits ($18) swimming in red chili and Abita butter sauce, accented with apple-smoked bacon and crimini mushrooms, to a Duck Confit & Fried Egg Pizza ($11)… comfort food with fusion-y vision. Maybe I was so overstuffed it was lost on me, but a real misstep, besides a sterile dining room, was dessert. White Chocolate Bananas Foster Bread Pudding ($6) sounded like a dream but was subpar to other bread puddings I've had and I'd heard it was done right here. Catch phrases and Martha Stewart aside, Emeril still showcases a hearty Nawlins' meal at NoLa (though better for lunch, in my estimation).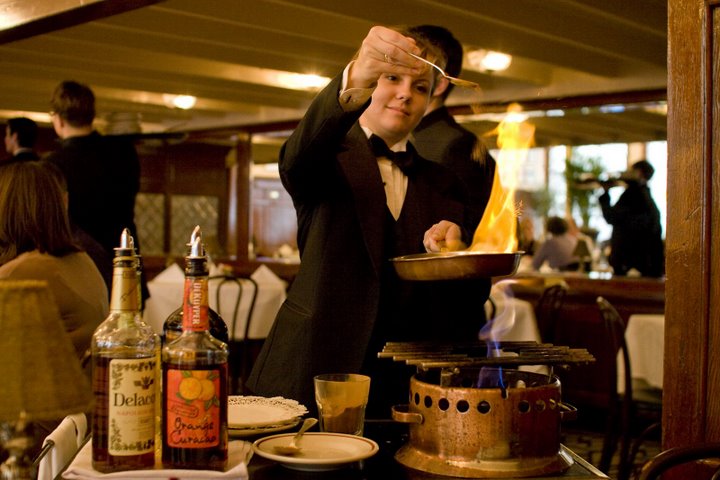 • Arnaud's – So I was an idiot not to hit Galatoire's for Sunday jazz brunch. I own up to it. It's top of the list for my next visit. When narrowing down from the sea of traditional jazz brunches, Arnaud's rose up, partly because of recommendations from locals I trusted and as the menu made me salivate. Delighted to see Arnaud's in a scene of "The Curious Case of Benjamin Button" after my visit (a movie I wasn't impressed with other than the magical Nawlins' setting), I fondly recalled Dixieland serenades from the in-house trio ("Basin Street Blues", a highlight), the three hour breakfast, and that Bourbon Milk Punch ($5). Not for anorexic dieting types, portions were at least reasonable so you could get through the richness. Entrees ($27-35) appear outrageously priced but it's actually the cost for your entire four course brunch, including appetizer, a throwaway salad, entree and dessert. I loved a Creole Cream Cheese Evangeline starter (over fresh fruit) and awesome Savory Crabmeat Cheesecake (trust me!) Cafe Brulot ($6.50), a show-stopping, flaming spiked coffee, is well worth ordering. Legendary Bananas Foster prepared tableside is the necessary finish to a decadent, old-world brunch I'm comforted to know is kept alive somewhere in America.
FRENCH QUARTER SHOPS
I don't usually mention shops – got enough to write about with food and am not a "shopper" anyway. But I had to give honorable mention to three places that charmed me. First, Faulkner House Books in Pirate's Alley where Faulkner once lived, is an enchanting closet of a shop recalling great London bookshops, intelligence oozing from the shelves, a sweetheart of a shopkeeper (from San Fran!) and a supreme book selection that could occupy a book lover for hours despite the size of the store.
Reminiscent of Parisian shops, La Maison d'Abinsthe (aka, the Absinthe Museum) is not a museum, but rather a shop of all things Absinthe (fountains, spoons, glasses, books, soaps, cards). The first of its kind in the US, finding it actually open was the hard part. I passed it daily but it was open only twice with no posted hours. Once you make it in, it's a magical display themed around "the green fairy".
I realized the chance had come to finally visit Trashy Diva, a beloved clothes line I'd followed via the web for years. Despite the name, it's anything but trashy, rather gorgeous vintage reproduction with a modern twist, all fabrics designed by the shop owner herself, who reputedly never repeats a fabric so you're getting a rare piece. With a lingerie sister shop down the block (and another shop in the Uptown district), I tried on dresses with a fit meant for curves, complimentary to a woman's body the way dresses in the 40's and '50's were. Though they're mildly expensive ($100-$200 range), ordering online has been a success (something I'd normally never do), but much better to try on in person before heading to the street where strangers compliment your unique find.