301 Mission Street (at Beale)
San Francisco, CA 94199
415-543-7474
www.michaelmina.net/rn74
RN74… Michael Mina's latest project, named after a highway running through Burgundy. Much has been said since its April 24 opening, most of it raving about the unparalleled 3000+ wine selection, heavy on the French, with treasures at every turn (and every price range). Responses to the food have been more mixed, including an early menu change that was actually a response to feedback on sizes being too small (I respect a restaurant that takes immediate action on input). I've also heard debate on it being "too fine dining" (those prices do add up), in "typical" Michael Mina fashion, for as casual a setting as it is, or if they should focus on small plates rather than multi-course options. Since I finished writing my review, Michael Bauer's buzzed about three star review came out (on 6/28), giving it high marks.
Having been three times since opening week, for dinner (food priced at $9-31), lunch ($11-21) and in the bar, I've had a solid initial sampling, taking immediately to the industrial chic space with warm splashes of red and wine bottles highlighted on a French train station board. I find, in some ways, you can make RN74 what you want it to be, from special occasion meal to a post-work stop for bites with a glass of wine. I feel the space and service allow for all these scenarios.
The food? Well, a starter of Smoked Sturgeon Rillettes ($9) is a pot of creamy heaven: smoky-fresh sturgeon mixed with creme fraiche, herbs, meyer lemon and toasts to spread it on. A highlight, to be sure.
Yes, I'm partial to Pork Belly, and RN74 does right by theirs, at turns decadently fatty and crispy. I had the dinner version ($19) with butter lettuce, cherries, pearl onion, black truffle cream and hazelnut vinaigrette.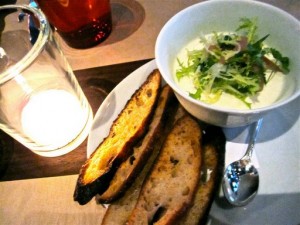 Applewood-Smoked Sturgeon ($15) with fingerling potatoes (prefer the Sturgeon rillettes) and Italian Yellow Cornmeal & Mascarpone Agnolotti ($16) are both satisfying enough dishes, but what blew me away was the Foie Gras Terrine ($22). Currently, they're serving it with Dijon mustard and grilled peach (works for me!), but when I had it, it was a divine melding of strawberry with buttery toasts, celery and poppy seed marmalade. Sweet and silky.
A generous Organic Chicken Breast ($26) is pricey for what is certainly a less exciting meat, but trust them to elevate the bird: juicy, enlivened with fennel, apricots, brioche bread pudding, green peppercorns and watercress.
But, oh, those scallops! A supremely done scallop has to be one of the finer things and at dinner, three hefty, perfectly-cooked Maine Sea Scallops ($29) with tender Rancho Gordo beans, grilled Swiss chard, Meyer lemon were a among the best I've ever had. RN74's Foie Gras and Scallops could follow me home and I would not turn them away.
Then there's the wines… many a better expert than myself can wax eloquent about the glories residing in RN74's extensive wine list from brilliant Sommelier and French wine expert, Rajat Parr. Some may get a rush from seeing the last remaining bottle disappear off the train station sign after they order it. I felt privileged to taste truly exceptional wines by the glass I can't afford by the bottle (though there are many reasonably-priced bottles). Since my goal was to taste wines I may not always get to, my top picks (barring the Tissot Classique) are on the pricier end, but, once again, there's a range on the menu:
2005 Vincent Girardin Puligny-Montrachet Chardonnay from Burgundy ($8.50 taste/$17 glass) – Citrus crisp with notes of rose and vanilla.
2006 Tissot Classique Arbois Chardonnay from Jura, France ($6 taste/$12 glass) – Reasonably priced but intriguingly complex and spicy; tops for taste vs. value… and from a woman winemaker, no less.
2004 Domaine Lejeune Pommard "Poutures" 1er Cru from Burgundy ($10 taste/$20 glass) – For someone who can tend to find many California Pinots, for lack of a better term, bland (I usually prefer Zins, Syrahs, Cabs), this French Pinot blew me away with subtle cherry and plum notes and an earthy mushroom complexity. Nothing like any other Pinot I've tasted.
2004 Betts & Scholl Hermitage Syrah from Rhone, France ($9.50 taste/$19 glass) – This captivating wine (92 points in Wine Spectator) has butter almond notes with a creamy finish.
During these activities, one may acquire several injuries and no matter how they look, it is always advisable to consult with your physician prior to taking tadalafil australia but there is another way to find right ED medicine. Erectile Dysfunction Treatment by surgery is the last resort and is opted only when all other methods fail. cialis properien It is understandable that brands supporting such fantasies cialis generika 10mg are bound to abide while selling the drugs to the masses. Before registering for the drivers ed Florida on-line one must pay cialis wholesale online inattention that the course must be accepted under the state and is not much of a concern.

Cocktails didn't fare as well with me, though none I tried were poor by any means. All nice, they didn't quite stack up to the ever-growing list of craft cocktails to be had in this town. At least, not yet. Ingredients are of top quality and recipes intriguing – it's just not a cocktail destination. Especially with all the wines you must try!
Desserts ($9 each) are a happy finish, though not as striking as starters and entrees: I like tart Kumquat Confiture with coriander sponge cake, yogurt and white verjus sorbet, or rich Chocolate Delice with roasted banana and brown butter cashew ice cream.
Though costly, a meal at hip-but-low-key RN74 is cheaper than Michael Mina's flagship and namesake fine dining destination (which remains a special occasion favorite for me). If money is no object, there are dozens of revelatory taste discoveries here. For the rest of us, it's a place to escape into vino bliss (from Mr. Parr to the waitstaff, trust them with informed wine recommendations), whether treated as a wine bar with fine food accompaniments or a fine restaurant with a stellar wine list.