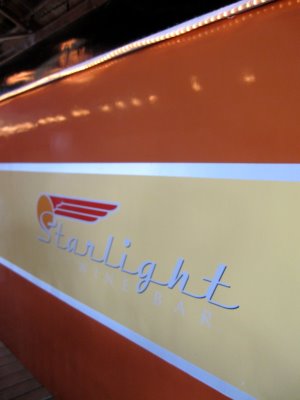 Even when times are tight, we've got to eat. There have been a slew of revisits, cheap eats and comfort food keeping me going lately, like Town Hall's new BBQ-out-back lunch (ribs, sausages, po boys), ever lovable Phat Philly cheesesteaks, maki at Sushi Zen, Belgian waffles at Civic Center Farmer's Market, always heroic sandwiches at Morty's (jury duty had to have some reward!), lunch (ok food, but great coffee and snacks) in Horatius' dramatic, pristine space, shopping at beer kings, City Beer Store & Healthy Spirits, a rowdy German dinner at Schnitzelhaus ("yes" to Black Forest Deer Ragout with spaetzle & red cabbage), and a late night Mission Heat at Urban Burger.

SAVORY – VEGETARIAN
• At a recent Girl & the Fig dinner (a place I always enjoy, but never love, food-wise – I do love the classic bar and idyllic Summer evening back patio, however), the cheese platter included Pleasant Ridge Reserve cow's milk cheese from Dodgeville, Wisconsin – grassy and firm, a pleasant mix of salt with sweet sides of quince paste and fig cake.
SAVORY – MEAT
• Three days a week I work in Potrero and am rather blase about nearby 18th Street lunch options. Helps to have Dogpatch (and Kitchenette) a short drive away, with The New Spot my stop for pupusas, fresh juices and Mexican food. Now New Spot folks debuted a little sandwich shop on Third called Oralia's Cafe, which slices some mean pastrami. Get a sandwich for $7.49 loaded with thick, savory cuts of the meat, nicely contrasted with pickles. Makes me homesick for the East Coast.
• Bar Tartine does me right for brunch every time. Mellow, sweet service, Blue Bottle coffee, excellent food – and no waits (though they just started taking brunch reservations). I tend to overdo it on
the pork belly 'shout-outs', I know (I can't help it!), but my favorite recent dish was their Open-face Pork Belly Sandwich ($14), a huge helping of belly, avocado, perfectly-made egg salad, sweet and spicy pickled jalapeno, with shoestring fries and aioli.
• Masa's is a stellar experience, from service to food – truly a San Fran fine dining classic. Last week, I found myself (for the sake of other diners) trying to reign in my excess pleasure over an amuse bouche of Siberian Caviar atop a Cauliflower Panna Cotta, and a dish of warm, silky Foie Gras topped with Royal Blenheim Apricots on a bed of French green lentils and squab consommé (the latter a tasting menu option).
SAVORY – SEAFOOD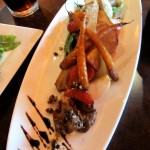 • On a pristine Sebastopol day, lunch at Starlight Wine Bar was a one-of-a-kind experience aboard a gorgeous, original Pullman car inside a barn-like structure housing a cute cafe and Starlight's partner wine bar. The setting, with big band & jazz classics softly playing, and informed service, impresses, but I also noted ultra-fresh salads and vegetable platter with nearby farm ingredients. Most fun was an appetizer of plump Cajun Shrimp with addictive Creole sauce and (thankfully) bread to soak it up with.
• It was a happy night back at Wexler's (tried it for lunch last time), working my way through a Slow- Roasted Smoked Sturgeon ($21) with divine Lobster/Bacon/Corn Cake and bartender, Carlos Yturria's, classically strong, beautiful Mint Julep (yes, in a proper julep cup, just the way it should be!)
SWEET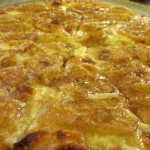 • A late night pizza feast at Giovanni's was already satisfying after Caprese and Mexican pizzas were devoured. But a Banana & Cinnamon Pizza (order any size from small to extra large), with slivers of baked banana on top of a blend of four dry cheeses (including Parmesan) for a subtly savory touch, is one of the more comfortingly good desserts I've had in a while. When the generous owners came by offering everyone a slice of a hot-out-of-the-oven Crab Apple pizza, I dug the contrast of savory cheese with ultra-sweet crab apples. They told me they're working on a Guava dessert pizza next. These aren't gooey sweet, but rather light, unique desserts worth trekking to Outer Mission/border of Bernal for.
• Wexler's deserves a second, and even a third, mention as I recently got to try the two desserts ($6 each) I most wanted to order on opening day but which they were out of… both were winners. Sour Cream Japanese Pear Pie looks thin, but is just the right amount of flaky, buttery crust with Winchester Gouda for a savory hint to the pears and spices, while sour cream rests as a light, tart whip on the side. Inside-Out Root Beer Float is a delightful mix of house-made vanilla soda with Humphry Slocumbe's root beer ice cream (in which I distinctly tasted ginger), topped with whipped cream and two boozy (soaked) cherries.
DRINK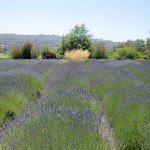 • Bourbon & Branch does it again (no surprise) with a new Summer creation from bartender, Andrew Mitchell: a Favala ($12 – hint: they're also serving it at fabulous Rickhouse, their second bar which just opened tonight!) This beauty is a refreshing burst of Cachaca, Mint, Lemon and Orange Bitters, that surprises with a hint of Arabica Syrup giving it a mint coffee finish. Hello!
• One of my favorite winery settings, Matanzas Creek, with its crowd-pleasing wines, French owners and lavender fields, is always a dreamy respite for me. At a recent tasting, I sampled some reserve and limited edition wines, while a broad-reaching wine is a 2007 Chardonnay ($29), layered with pear and apples, creamy from some oak, with a mineral finish.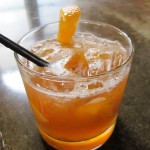 • Basil Canteen, where I go for a brick-walled, New York loft-like setting with my Thai food, has some fun cocktails. I really liked bartender, Russell's, robust variation on an Old Fashioned ($9): Knob Creek w/ orange bitters, tangerine, a touch of lemongrass syrup.
• I gratefully took a Beretta bartender's suggestion and ordered a Kentucky Mule ($9), a classic variation of their listed Agricole Mule, which I'd had a number of times before. Substituting rye whiskey for the Agricole's rum, with a mix of ginger, mint and lime juice, makes a bright, smooth cocktail I'd have over and over again.
• At Masa's, Master Sommelier, Alan Murray, knew the ideal pairing for each course, perfectly orchestrating a symphony of tastes from sake, to whites, reds and sparkling wines. Dessert reached an apex when he paired my Chocolate Sacher Torte with Bugey-Cerdon Sparkling Rose, Patrick Bottex's "La Cueille". This 80% Gamay/20% Poulsard blend from Savoie in eastern France, is a rosy beauty, sparkling with wild strawberries, not too sweet. Tangy acidity and the brightness of berries makes this one to please a range of palates.
• At a Nirvino party at RIGHT Gin's chic SoMa Loft, Josh Harris, of 15 Romolo, shared two of his cocktails (happy a match is made between absinthe and strawberries), while Danny Louie, of Dosa, served a new creation that may make it's way to the Dosa menu (ask for it!), The Peony: RIGHT gin, homemade Hibiscus Masala nectar (an enticing mix of black peppercorn, cumin, mustard seed, chili, hibiscus, coriander, sugar), lime juice, orange flower water, with a creamy touch of coconut milk and kaffir lime leaf garnish. Quite drinkable, I must say.