Top Tastes is my usual run-down of tastes over the past two weeks. Rather than being a list of all-time favorites (another thing altogether), it's highlights since my last newsletter, often from new openings. Many don't make the cut, being a revisit I've written about before or simply not as stand-out as dishes mentioned.
SAVORY – MEAT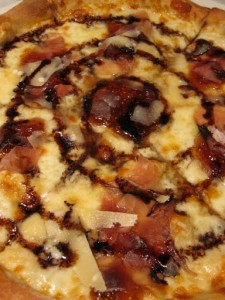 • There's a pizza school in Tony's Pizza Napoletana space, where you can become a master pizzaiolo if you so desire, but what I want to talk about is the pizza. Caprese salad ($9) is a weak one, with bland tomatoes the night I had it and Garlic Bread ($5) is not noteworthy. The pizzas, however, are the reason you want to book it here – and early because there are no reservations and word is getting out. Pizzas in varying styles from Neopolitan to Sicilian to Classic American. The Margherita ($18), their biggie, winner of the 2007 World Pizza Cup in Naples, is a damn good version of a straightforward classic, certainly similar to some of the best I've had in Italy. There's a weird limit of 73 per day, so order early if you want one. I was happy enough with that, but the one haunting my dreams is the Cal Italia ($18), a Gold Medal winner in Food Network's Pizza Champion Challenge. A serious mix of sweet and savory with asiago, mozzarella, gorgonzola and shaved Parmesan, there's prosciutto di Parma drizzled with sweet, aged balsamic, and a circle of Croatian fig preserve in the center. Oh, my, and lordy. Tony and his crew craft some sweet pies.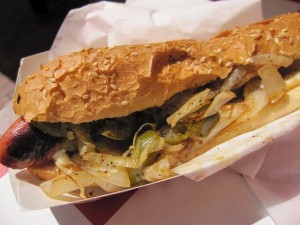 • Whether or not you're facing hot dog burn-out with the latest influx, I can't tire of the craze when they're as fun as Zog's Dogs, opened by Jesse Herzog (hence the "zog"). Still working his day job, he started this stand out of sheer passion for dogs and sausages (read more in my Bay Guardian "Appetite" column about Zog's). There's a wide variety of dogs ($3-6) from kielbasa to hot links, but they're clearly having a good time with specialty dogs like The Matrix, bacon cleverly layered inside the bun rather than around the dog to maintain optimum crispiness. My mouth was blissfully smoldering from The Mexico (with a Mission district nod), wrapped in bacon, smothered in grilled onions, jalapenos and mayo. And I couldn't stop layering on their Curry Ketchup.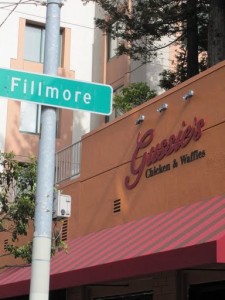 • So I hit Gussie's Chicken & Waffles opening week when there were lots of issues with timing, consistency, and so on. But the staff were as sweet as could be and I know the owner has a strong vision and love of chicken and waffles. That being said, in trying sides from red beans & rice to collard greens to mac 'n cheese, unfortunately, there was not one that wasn't lackluster – and I adore soul food and Southern cooking. Catfish Nuggets ($7.95) were fine – a fun way to serve catfish. But the bottom line is the chicken & waffles, right? Gussie's fried chicken is certainly not the best I've had. It's good, but not great. The Sweet Potato waffles ($9.70 for two waffles; $12.79 with fried chicken), looked diner-like on the plate but tasted better than appearances suggested. Lacking a fluffy/crispy factor, still, the flavor was addictive with a hint of sweet potato. Once I tore up my fried chicken pieces, dousing it all with syrup and hot sauce, I got that comforting chicken & waffles mojo flowing.
SAVORY – VEGETARIAN
• El Porteno Empanadas rocks the Humita (corn) empanada ($3 each), using organic sweet corn and roasted red bell peppers inside a flaky pastry. Meat eaters will dig the Jamon y Queso with prosciutto. The dessert empanada, Banana y Dulce de Leche ($1.50) doesn't look like much, but shocks with caramely richness and tender banana. They're at the Metreon Island Farmers Market daily, and other markets in the East Bay, Peninsula, North Bay, so the whole Bay Area benefits (check website for days/times).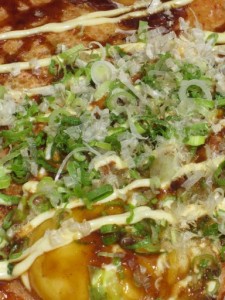 •  I'd rather go to the restaurant, Namu, or even their Happy Belly cart in Golden Gate Park, than to the Thursday stand at the Ferry Plaza, mainly because wait times seem arbitrary and long. Though warned by my order-taker the oxtail sandwich could take 10 minutes or so, with everything else less of a wait, I came for Okonomiyaki ($7; $2 to add egg on top), a Japanese "pancake". While I waited, I snacked on "Real" Korean tacos ($2.25; beef short rib, a spot of rice, daikon and kimchee salsa, on sheets of seaweed) – fun bites, but I'd prefer Korean tacos at Golden Gate Perk, thanks. Everyone around me got literally dozens of oxtail sandwiches and not one Okonomiyaki appeared. Twenty minutes later, mine was ready. Many won't have that kind of time to wait around on a lunch break, but if you do, it's quite satisfying right off the grill and a nice version of the classic dish.
SAVORY – SEAFOOD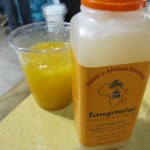 • Soleil's African Kitchen, a Hayward-based catering company, is helmed by the gracious Chef Soleil Banguid, who often serves at the Metreon Island Farmers Market. Growing up in Brazzaville (capital of the Republic of Congo), he brings flavors of home to simple take-out spreads of rice, plantains and a meat, like chicken with a savory, African peanut sauce, or my favorite, a generous piece of grilled fish ($7) with creamy coconut sauce. Inspired by a traditional Congolese ginger drink, he bottles his own version of Tangawisi, a refreshing African juice with notes of ginger from ginger root, lemon juice, sugar, honey.
SWEET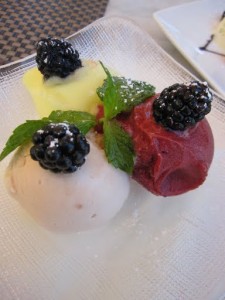 • On a warm Summer afternoon in Redwood City, I lingered over lunch on Donato Enoteca's inviting patio, finding a house-made Sorbetto trio ($7) a bright finish. Starting with the subtle, ultra-fresh white peach, the bold berry overpowered it, though it's just lovely on its own or as a finish, while I was most drawn to the tartly sweet limoncello sorbet. Softly boozy, it tastes even better than limoncello itself.
• I'm embarrassed I hadn't yet tried Gobba Gobba Hey's "gobs" (two fluffy cookies sandwiched with cream in the middle), but the times and places it showed up seemed to elude me until I finally grabbed one at 4505 Meats (Ryan Farr's Zilla-style dogs reason enough to come on Thursdays) stand at the Thursday Ferry Plaza Farmer's Market. Follow on Twitter or check the Gobba website for where to find gobs. It is worth it. Orange Cardamom Ginger with saffron frosting ($2) is a creamy, aromatic pillow of all three flavors. I'm eager to try Black Cherry Chocolate with lime butter cream.
• TCHO has been doing me right since inception: a dark, deep San Francisco chocolate with profiles ranging from nutty to fruity. I've been ingesting quite a bit of the Citrus-tinged chocolate of late. There is no actual citrus in it, rather it's complex enough that a zing shines through.