DOLLIE MARIE'S

1602 South El Camino Real
San Mateo, CA 94402
650-638-9238
www.dolliemaries.com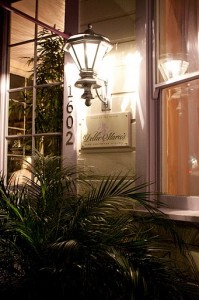 I can never get enough of that unique-to-the-US cuisine: Southern cooking. Enter Dollie Marie's, delightful, boisterous Chef Gator's latest, whose restaurants I've had the pleasure of eating at through the years (and sadly saw close), from Noe Valley's Alcatraces to Gator's in downtown San Mateo. When you add in white suit jackets and a whisper of fine dining elegance at reasonable prix fixe prices ($38 for three courses or $49 for four – your choice of dishes), I'm lured in.
Then there's an amuse bouche (crawfish bisque, thank you very much!), a palate cleanser (orange mint sorbet), homemade candies, and courses cooked with love and finesse, all in a gorgeous cottage, fireside glowing, each room lined with photos of Chef Gator's family through the generations (including his mother, the restaurant's namesake). It's the complete package and I'm won over.
I'm already thinking about when I can next make it to this new gem in the Bay Area dining scene, tucked away off El Camino Real in a non-descript part of San Mateo. For less than the cost of many mid-range San Francisco restaurants, it's a Southern feast to linger over.

There's the finest Frog Legs I've ever eaten, gently fried and juicy with flavorful black-eyed pea gravy and cheesy dirty rice loaded with bacon and green onion.
Rich, luscious Alligator & Caramelized Onion Gratin is baked under a puff pastry shell with fontina cheese. There's also classic Turtle Soup, giant and delicious Oysters pan-fried in cornmeal with a fabulous remoulade, a fine Shrimp & Grits with plump Gulf shrimp, and desserts like Gator's Bananas Foster or a comforting Sweet Potato & Apple Cobbler with cinnamon ice cream.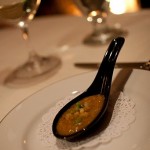 A Blackened Catfish entree is quite tasty and flaky, but I never quite go for the heavy pepper inflections of this type of dish. This version is handled deftly (joyously resting on a bed of crawfish risotto), but I still could do with less pepper. Due to the lack of availability of proper rabbit when I was there, the rabbit entree wasn't on the menu (I appreciate them holding out for a better meat) but it sounds amazing: Braised Rabbit with Jack Daniels maple syrup gravy. Next time.
The flavors of the South that I crave are here, done with a gourmet touch and the kind of quality ingredients we're used to in the Bay Area. I certainly love Oakland's Pican (despite a rather sterile, corporate-looking dining room) and SF's gorgeous, jazz haven, 1300 on Fillmore… both are pricey, Southern-influenced menus with a CA touch and I'm so glad they're here.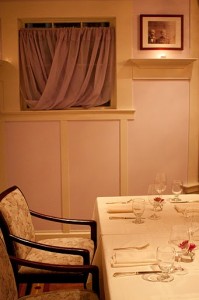 Though Gator has that Cali touch as an Oakland native, his family's Southern roots show in a more traditional but fresh menu I enjoyed the likes of in Charleston and New Orleans. This one feels like the real deal and worlds removed from the bustling spirit of Pican and 1300 on Fillmore. You get more for your money here: a delicious multi-course meal, warm and inviting, with fine dining hints.
The intimacy and quiet of the cottage is like dining in a friend's Southern home, complete with charm and comfort. The wine list is so-so and service sweet, attentive and still working itself out. Gator is ever jovial and welcoming, and his wife, Mary Ann, makes sure you're taken care of. All in all, I'm thrilled to see this unique addition to the Bay Area dining scene. You're transported to the elegant South… where it feels like a special occasion, even if it's not.