Top Tastes
is my usual run-down of favorites. Rather than a list of all-time favorites (another thing altogether), it's highlights since my last newsletter, often from new openings. Many don't make the cut, being a revisit written about before or simply not as stand-out as dishes mentioned.
MID-RANGE RESTAURANTS
At the start of a new year, I visited some long-time favorites (and some of our city's best) who continue to delight and thrill.
•  Zushi Puzzle – Little ambiance, few niceties, but over the years, when I want one of the best sushi meals possible, I go to Roger and tell him to serve me whatever he wants. This otherwise reasonably priced sushi spot can shoot high if you don't give him a price limit (I unknowingly spent $90 last time – but tell him you want to spend $50, for example, and give you whatever he wants within that limit).

Roger's sashimi platters are a wonder: recently I had ten types of fish from around the globe: four kinds of salmon (oh, that silky Ivory Salmon!), Butterfish, Bluefin Toro from Italy. A bit of excitement came with a giant ear-shaped scallop shell, with a sliver of, yes, tasty ear-shaped scallop inside it. His raw scallop roll, which I have most times I'm here, is impeccable. A Soft-shell Crab Hand Roll with spicy tuna comes wrapped in a marbled green and cream-colored seaweed. His famous Kobe Beef Nigri is nothing less than an A5 cut of kobe. Kudos for taking the tendons from the ear Scallop, frying them up,  served with lemon and a tasty dipping broth – I'm craving them right now. Roger wins me over every time.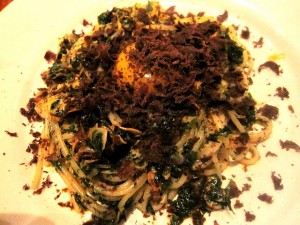 •  I've been singing the praises of Incanto since day one (the dining room was just updated last week). Chris Cosentino is hands down one of our city's best chefs and eating at his restaurant is both an adventure in offal goodness, and the most reminiscent of some of my best meals in Italy. New Year's Eve was enriched dining here with a group of friends on Spaghettini with Sardinian cured tuna heart, egg yolk & parsley ($16 large/$10 small), a bread crumb-encrusted Baccala (salted cod) Cake, plump Smoked Snails (lumache, $12) with chanterelles, and a massive serving of Crispy Pork Belly.

Choosing top tastes of the night, I'd go with something Cosentino often does to perfection: Marinated Local Sardines ($11), flaky, luxurious in olive oil and just the right amount of salty. Accents of watermelon radish, red onion and parsley give it bite. In the entree arena, nothing could have been more heartwarming on a crisp night than Il Peposo ($24), a hearty Tuscan tilemaker's stew on a rustic grilled bread which soaked up the beef's juices, with a hint of mint. As ever, Incanto's Panna Cotta is about the best I've had, with revolving flavors: this time, Chocolate Blood ($7.50) – yes, blood – a silken, bloody beauty.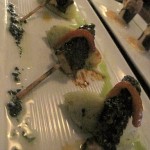 • Give me a round of causas, tiraditos and cebiches with Pisco Sour in hand at La Mar Cebicheria and I feel like I'm on vacation. My Peruvian favorite since it opened (and I've just about been to them all in SF), I'm enjoying their Anticuchos De Pulpo (octopus skewers – $16), delicate in size but grilled and meaty, on a splash of herbed mashed potato with chimichurri sauce.
CHEAP EATS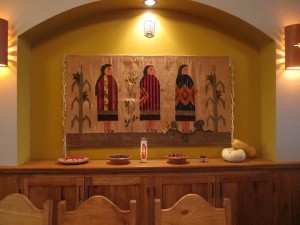 • I've never been one to get behind the hippy-dippy attitude and (lack of) service at Cafe Gratitude, much as I feel great after eating their uber-healthy, tasty vegan meals. So when I heard they were opening a vegan taqueria, Gracias Madre, smack dab in the middle of the Mission, I wondered why I'd ever choose this over my beloved, authentic taquerias all around it. With improved service and an lovely, airy space on Mission St, I find it's where I'll go when I can't eat more grease or hefty burritos. With a light touch, there's butternut squash (my preferred) or mushroom tacos and cashew 'cheese' instead of the real deal. Although I ultimately prefer the real deal, this is a welcome addition and healthy alternative…
PALO ALTO-MOUNTAIN VIEW
• Who knew a socially conscious, relaxed coffee and music haven such as Red Rock Coffee existed on Castro Street among tons of Asian and Indian food joints? It seems everyone in the area knows, but I don't get to downtown Mountain View too often. I was grateful to see their energies as a company focused on abolition, fighting slavery and human trafficking… and that they served Four Barrel coffee, even if their lattes and cappuccinos come in massive mugs (a bad sign of too much milk). That's why a robust Espresso with foam ($2.60), more like a proper mini-capp, suited me just fine.
• Palo Alto's Mayfield Bakery is one of those expensive, artisan bread and pastry bakeries, sure. But it helps that much of it is delicious. A Pumpkin Chocolate Chip Muffin with crispy oat crust is an ideal muffin, while their Meyer Lemon Tart has the needed tart lemon kick and buttery crust.
• Mountain View's The Kitchen Table is so uneven, I'm reluctant to even mention it. Service is friendly but completely haphazard, with too many "water boys" standing around, incessantly filling water while the one waitress lets your food sit at the counter in full view for over five minutes before bringing it to you. This wouldn't be so bad if prices weren't high and all over the place: brunch entrees run $12 to $30? What? Way too much for a casual brunch with spotty service.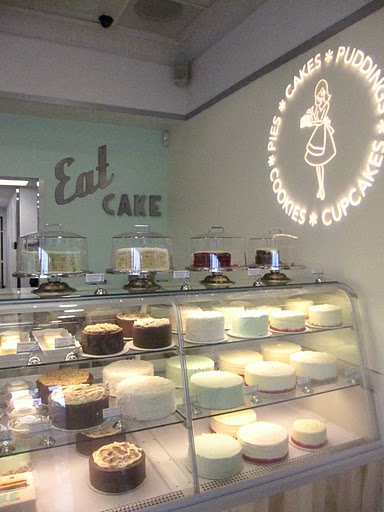 Everything is ultra-fresh and I was pleased to see Jewish offerings (Knish, Matzo, etc…) since we don't have enough of that in the Bay Area. A striking front room with chandeliers and artistic wall display of vintage photos and frames impresses, while oldies and Motown softly play. But step behind the curtain (where they initially sat us until I asked to be moved to one of many vacant tables in the main room), along a narrow walkway right next to the kitchen, making for a noisy, obnoxious perch for a number of tables. Your $15 sandwich should come with a little more peace.

But the reason I write is for one little glory: their Pastrami Sandwich ($12 plus $1-$6 for add-ons like sauerkraut or Fresno chilis). This is no hearty, authentic pastrami like what you get in NYC or at Brent's Deli in LA. But it wins for its own take on a classic: housemade Sourdough Rye bread and paper-thin, delicate folds of pastrami, not lacking any of the meaty taste, but feeling almost… healthy and light. Bring it on.
MARIN: GREENBRAE
• SusieCakes is a beloved LA bakeshop who's sweet owner, Susan Sarich, once lived in the Bay Area, unsuccessfully trying to find a space in the city from which to do business. As was her dream, she's back post-success of her four LA shops, to finally open one here. And Marin gets it. The decor is a gentle sea green with retro touches. There's cupcakes with sprinkles, lush cakes (Red Velvet is a highlight with a rich, cream cheese frosting; $33-$46 or $5.50 for a slice), Whoopie Pies ($5), and delicate Sugar Cookies ($3). Surprisingly, as I'm not a fan of pudding, I found myself unable to put down the spoon when it came to her Butterscotch Pudding ($4.95). Everything is made with slow churned, European-style butter and you sure taste that creaminess in the pudding. Next time I have to try the Banana & Vanilla Wafers.