BRICK & BOTTLE
55 Tamal Vista Boulevard
Corte Madera, CA 94925
415-924-3366
www.brickandbottle.com
I've followed chef Scott Howard's various restaurants over the years, from his stint in San Francisco at self-named Scott Howard restaurant, to Five in Berkeley. He recently returned to his home county where he started it all (at Fork) with Brick & Bottle.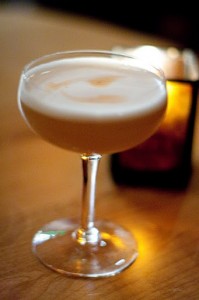 It's essentially in a shopping mall in Corte Madera (in the former Izzy's space), and, yes, it has that suburban- chain feel about the long, spacious, though muted, restaurant.
You could get side-tracked in the bar on the way to a table, and that wouldn't be a bad thing. Ron Harmer, with a background in spirits and wine, has created a menu of 20 plus cocktail classics ($9 each) with a couple new creations thrown in. I haven't seen a classic cocktail list this extensive in Marin until now. There's a number of my favorites present, like a Ward Eight, Vieux Carre and Sazerac, but there's also a Tequila Sour with egg white, a smooth La Selle (rum, Benedictine, cane syrup and bitters), and a lovely Bourbon Old-Fashioned with bitters, cane syrup, orange and a cherry cured in sugar and Kirsch.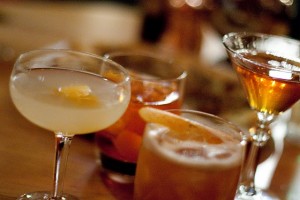 My top two: Amelia, their take on a classic Aviation, with gin, lemon, cointreau, maraschino and a dash of absinthe. Spirituous and strong, this could be a classic. The other is Halekulani, a frothy bright rum drink with lime, grapefruit, maraschino. Tastes like the islands without being faultily sweet. Harmer is schooling Marin on classic cocktails… and they'd do well to drink up.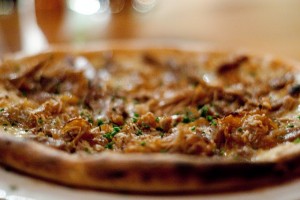 The wine list is extensive and California-focused, covering a broad range of smaller wineries across the state, with a few wines on tap. There's a handful of beers on tap as well and a sizable spirits collection.
Ok, you say… but what about the food? My initial visit opening month yielded the salty/sweet comfort of Duck Confit Pizza ($12) with caramelized onions and fontina cheese. Have seen it before, but can't go wrong with that combo. Frog Hollow Organic Yellow Peaches Salad ($8) is simple, letting the peaches take center stage over arugula with a bit of avocado and light rice wine vinaigrette.
I've long been a fan of La Quercia ham, which you can eat at places from Contigo in Noe Valley to Roberta's in Brooklyn. Brick & Bottle serves it with organic nectarines ($12), wild arugula and Parmesan. Summer bounty such as this shows up all over the menu.
Honestly, my two top dishes were mains ($10-27), both of the hearty, fatty kind. They won on all points, turning what was a good meal up until that point into a crave-worthy one.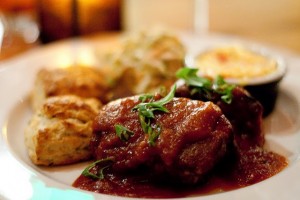 Though eager to try the Pimento Cheeseburger ($10), I'm glad I chose Grilled Gruyere & Braised Short Ribs Sandwich ($11). A melting, oozing grilled cheese sandwich it was, loaded with beefy short ribs, elevated when dipped in a tiny bowl of tomato soup or lush horseradish cream sauce.
But the crowned 'dish of the night' wasn't even on the menu. One of the daily specials which should be a permanent fixture, was BBQ Pork Ribs with jalapeno slaw, pimento cheese spread and flaky Cheddar Chive Biscuits.
House BBQ sauce hit the right notes of heat and subtle smoke, pork was tender and hearty, while biscuits melded with the cheese spread into something like your Southern Grandma's cooking (you know, the one you wish you had?) That same spirit lives on in a family recipe of Rum Cake with rum raisin ice cream, pecans and caramel drizzle.
I envisioned a decent meal from Howard, but I didn't expect the level of Southern-tinged comfort that came through in the entrees, taking me on a momentary jaunt back to the South. It's American cooking, certainly with California freshness, not limited to any one region, but it has a surprising bit of Southern soul.
For Marin, this is an elevated comfort food and drink destination and one locals would do well to put on their regular rotation.