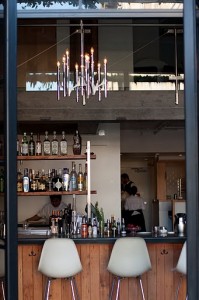 Top Tastes, rather than a list of all-time favorites (another thing altogether), are among the best eats since my last newsletter, often from new openings. Many don't make the cut, being a revisit previously written about or simply not as stand-out as dishes mentioned.
EXPENSIVE RESTAURANTS
THERMIDOR, SoMa – The Mad Men craze is a natural for me as that era, from clothing to music to cocktails, has never gone out of style in my book. Whether through the Swingers/swing scene craze in Hollywood back in the 90's, to the Mad Men resurgence currently, I've been collecting vintage dresses, obsessed with classic films and listening to records since I was a girl.
So as soon as I hear Thermidor is opening with a circa 1960's/Mad Men vibe, I'm in. Even better that the menu is rife with classic dishes of the era. I am completely appreciative of the fact that they're doing something different instead of the usual understated decor and Cali-fresh, charcuterie & pizza or pig-heavy menus. Not that I am not crazy about all those… I love anything done well. But I am ever grateful for a place that doesn't just copy what is already there in abundance but seeks a lesser traveled road.
I love the look of the place: wood walls, white/Jetson's-like vintage chairs, chrome chandeliers, wood paneling and high ceilings… 1960's chic. The bar is inviting, with completely open doorways opening onto Mint Plaza. I'd return to sip the successful take off a Moscow Mule, the Warsaw Mule (cocktails all $9). It's made with Bison grass vodka (one this non-vodka drinker likes), organic apple juice, lime, sunshine bitters and ginger beer. It's refreshing but bracing, with a unique, layered profile.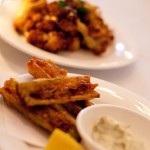 I was intrigued by the Iceberg Daiquiri, not being the kind of thing I normally see on menus or would order. Thankfully, it wasn't sweet, rather strong with a white rum/maraschino liqueur kick, a whiff of vanilla, and tart from grapefruit and lime. But I can't say I ever want to go back to blended drinks days – I got 'brain freeze' from first sip, waiting for the drink to melt more before I could finish it.
I'll get this out of the way now: portions are small in most cases, making prices too high for what you're getting.
The Renaissance Man and myself spent over $100 and didn't leave full. But… what we had was (by and large) promising.
Excited as I was for a bit of Chips & Caviar ($6), I've had better versions at dinner parties (this one has smoked trout, creme fraiche and caviar on house-made chips).
On the $6 Hors d'Ouevres menu is Crispy Cauliflower, grilled in lemon and mint and quite satisfying. Celery Victor is puzzling (sounded so old school I had to order it). The first two celery stalks were fried and decent dipped in tartar sauce but were really just fried celery.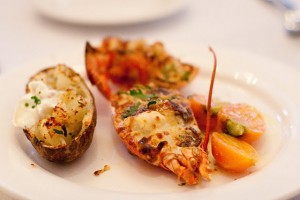 When I got to the third stalk, it had a white anchovy layered under the fry (as was listed on the menu) and suddenly perked up. I think they made a mistake: each stalk was supposed to have an anchovy? It transformed the appetizer.
A Mini-Lobster Roll ($15 – deal alert: there's a full sized roll at lunch for only $3 more) was truly mini with nothing more than a side of (admittedly fabulous) pickled Tokyo turnips.
I go on lobster roll hunts and though I've never had better than at Pearl Oyster Bar in New York, this one pretty much kicks ass. The brioche roll has the perfect combo of light crisp and melting softness, while the lobster is plump, sweet, coated in butter. Lobster Thermidor ($32), the priciest pinnacle of the entrees (otherwise $21-26), is disappointingly small (half a little lobster) but is ridiculously good, baked in the shell with brandy bechamel sauce and half of a twice-baked potato enhanced by crispy skin.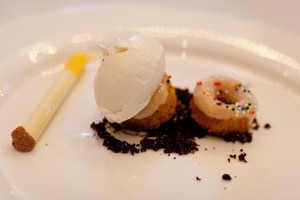 Next time I'll go with our gracious waiter's recommend for dessert (all $8.50): Caramelized Poppyseed Cake with thyme ice cream. Initially I had to order the one everyone is talking about: Coffee, Cigarettes & Doughnuts. Though I appreciate the notes of Jim Jarmusch in the dessert's moniker, I couldn't taste even a hint of tobacco in the white chocolate custard, nor much carrot in the carrot cake doughnuts. Coffee ice cream over crumbled, dirt-like cookie crumbs, was the highlight of a dish higher on presentation than taste.
I look forward to my next visit to this thankfully unique new restaurant, though thinking economically, it's going to be for lunch or Chicken Kiev and cocktails at the bar.
MID-RANGE RESTAURANTS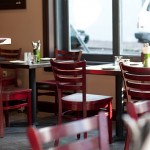 HOG & ROCKS, Mission – I went to a test night of this brand new (sure to be) Mission hot spot, Hog & Rocks, so though I plan to return soon, this initial take comes with the caveat of a number of menu items not yet being available and kinks still being worked out. The space is spare with stainless steel and black, plus plenty of communal seating, and a focus on hams (hog) and oysters (rocks).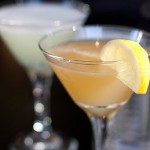 I was pleased to see tasting notes listed under the oysters – this should be standard. I sampled G&W Hamery's 10-month aged ham from Murfreesboro, TN, with whiskey-glazed peanuts and cress salad, as well as Broadbent's medium hickory smoked ham from Kuttawa, KY, with frisee and cherry tomatoes ($9-11 a platter). There are five hams to choose from, sliced thinly/prosciutto-like, and eight oysters ($1.50-2.50 each), though the menu changes for each.
Cocktails ($7-9) are classics like a Whiskey Sour, Tom Collins or a Hurricane (with the awesome idea of $1 of the latter going to New Orleans' Gulf Coast Oil Spill Fund).
At pre-opening, bartenders were still being trained and the cocktails I tried were solid, though lacking in the finesse you might find in the same drinks elsewhere, though the price point is good.
Wine and beer lists are short but thoughtfully chosen (delighted to see an Austrian Zweigelt among the 6 reds), with nods to the welcome, growing trend of a few kegs of wine available by the glass or carafe, and all available in $3.50 half glasses (wish every restaurant did this).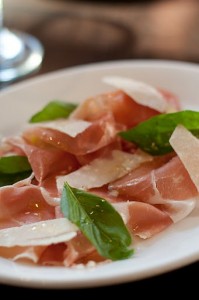 As for the food, it's a smartly chic menu under $14 of dishes like Fish Pie ($14), Sweetbreads with piquillo peppers ($10), Corned Beef Tongue ($9) and Pickled Sardines ($9). Sadly, none of those were available pre-opening, but I did try Cast Iron Octopus ($10), pleasing enough grilled, with potatoes, pickled jalapeno and a ham vinaigrette.
Chicken Wing Confit ($10) is a generous portion of boneless chicken wings (not sure where the confit part comes in?) in a buffalo wing-style hot sauce with blue cheese dip. My favorite bite (besides sampling the hams) was Crab & Artichoke spread in a jar with Levian bread ($8). There are four different spreads in a jar (the Pimento Cheese, $6, with baguette is creamy, Southern satisfaction), and it's in their most playful menu items such as these that Hog & Rocks shows its promise.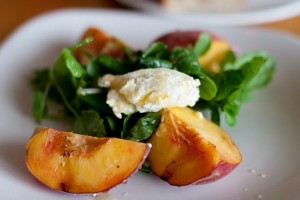 GREENS, Marina/Fort Mason – It's a rare restaurant that survives 30 years. But to survive while maintaining a high standard in the kitchen is even more rare. This year is the 30th anniversary of Greens, the first high profile, upscale vegetarian restaurant in the country, with the lovely, warm Annie Sommerville as Executive Chef… and they have maintained.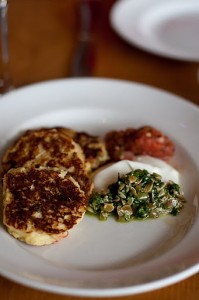 The anniversary is a fine reason to return to a place I frequented more often when I first moved here nearly a decade ago. Though the space has remained the same with simple, streamlined decor, stunning views of the Bay, Marin and Golden Gate Bridge remain the setting's star, while the menu showcased the glories of Summer.
Current menu highlights: Grilled Blossom Bluff Peaches ($12) were improved, if that were possible, by Bellwether Farms' incomparable fromage blanc and a dab of Snyder's wildflower honey, while fresh watercress tasted herbal, grassy. I've had a lot of corn cakes in my day, but their Ricotta Corn Cakes ($11.50) are among the finer with crispy white corn accented by jalapenos, scallions and smoked cheddar. House creme fraiche, fire roasted tomato salsa and pumpkin seed cilantro salsa accompanied.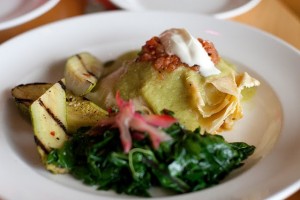 On the entree side, Masa Harina Crepe ($23) is tortilla-reminiscent, made with corn masa, but a light, paper-thin crepe. More corn played prominent with peppers, poblano chilies, and grilled onions piled inside, accented by salsa and creme fraiche. I couldn't taste chipotle lime butter on the accompanying grilled grazzini squash. I loved Summer Vegetables (carrots, squash, etc…) Indian Curry ($21.50 large; $17.50 small), a curry rich with coconut milk, ginger, tamarind, chilies, on top of mustard seed basmati rice, beautifully contrasted with a "chutney" of juicy peaches in a cherry glaze.
Bing Cherry Almond Cake ($8.75) was heavy on the almond, dry but for plump cherries, and rose geranium ice cream that was a soapy rose bomb. But altogether, it became another dessert entirely, no piece overwhelming the other, cake moistened by a creamy hint of rose.
Greens, after all these years, remains a destination for lovingly-prepared vegetarian cooking. Long may she live.
CHEAP EATS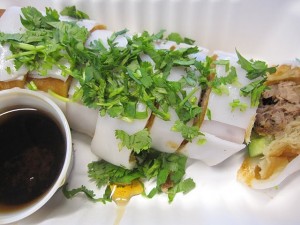 Mission Chinese Food, Mission – Recently bereft of our beloved twice weekly Mission Street Food dinners in dingy Lung Shan and Mission Burger in Duc Loi Supermarket, there's at least comfort in knowing founders Anthony Myint and Danny Bowien are still on the scene, now with playful Chinese food at Mission Chinese Food.
For starters, it's cheap (under $10), but the killer part is: they deliver… anywhere in the city? Guess who's been savoring some Ma Po Tofu ($8) – ground pork, fermented black beans, mushrooms, peppercorn, ginger and flaming chili oil over rice – from comfortably behind her desk at the Guardian? You can eat in, too, as they're open seven days week (11am-10:30pm). However you eat it, something tells me you won't find the likes of Peking Duck Chinito ($8) anywhere. Think Peking duck confit, cucumber and cilantro wrapped inside a Chinese donut. Then cover the roll in rice noodle and dip it in a spicy Hoison oil. I knew you'd be intrigued…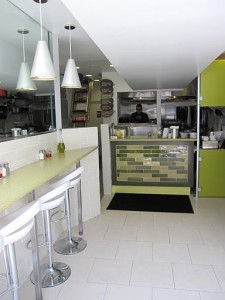 Zaytoon, Mission – A simple menu of five items, an unassuming, bright green and white storefront, and kindly staff make brand new Zaytoon a worthy Valencia Street stop for Falafel Wraps ($6.95-$7.95), Chicken or Lamb Shawerma ($7.95) or a Mazza Platter ($7.95) of falafel, dolmas, hummus, babaganoosh, tabouleh, cucumber/tomato salad and feta. The place and ingredients are spanking fresh, clean and easy to devour.
Moya, SoMa – Though not the best Ethiopian food around (favorites here), I love the mother/daughter team working at brand new Moya (just opened 7/12) and their lunch steal of three vegetarian dishes of your choice piled on injera with salad and yet more injera for just $8.
Mr. Pollo, Mission – Want one of the best Arepas in town ($1.50 for cheese, $5.50 with meat)? Head to Mr. Pollo near the 24th Street BART and get a warm off the grill Cheese Arepa, oozing with cheese and a hint of honey sweetness. It's as good or better even than ones I had in Venezuela.