SAN CARLOS

THE REFUGE – Much has already been said about the famed pastrami at San Carlos' Belgian bar and hearty sandwich/burger spot, The Refuge. Jan Newberry of San Francisco magazine rightly lists it as one of the best in her sandwich guide.
All I can say, is get there if you haven't. These are among the best of these kinds of sandwiches on the West Coast (yes, I've had Brent's and Langer's, et. al.) The beer selection is excellent, especially for the South Bay. Belgians and sours flow. And, yes, the pastrami sandwiches, whether plain ($13), with Swiss and mustard ($14), toasted slaw #19 ($16) with coleslaw and Russian Dressing, or as a reuben ($16) with sauerkraut, Swiss and Russian Dressing, all slay you with chunky, meaty tenderness. It may not be the best I've ever had, but it's up there.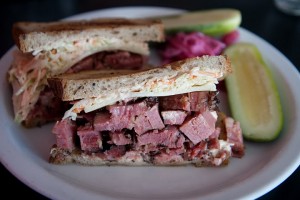 In the wake of the pastrami hype, however, I was shocked to find I loved the Roast Brisket of Beef ($12) more. The beef is sliced thin and in tangy sweet Carolina-style sauce with a lather of horseradish cream to give the already melting combo of warm bread and meat even more lusciousness.
On the 'lighter' side, you can have your meat, Prosciutto in this case, with Peaches ($14) as a salad. But you're missing out on a simple yet profound pleasure if you skip that beef sandwich.
BERKELEY
SLOW – There's a fairly recent, winning little neighboring trio on this block University Ave. Husband/wife restaurant, eVe, utilizes fine dining technique at a steal, while next door Chocolatier Blue creates delicate chocolates and hot chocolates. Add in the newest member, Slow, and you have the trio. Their connection is no coincidence: they all know each other from days working in Charlie Trotter's kitchen.
Nebraska native Kyle Anderson is the chef at Slow, recreating his fine dining background (which also includes a stint at none other than Daniel Boulud's Daniel in NY) in a casual Berkeley take-out setting. There are a few stools to eat in, a peaceful back garden, and you can order anything to-go, all under $12.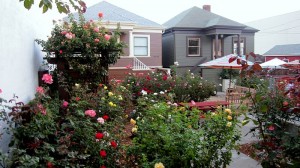 The experience is not equivalent to eating at a sit-down restaurant, but for take-out, the quality is welcome. Braised Short Rib ($12) is the highest-priced dish (and most popular in its few opening weeks), served with mascarpone polenta, tender escabeche carrots and roasted cippolini onions.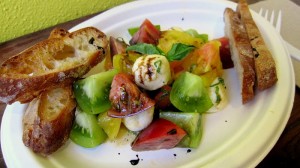 I was less enthused with the Stuffed (with eggplant, peppers, mango) Portobello Mushroom ($10) over potatoes and cauliflower, which was well-prepared but a little bland compared to the rest despite a mango perk. Chilled Mussels ($6) in citrus broth make a refreshing starter, as do White Anchovies with marinated olives ($6). The purity of a straightforward Heirloom Tomato/Basil/Mozzarella Salad ($5) ended up being the most satisfying dish, colorful with green and red tomatoes. A dessert finish of Seasonal Cobbler ($3) evoked Fall and home cooking.