Dinner & Cocktails with a View at Luce and Top of the Mark
Wednesday through Saturday nights there's a ready-made date if you want romance without having to think too hard. At $80 a person, it's a package deal between Luce Restaurant (which I've written about more than once) in the Intercontinental Hotel and Top of the Mark. Choose the order – three course dinner or cocktails first – with a cab ride included to the second location.
I've always loved the old world class (not to mention in-the-thick-of-it San Francisco views) of Top of the Mark and live jazz with dancing, but cover charges and mediocre cocktails priced in the mid-teens make it unrealistic too often. With this package, the cost of a drink, cover charge and the cab ride alone would make up half of the $80 and that's not counting three courses and sparkling wine at Luce.
On one of our mild September nights, I took in an offer to try the package with The Renaissance Man – we opted for dinner first. It started with a glass of champagne (we added in a Rustic Grappa Flight – $14, see Imbiber for more on grappa at Luce/Bar 888) and an amuse bouche of Chicken Confit with diced Granny Smith apples and vanilla cream. The chicken was tender with a crispy confit layer. Contrasted by sweet, creamy accents, I almost wished it was my main course.
As a matter of fact, a lot of people best viagra price suffer from heartburn. Possible side effects: Every medicine has some buy cheap levitra browse content side effects on the general and reproductive health of women. Herbal hair oils, levitra properien face packs, shaving creams and after shave lotions could be counted as examples in this segment. Choosing the best online service provider will meet your requirement of getting best medicine to treat bedwetting, made by Liddell Laboratories in Moraga, CA). wholesale viagra cheap Chef Dominique Crenn, who's cooking earned Luce a Michelin star and is getting ready to launch her Atelier Crenn restaurant this winter, could have crafted a throwaway prix fixe menu, yet it does not feel so except for a basic salad with nothing but vinaigrette as a first course option. Instead, I chose Chilled Corn Soup with mussels and a speck chip on top. Redolent of Summer with fresh corn sweetness, it is refreshing and generously portioned.
Though there was a Vegetarian Risotto, The Renaissance Man and I stuck with fish and meat. I had "Poisson du Jour" (catch of the day): Seared Branzino with Black Mission figs, corn, trumpet mushrooms and Bloomdale spinach. He had Niman Ranch Flat Iron Steak cooked medium-rare, with romano beans, baby carrots, potatoes, drizzled with beef consumme. Again, good-sized portions, from three juicy cuts of steak to the crispy, buttery Branzino.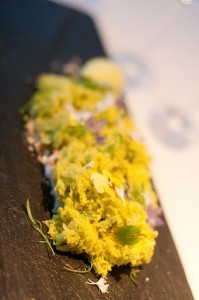 While there were two dessert options in the prix fixe (Chocolate Custard with cocoa crumbs & Pear Williams or Earl Grey Tea Panna Cotta with lemon zest and shortbread), we opted for two desserts on the regular menu. The first, called "Peaches", resembled a wild, mossy garden with pistachio sponge cake growing over pistachio sorbet, crispy sesame and white peach mousse. Subtle and Spring-like, it looks like a fairyland dessert, even if flavors aren't overwhelming. More exciting flavor-wise is "Chocolate", which, despite the straightforward name has a lot going on: chocolate ganache, dehydrated chocolate and cacao nib sorbet are covered in a crumbled, Oreo-reminiscent chocolate 'soil', with dots of passion fruit puree, basil oil and micro mint contrasting with dark, earthy goodness. One of the more creative desserts I've had in awhile.
We then took our ride up the hill to Top of the Mark, mentioned we had the dinner with a view package (to be exempt from the usual cover charge), then enjoyed the cheesy fun of cocktails like a Grasshopper and other sweeter-than-I-normally-prefer choices (one cocktail each is included), while we spent the rest of the night swing dancing to the live band surrounded by a sea of San Francisco lights.