Here are four recent stand-out dishes or meals, from affordable hole-in-the-walls (Grill House and Prime Dip Sandwiches) to upscale creativity (Haven and Aziza):
HAVEN Preview Dinner at PLUM, Oakland (Haven will be in Jack London Square; preview dinners are at 2214 Broadway; 510-444-7586)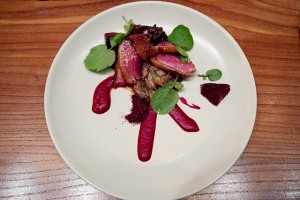 Anticipating the opening of Daniel Patterson's restaurant (currently slated by year's end), Haven in Jack London Square, there's been a series of preview dinners on Tuesdays at his Oakland restaurant, Plum (the last one is 11/15). Haven chef Kim Alter has been on hand cooking a five course Haven dinner, recalling her signature style she made waves with at Sausalito's Plate Shop.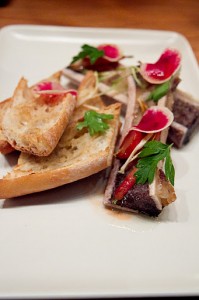 While I saw Alter's promise there, I find myself more excited by the Haven preview. It seems her meticulous artistry is making space for comfort in a way that satisfies yet is not routine or predictable.
Three cheers for her bone marrow dish, possibly my favorite bone marrow interpretation ever. A trail of garlic scents the air as two hefty bones come out. Vivid, pickled watermelon radishes brighten up the marrow visually, while leeks and yuzu juice add unexpected layers. Smeared over crusty bread, it was so satisfying and garlicky, we wanted to applaud. A main course of duck breast and tender duck confit delighted with the accompaniment of beets multiple ways, including dehydrated beets ground up with rye grain, or in German sauerkraut style.
Cocktail king Scott Beattie put three classics on the preview dinner menu, getting creative with ingredients in keeping with a gin theme. Old World Spirits' Rusty Blade gin makes a lush base with maraschino liqueur and Carpano Antica sweet vermouth for his take on a classic Martinez ($10). Smooth and sexy with the duck dish in particular.
Coi's (Patterson's flagship) pastry chef Matt Tinder took care of dessert, winning me over by filling buttery brioche with warm Brillat-Savarin cheese topped with crispy honeycomb. Savory, creamy, with gently floral honey, it's a dessert exemplifying the spirit of the entire dinner: inventive yet ultimately gratifying. I'm left expectant for what Alter and crew will cook at Haven.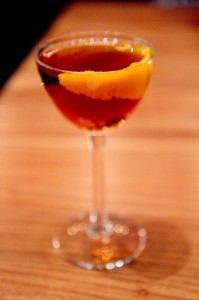 P.S. It seems Grubstreet (where I fill in as SF editor from time to time) had an equally winning menu on another Tuesday Haven preview.
GRILL HOUSE MEDITERRANEAN, Tenderloin (533 Jones Street, 415-440-7786)
After moving around to various Tenderloin and North Bay storefronts, gifted Turkish chef Vahit Besir's started at the new Grill House Mediterranean, only to leave a few weeks later. I caught him on one visit to this humble hole-in-the-wall, no longer there on my most recent stop. Though other food writers have deemed their visits inconsistent, my tastes here have been steady and as such, I find it a worthy place to pick up Middle Eastern bites when in the 'Loin, though missing Besir.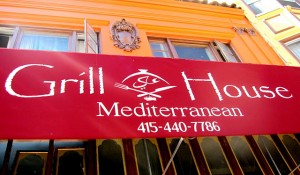 Shredded chicken, lamb or beef shawarma ($9.99 plate, or combo of all three: $11.99) fills out a toasted lavash wrap ($6.99-7.99) quite nicely, companion to lettuce, tomato, cucumber, hummus and tahini sauce (as spicy as you wish).
The menu runs $10 or less with ubiquitous starters ($3.99 each) of baba ganoush, tabouli, dolmas, piyaz (white bean salad), and lahmajun, essentially Middle Eastern flatbread topped with ground beef. The most addictive bite is feta cheese pie ($3.99) straight out of the oven (or stuffed with beef, chicken or spinach). Tomatoes and warm feta ooze from a roll sprinkled in sesame seeds. A supreme Middle Eastern treat.
PRIME DIP SANDWICHES, Tenderloin (518 Larkin Street between Turk and Eddy, 415-800-8244)
Blue collar workers and Civic Center government staff line-up at Prime Dip, a new sandwich shop on Larkin. No frills, just hefty dip sandwiches ($6.99-7.99) on French bread, including a popular prime rib dip. Under $8 is a deal for such hefty rolls, including a choice of sides like mac n' cheese or mixed veggies. There's a loaded lobster dip ($12.99) with hot dill butter, though I find my New Jersey (NY) roots push me straight for the hot pastrami dip. Crusty French bread softens when dipped in meaty jus, while spicy mustard and melted Swiss cushion thinly sliced pastrami.
AZIZA, Outer Richmond (5800 Geary Blvd., 415-752-2222)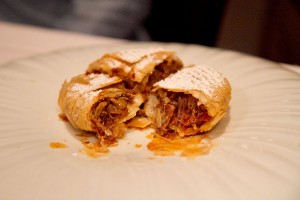 A meal at Aziza is never boring. Celebrated Chef Mourad Lahlou (whose new cookbook was just released) puts such an artistic spin on Moroccan food, one never knows what a dish will look like just from reading the ingredients listed on the menu. Some achieve greater heights than others but all fascinate, reinterpreting elements of Moroccan food. Though Aziza's anticipated downtown location just fell through, they are on the hunt for a new building.
Savory, garden-fresh cocktails were the highlight of a recent visit (see Imbiber), but on the food front, juicy, little meatballs ($14) on skewers with grapes play the sweet/savory card to winning effect, accented by herb-tossed jicama. I adore Lahlou's basteeya (or bastilla), my ultimate Moroccan dish, found commonly at Moroccan restaurants. This visit it was tweaked from the usual chicken or traditional squab, filled instead with duck confit. Tender, shredded duck is encased in phyllo dough ($22), sweetly contrasted by raisins, cinnamon and powdered sugar, plus slivers of almonds. Savory and sweet gets me every time.