These three bars (or restaurant bars) are all new openings within the last 1-3 weeks. I've visited those in SF a couple times each, while catching a sneak peek of the Oakland bar. Tasting through a number of drinks on these menus signifies all three as bars to watch.
AQ, SoMa
1085 Mission Street (between 6th & 7th), 415-341-9000
New restaurant AQ takes on the dodgy stretch of Mission between 6th and 7th street with class, warmth and amaro/vermouth-based cocktails (more eventually to come from me on their food). Just opened and waiting on their full liquor license, AQ's killer bar staff already serves delightful cocktails.
Working collaboratively vs. "top down", Timothy Zohn appropriately utilizes the talent around him compiling menus and running the bar as a team. Both Ethan Terry and Brandon Josie, who he worked with at 15 Romolo, plus Karly Pearson from The Alembic, have all joined Zohn here. It's safe to say we can expect quality cocktails from this gifted group of bartenders.
Not only is there a seasonal focus to the menu, the bar top and glassware are seasonal, too. Vintage glasses emblazoned with autumn leaves evoke fall, while the current copper bar top will transform to Italian marble in winter.
I have been waiting to see a local bar lead in the ever-increasing trend of amaro (low alcohol, Italian herbal liqueurs), even as many all over the city have been crafting elegant amaro cocktails for some time. AQ showcases amaro and vermouth-based cocktails quite nicely. Zohn says they will also offer boozier drinks, like classic cocktails alongside seasonal variations of those classics. They eventually plan on opening a downstairs cocktail lounge (with additional restaurant seating) sporting a whiskey and gin focus. Currently, cocktails are $10 each.
The Squash Flip is the ultimate fall cocktail. Carpano Antica sweet vermouth lays the base, roasted butternut squash puree delivers savory fall spice, while a whole egg gives it those creamy overtones typical of a Flip. The Palanquin is for beer drinkers: 21st Amendment IPA, Lillet blanc, lemon and honey forms a zippy refresher, with subtle floral whispers from lavender bitters. Churchill's Bane works in place of gin with gin botanicals infused in dry vermouth. Reminiscent of a classic martini, orange bitters and twist of lemon tie it together. Another fall-spirited imbibement is Permanent Record, with a base of cream sherry and toasted pecan-infused white port, balanced by barrel-aged bitters and garnished with a flamed orange peel.
I'd call this the bar to watch at the moment. In AQ's open, comfortably chic space, pulling up to this bar hints at changing delights in talented hands.
WO HING GENERAL STORE, Mission
584 Valencia St. (between 16th & 17th), 415-552-2510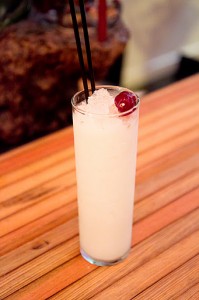 Wo Hing General Store is the latest venture from Charles Phan, in the original Slanted Door space, no less. I miss my regular lunches there many years ago so it's heartwarming to see the space revived.
In opening weeks, I'm hearing mixed reviews of the food, but I initially find it similar to his other Chinese venture, Heaven's Dog: the food is good, well-prepared, if overpriced compared to the dearth of Chinese food in SF. And just like Heaven's Dog, the highlight is the cocktails.
The drink menu is a thoughtful spirits line-up, with a fine wine list plus a couple beers (like local Magnolia Pub's New Speedway Bitter) for good measure. Cocktails (all $10) come from bar manager Brooke Arthur who put the bar at Range on the map and most recently managed the bar at Prospect. Here she goes for classics-with-a-twist and relaxed cocktails offering an unfussy good time, complimentary to Phan's refined Chinese comfort food.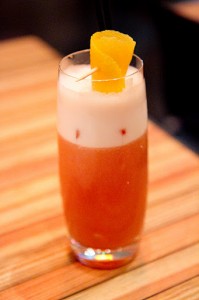 Let's just get this out of the way: the early "word on the street" is true. Arthur's Pina Colada is about the best I've ever had. It's what I wish Pina Coladas ordered on a tropical isle tasted like. Her's improves upon the standard with white rum, lime, pineapple, soft with coconut cream, and a gentle shave of nutmeg. It's the Colada of your dreams.
Both the Brooklyn (rye, dry vermouth, Amer Picon, maraschino) and Jimmy Roosevelt (cognac, Angostura-soaked sugar cube, sparkling wine, green chartreuse float) are boozy and elegant. The latter exhilarates on ice, hitting first with herbal chartreuse notes, then slowly-dissolving sweet layers from the bitters-laced sugar cube.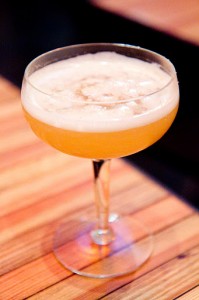 Mezcal por mi Amante shows off mezcal's soft, summery side infused with strawberry. Lemon, agave nectar, Angostura bitters, and egg white froth round it out. A slightly pink (with grapefruit juice) Iceberg Daiquiri is as refreshing as it sounds, additionally mixed with white rum, lime, maraschino, vanilla, bitters.
Besides the Pina Colada, my favorite may be Laughing Water. Rye whiskey spice melds with a dose of cinnamon, dry vermouth, pineapple juice and lemon into one lush whole, evoking fall by way of a breezy Indian Summer.
Non-alcoholic sips ($6) are no afterthought. As more old fashioned soda drinks appear on menus, a Wild Cherry Phosphate (wild cherry bark, cherry juice, soda, acid phosphate) is a robustly tart example of how to do phosphates right. There's also a Ginger Rickey with lime, and Don the Beachcomber's Soda with cinnamon syrup and grapefruit.
PLUM BAR, Oakland
2216 Broadway (near Grand Ave.), Oakland, 510-444-6600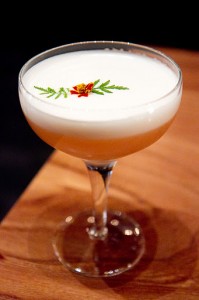 They had me at the high-ceilinged, skylight-punctuated bar with walls lined painstakingly with pages of American poetry books. The deal was sealed with cocktails from Scott Beattie and a bar helmed by Michael Lazar, who helped create the book Left Coast Libations.
Just opened last week, it promises to be one of Oakland's great bars, not because of flash or even experimentation, but because of the effortless elegance of recipes from experts who know how to craft them (here's hoping all bar staff are trained to prepare them accordingly). There's also wine on tap, beers and bar bites from Chef Ron Boyd (of neighboring Plum), like grilled cheese sandwiches and beef tendon chicharrones. I haven't sampled the bar food yet but did taste a few of the cocktails.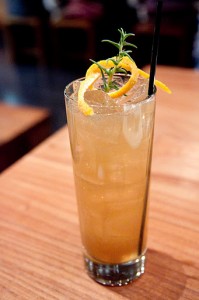 Besides cocktails ($10 each), they are building up a fine selection of Scotch in particular, though have a notable range of spirits, plus a private lounge area (space for 12) behind a greenhouse cabinet stocked with herbs and produce used in the drinks.
How could I not fall in love with the Rose Aprium Sour? Infusing a special batch of St. George's fabulous gin with rose apriums (an apricot-plum hybrid) results in a softly tart-sweet juice balanced with honey syrup, lemon and maraschino liqueur, made absolutely silky with egg white.
The ultimate refresher? A B3 cocktail. Evan Williams single barrel bourbon gets an obvious perk from lime and ginger beer, but gains that "something extra" with the subtly bitter, herbaceous properties of Bonal quina. I am happiest to see one of Beattie's best recipes from Spoonbar, where he bartends in Healdsburg: John Chapman. It tastes like fall magic with St. George's whiskey and Pear Eau de Vie, plus lemon, apple, ginger and a Thai coconut foam. It goes down all too easy.
NOTE: After only a couple weeks (though these guys were involved well over a year before opening), both Scott Beattie and Michael Lazar are no longer with Plum Bar. My favorite recipes there being their recipes, I can no longer vouch for the quality level of cocktails here.