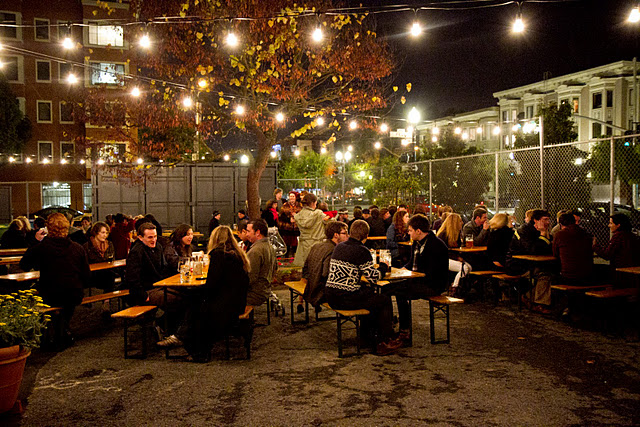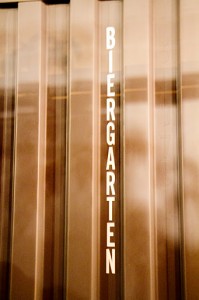 Hayes Valley has gone through multiple rebirths, from its pre-'89 quake days under the shadow of freeway ramps, to its age as shoe and boutique shopping destination. The addition of Patricia's Green in recent years brought a communal gathering place to the neighborhood, tying together north and south of Hayes Street in a cohesive strip of green.
For years, Hayes has been a strong dining neighborhood. Absinthe, Arlequin, Suppenkuche, the Blue Bottle garage, are stalwarts. Recent additions, Boxing Room and Nojo, beautifully diversify Hayes' cuisine (both just launched brunch menus worth checking out). In the last two months alone, there's a slew of new eateries, including the lot known as the Proxy Project, an open air setting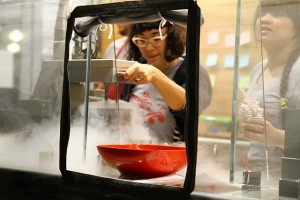 for the new Biergarten, Smitten Ice Cream and Ritual Coffee. I am into the funky, industrial areas sectioned off by chain-link fences. However, I don't find the waits often associated with Biergarten worth it, nor Smitten's ice cream near as delicious as the fun of watching it being made in liquid nitrogen machines.
One of the best shops I've seen in years is Gourmet & More, which just opened in the last two weeks on Gough. French owners stock the store predominantly with French grocery goods, from ciders to foie gras (the latter at least for now). There's a charcuterie station with meat slicer, and an enchanting, little cheese room, refrigerated and filled with French cheeses plus a few other European selections. There's gems like a camembert from Calvados (a region in Normandy), soaked in, you guessed it, calvados (apple brandy from the region).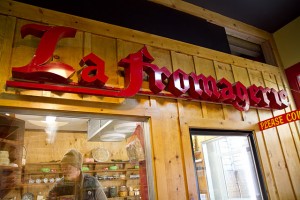 A local Frenchman makes L'Artisan Macarons, and besides his website, only selling them here (individually or by the box – I tried eggnog and pumpkin macarons). The narrow shop is aesthetically and efficiently laid out with vintage signage (like "La Fromagerie") direct from France marking each section of the store.
Attempting to visit the new kiddie studio/cafe, Seesaw, a couple times, I've just about given up. With already minimal hours (Fri-Sun), they seem to be closed or booked with a private party each time I've come by to try their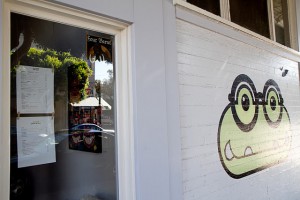 unusual offering of Danish Smørrebrød ("butter and bread"): open-faced pumpernickel rye with topping choices like egg salad or herring. Kids, or rather, their parents, sure seem to like the place.
I've visited each of Hayes Valley new spots, and rising to the top are a few early highlights from three of the newest in this ever evolving 'hood.
PEACEFUL TEA RETREAT with SURPRISING DIM SUM: Taste
535 Octavia St. (between Ivy and Grove), 415-552-5668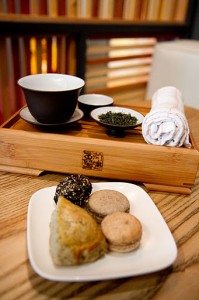 What: Taste is an Asian tea house with soothing atmosphere serving impeccable teas in a gaiwan (personal covered bowl) with housemade baked goods. Run by husband and wife team (she's the baker).
Early stand-outs: Soft, grassy Misty Mountain tea from Jiangxi, China ($5 gaiwan, or $8 gong fu cha for sharing). The food surprises: while dim sum staples like pork buns ($2.50) are ok, unusual items shine. A red bean wheat bun ($2.75) and veggie curry wheat bun filled with potato, carrot, cabbage ($2.75) taste both healthy and comforting, warm with a dreamy, doughy texture. The red bean bun is my first choice: subtle sweet melds with earthy bean and soft wheat.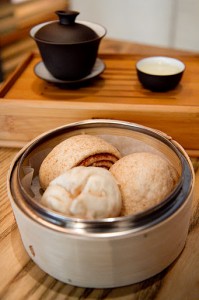 Tea plays prominent in pu-er macarons ($1.75), while scones are made with fresh tea leaves ($2.50). There's a green tea version, but I like the earthy oolong scone.
How: To sample more for less than it costs individually, there's tea pairings for 1 ($18), 2 ($38), 3 ($58) people. Order for 1 includes gaiwan tea, 3 steamed buns, 1 scone, 2 macarons, 1 sesame ball (black or white), and an exotic fruit bowl.
When: A peaceful respite for writing, reading, working, or mellow afternoon tea with a friend. Also works for take-out. Bonus points for unique, dim sum eats.
SEXY EURO-STYLE CAFE with APERITIFS & BOOKS: Two Sisters Bar & Books, 579 Hayes St. (between Octavia & Laguna), 415-863-3655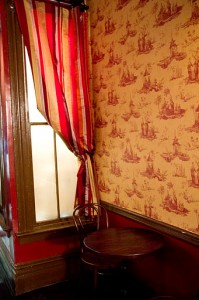 What: One of the charming sisters behind Two Sisters Bar & Books greets you as you enter this narrow strip of a cafe lined in classic wallpaper, with cozy window seat, a handful of small tables and a tiny bar, soothed by 1930's jazz playing softly in the background. Inspired by their European travels (a bookstore in Krakow, cafe in Vienna and bar in Paris), mixed with Brooklyn funk and Nor. Cal. roots, the sisters envisioned a place that could be all those things. I share with the sisters a desire for a place one can savor a classic cocktail, coffee or quality food and a good book. This little haven is the kind of neighborhood cafe I've been waiting for.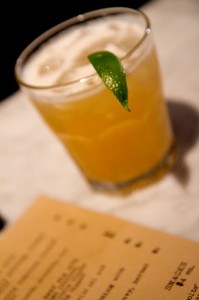 Early stand-outs – drink: Sans full liquor license, it's beer (three on draft), a few affordable wines ($6-8 a glass/$15-22 half a liter), and classically-inspired amaro, beer and wine-based cocktails. My appetite was piqued by Iggy ($7), a salty aperitif of silky Punt e Mes vermouth and grapefruit juice with salt rim. Port of SF ($7) is likewise refreshing with Madeira (fortified Portuguese wine), lime, ginger and Pilsner beer. For a husky Manhattan stand-in, go with The Duke's Son ($9): Amontillado sherry, Carpano Antica vermouth and bitters.
Early stand-outs – food: Food (all $9 or less) is made with care in a tiny kitchen. A blanched brussel leaf salad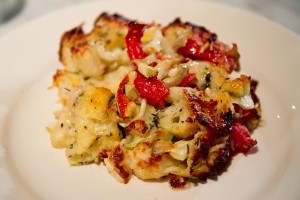 ($8) is my dish of choice. Freshly laden with creamy French feta, cherry tomatoes, and roasted corn, it sings in lemon vinaigrette. Savory bread pudding ($6) is made with fennel, tomato, Manchego cheese, roasted garlic, and black truffle oil. A crowd-pleaser.
When: An intimate date, close conversation with a trusted friend, or alone with a book. Whatever you need it to be: afternoon coffee respite, aperitif hour, interlude between meals for wine, or comfy, casual dinner.
EAST COAST SPIRIT in a CALIFORNIA BISTRO: Dobbs Ferry
409 Gough St. (near Hayes), 415-551-7700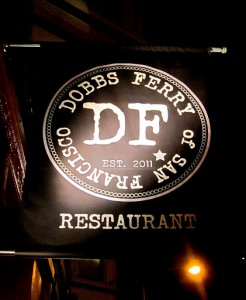 What: Debuting two weeks ago, Dobbs Ferry comes from restaurateurs with an East Coast background (hence the name Dobbs Ferry, the hometown of two of the owners in Westchester County, NY). With a kitchen helmed by executive chef Mike Yakura (formerly of Ozumo Restaurant Group), they're dubbing the place a "California bistro" with "small town", New York cooking. With three rooms, the space is decorated in muted browns and black with white walls.
Early stand-outs: Though one could be thrown off by ingredients like black olives and peperoncinis,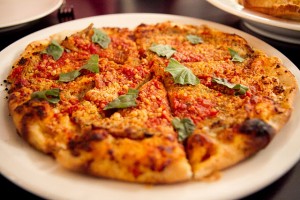 old school touches don't mean it's exactly old school. Salads are crisp and straightforward. Eggplant parm pizza ($14) is pleasurable pie of breaded eggplant and basil. Kudos to my waiter for offering extra red sauce. Not only is it a lovely red sauce, more is just what was needed to make the slices sing, otherwise the breading soaks up a bit too much of the sauce. Crispy sweetbreads ($12) over mustard sauce with bacon are unexpectedly satisfying, while a half ($22) or whole ($35) chicken scarpariello somehow evoked childhood… but with juicy, expertly cooked chicken. A half is enough chicken for two,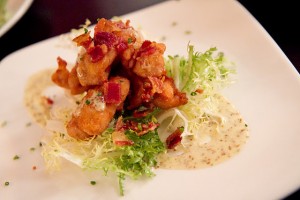 with gently fried potato cubes, like elevated tator tots, Molinari Italian sausage, sweet peppers and a peperoncini for good measure. The broth is the clincher: tart, zingy, savory, it ties the whole uniquely comforting dish together.
Drink: Trying just one cocktail, I'm afraid I wasn't keen on sampling more. Balance was off and preparation felt a bit like stepping back 20 years. There were a couple commonly revived classics like a Ward Eight, alongside an excessive amount of vodka. There are a few beers on tap (like Goose Island Matilda) and a number of wines by the glass or bottle.
When: Family and friend gatherings for filling, generous dishes with a touch of home comfort.