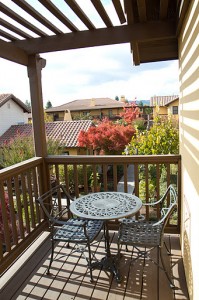 Sonoma's meandering, laid back roads soothe me. One of my top weekend escapes, I'm hard pressed to choose a favorite region of the massive county. Downtown Sonoma, however, is my favorite town in the county and staying near its leafy, green square surrounded by historic architecture, from Spanish mission to Old West storefronts, is a welcome combination of small town charm near rambling countryside and wineries (recent visits included tastings at Landmark Vineyards and Lasseter Family Winery, whose wines I reviewed last month).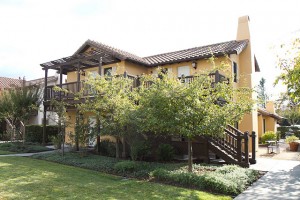 Down the street from Sonoma's town square is The Lodge at Sonoma. From the exterior, its warm brown tones invite, emitting merely a hint of corporate chain. The high-ceilinged lobby welcomes with chandeliers and inviting couches. About to undergo a major remodel, chic factor will rise quite a bit if colors and fabrics are any indication. A view over the pool and courtyard beyond to a series of cottages feels like its own private community. Walking to my upstairs cottage unit, I am impressed by vibrant foliage and plant life throughout the grounds.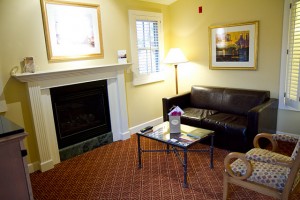 Cottages are peaceful: a whirpool tub opens up between bathroom and living/bedroom, with fireplace and wine bottle waiting to be uncorked. It may not have the individualized charm of a Nick's Cove, but it's more affordable and plenty comfortable. Location makes it an ideal weekend respite, but the Lodge's two biggest selling points may be its spa and restaurant.
RAINDANCE SPA
I had one of the best massages ever at the Lodge's Raindance Space: full, intense and utterly relaxing. 50 minutes did the trick but the cares of the world drifted fully away by four mini-pools and hot tubs in a private courtyard. Vibrant red and orange fall leaves still clung to the trees, while various plant life and a water fountain added a soothing soundtrack. Reading and lounging in the courtyard made this short jaunt from the city feel like a true escape.
CARNEROS BISTRO & WINE BAR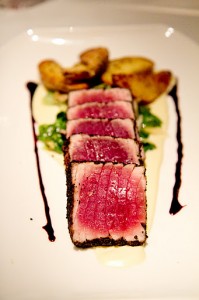 Chef Andrew Wilson and Sommelier Christopher Sawyer took care of us at Carneros Bistro. The open, airy dining room houses an unexpected Sonoma gem. In fact, it is among the better meals I've had here, consistent from start to finish, including mostly local wine pairings and a solid beer list.
Chef Wilson is having fun with common dishes like tuna tartare, playfully marinating the tuna in Pliny the Elder beer. Or in the case of wood-roasted mussels ($13), imbuing heat via red curry sauce with kaffir lime, paired with Dry Creek's Victor Hill 2010 Sauvignon Blanc ($12).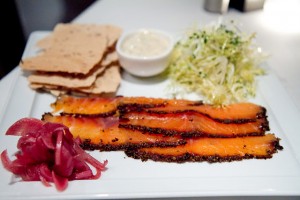 Though mussels were my top starter, salmon "pastrami" ($14) is one fine idea. Thinly sliced, it's served with mustard sauce, pickled onions and rye crisps. Sawyer paired with it with Parmelee-Hill's 2010 Syrah Rosé ($13), a dry yet creamy contrast to the salmon.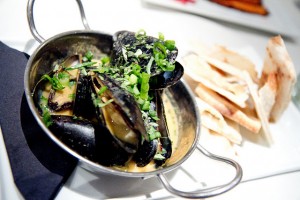 The most unique entree was coffee-dusted ahi ($29). Earthy coffee crust went far better than expected with rare, seared tuna… I'm used to coffee rubs with pork and heartier meats, but not fish. In garlic cream and red wine reduction, it was rich yet delicate. Another unexpected facet was the unlikely pairing of Audelssa 2007 Cabernet Sauvignon ($16). This full dish stands up to it.
Sonoma duck two ways ($27) was a crowd-pleaser: lacquered Liberty Farm's Pekin breast, and a flaky tart of sous vide Sonoma Muscovy duck with caramelized onion, Pt. Reyes blue cheese and fig mostarda. Though the menu suggests pairing the duck with Cline 2008 Syrah ($12), I preferred Sawyer's suggestion of Acorn's Alegria Vineyards 2008 "Medley" red field blend ($15).
MORE SONOMA COUNTY DINING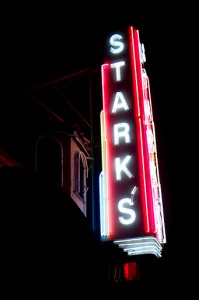 Further afield in Sonoma County, my numerous weekend jaunts led me to these newer restaurants…

STARK'S STEAKHOUSE, Santa Rosa
They had me at the neon lit, retro exterior, radiating on a chilly winter's night. Though roomy, Stark's is packed on a weekend, making reservations a must. It may not be the best steak of your life, but it's a damn good one and everyone seems caught up in the glow of the multi-room space. There's too many families and kids to make it feel like date night, but the bar room is decidedly more grown-up with roaring fireplace and a good whiskey selection (Thomas Handy Rye for $12 a pour, thank you very much).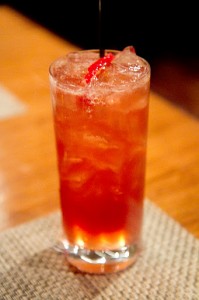 In keeping with the retro vibe, cocktails are a dominant force. It's a pleasure just reading quirky drink descriptions like this one: Just Thinkin' About Amaro ($9.50; Meletti amaro, Dewars White Label Scotch, egg white, lemon): "Whilst growing up in an orphanage, I developed a habit of enjoying a digestif after my evening meal. The nuns were never on board, but I didn't care. I was a rogue. A rebel. A dreamer. I was also blacked out. Often."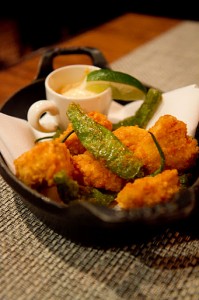 All that tongue-in-cheek (and being this far from city limits) had me concerned about drink quality. I was delighted to find that two drinks in particular were even more gratifyingly balanced than they sounded: Sean Pecan-nery ($9.50) is an elegant blend of Four Roses bourbon, pecan, apple and warming spice topped with ACE pear cider. Dry and crisp, it's a lovely aperitif. The Other Man ($10), served on the rocks, is nonetheless bracing with Buffalo Trace bourbon, Pur Blood Orange Spice, rosemary, chiles and cranberry. Evocative of winter, it exudes the right amount of spice and herbal sweetness.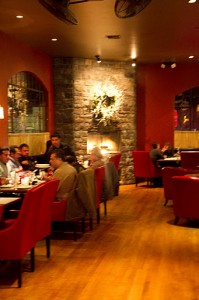 On the seafood tip, Stark's is Safe Harbor certified with oysters and dishes like citrus Pacific seabass. This bodes well for non-beef eaters, but being a steakhouse, after all, I opted for beef: a 10 oz. filet mignon 10 oz. (USDA Choice $33, USDA Prime $38), and 1/2 lb. burger ($10 + $2 each add-on) with blue cheese and caramelized onion (go decadent with a truffle fried egg for $3 or seared foie gras for $14). Both were quite juicy, medium rare as I asked. Steaks range from $25-$41 with sauces like truffle aioli or whole grain mustard bearnaise.
Sides ($4-8) are generous (I like brussels sprouts with Andouille sausage, apples, blue cheese), while starters are playful, like Dungeness crab "tator tots" ($13) with padron peppers and ginger mustard aioli.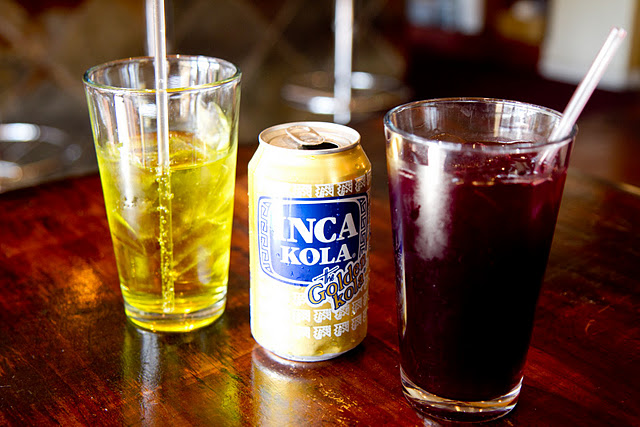 MATEO'S CUCINA LATINA, Healdsburg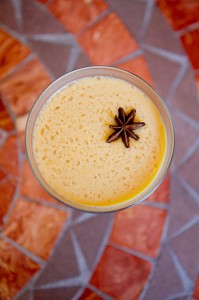 Despite impeccable ingredients and attention to detail (not to mention how delicious it all looked), I was a bit disappointed in the food at Mateo's Cocina Latina. Most dishes sampled tasted more bland than exciting. I desire refined interpretations of Mexican food, but somehow this place left me craving a greasy taqueria.
Cocktails (on a menu assembled by Scott Beattie) and spirits are the draw here, heavy on tequila and mezcal. I fell in love with a creamy Martini de Calabaza: Arette Reposado, melds with organic pumpkin puree, winter spices and cream ($11.50) into one savory, spiced, milky whole.
SAZON, Santa Rosa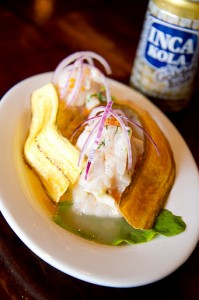 Sazon is in a pleasantly dingy strip mall stretch of Santa Rosa, but inside the humble, tiny dining room, Peruvian eats are prepared with care. While sipping housemade Chicha Morada ($3), a traditional, sweet purple corn punch, or a bottle of Inca Kola, fill up on five kinds of ceviche. I enjoyed Copitas de Blue Tilapia ($12.50) for a change of pace from tuna and the usual. Tilapia is marinated with aji amarillo and rocoto peppers, ginger, celery, parsley and lime with yuca and plantain chips to scoop it up.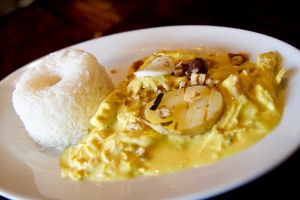 Causa Limena is topped with chicken or Dungeness crab ($9/10). I chose the traditional crab atop a whipped potato mound, causas among my favorite Peruvian eats. Creamy aji amarillo-lime sauce infuses the potato terrine, with accents of avocado, egg, and rocoto-cilantro aioli. Aji de Gallina ($12) was a bit bland (not my top version of the classic pulled chicken stew – LA's Mo-Chica serves the best I've had) in a creamy aji amarillo sauce with hard-boiled egg, Yukon gold potatos and walnuts.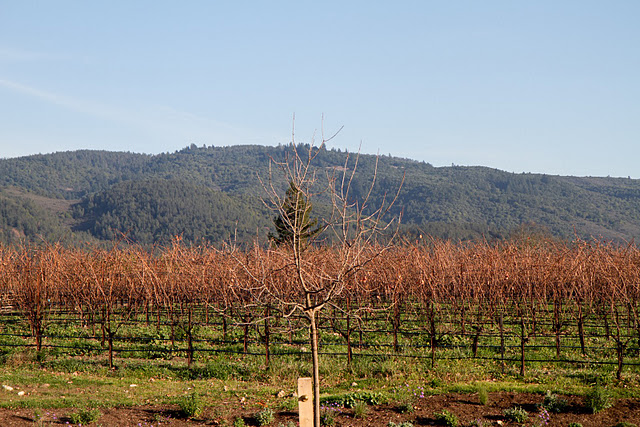 Save