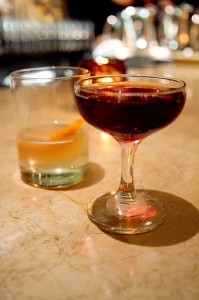 Food and wine are the draw at Fifth Floor (read here and here), but bartender Brian Means (formerly of Zero Zero) has created cocktails worth a stop all by themselves in the mellow lounge.
The unassuming Mr. Means creates some of the more promising recipes I've tasted from an up-and-coming bartender. As I judge multiple cocktail contests, his entries consistently exhibit a surprising level of sophistication, often placing high. He shakes (and stirs) with an unfussy hand, comprehending classic cocktail foundations, but varying off-path enough to keep it interesting.
Here are three of his cocktails I'd recommend, currently on the Fifth Floor menu:
Pink Elephant – Death's Door (one of my favorite gins), with rosato vermouth, pineapple gomme syrup, orange bitters and smoked absinthe. Means doesn't let the smoke overpower. Rather, it gives off a faint smoke aroma, hinting at brawn behind a delicate surface. Don't judge it by its color.
Loretto Wrangler – Named after a key Kentucky bourbon town (home of Maker's Mark, the Wrangler's base spirit), Loretto Wrangler includes Cynar (Italian artichoke liqueur), Graham's Six Grapes port, Dubonnet Rouge, and Bitter Truth chocolate bitters. It may sound like a lot of ingredients, but never fear.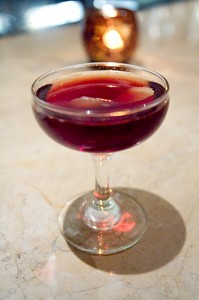 Playing like a classic, spirit-driven whiskey cocktail, it unfolds with layers of bitter, sweet, boozy, and thanks to the choco bitters, meaty, goodness.
Spanish Maiden – El Tesoro blanco tequila and elderflower liqueur with a lemon twist makes for an obviously pleasing aperitif pre-dinner, right?
Add in a dash of sherry and this bright refresher takes on depth and dimension, if ever so subtly, while still remaining stimulating and light.