It's true: the East Bay cocktail scene is growing by leaps and bounds lately, with a slew of new bars (many opened by San Francisco bar stars) popping up from Albany to Alameda. Two comfortable, new hang-outs just debuted January 3rd serving cocktails for the geek and casual imbiber alike. Both claim noteworthy bartenders covering various shifts. I spent an evening tasting through their menus, offering an early peek at cocktail stand-outs… plus more go-to spots around the East Bay.
Honor Kitchen & Cocktails

1411 Powell Street (between Hollis & Peladeau), Emeryville, 510-653-8667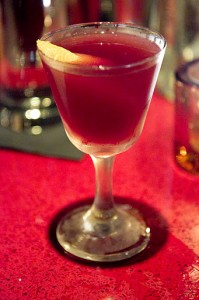 Situated in a solo building (with parking lot) not far from Emeryville's shopping center madness (and E-ville's other shining bar beacon, Prizefighter, which opened at the end of 2011), Honor Kitchen & Cocktails serves gourmet pub food in a room glowing with vintage signs, a Creature from the Black Lagoon pinball machine, and granite red bar, the center around which the space flows. After passing through an entrance lined with cigar signs, records, even an owl, grab a beer from a tub of ice. It's on the honor system so ask a bartender to add it to your tab (no surprise: this is already garnering early buzz).
Cocktail menu quality was pretty much guaranteed under bar manager Alex Smith who came from Gitane in SF. I've written about his exquisite drinks at Gitane few times, unsurprised to find his offerings at Honor Bar more casual but nonetheless sophisticated, easily exhibiting promise at this early date to be among the best cocktails in the East Bay.
While slurping oysters with St. Germain herb mignonette or dipping Kennebec fries ($3.5) in salt and vinegar aioli or serrano ham jelly, select from cocktails (all $10) grouped under "stirred" (spirituous) or "shaken" (mixed with other ingredients). I'm immediately won over by gently smoky, spicy, bright layers of the Porfiriato. Tequila, guajillo pepper-infused mezcal, Cocchi di Torino, Licor 43, and cinnamon bitters meld in a complex yet drinkable whole.
The spirit of tiki hovers over but does not overwhelm the bourbon-based Bleeding Monarch. Passion fruit lends a tropical air, orgeat adds texture, balsamico amaro and Campari finish with deliciously bitter undertones. Black Sabbath is as badass as it sounds: Laphroiag Scotch dominates with a rough and tumble, smoky presence, given nuance by Averna, absinthe, and orange bitters.
Smith's established skill with sherry shows in Jenkins' Ear, highlighting oloroso sherry with aged rum, Angostura bitters and cardamom-spice properties of Hum liqueur – no element out of balance. Dessert with a savory essence can be had in a Winter Flip. Whole egg softens brandy and tawny port, while Smith's housemade Indian pudding is a cream base (rather than a thick pudding) for layers of spice.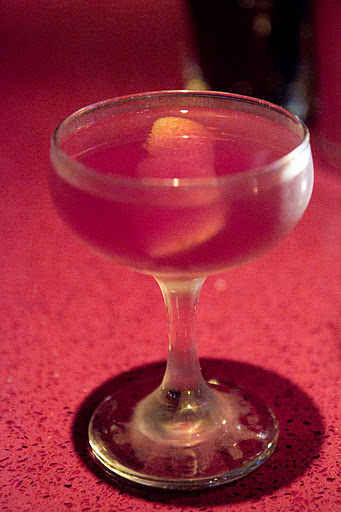 The New Easy
3255 Lakeshore Avenue (between Lake Park & Trestle Glen), Oakland, 510-338-4911
In Oakland's Grand Lake district, Easy Lounge closed, transforming into the New Easy. Big Easy inspiration is evident in upcoming Nola Sundays with BBQ, punch bowls (proceeds go to charities) and New Orleans tunes. The space is funky, eclectic, charming, with boozy quotes etched into one wall, stars painted on another, white lights draped over individual picnic tables. The small back patio is warmed by heat lamps and a skeleton gazing over cactus plants.
The welcoming neighborhood joint focuses on farmers market ingredients. Each Saturday they create a new menu of cocktails using ingredients from the big Grand Lake Farmers Market a block away. Summer-Jane Bell not only created the menu but was hands-on in space design elements, painting stars as she crafted the menu. Her winning bartender team includes Yael Amyra (Circolo, Burritt Room), Ian Adams (15 Romolo, Orson), David Ruiz (Mr. Smith's), and Morgan Schick (Nopa, Michael Mina).
Bell's menu is decidedly playful, reminiscent of American childhood… with booze. The festive theme starts as you receive Chinese take-out boxes of fresh-popped popcorn, while bites of mini sliders and grilled cheese sandwiches are passed around. I had the most fun with Mad Hatter ($10). Sailor Jerry rum and a spicy ginger soda are obvious mates, but the bright orange, creamy drink surprises with golden raisin puree and carrot juice. Bright and healthy, spice and sweetness (but not too much) make it a delightful alternative to an orange creamsicle.
Gift Horse ($9) was probably the most balanced, making fine use of Hayman's Old Tom gin, which I haven't seen much on cocktail menus in awhile. Dolin Blanc vermouth and Bell's winter bitters made with a tequila base, unfold in floral, dry layers with notes of cranberry and fennel from the bitters. Winter Sideshow ($11) offers the spectacle, even if I prefer the former two drinks. The drink will change with the seasons, a base of Beefeater gin and pür Spiced Blood Orange liqueur the backdrop for Angostura-flambeed kumquats, flamed before you.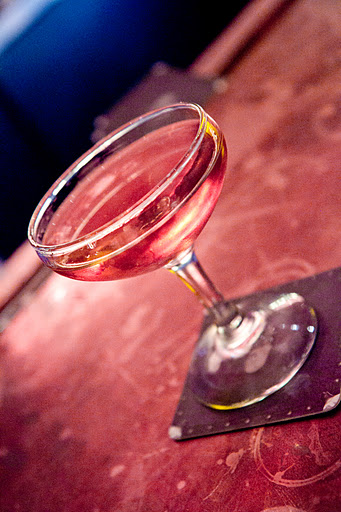 Cocktailing Around the East Bay
Oakland boasts the biggest concentration and range for East Bay cocktails, some of its consistent best at Adesso, casual drinks with bocce ball at Make Westing, elegant classic-style at Flora, pizza with cocktails at Marzano and Boot & Shoe Service, Miel for tequila/mezcal drinks, Conga Lounge and divey Kona Club for tiki kitsch.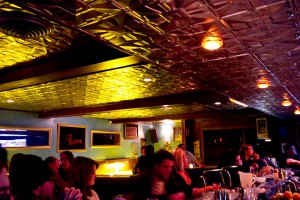 Berkeley keeps it real with organic drinks at Gather, and artisanal cocktails at Revival Bar & Kitchen. The little island of Alameda hosts the beloved tiki gem, Forbidden Island, launched in part by tiki/rum expert Martin Cate who went on to open SF's Smuggler's Cove. Here, cheesy B movie nights, and live bands flow with Banana Mamacows. As mentioned above, Emeryville now has two destination-worthy bars for cocktail lovers: Prizefighter and Honor Bar.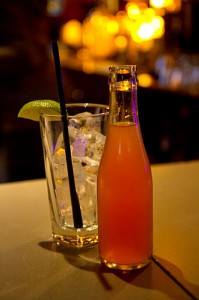 Albany is blessed with three old school classics merely blocks from each other along San Pablo Ave.: the musty, tiki vibe of Club Mallard, the mid-century, retro swank of Kingman's Ivy Room, and the edgy comfortability of Hotsy Totsy Club. Though none of these three are exactly craft cocktail bars, Hotsy Totsy comes closest, with house cocktail sodas, gracious bar manager Jessica Maria, and stellar guest bartenders like Scott Baird of The Bon Vivants, who bartends here weekly.
They've kept on longtime bartender Chet, in his 70's, who has been tending there the better part of a couple decades. Their gorgeous, restored Wurlitzer jukebox is a treasure of rare and popular 45s, which you can play for free to your hearts content.
Hotsy Totsy encourages lingering with friends under pressed tin ceilings, rocking out to excellent tunes hand-selected by staff. Funky '70's garage sale paintings line the walls and hilariously creepy movies (like For Your Height Only starring Weng Weng) play silently on the flat screen, add to the edgy, blissfully divey, convivial spirit.