Fish makes me happy. Raw, grilled, seared, any which way. One new restaurant and one established favorite are glorifying the fish, and seafood in general, in many formats.
LOCAL'S CORNER, Mission (2500 Bryant St. at 23rd, 415-800-7945)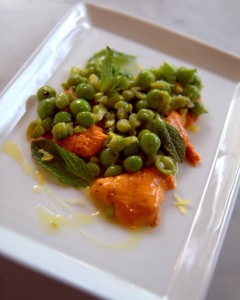 Local's Corner just opened in March on a mellow corner of the Mission's East side. The sunny space is mostly white, evoking a cozy-chic New England seafood restaurant serving exquisite, California fare. Dinner service was just launched mid-April, a delicate array of tastes of the mostly seafaring kind, though the menu simultaneously lists a "land" section.
Prior to opening, I was excited for this new seafood restaurant offering the likes of sardines and smaller, more sustainable fish, and they do deliver. The immediate downside is how quickly dishes add up. Small plates hover in the low teens while no dish tops more than mid-twenties, but as you finish each plate, hunger is not exactly satiated. There is little in terms of heartier fare, which is fine – you don't come to here for "hearty". But $100 later (for two with a glass of wine), I leave a couple dishes away from satisfied.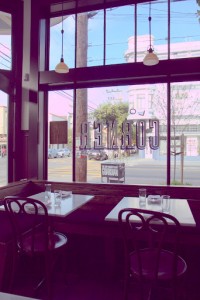 Crisp and bright as the equally crisp, bright space, a nice range of rosés and white wines pair ideally with fish offerings and rotating oysters ($2.50-3.50 each). A small plate of uni ($14) is alluringly punctuated by English peas, preserved Meyer lemon, and mint leaves, while Dungeness crab ($13) arrives glistening with snap peas, Cara Cara oranges and spring onion. Cured halibut ($13) dances with radishes, grapefruit and dill. Each is delicate, slight, tickling the taste buds, if not quelling the appetite.
Two flavorsome bites are cured anchovies and guanciale (Italian bacon made from pig's jowl or cheek) on toasts ($10), or a dollop of smoked trout rillettes and creme fraiche ($12), also with toasts. Both delight, but are so small-portioned, one is just hooked when it's gone.
For $22, an entree of black cod on top of leeks, carrots, and watercress is likewise minimal and subdued. I was more satisfied with a "land" offering of beef tartare in a small pot, topped with quail egg ($15). Bread is (again) the filler, while the raw beef is glisteningly fresh.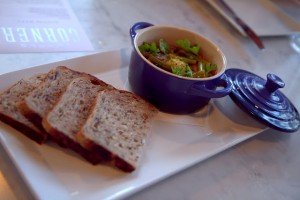 Brunch is such a pleasant experience in the sunny space, it is tough having few seafood choices (only one currently) and a prix fixe only, though since opening, they lowered the price from mid-twenties to $18 for toast, two courses, and coffee or juice. Weekday lunch offers more seafood, which is primarily what one comes here for, though still few options compared to dinner.
Local's Corner is still in its infancy, exhibiting promising meticulousness and fresh tastes. I realize upping portions of the likes of uni and abalone is a costly thing and maintaining delicacy is crucial with such ingredients. It seems a worthy mission: satisfying appetite alongside artistry.
BAR CRUDO, Western Addition (655 Divisadero St. between Hayes & Grove, 415-409-0679)
One place that has long cornered artistry and appetite in my estimation is Bar Crudo, one of my top SF restaurants since its early days in the tiny Bush Street space, where Bouche is located now. Though the cavernous but narrow Divisadero space lacks the quirky charm and warm glow of the original location, service remains such that even as the place is packed nightly and waits are common, staff comes by offering wine, keeping me informed as to how much longer they expect the wait to be.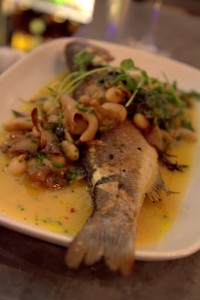 Their crudo, essentially Italian-style sashimi, are small and delicate (a sampler is $13 for four pieces, $25 for eight) but so uniquely delightful, they're worth every dollar. A visit here would not be complete without a bite of raw arctic char, lively with horseradish creme fraiche, wasabi tobiko and dill, or creamy butterfish crudo topped with apples, pear vinaigrette, and beet saffron caviar.
One easily fills up here, supplementing ethereal crudo with whole roasted fish. Recently, I enjoyed a branzino ($26) with two friends. With the large fish, two smaller shared plates and a crudo sampler, we left full. The fish is generously sized, buttery, flaky. We devoured the cheeks, the head, every part, resting in butter beans, Swiss chard, oyster mushrooms, poblano peppers, and orange oil.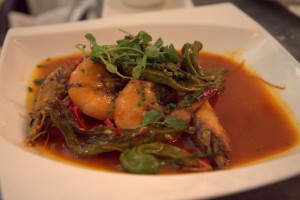 A flavor explosion comes in large head-on Louisiana prawns ($14) swimming in a spicy red brood, vivid and savory with shishito peppers and fresno chilies. I nearly drank it up. To fill up, there's always Bar Crudo's classic seafood chowder ($7/$14), a creamy, rich bowl of fish, mussels, squid, shrimp, potatoes, and applewood smoked bacon that elicits a moan of pleasure at first spoonful.
Coupled with a strong wine list (by glass or bottle) and equally strong craft and Belgian beer list, Bar Crudo remains not only one of San Francisco's best seafood treasures, but one of its great, neighborhood restaurants, dominating the category of excellent crudo and seafood in a casual space.