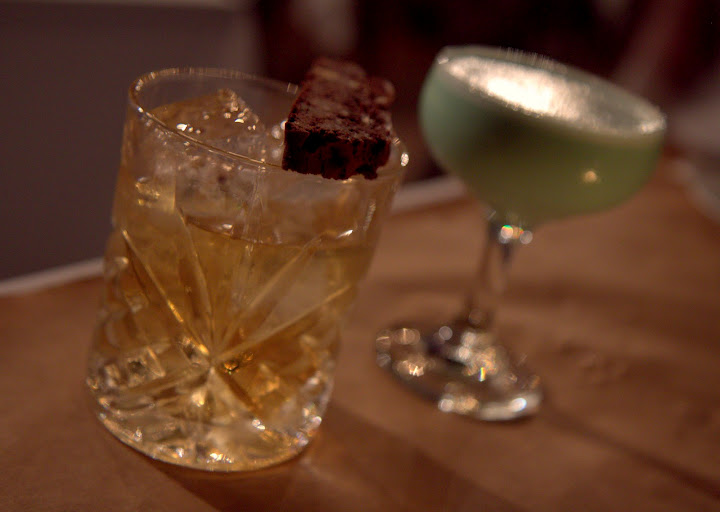 Judging a cocktail contest in Calistoga and sampling Wine Country cocktails early in 2011, I witnessed a rise in quality congruent with the cocktail renaissance exploding across the nation, beyond longtime torchbearers like SF and NY. This is especially notable in Wine Country where the god of wine dominates.
Despite growth, making a dent in the all-consuming wine culture is still an uphill battle, so local bartenders tell me. Not only is the local community wine-driven, but the constant influx of travelers are mainly here for wine, after all.
Though you won't see many cocktail bars opening up, restaurants continue to refine their cocktails and spirits selection, so that one finds, a few city-quality cocktails amongst the vineyards.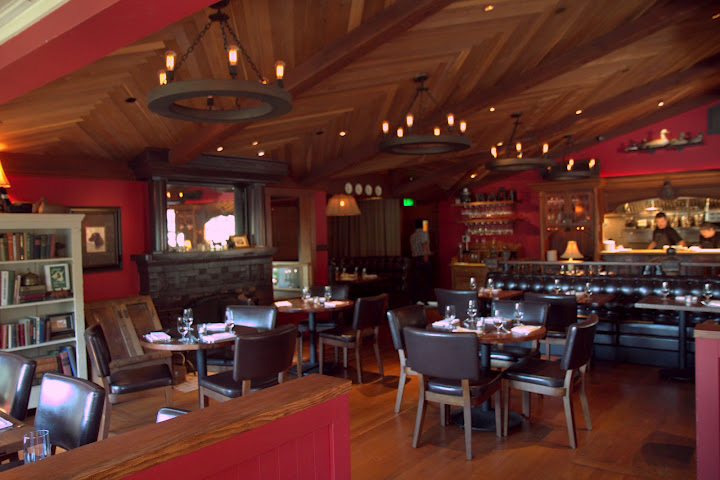 GOOSE & GANDER, St. Helena

1245 Spring Street at Oak, St. Helena, 707-967-8779
Arguably, the number one talent in Wine Country has long been Scott Beattie, who crafted exquisite cocktails in sleepy, chic Healdsburg at Cyrus long before many of the country's big cities had clued in, leading the way in farm-fresh, artisanal cocktails (note his book, Artisanal Cocktails), torching kumquats and crisping apple slivers from his backyard as garnishes.
When Beattie left Spoonbar to take over the bar at St. Helena's Goose & Gander – which opened in April – Sonoma's loss was Napa's gain. Goose & Gander is in the former Martini House in a 90-year-old craftsman bungalow with idyllic yard and patio. Red walls, bookshelves, brown leather booths, fireplaces, wood ceilings and floors impart a charming hunting lodge feel.
Beattie works alongside talent like Michael Jack Pazdon, who previously supervised the bar program at SolBar and has won numerous cocktail contests (including the aforementioned Charbay/Perfect Puree competition). Beattie, Pazdon and crew serve fantastic drinks. There's a handful of cocktails (all $11) on the regular menu, but ask for "the book" for a more extensive selection to suit every palate – and peruse an impressive spirits collection lining the bar.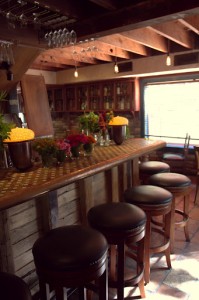 Mellivora Capensis (honey badger) is a prime example of Beattie-style cocktails: Eagle Rare 10 year bourbon, honey and lemon sound like a classic base, but it gets interesting with a touch of peat from Ardbeg Scotch, pineapple, black cardamom and chili, coconut foam contributing texture, with edible flowers the crowning touch.
Cucumber Collins (Square One cucumber vodka, yuzu, lemon, fresh and pickled cucumber, huckleberries, seltzer) and a Coastal Pimm's Cup (Pimm's No.1, St. George Terroir Gin, lemon, bitters, seltzer, bay laurel) are classic Beattie: visually striking and artful as they are refreshing and flavorful.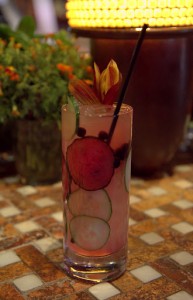 Executive Chef Kelly McCown's (formerly at Sacramento's Ella) food is notable. Spicy whole blue prawns ($16) are large and juicy, skillet-roasted brown, swimming in shallot garlic butter, rosemary, and chilis over polenta. A bright crudo of Hawaiian lemon snapper ($17) is lined up next to heirloom tomatoes dotted with shaved tomatillos and sea beans. As a twist on the ever-gratifying wedge salad, a Berkshire pork belly "wedge" ($15) is an understandable hit: a disc of iceberg topped with a hefty chunk of pork belly and Shaft's blue cheese dressing. Jersey cow's milk ricotta gnocchi ($18) melt joyously in my mouth, intermingling with cherry tomatoes, basil, and tomato coulis, crowned by a light Parmesan crisp. Goose & Gander is the whole package and works as well as a romantic date night as it does a relaxed stop for a bite and drink.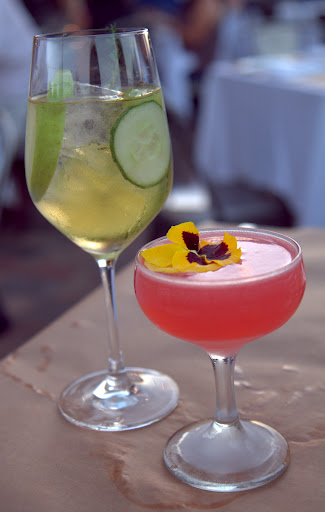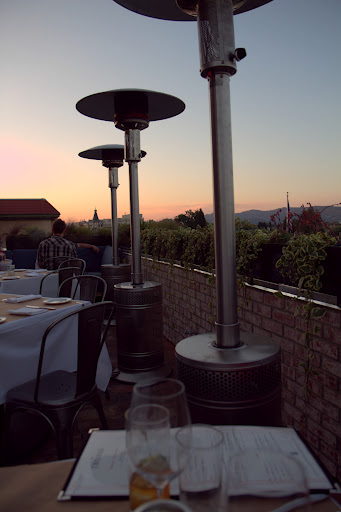 THE

–

THOMAS, Napa
813 Main Street at Third, Napa, 707-226-7821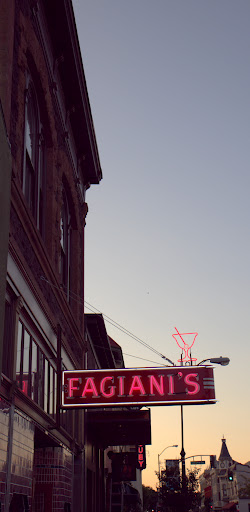 Follow the vintage neon signage of the former Fagiani's, where The Thomas opened just last month in a 1909 building restored by New York's AvroKO Hospitality Group. First visiting during opening week, I dined on the partially covered third floor terrace (though housing a second bar, this floor is for diners only) gazing out over downtown Napa. As the sun set over the river below, rooftops and hills peeking above the the deck, I was transported to Europe and beyond, a timeless moment on a summer night.
I'm immediately hooked though waiting to see how the place evolves, particularly with just-launched brunch and recently named bar manager Jim Wrigley of London's Albannach and the Lonsdale. During my visit, AvroKO's Cocktail Director Naren Young was in town serving drinks from the menu he co-created with Linden Pride, with whom he runs Saxon+Parole in NY.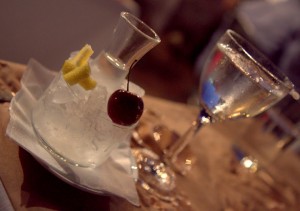 Drinks are classic, simple, playful with the ubiquitous (though not so much in Napa) Negroni on tap ($12), and for a change of pace, a White Manhattan on tap ($15), utilizing Death's Door white whiskey, white vermouth, kirschwasser, jasmine bitters. The latter is a good two servings, arriving with an additional mini-carafe on ice to fill up after your initial glass is empty.
An ideal aperitif/starter is Jasmine ($14), made of Campari, Beefeater Gin, Combier triple sec and lemon juice, or have fun with beer in an Improved Radler Cocktail ($13) of pineapple-infused grappa, Hefeweizen, ginger, peach bitters, and lemon juice. Dessert was a winning round of a Grasshopper (Marie Brizard creme de menthe and cacao, although I couldn't help but wish for Tempus Fugit's menthe and cacao instead) and an elegant whiskey cocktail with biscotti.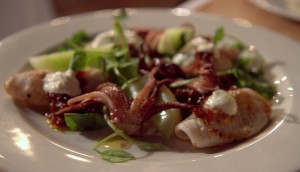 Executive Chef Brad Farmerie (of NY's The Public) goes for casual, comfortable American food, though prices range $21-45 for mains, the latter being for wood-fired strip steak. Also pricey is the raw bar seafood tower (mini $22, medium $67, large $125) but a mini offers a fine sampling of East and West Coast oysters, smoked mussels, Dungeness crab and plump shrimp with Sriracha cocktail sauce. On a warm night on the terrace with an icy-cool White Manhattan, it was perfection.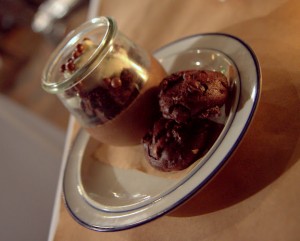 Beet gnudi ($21) in smoked almond-celery pesto with Cowgirl Creamery cottage cheese is a colorful, gratifying gnocchi dish. Grilled chorizo sausage ($13.50) is lively, even exciting, with txiki cheese, black bean chocolate puree and padron peppers. Save room for a dessert of dreamy dark chocolate pot de creme with cookies or decadent monkey bread.
The three-story space has a big city energy, with much of the staff from NY, imparting a welcome cosmopolitan vibe atypical of the area. The bottom floor boasts a vintage oak bar and pressed-tin ceiling, which looks like it's been there for 100 years, in keeping with the historicity of the building, freshly incarnated.