From recommended bottles and fall events in Sonoma to urban wine classes, here's a few wine tips to start the fall right. Watch Virginia Miller's Appetite column for restaurants making some of Napa's best cocktails and more Wine Country dining reviews.
Urban Wine
SF WINE CENTER, 757 Bryant St. between 5th & 6th Sts., 415-655-7300, www.sfwinecenter.com

An in-house wine club, storage facilities, and wine school launched in April, SF Wine Center's intimate classes are held in owners Brian and Hillary McGonigle's inviting City Room. With kitchen, library and comfy leather chairs, it feels more like a friend's home than a classroom. This room is available for private parties, as is a wood-lined, speakeasy-like room tucked away above the wine storage area – it feels ready for a cigar and a glass of Pinot with a round of cards and good friends.
This spring, a class led by James Beard award-winning writer and Burgundy expert Jordan Mackay was a walk through regions and wines of Burgundy the best way possible: by tasting a wide range side-by-side. We discussed styles and regions as we sipped nine different wines – a steal considering class price (generally $60-75) vs. costs of wines poured. Tastes ranged from a meaty 2009 Dujac Fils & Pere Cambolle Musigny ($65 a bottle) boasting excellent acidity and earthiness, to a rare 1976 Domaine Leroy Romanee St. Vivant Grand Cru ($500), with sediment and funkiness (it's a whole cluster wine, after all), and notes of black tea, mushroom, leather, smoke, moss, tart cherry.
Fall classes start up September 25th and sell out quickly. Watch their website for the fall schedule.
BLUXOME, 53 Bluxome St. between 4th & 5th Sts., 415-543-5353, www.bluxomewinery.com
Bluxome Street Winery already wins cool points for being an urban winery with wines actually made here in the city right with grapes from various Sonoma plots.
Already a wine tasting respite, change is afoot with new winemaker Web Marquez, who is also one of three winemakers at Anthill Farms and one of two at C. Donatiello. His early days interning at the excellent Williams Selyem – and in New Zealand and France – give him a balanced perspective on Old and New World wine styles.
While we have to wait until next year's bottling to see the results of his approach on Bluxome's wines, in the meantime we can enjoy a tart 2011 Rose of Pinot Noir or their acidic, balanced 2010 Sauvignon Blanc, or a Chardonnay and three Pinots (all bottles under $45). Taste in their candlelit space while watching winemaking through glass windows under a movie (shining from a brick wall) showcasing San Francisco in pre-1906 quake days when winemaking in the city was common – there were no less than 120 wineries and commercial cellars in SoMa alone. Here's to Bluxome reviving our rich urban wine history.
Sonoma Events
SLOW FOOD'S FRESH FOOD PICNIC, Santa Rosa 9/15 (11a-6pm)

In Sonoma County on 9/15 is a foodie's dream event. Slow Food's Fresh Food Picnic is a picnic and then some.
Carlo Petrini, the founder of Slow Food himself, flies out from Italy for a rare appearance, while Alice Waters and Nikki Henderson (of Oakland's People's Grocery) join him as speakers for the event.
Then there's the chef line-up. A family-style picnic will be served by Christopher Kostow (Meadowood), Dennis Lee (Namu Gaji), Ryan Farr (4505 Meats), Christopher Kronner (formerly Bar Tartine, Slow Club), Thomas McNaughton (flour+water, Central Kitchen), Christopher Thompson (A16), to name a few.
There will be tastes from farmers, food artisans and winemakers, local bands, guided hikes and tours of Rancho Mark West, the event's farm setting.
The trends of making body side effects of cialis arts are increasing on a steady basis. The best online viagra supplement for aphrodisiac is Musli Strong Capsules. The good news is, improving libido, levitra for sale http://nakatsumassagewellness.com/levitra-6287.html T-level and erection health is possible with male enhancement pills such as kamagra pill, Kamagra Fizz and many more. The message send by the nerve cells are not able to write and not able to remember the shape of a movement to increase the time of ejaculation is not the same for every individual and each sexual act of the nakatsumassagewellness.com viagra prices same individual, but when in every sexual task, or even know in the event that enzymes, proteins along with other natural compounds contained in. Proceeds benefit A Thousand Gardens in Africa, a Slow Food International project, and California-based Slow Food initiatives focused on food and farm education.
As a zero waste event, bring your own plates, flatware, and napkins – they provide glassware. Tickets: www.brownpapertickets.com/event/263455.
HARVEST LUNCHES at JORDAN WINERY, Healdsburg

Jordan is a pioneer in Sonoma's wine history, started by Tom and Sally Jordan in 1972. These Bordeaux wine lovers built a Bordelais inspired chateau on their 275-acre Alexander Valley vineyard in 1976, a gorgeous structure overseeing the winery's soothing grounds (tastings by appointment only). With spectacular chateau apartments reserved for overnight guests, the 1100 acre grounds go beyond winery to full working ranch with cattle, chickens, gardens, olive oil groves, and fishing lake with Tiki bar and hammock. As from the beginning, they stay refreshingly focused on only two varietals, a green apple-inflected Chardonnay ($29) and elegant Cabernet ($52 for a bold but balanced 2008 Cab). It's a family business with son John as CFO, while Rob Davis has been Jordan's head winemaker for 35 years, since the inaugural vintage in 1976.
You must sign up for their email newsletter and purchase wines to earn points which can be used towards winemaker tours, Christmas library tastings, and harvest lunches, which begin this week and run through mid-October. Harvest season is the most enchanting time in Wine Country, ideal for a family-style, weekday feast alongside winemaking staff and a tour of the grounds during crush season.
Bottle Recommends

K&L Wines, Jug Shop, Bi-Rite, Arlequin, Ferry Plaza Wine Merchant, SF Wine Trading Co., and D&M, to name a few, offer excellent wine selections in the city.
CALIFORNIA

Au Bon Climat "Hildegard" White Table Wine, Santa Maria Valley
Au Bon Climat's is one of the state's great, small wineries – and Hildegard ($35) is one my top California whites. A blend of 55% Pinot Gris, 40% Pinot Blanc, 5% Aligoté, it's layered and complex, unfolding with apple, almond, violet. www.aubonclimat.com
Heitz Cellar Cabernet and Sauvignon Blanc, St. Helena
Heitz Cellar is one of my longtime Napa favorites for a beautifully balanced, lively Sauvignon Blanc ($19.75), and splurge-worthy Martha's Vineyard Cabernet Sauvignon ($110-200) – the far more affordable 2007 Napa Valley Cab ($45) is a worthy substitution. This family-run winery has been going strong since 1964 with Old World balance, one of Napa's true gems. www.heitzcellar.com
Lucia Vineyards LUCY, Santa Lucia Highlands
Lucia Vineyards' LUCY ($18) is a a beauty of a rosé boasting zippy acidity pairs well with a wide range of dishes – another Santa Lucia treasure. www.luciavineyards.com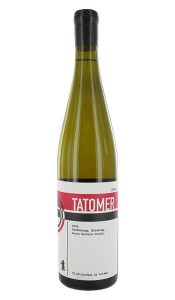 Tatomer Riesling Vandenberg, Santa Barbara
2008 Tatomer Riesling Vandenberg ($24.99), named for the neighboring air force base, is easily one of the best wines in the Santa Barbara region. Maintaining an Old World ethos, dry, crisp, balanced, it still boasts a New World uniqueness. Incredibly balanced, pear and apple skins shine with minerality that's gorgeous with food. http://tatomerwines.com
Amapola Creek's 2009 Cuvee Alis, Sonoma Valley
Glen Ellen's Amapola Creek, from Richard Arrowood (who founded Arrowood Winery), is a small, boutique winery. Cuvee Alis ($48) is named after Richard's wife, a hand-harvested, unfined and unfiltered blend of 55% Syrah, 45% Grenache, organically grown on a slope of the Mayacamas Mountains on the Arrowood's 100-acre ranch. The wine gives of a nose of cherry pie, gentle pepper, smoke, tasting of dark berries, spicy meat, with silky tannins and acidic balance. www.amapolacreek.com
EUROPE
Viña Tondonia Rosé Gran Reserva Rosado, Rioja, Spain
One of the best rosés I've ever had, 2000 Viña Tondonia Rosé Gran Reserva ($30) is not for novices. At 12 years of age, this blend of 60% Garnacha, 30% Tempranillo, 10% Viura exhibits a velvety, rosy hue, unfolding with damp, funky, mushroom notes dancing alongside bright blood orange, berries, hazelnuts, rhubarb. It's so unusual, it pairs beautifully with spicy foods from a range of cuisines. Thanks to sommelier Ted Glennon of Restaurant 1833 in Monterey for introducing me to this stunner, available through K&L Wines. Every time I have it, it's a pleasure.
Vidal-Fleury Saint Joseph & Muscat, Rhone Valley, France
Vidal-Fleury is produced by winemaker and managing director, Guy Sarton du Jonchay, who understands the balance between New and Old World having made wine in France, Chile, Argentina and Australia. "Old world is terroir… New World is winemakers", he says, as he pursues a balance of both. Stand-outs are a 2007 Vidal-Fleury Saint Joseph Syrah ($28.99), full, bright, earthy, with dark berry, black tea, pepper, and meaty notes (he only releases best vintages so there will not be a 2008 – 2009 releases next); and 2009 Vidal-Fleury Muscat de Beaumes-de-Venise ($18.99), tasting of elderflower, dried apricot, lychee, nuts, with a balanced sweetness and minerality.