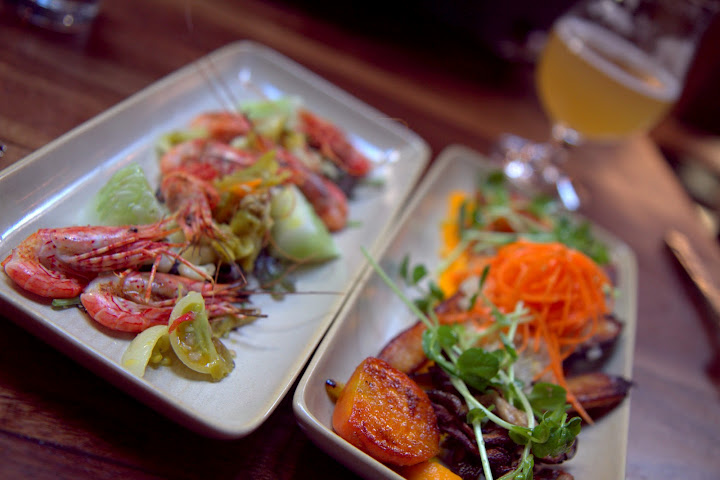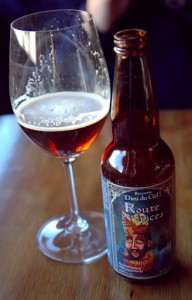 Craft beers are in their heyday, alongside craft everything (coffee, spirits, food, etc…) From Anchor Brewing's Fritz Maytag pioneering quality beer in the '60's, to the latest generation like Almanac Beer Co.'s Jesse Friedman and Damian Fagan brewing farm-to-barrel seasonal ales and their new line of grocery store-ready (but still lively, fresh), bottled California table beers, San Francisco – and certainly Northern California – has long been a breeding ground for beer lovers. SF beer luminary, Dave McLean, has been brewing Magnolia beers (among my favorite anywhere) at his Upper Haight brewpub for nearly 15 years, now expanding to a new Dogpatch location. Like Magnolia, modern classic (since 2007) Monk's Kettle focuses on food and beer together, Church Key is an ideal neighborhood beer haven, and divey, dingy Tornado has kept it real over twenty years with roughly 50 rotating draft beers alongside Rosamunde Sausages.
In the mix with these stalwarts are two new beer sources where food is equally important – in fact, one of them is more wine bar than beer source but with a noteworthy beer slant
ST. VINCENT, Mission (1270 Valencia St. between 23rd & 24th Sts., 415-285-1200)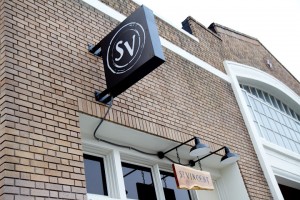 Opened in May with great wine world buzz, St. Vincent is owned by sommelier David Lynch, known for his impeccable wine list at Quince. St. Vincent's (a 3rd-century Spanish deacon known as the patron saint of winemakers) wine list is as global and well-curated as one would suspect, with many bottles in the $30-50's range, plus affordable by-the-glass pours like a crisp, floral 2011 Domaine de Guillemarine Picpoul de Pinet.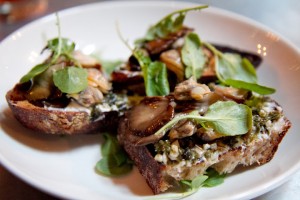 Wisely, Lynch brought on beer director (and certified cicerone) Sayre Piotrkowski whose beer knowledge and keen eye for the unusual we enjoyed in his years at Monk's Kettle. Lynch works as host and is busy overseeing the restaurant, so I haven't benefited from his wine recommendations in any of my visits. But Piotrkowski has made spot-on drink recommendations each time and the friendly staff are well-versed on the menu.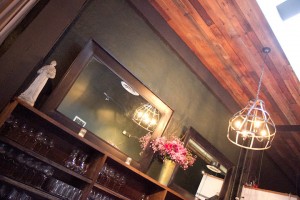 I've tasted many of the eight rotating beers on draft, like Oakland's Linden Street or Dying Vines breweries, or delightful beers from tiny Pasadena micro-brewery, Craftsman Brewing Co., including a Triple White Sage Belgian-Style Tripel or 1903 Pre Prohibition-Style Lager. By the bottle, splurge ($22 – or $11 if you can find it at liquor store extraordinaire Healthy Spirits) on fascinating Birrificio del Ducato's Verdi Russian Imperial Stout, spicy with hot chile from Parma, Italy.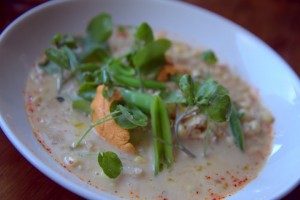 New Jersey native Chef Bill Niles (most recently of Bar Tartine) exhibits a strong dose of New Southern in his California cooking. Though dishes like She-Crab soup ($14), utilizing sea urchin, sugar snap peas and Carolina gold rice in a corn-lobster chowder, or rabbit burgoo ($24), a melange of white turnips, baby green okra, white corn grits and rabbit loin sausage, are nothing like the she-crab soups I've loved in South Carolina or the burgoo stews I've dined on in Kentucky, Niles has taken two distinctly regional dishes, reinterpreting them with a California ethos. Unusual herbs (like lamb's quarter in the burgoo) and a farm-fresh ethos may be de rigueur in the Bay Area, but care in the details is clearly communicated.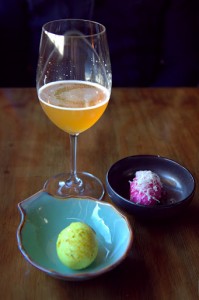 Beet-horseradish or curry pickled eggs ($3 each) are a predictably a good time, while a hand-rolled pretzel with mustard ($5) is a bit small and forlorn. I searched for the listed clothbound cheddar in the baked Vidalia onion soup ($9), where even onions didn't impart the hoped-for flavor intensity. Rarely-seen, ultra-salty Welsh laverbread ($18) is a hunk of Tartine wheat bread lathered in Pacific sea laver (seaweed), Manila clams, and hen of the woods mushrooms, ideal with beer, if quite salty. Entrees like roasted duck leg ($22), surrounded by buttered rye berries, griddled stonefruit, celery and pickled mustard are heartier, but unexpectedly, I preferred a vegetarian entree: an herb-laden spring succotash ($18) of butter beans, white corn, dandelion, perfected with padron peppers.
Though St. Vincent's food voice feels like it's still finding itself, I appreciate that it is not the same iteration of gastropub food we've seen a thousand times over but seeks imaginative approaches to Southern, California, gourmet pub food… with impeccable beer and wine.
ABBOT'S CELLAR, Mission (742 Valencia St. between 18th and 19th, 415-626-8700)
Newcomer Abbot's Cellar just opened in July and is Monk's Kettle sister restaurant. The Lundberg Design (Moss Room, Quince, Slanted Door) space immediately impresses with 24-foot ceilings illuminated by skylights, the long, 3000 foot dining room marked by reclaimed woods for a rustic-meets-urban-barn feel. A two-story stone cellar houses beer at proper temperatures, listed in a book that pulls out of the side of tables. Delving through this novel of over 120 rotating beers grouped by style (from sours to saisons), two pages are dedicated to drafts. Curated by co-owner and Cellermaster Christian Albertson with Co-Beer Director Mike Reis, there's a wall of glassware suited to every type of beer served, whether Jolly Pumpkin's Madrugada Obscura Sour Stout from Dexter, MI, or Italian 2004 Xyauyu Etichetta Rame. A pricey ($14.50 for a 6 oz. pour) Belgian Brouwerij De Landtsheer Malheur Brut is a dry, elegant Champagne-style beer served on the stem, one of ten offerings in a by-the-glass selection from large beer bottles rarely available by the pour.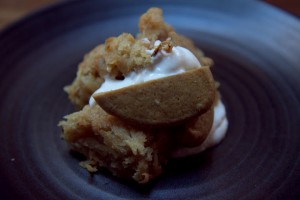 Certainly this is a beer sanctuary, rather than casual watering hole. As a temple to beer, it succeeds immediately. The bar and chef's counter are ideal perches from which to sip, in view of glassware, hand-pump cask engines (sample Firestone Walker's Unfiltered Double Barrel Ale from these classic pumps), and a reading shelf lined with Dulye's collection of cookbooks.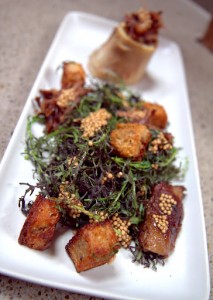 Chef/co-owner Adam Dulye explores flavors optimal with beer, having run craft beer restaurants in Colorado and Portland prior to joining Monk's Kettle in 2011. Dishes (a la carte options or tasting menus: 3 course $45/$60 with pairing; 5 course $65/$90 with pairing) are well-crafted and artful, and similar to St. Vincent, some stand well above others, though there's generally promising possibility. A coon-striped shrimp salad ($11) makes a dramatic presentation, but similar to crawfish, you'll struggle to pull a tiny bite of meat from the shrimp. Cumin-roasted heirloom carrots ($11), elegantly displayed with quinoa, oyster mushrooms and sprouts, lack distinctive flavor.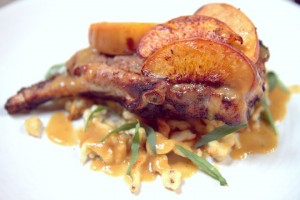 Alternately, braised rabbit on tender handkerchief pasta ($23), dotted with English peas and hen of the woods mushrooms, is heartwarming, particularly with beer. "Wow factor" is in play with what is actually a unique beef bone marrow ($12) dish. The bone is topped with crispy house pastrami, alongside spicy greens, more pastrami, pickled mustard seeds and rye croutons – one of the more exciting of countless bone marrow dishes I've had. While roast pheasant ($24) with lacinato kale and non-existent (but listed) cauliflower puree was too dry, a generous pork chop ($25) is insanely juicy and satisfying over chewy caraway spaetzle, topped with grilled peaches. Unexpectedly, a dessert of warm, roasted parsnip cake ($9), co-mingling with whipped cream cheese and a ginger molasses cookie, is a homey highlight, lovely with the coffee, almond malt of Great Divide's Yeti Imperial Stout.