Earthy, savory desserts call out to me. Despite diminishing tolerance for excessive sugar, ice cream/gelato remains my biggest weakness, and I'm as appreciative of baked goods and balanced, unique desserts as I ever was. There are a slew of new and noteworthy Bay Area sweets noteworthy sweets – and a couple older spots worth revisiting.
MISO SESAME RICE CRISPIES and SOME of SF'S BEST ICE CREAM
Delise, 327 Bay St., SF, 415-399-9694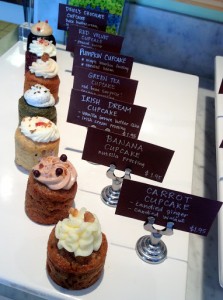 Run by husband/wife pastry chef dynamo, Dennis and Eloise Leung (their fine dining background included Bong Su, a restaurant I still miss), Delise is a small cafe near Fisherman's Wharf. Now three years old, the cozy spot is home to some of the best ice cream in SF (you heard right), cupcakes (thankfully unlike the typical "cupcake"), bars, cookies, bagels from House of Bagels, and sandwiches with unique Asian twists like crab salad in ginger turmeric aioli and kaffir lime dressing. Highlights are many, including a matcha green tea cupcake filled with red beans or a miso sesame rice crispy. I dream of ice cream flavors like Triple Threat, possibly the best pumpkin ice cream I've ever tasted with candied pumpkin seed and ale, or divine toasted rice ice cream, which is also served – alongside a few of Delise's sorbets and ice creams – at Martin Yan's brand new M.Y. China.
IN LIEU of ICE CREAM, THERE'S FROZEN CUSTARD
Frozen Kuhsterd, 415-371-9050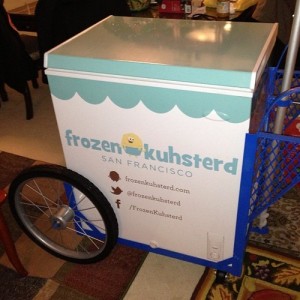 Since its debut at the Underground Market in 2011, Frozen Kuhsterd (started by Jason Angeles, now run with Alex Lam and Tim Luym) is a Midwestern favorite with roots in Coney Island. Dense, creamy, soothing, it's like ice cream made with eggs alongside cream and sugar. Available at a few locations, including from their food truck at SoMa StrEAT Food Park (follow on Twitter @frozenkuhsterd), flavors like Cinnamon Toast Crunch (Cereal Milk) and Thai Iced Tea are already a hit, Peppermint Bark and Eggnog Latte hook me for the holidays, and I'm eager to try the likes of Coffee Mint Mojito. Besides unusual sundae toppings, the custard is served in varying formats and collaborations announced via social media, such as in donut sandwiches with Dynamo Donuts or in French pastry favorite kouign amann from B. Patisserie.
CHOCOLATE LAB
Chocolate Lab,801 22nd St., SF, 415-489-2881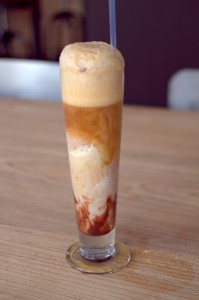 Afternoons at Chocolate Lab, chocolate master Michael Recchiuti's brand new, all day chocolate cafe in the original Piccino space, feel almost Zen-like. Friendly service in cozy, light-filled environs, sitting at the communal table or at high corner tables with a Bay shrimp tartine sandwich, finished off with an affogato… it's a happy respite. Opt for a Virgil's root beer or cream soda float layered with Recchiuti extra bitter chocolate sauce and chocolate malt ice cream, then stop off at the shop next door to purchase some chocolates to take home.
INSTEAD of TWINKIES, TRY TWINKS
Pretty Please Bakeshop, 291 3rd Ave., SF, 415-347-3733
The first time I visited Inner Richmond's new Pretty Please Bakeshop was two days post-opening – before the demise of Twinkies. I knew even then these far superior versions (think Twinkies for the gourmand) would be a hit. Trying to decide between red velvet, banana bread, or pumpkin twinks means I just get one of each. The rest of the offerings please, from cupcakes to a quality Ding Dong – yes, they've got that covered, too.
CHOCOLATE-DIPPED PEANUT BUTTER CUPCAKES… Enough Said
Sweet Bar Bakery, 2355 Broadway, Oakland, 510-788-4997
Opened this December in the historic MacFarlanes Candy & Ice Cream space, downtown Oakland gains new Sweet Bar Bakery – the kind of bakery where just about everything ordered tastes as good as it looks. As a peanut butter fanatic, chocolate dipped peanut butter cupcakes ($3.75) are more than enough reason to stop in. Lightly whipped yet intensely peanut-y PB rests inside dark chocolate coating a chocolate cupcake. They do right by all baked goods, from a savory bacon gorgonzola scone ($2.75) to perfect muscovado ginger cookies ($2).
UPSCALE PASTRY DELIGHTS
Baker & Banker, 1701 Octavia St., SF, 415-351-2500
Dining at Baker & Banker is memorable, from the tranquil space and service to husband/wife chef duo Jeff Banker and Lori Baker's finely crafted food. A Chef's Table and tasting menu (at $75 per person) in their active bakery is a key way to sample their range, including Lori's exquisite desserts, much of which is available at their bakery during the day.
Their cult classic XXX chocolate cake is merely a starting point. A restaurant dessert that stays with me? Divine candied bacon doughnuts oozing with bourbon cheesecake filling under maple glaze. Bacon doughnuts may be overdone elsewhere, but there's none quite like B&B's.
MORE SWEETS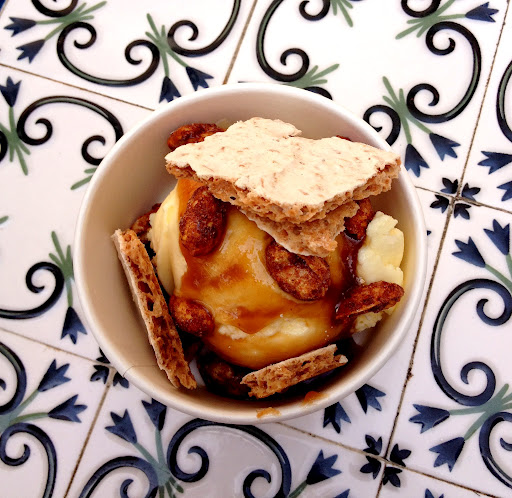 While we await the menu launch at the new Dandelion Chocolate factory (read more in my recent chocolate article), the beautiful space sells Dandelion's exquisite bars, and boxes of collaborative chocolates with two other local greats, Feve Artisan Chocolatier and Kika's Treats.
Using Domori Italian chocolate in their truffles (like Ants on a Log with celery seed, peanut butter, currant, dark chocolate), there are many other reasons to visit tiny-but-charming
Chocolatier Blue Parlor
on Berkeley's bustling 4th Street. Take ice cream with flavors like sweet lime, green apple yuzu, fresh mint or Munich malt beer. One unforgettable sundae of months past? Thai coconut sundae using sweet lime ice cream, topped with roasted peanuts and a coconut dacquoise.
Newly opened Dolce Amore is a peaceful rarity on traffic-laden Van Ness, transporting me to Italy. Serving Illy Coffee and Gelato Classico in a sleek, white and black space, they showcases miniature art from international artists in museum-like display, with a warm welcome from staff selling Norman Love and Swiss chocolates, pricey ($12.50-$14) sandwiches on Acme Bread, using Straus milk, and blending up gelato shakes- I like a strange-yet-winning mix of pumpkin and peanut butter.
Akin to NY's
Magnolia Bakery
,
Sift Cupcakes
is a darling pink and white striped shop off Fillmore Street with goods from rice krispy bars to macarons, ranging a little heavy on the sweet meter for me. But Stud Muffin, a brown sugar beer cake with a salted caramel frosting and cayenne dusted bacon, maintains balance, and a seasonal pumpkin spice cupcake with coffee buttercream is even better. If I'm going sweet, red velvet whoopie cookies (a whoopie pie made with cookies) layered with peppermint cream are ideal Christmas indulgences.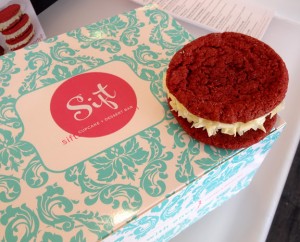 Not one to typically be a fan of "free" anything when it comes to food (bring on the fat and flavor!), I'm as surprised as anyone to be recently smitten with pies from a fairly new gluten-free bakery in Humboldt County: Natural Decadence, sold at Whole Foods. Gluten, nut, egg and dairy free, these pies are intense with flavor, particularly a fluffy, decadent pumpkin and blessedly tart lemon sans meringue. Moist crust made of their gluten-free graham crackers seals the deal.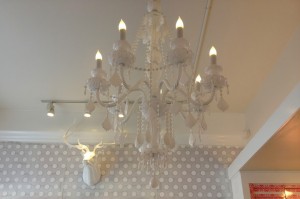 Thankfully even in winter months, we can find
Pop Nation
popsicles – the best in the Bay. My favorites include mango coconut black sesame, strawberry cream rosemary, and banana pudding at varying farmers markets, with local farms the source of many of their seasonally changing ingredients (find locations on Twitter @thepopnation).