A celebratory or comforting drink is just what we crave at this time of year. With an excellent bite? Even better. Here's a few of the most noteworthy drinks, winter cocktail menus and dishes in SF as 2012 passes into 2013.
AME, SoMa (689 Mission St. at 3rd St. in the St. Regis Hotel, 415-284-4040)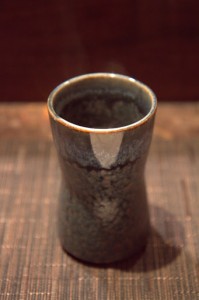 It's not a cocktail, and its blowfish base has long been known as dangerous… but in skilled hands, is entirely safe. Ame Restaurant in The St. Regis is serving a Fugu (Blowfish) Fin Sake, the most adventurous drink on order this winter. Yes, it's infused with an actual toasted fugu fin resting in the bottom of a ceramic mug ($15 for 6 oz.) filled with warm Honjozo-style "Karatamba" sake from Japan's Hyogo prefecture. In Japan, tora fugu is considered to be of the highest quality, the fins traditionally roasted and steeped in warm sake. I couldn't miss a chance to taste this rarity when it came on the menu a few weeks ago, available through February 2013. On a brisk, clear winter's night, it warmed me from inside with rich, layered, funky, even umami, notes.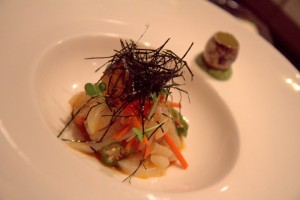 EAT WITH: Sit at Ame's small bar with a mug of blowfish fin sake accompanied by Ame's now classic Lissa's Staff Meal ($16.50), an artful bowl of cuttlefish noodles, appropriate soft and muscly, tossed with brightly fresh sea urchin and quail egg in soy and wasabi.
BLACKBIRD, Castro (2124 Market St. between Church & Sanchez, 415-503-0630)
Launched on December 17, Blackbird's winter menu easily offers the most sophisticated, satisfying cocktails in the Castro. Owner Shawn Vergara has been filling this needed niche on Market Street since opening Blackbird in 2009. This brand new menu features some of their best drinks yet.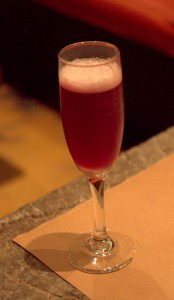 I adore Italy's sexy, sparkling red wine, Lambrusco. Here it's a vibrant aperitif with pear-infused gin in Poached Pear ($8), balanced by honey and lemon. Crimson King ($9) is another rosy, cool sipper of hibiscus-infused brandy, house pistachio orgeat, cranberry and lemon. My tops on the new menu just might be Harvest Moon ($10), it's a Bols Genever and Nocino (green walnut liqueur) base, sweetened with maple and pumpkin butter, balanced by lemon and Angostura bitters, softened with egg whites.
EAT WITH: Blackbird's six different bar jars, smeared on crispy crackers, are playful snacks, whether smoked trout or deviled ham jars. I lean towards the pimento cheese jar laden with piquillo peppers and cheddar.
15 ROMOLO, North Beach (15 Romolo Place at Broadway, 415-398-1359)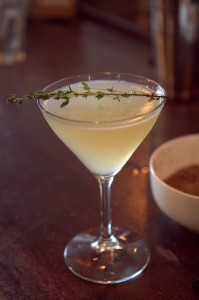 Running through the first week of January, 15 Romolo's Sherry Christmas! explores the wonders of sherry in cocktails that don't taste merely of sherry. The impressive range is no surprise from what has consistently remained one of the best cocktail menus in San Francisco – with damn great food, too. The menu features all sherry styles, from fino to oloroso, acting as shining star or subtle unifier. Manzanilla sherry subtly backs gin in Gardner's Delight ($10) next to celery bitters, Dolin blanc vermouth, lemon and a house thyme shrub… a lively "delight". White Elephant ($9) illumines white port, sherry vinegar and spiced liqueur with manzanilla sherry, a dash of absinthe tying this refresher together. Typically, when I see rye whiskey, Cynar (one of my favorite classic Italian bitter aperitifs) and the likes of amontillado sherry together, I get a musky, fall-spiced drink.
In the case of a Solstice Sour ($10), these elements are mixed with a light hand, touched with lemon and cinnamon syrup, a cocktail that manages to capture winter in an almost spring-like way. Here's hoping these sherry beauties stay on past January.
EAT WITH: Chef Justin Deering added on a few Spanish-inspired dishes to accompany sherry cocktails or half bottles of sherry, like gambas a la plancha (shrimp in garlic and lemon), juicy albondigas (beef-pork meatballs), or sherried mushrooms ($5-8).
JASPER'S CORNER TAP, Downtown/Union Square (401 Taylor Street at O'Farrell, 415-775-7979)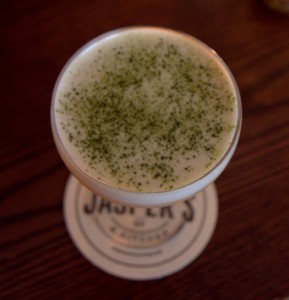 Bar Manager Kevin Diedrich and crew produced another all-star cocktail menu this season at Jasper's Corner Tap. One of the most unusually fun, savory drinks you'll run into anywhere is Diedrich's Genki ($13), inspired by a dish he recently had at Makoto in DC. With a base of Del Maguey Vida Mezcal balanced by Partida Blanco tequila and Combier orange liqueur, Diedrich adds Togarashi syrup, lime, egg white and Matcha salt. Genki is simultaneously spicy, perky, refreshing.
Though there's many a beauty (don't miss the creamy-but-light, floral Rum Shaker – $10 – seamlessly mixing Bacardi 8 Rum, Shipyard Pumpkin Ale, lime, pumpkin syrup, cream, egg white, orange flower water), one of the most playful drinks on the current menu is a bottled Here Comes the Fuzz! ($11). Charred peach is infused in Jasper's house bourbon, bottled with Manzanilla sherry (sherry dominates this season!), honey, lemon, pomegranate molasses, peach bitters and Angostura Bitters. Fizzy and vivacious, charred peaches and sherry imbue a gorgeous, nutty hue.
EAT WITH: With the invigorating drinks above, a trio of deviled eggs ($8 or $4 each) is appropriately light but satisfying.
Though deviled eggs seem to be everywhere the last couple years, this trio stays fun with these flavors: heirloom caprese, "Caesar salad", chipotle-romesco.