My article was first published here on our national Table8 blog where I am national editor.
The key openings of April are: Mister Jiu's, 'aina, Wes Burger, Wildhawk, Horsefeather, The Lodge on Haight, Bar San Pancho, Barbary Coast Gastropub. The Lodge is great for affordable, order-at-the-counter eats in the Lower Haight and I'll save 'aina for May since it just opened at the end of April and I'll head in for another meal. Here are the top four April newcomers and why they stand out.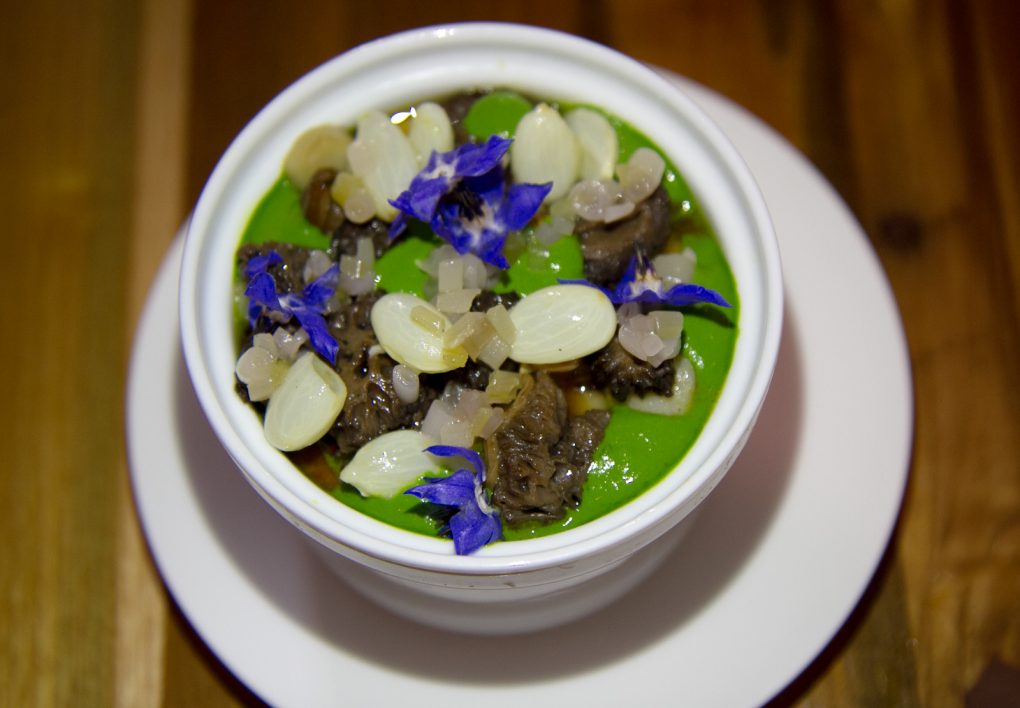 MISTER JIU'S, Chinatown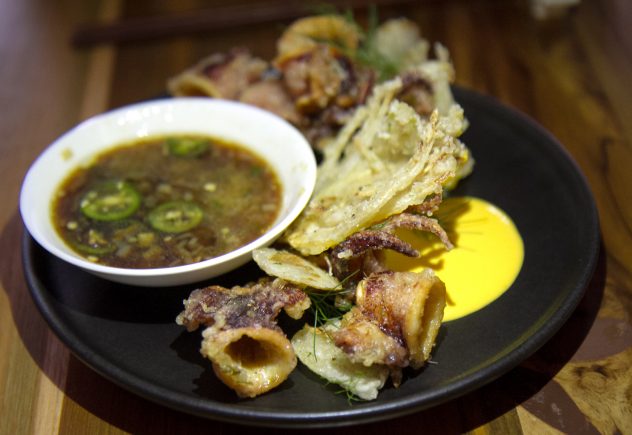 The long-awaited Mister Jiu's is set to rock Chinatown. One of our great neighborhoods, alive with real community and vibrant history, its restaurants tend old school or touristy by turns. A historic Four Seasons (and 1800's building), discreetly tucked away on Waverly Place, has been reborn to fantastic effect. The dim, sleek bar recalls Japan in its purity and clean lines, giving way to an airy, open dining room (plenty of room for families and groups of friends) marked by custom teak tables, the round ones with built-in lazy Susans, and floor-to-ceiling windows with stunning views of Chinatown out to the Bay Bridge.
THE WHY: SF-born Chinese American, Brandon Jew (his family name was originally Jiu), honed his chops in Shanghai and at SF greats, Quince, Zuni Cafe and Bar Agricole. He has assembled quite a talented team, including sous chef Sara Hauman (former chef and 2016 James Beard nominee from Huxley) and multi-James Beard-nominated pastry chef Melissa Chou (formerly of Mourad and Aziza). Jew pulls inspiration from his roots but crafts a uniquely San Franciscan-Chinese experience, fitting in the neighborhood that introduced Chinese food to the entire country (more on that in my Food Republic feature). In addition to making everything from bun, noodles, sauces to sausages in-house, they have big plans for produce grown on the roof and private events and dim sum upstairs. My initial two visits hint that though the brand new restaurant needs time to settle in and hone its menu, it shows promise to be the kind of influencer on modern SF cuisine in ways Mission Chinese and and Liholiho have been.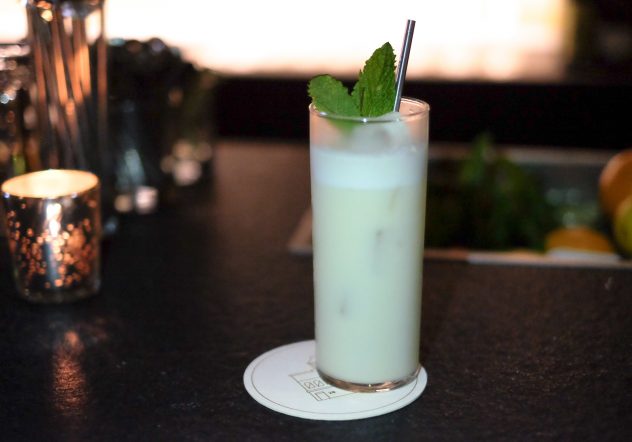 DISH RECOMMENDS: The choose-your-own banquet menu is $69 for five courses, which you can choose from any section, served family-style at the table. Out of 10 initial dishes I tried, there were a few immediate standouts.

You may think you know what to expect from lightly-fried salt and pepper Monterey squid and fennel, but this course threatened to steal the whole show. A lively kumquat sauce and green chili brightened up the squid and fennel making this the dish I most craved after I left. With delicate folds of thinly sliced Devil's Gulch pig head in black vinegar, a Chinese five-spice dusting and black radish, this dish felt like modern Asian charcuterie. Likewise, though under "soups" on the menu, a Dungeness crab custard pulls from Japan in a chawanmushi-style custard, orange with carrot and redolent of lemongrass, turmeric and ginger, piled high with fresh crab and a duck egg. Glass noodles sing in a peanut and sesame sauce, contrasted by chewy beef tendon and tripe. Trying Chou's desserts, an early favorite is rightly black sesame cake, with the nutty sesame singing alongside floral rosebud mousse, strawberry confit and a ginger kick.
DRINK RECOMMENDS: Alongside wine director John Herbstritt's (formerly at Bi-Rite Market) France and Germany-dominant wine list (but look for the likes of orange wine from Slovenia and small California producers), beverage director/bar manager is innovative Danny Louie, who wowed with his forward-thinking, Asian-influenced cocktails at the now-closed Chino.

His SF and Chinese-American roots hearken back to his father, who was a bartender at legend Cecilia Chiang's The Mandarin restaurant decades back. The love shows in the bar he helped design and his thoughtful cocktails, from a textured Happiness, exhibiting all the tannins of jasmine tea with Junipero Gin, sour apple, honey, lime and a touch of gentian. Wisdom is all about light harmony, mixing La Favorite rhum, orgeat, green tea, lime and a touch of passion fruit with milk in which Louie sous vides lemongrass. It goes down frothy, floral, lovely. Joy is just how you feel drinking a cocktail smoky with Caol Ila Scotch balanced by blanco tequila and maraschino liqueur with cucumber, sesame, lime and egg white giving the drink fresh buoyancy.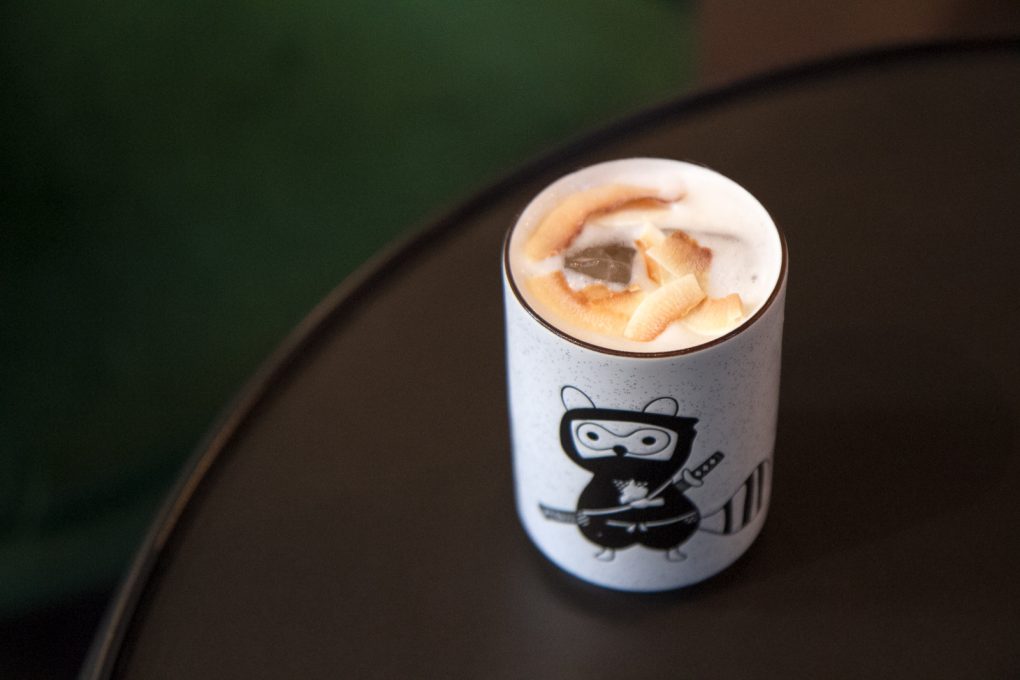 WILDHAWK, The Mission

From Jacques Bezuidenhout and Ken Luciano of the Plumpjack Group, who also opened the excellent bar and industry hangout, Forgery, last year, Wildhawk is an exciting newcomer in the heart of the Mission featuring a line-up of some of the Bay Area's best bartenders, like Lauren Steele, Christina Cabrera, Claire Jane Hunter and Marguerite Regan, with the bar run by the gracious Karri Cormican (formerly of Comstock Saloon). A gorgeous velvet green contrasted by zebra print and a retro tan makes Wildhawk a respite of a bar with a romantic look and a menu packed with top-notch cocktails.
DISH RECOMMENDS: Chef Howard Ko creates bites like smoked trout marked by creme fraiche and fermented turnips or petite vegetable crudite dipped in black garlic Ranch, accented by smoked sea salt.
DRINK RECOMMENDS: Besides the Breakfast Negroni, Castaway plays tropical but with Calvados and savory Kummel Caraway Liqueur bright with grapefruit, honey and mint. 9 Deaths of the Ninja is served in an adorable Japanese raccoon mug, a light, unique combo of toasted coconut whiskey, white port and Mathilde pear eau de vie, frothy with egg white. Look for a section of elegant vermouth cocktails (read: low proof) and a "friends" page of cocktails from legends in the industry around the world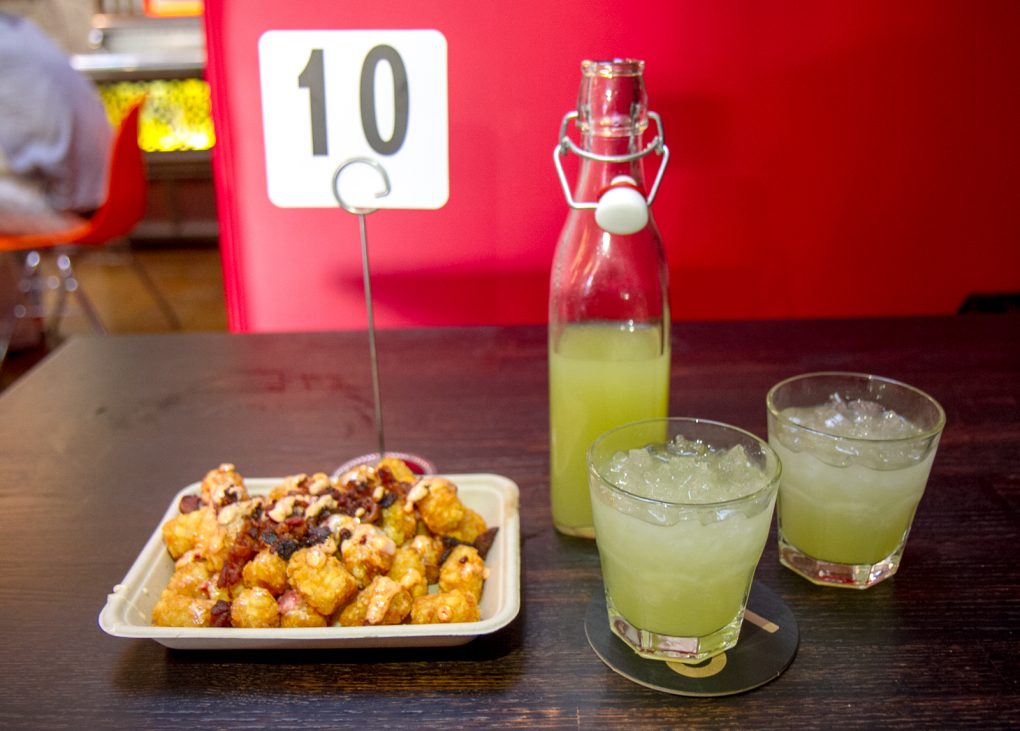 WES BURGER, The Mission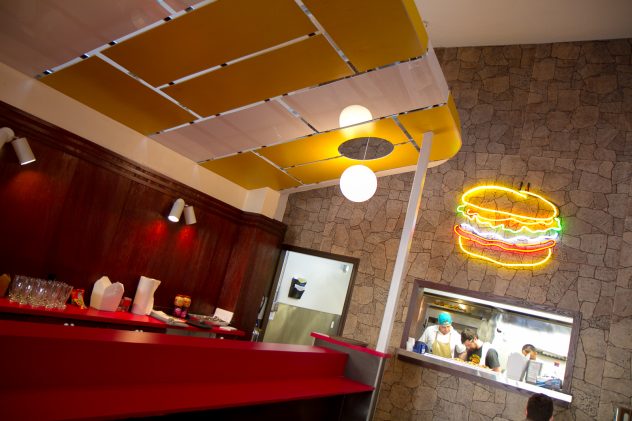 From beloved, weekly burger pop-up at Mojo Bicycle Cafe to brick-and-mortar restaurant, Texas native Wes Rowe opened WesBurger n' More on April 6th in partnership with Chris Hastings, owner of the Castro's legendary Lookout bar. The space is exhibits "cool", anchored by a fantastic vintage jukebox loaded with classic soul. David Marks Design dimbued the space with a look that recalls an old-school diner circa 1970s, down to neutral toned booths and a rock wall.
THE WHY: The order-at-the-counter menu naturally features Wes' cult-status burgers like The Hot Wes, inspired by Jack in the Box's "The Hot Mess" and The All American Burger. But I am smitten with The Okie Burger. Maybe it's the fact that I was born in Oklahoma and my mom's large Sicilian family lives there — including my parents. But more so it's the love of onion burgers, an Oklahoma creation dating back to the 1920's and depression-era necessity when onions were mashed into patties to make the meat go the distance. The result, when done right, is savory, sweet caramelized onions upping the meat's juiciness. And at Wes Burger, this is done RIGHT. It's hard not to want to return again and again just for this burger — and also his killer tator tots, namely the "animal-style" version.
DISH RECOMMENDS: Rotating specials include Texas BBQ, while Wes' popular fried chicken appears on the regular menu as well as spicy Nashville hot chicken, frito pie, a portabello mushroom Reuben and a fried chicken burrito (yes, you heard right) that tastes like what you dream of when you think of Tex Mex. A vegetarian highlight is a large, roasted wedge of cauliflower in charred scallion goddess dressing.
DRINK RECOMMENDS: Texas joys abound from Topo Chico (yes!) to Lone Star Beer (aka "Texas water"), but there are also root beer floats and decadent milkshakes using SF classic Mitchell's Ice Cream. On the booze side, local greats include Tag + Jug Cider and low-proof house punches in collaboration with bartending greats, Mo Hodges and Brian Felley of Benjamin Cooper, and their Passion of the Wes (Lo-Fi sweet vermouth, Lo-Fi gentian amaro and champagne), or from León Vasquez of neighboring Loló, with his spicy-refreshing Nochtitlan Punch (Lo-Fi dry vermouth, green tomatillos, cactus water).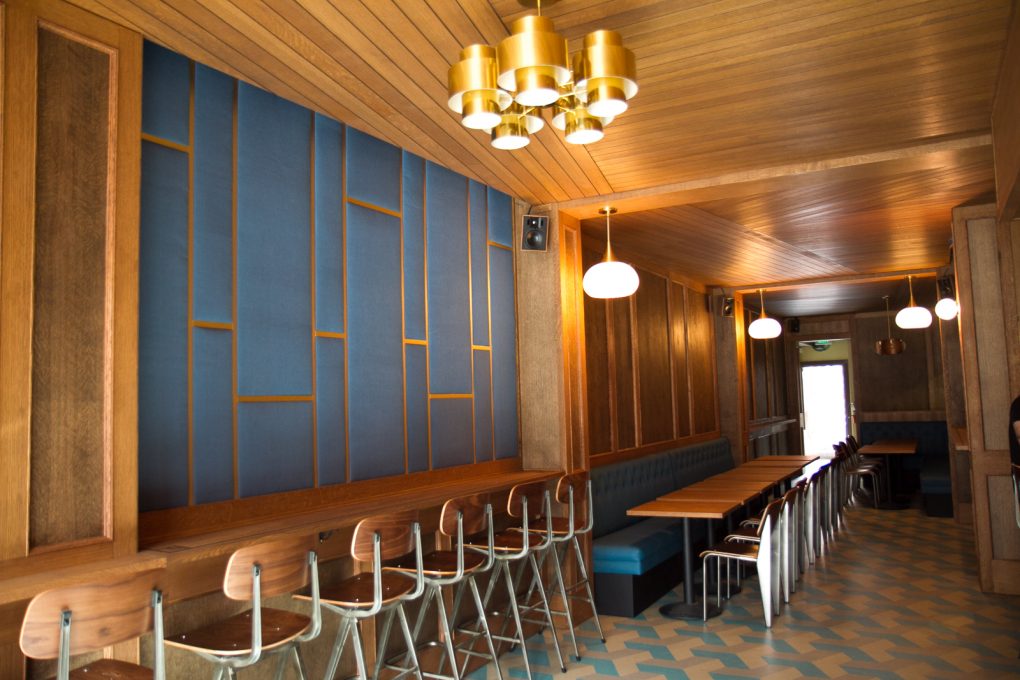 HORSEFEATHER, NoPa
Officially open on Divisadero on April 11, Horsefeather (formerly the temporary Tsk Tsk from the same owners) is a stunner of a space with enclosed front porch/patio and a bar calling on the American Arts & Crafts period marked by artful woods and cool, teal blue. The intimate space is retro-chic with a unique look among all cocktail bars in town.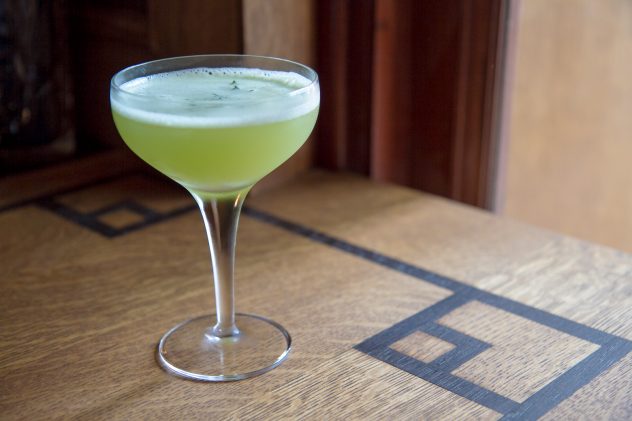 THE WHY: Justin Lew, Ian Scalzo and chef Ryan Chinchilla (of Blue Plate and Foreign Cinema) bring considerable expertise to Horsefeather. Lew and Scalzo were formerly Creative Director/Director of Ops and Beverage Director respectively for Future Bars Co., behind the launch of the group's renowned bars for years. With his design background, Lew has also designed many high profile hotels, bars and spaces, including Horsefeather in collaboration with Scalzo and James Lagoc of Local Produce Design (Nopa, Independent, Bi-Rite Creamery).
DISH RECOMMENDS: Chinchilla has a short-but-sweet menu of playful, shareable small plates like claypot chicken wings ($12) in fish sauce caramel, fried garlic, ginger and jalapeno, or the likes of challah French toast during weekend brunch.
DRINK RECOMMENDS: Horsefeather is about cocktails first (no surprise, given Lew and Scalzo's expertise) and the California Cooler already feels like the bar's signature drink. Bright celery juice, lime, thyme and horseradish play off of gin, Sauvignon Blanc and sparkling wine. In fact, wine plays prominent in a few of the cocktails, including the vivid Red Rooster, mixing Aperol, Ancho Reyes chile liqueur and Riesling with pineapple, brown sugar and soda water.
Save