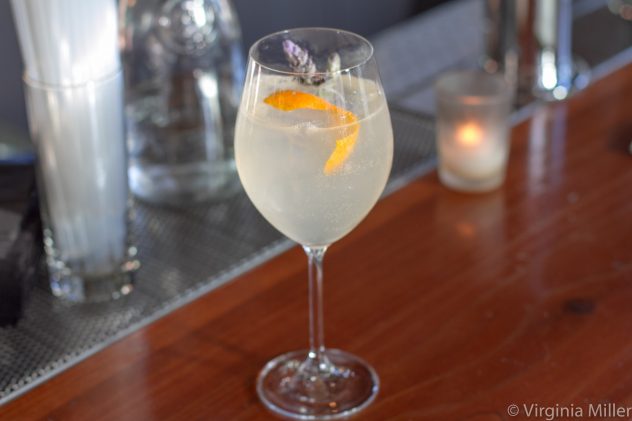 Covering the 11 hottest cocktails of the month around the US at Liquor.com, you'll find my bar and drink recommends this month at these bars/restaurants (click on each for the featured cocktail):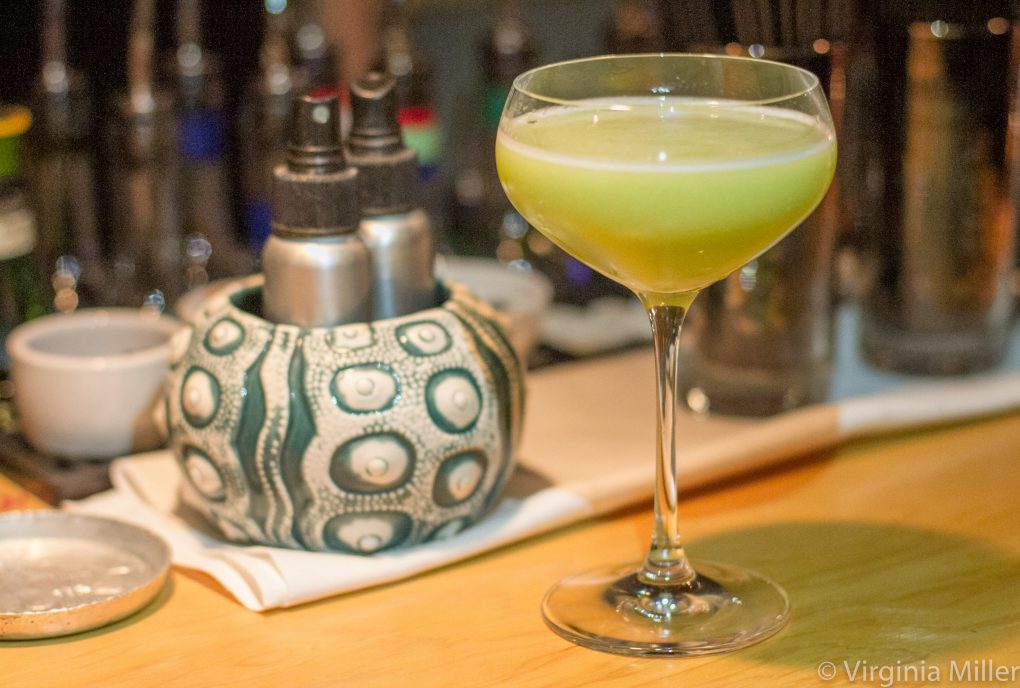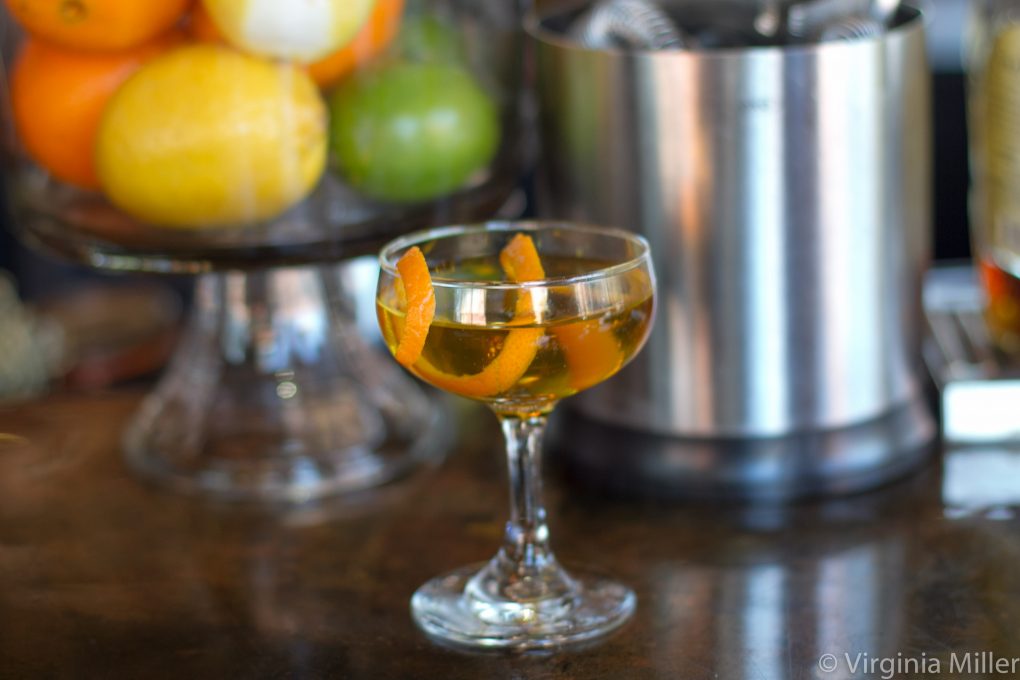 June is the gateway to Summer. And with it come inventive refreshers from Vancouver to Tulsa that show off the warm weather (or the promise of) to fine effect. This month we showcase an LA restaurant that utilizes kitchen "scraps" in their zero-waste bar program to a remote Marin County, CA, restaurant bar that grows its herbs and cocktail ingredients from a hill overlooking an oyster-laden Bay.

Here are 11 cocktails across North America worth drinking now.

Official (The Commissary, San Francisco, CA)
Open since 2014 in the lush forests and hills of SF's Presidio, Traci Des Jardins' The Commissary is a destination for Cal-Med cuisine, housed in a former 1895 army mess hall. Executive chef Rogelio Garcia's (since late 2016) French Laundry days show in the food's exquisite presentation, though it's still rustic and satisfying (case in point: tender, grilled octopus arrives dramatically in a smoking tagine). As new bar manager Tony Stewart transitions in, former bar manager Chris Fish (now at Sunset Reservoir Brewing Co.) crafted a lovely gin and tonic section plus low proof and spirit-forward cocktails. Fish's signature drink, Official, rightly has not left the menu since he came on board over a year ago. With a base of Lunazul jalapeno-infused tequila, the spicy, nutty, citrus-y sipper is enhanced with Giffard pamplemousse rose, oloroso sherry and grapefruit bitters.
Spider of the Evening (Aaxte, San Francisco, CA)
With new bar manager on board at Aaxte, Larry Piaskowy (formerly at Alembic, Churchill) is crafting cocktails that shine with chef Ryan Pollnow's (recently taking over as executive chef for all Ne Timeas Restaurant Group restaurants) refined Spanish food, some of the best in SF. Playing with ingredients like saffron and rare spirits like Malfy Gin from Italy's Amalfi Coast, Piaskowy also infused absinthe with a bit of bold espresso for his Spider of the Evening cocktail. The subtle yet robust coffee-absinthe infusion adds sweet, earthy notes to Spring 44 Mountain Gin from Colorado, balanced by the salinity and the crisp backbone of fino sherry and dry vermouth. It tastes amazing paired with garlic-heavy, olive oil-poached shrimp or octopus-green olive conservas.
Avocado Gimlet (L'Abattoir, Vancouver, B.C.)
The intimate, multi-floored L'Abattoir, housed in an 1800's building that was site of Vancouver's first jail, has been a Gastown destination for years due to chef Lee Cooper and owner Paul Grunberg's Pacific Northwest/West Coast fare. But the cocktails and the tiny, bustling bar, helmed by Katie Ingram, are also a draw. The Avocado Gimlet has long been a house favorite and that's not just because it's a lush, fresh avocado cocktail, something one could find elsewhere. Here, it's the briney, herbal inflection of rosemary and olive-infused Broker's gin, Lillet Blanc and fresh lime that takes the avocado to the next level.
Seeds to Greens (Curadero, San Diego, CA)
Just open this April inside San Diego's Hotel Palomar, Curadero brings upscale Mexican street food (and a crudo bar) from chef Brad Kraten to a space lined with vibrant wall art and cool, orange and pink tiles on the bar. The Arriba Room upstairs houses a taco window, games like Donkey Kong and a more casual drink menu to go with those late night tacos. Lead bartender Jade Boyd came from none other than Juniper & Ivy, bringing a culinary approach of seasonal ingredients and quality spirits (yes, there is also a big agave spirits selection). The Seeds to Greens cocktail starts with the acidic, briney backbone of Lustau fino sherry and a whisper of vegetal earthiness from Del Maguey Vida mezcal. The nuttiness of the sherry sings with Boyd's housemade pecan orgeat, brightened by lime, cinnamon and walnut — think of it as a nutty sherry sour.
The Wasp (WSKY Lounge, Oklahoma City, OK)
With over 350 whiskies, from Scotch to American whiskey — plus a fine collection of Madeira, port and sherry — WSKY Lounge is a rarity in Oklahoma. You can smoke cigars on the patio while sipping any of the 500+ spirits or cocktails poured by knowledgeable bar staff who have all gone through a 16 week apprentice program. They turn out some fabulous off-menu cocktails showing off that fine spirits selection. The Wasp cocktail sounds like it has a lot going on and in many a bar, combining five spirits would be a "fail." But here the deft combination of the dominant Rhum Clement and Wellington Palo Cortado Sherry with a balanced touch of Suze, Genepy and Drambuie, works. The result is a complex drink that unfolds in bitter, funky, sweet, boozy, herbaceous layers with each sip.

Peas And Thank You (Providence, Los Angeles, CA)
From James Beard Award nominations to countless accolades, Providence has been one of LA's dining greats for a good decade, thanks to chef/owner Michael Cimarusti's fine dining creativity. Head bartender Kim Stodel's cocktails are also worth visiting for, his bar being run with a "zero-waste" ethos, using leftover kitchen ingredients in cocktails. Peas and Thank You is one such drink in which Stodel transforms pea tendril scraps into a silky green pea oil. This garden-fresh drink starts with Nuestra Soledad mezcal and Bonal, highlighted by lemon and mint, garnished with pea tendrils and dotted with the pea oil. It tastes like spring and summer combined.
High King Highball (Pouring Ribbons, New York, NY)
At East Village cocktail destination, Pouring Ribbons, cocktails get "rated" on the menu on a scale of "refreshing" to "spirituous," "comforting" to "adventurous," to help you decide which drink to choose (Chartreuse lovers, ask for the bar's vintage Chartreuse selection). Easily veering towards the refreshing side, High King Highball was created by cocktail renaissance pioneer Joaquín Simón, featuring Clontarf Irish Whiskey and Aperol, highlighted with muddled raspberries, lemon and grapefruit juices, simple syrup, Peychaud's bitters and a splash of soda, garnished with a skewered lemon wheel and raspberry.
Liam's Neisson (Valkyrie, Tulsa, OK)
Just turning five years old, Valkyrie offers one of the biggest spirits collections in the state, growing from 300 to over 700 spirits as they recently built a new back bar. The pre-Prohibition-style bar (complete with Edison bulbs, dark woods and brick) serves drinks from bar staff who know their spirits. GM Tyler Schilling and the bartending team collaborate on drinks that show off a range of spirits alongside a robust American craft beer selection. The cleverly named Liam's Neisson nods to both the actor and the elegant funk of Neisson Rhum Blanc, an agricole rum from the island of Martinique. This stimulating drink shows off the green of lime juice and Green Chartreuse with a house chai blend infused in Dolin Blanc Vermouth (adding a crisp, subtle layer of spice), balanced by demerara sugar and a saline/salt solution.
Point Reyes Naked Lady (Nick's Cove, Marshall, CA)
The enchanting Nick's Cove is one of those transporting inns, just around 50 miles from San Francisco but worlds away, set on oyster-laden Tomales Bay, jutting out into the Pacific. The remote Marin restaurant and cottages are an idyllic place to take in the sunset with BBQed oysters plucked from the Bay and housemade marshmallows and graham crackers for s'mores post-dinner. Cocktails utilize herbs from Nick's garden up the hill, steeped in a house tonic and vermouth. Point Reyes Naked Lady, from beverage manager Joseph "JoJo" Tucker, is a silky cocktail featuring Greenbar's Crusoe Organic Rum, lively with blood orange and yuzu citrus, a whisper of cayenne and a frothy egg white layer on top.
Zelda Fitzgerald (Maven, San Francisco, CA)
At Lower Haight's Maven, talented bar manager Tim Hagney continues to turn out cocktail beauties that pair well with chef/partner Isaac Miller's heartwarming dishes, like rabbit dumpling stew or local asparagus decadent in brown butter with olives and Parmesan. The cocktails drink just fine on their own, too, as with the Zelda Fitzgerald, tributing the great Scott F.'s wife. Served in a wine glass, it leads with the caraway and anise botanicals of Krogstad Aquavit, opens up with the herbal, thanks to gin, and is balanced with citrus (lemon) and floral notes (lavender). Garnished with a sprig of lavender, the aromatic drink goes down clean, light and easy — but is not at all lacking in character.
Shanghai Kelly's Bad Bad Pisco Punch (China Live's Bar Central, San Francisco, CA)
Just open on March 1st, China Live is arguably the most ambitious Chinese food concept in the country. A massive Chinatown food hall that starts on the first floor with the Market Restaurant, an upscale retail market, Bar Central and Oolong Café. Opening upstairs is a fine dining restaurant and hidden bars, all menus centered around modern Chinese food with a touch of Taiwan. Director of beverage and cocktail renaissance pioneer Duggan McDonnell oversees all drink menus, from Malaysian-style cold brew coffee to beers. Cocktails downstairs (at the bar and the restaurant) showcase Chinese teas and beyond. Shanghai Kelly's Bad Bad Pisco Punch marries Duggan's Encanto Pisco and Plantation Pineapple Rum with gunpowder green tea, lime, pineapple, orange bitters and a splash of ginger beer, in a San Francisco classic: the Pisco Punch. This Punch veers blue with a touch of blue curacao.

Cleopatra (Slowly Shirley, New York, NY)
Slipping downstairs from The Happiest Hour, Slowly Shirley feels like a 1940's-esque cocktail den where conversation is possible and drinks are elegant in the seductive, relaxed, dim space. The vibrant green of Cleopatra makes the first impression, a drink served in a Hurricane glass wrapped in a banana leaf, packed with crushed ice and garnished with a flower. Created by Garret Richard, Cleopatra unfolds with Avua Cachaca and ?ubrówka Bison Grass vodka, tasting like vacation on the beach with lime and banana cordials balanced by fresh lime juice.