The notable restaurant openings of July were Shinmai, Mac'D, Robin, Barcino, Namu Stonepot and Ippudo in Berkeley.
I am about to visit Shinmai but among the rest, here are my top two newcomers of the month… and why they stand out.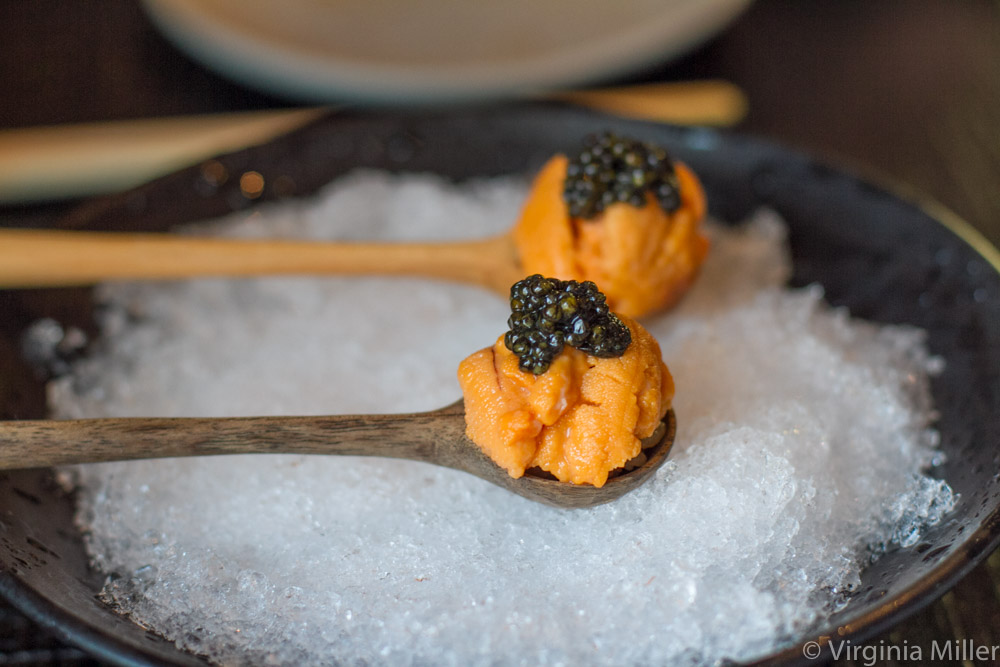 Nigiri Cool — Robin, Hayes Valley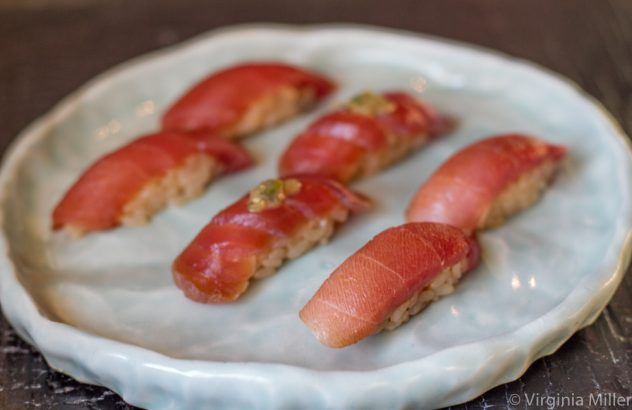 I've written a lot on the hardcore wave of proper Edomae/Tokyo-style sushi restaurants proliferating around SF in recent years (here, here and here).
But with Robin — open in Hayes Valley since July 6th — the direction is decidedly "hip" though traditionally inspired and with pricey omakase menus ($79-$179) from chef Adam Tortosa, the original chef at the special 1733.
I've heard some "word on the street" complaints early on about the prices akin to those hardcore spots but without Japan precision (and… is that brown rice in each nigiri course?)
It's true that chef Tortosa has not trained in Japan but rather spent a stint as chef at Kiwami in LA under Katsuya Uechi's popular Katsu-ya Group. Granted, this isn't the most precise of the countless amazing sushi restaurants in Japanese food/sushi/population hotbeds of SF, LA, NY, Honolulu and the home source, Japan. But Robin still offers exceptional cuts of fish, much of it from Tsukiji Fish Market in Tokyo, with just enough of a twist to keep it fresh and fun while remaining understated.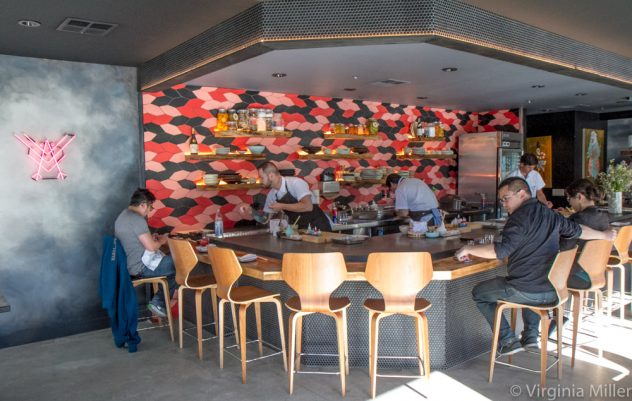 We have plenty of the traditional and hardcore around. This is a non-traditional yet still high quality sushi experience. And I found myself loving it.
From a hip hop and rock soundtrack to the inlaid penny bathroom floor, the light-filled space screams "cool." Tan and wood seating, neon pink logo signage, vibrant pink-salmon-black tiles behind the sushi bar and dripping gold resin from ceiling to floor (by artist Caroline Lizagarra)? This is a different kind of omakase experience.
Eat This (Menu $4-26 for mostly nigiri/sashimi): You can also order a la carte from the ever-changing (depending on the catch or shipment of the day), nigiri-centric menu grouped by lean and fatty fish, also with non-fish, hand roll and dishes sections. Sashimi and tartare options can be strong but the pleasures flow in inspired nigiri, like suchiru heddo (NorCal steelhead trout) accented with aged soy, fig and Half Moon Bay wasabi ($5 nigiri/$11 sashimi) — or a "so silky it dissolves" sake ora (New Zealand King salmon) dotted with confit tomato, whipped tofu and Thai basil ($7/13).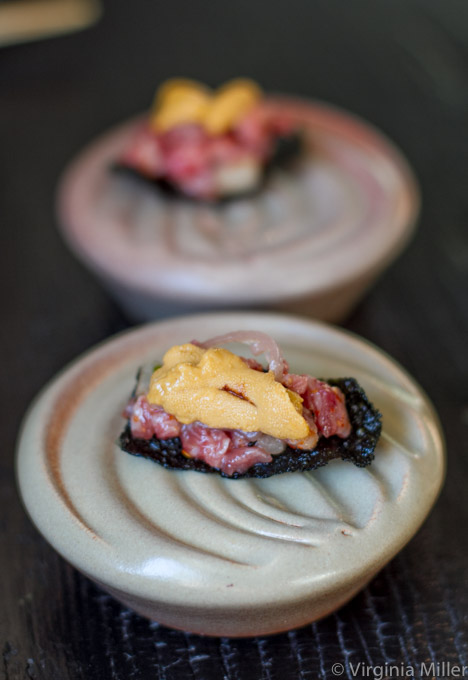 A trio of uni (sea urchin) from Santa Barbara, Mendocino and Hokkaido thrills us uni lovers. As does a comforting bowl of sesame noodles ($18) dusted with shaved black truffle and Japanese chimichurri.
Drink This: I immediately remembered beverage director Anna Nguyen from one of those Edomae sushi havens, Kinjo (she also worked at Liholiho Yacht Club), recalling our saké conversations and delighted to see her here. Her pairings at Robin did not disappoint, from the pure elegance of Takasago "Divine Droplets" Ginga Shizuku from far north in Hokkaido (at this brewery, the saké is fermented in manmade igloos), to the ripe, gamey, fruity funk of Yuho "Rhythm of the Centuries" Ishikawa Junmai Kimotc.

She did right on the wine front, too, offering a pour of earthy, oxidized, even nutty — akin to a good sherry or orange wine — 2014 Ryme Cellars Carneros, Las Brisas ("His" version). There is also an exclusive, only-at-Robin sparkling saké from Japan's Kiuchi Brewery (you may know them as the brewers of Hitachino beers, which Robin offers on draft). Produced with white koji, this sparkling saké is highly acidic, crisp and bright.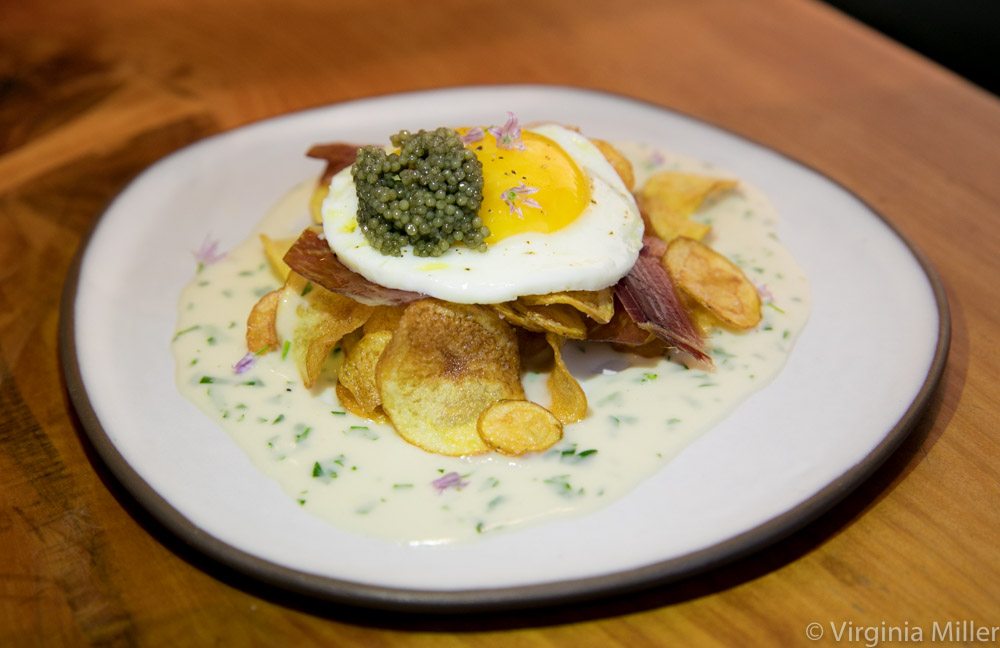 Catalonian Respite — Barcino, Hayes Valley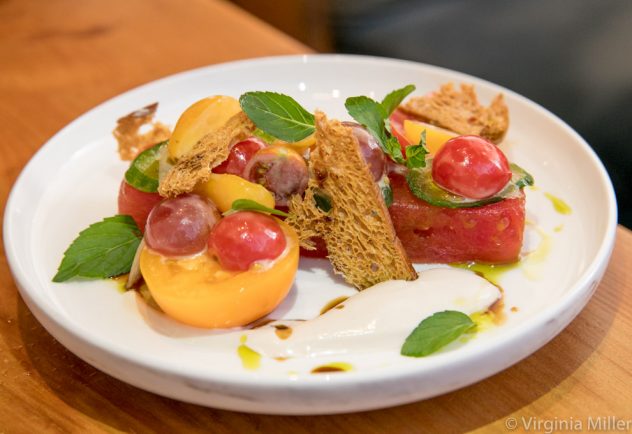 From the Absinthe Group, Barcino opened July 25th in the former Boxing Room space, the latter a restaurant I will sorely miss as a rarity of authentic New Orleans cooking outside Nola.
In keeping with the group's opening of Bellota last year in the AirBnB offices in SoMa, they've gone Spanish again so you'll find paella for the group on the menu and Iberico hams (jamon) hanging over the kitchen. But the focus here is actually Catalonia, in Northeast Spain on the Iberian Peninsula. So expect more shared plates and a robust drink menu of cocktails, sherry, sidra (cider), vermut (vermouth), wines and the like from the region.
Many of the Boxing Room decor elements remain, including booths and the curved, wrap-around bar, but now there are sections divided up in the dining room and plenty of plants to add green life to the space.
After my initial visit I am pleasantly surprised that out of eight dishes tried, including one dessert and two crudo, each one was a hit — not a single slouch among them. Service was knowledgeable from those who clearly love and have traveled in Spain (more on my travels there) and it feels like it will be an ideal pre-show stop for SFJazz, SF Symphony, the ballet, opera, etc. surrounding Barcino. Then there is a drink lover's dream drink menu covering all things Spain.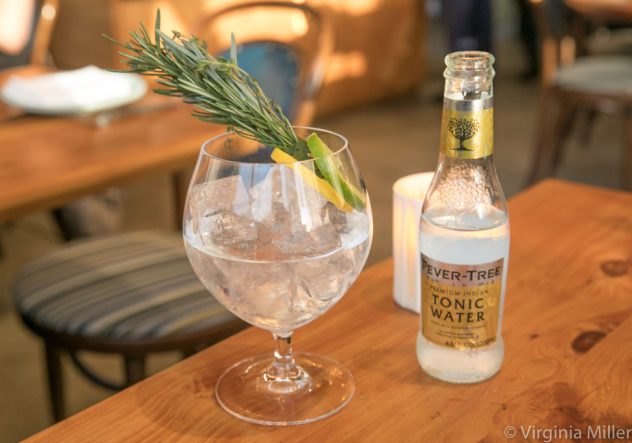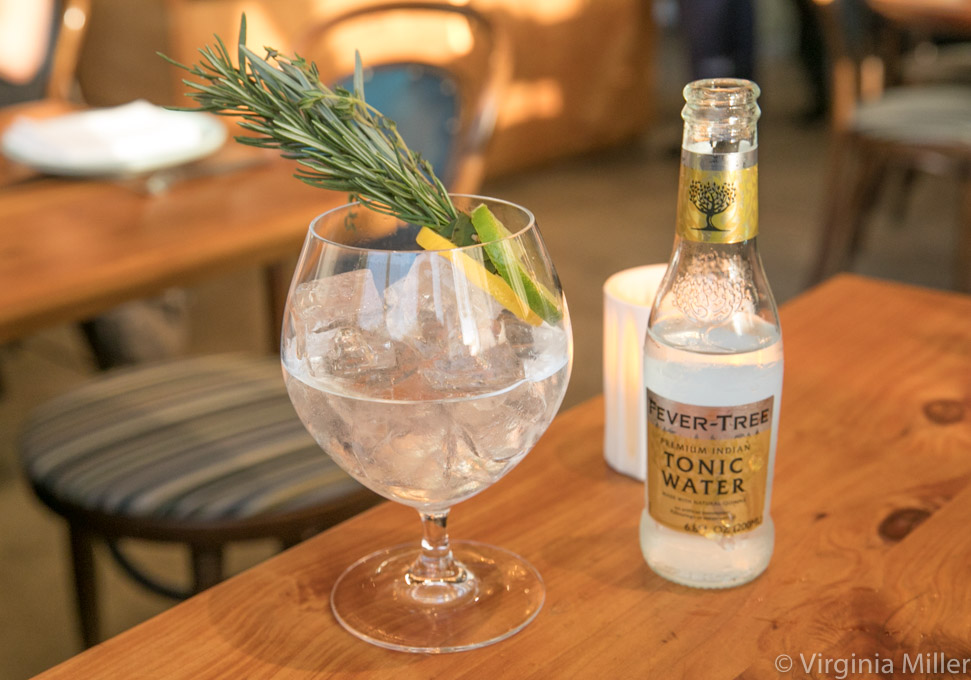 Eat This (Menu $6-24): The group's executive chef Ryan McIlwraith oversees Barcino along with neighboring Absinthe, Bellota, Comstock Saloon, while chef de cuisine Athman El-Kindiy helms the kitchen at Barcino.
There is that rotating paella, but so much to love beyond. On the raw bar/crudo side, typical offerings like lightly smoked salmon ($10) are exquisite with pickled-yet-sweet plums and almond gazpacho, while 28-day dry-aged beef striploin carpaccio ($12) wrapped around pico (mini-breadsticks) is tender goodness given a sweet burst from a dab of tomato jam and earthiness from black truffle.
Salads shine, like tomaquet ($14), a perfect expression of summer with heirloom tomatoes and mint-touched compressed watermelon, accented with Pedro Ximenez sherry crema. Ou ($20) is already a house hit: a sunny-side-up egg over little potato chips doused in caviar and Idiazabal cheese crema, salty with slivers of jamon Iberico de bellota. It's the kind of midnight snack one dreams of with a glass of cava or a salty, briny sherry.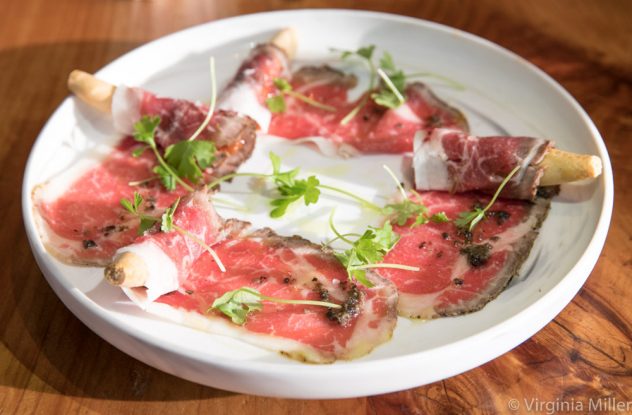 Drink This: Bellota bar manager Collin Nicholas also crafted Barcino's drink menu (with Absinthe's bar director Jonny Raglin). Between low proof classic cocktails to house cocktails ($13), there is plenty to love.
Then you start digging into the Catalan (and beyond) wines, the vermut and sherry (also on draft as at Bellota), the Spanish beers and sidra (cider), and so on. If you are a beverage and/or Spain lover, this menu will make you smile (think gorgeously nutty, dry sherries by the pour like Lustau's 'Obregon' Amontillado Sherry — $16).
Immediately the La Cana cocktail (which I featured at Liquor.com among top national cocktails) jumps out but so does the green vibrancy of Puente (vodka, rosemary, juniper, dill, cucumber, lime, fino sherry) and the balanced tart-smoke of La Marca (mezcal, Aperol, charred peach, lemon, fino sherry).
They go Spain-style on the gin & tonic menu ($13 each) serving g&ts in goblets with fruit and herb garnishes, grouping gins (small and large brands) under four groupings of "classic", "earth", "fruit" or "botanical" with five tonics to choose from.