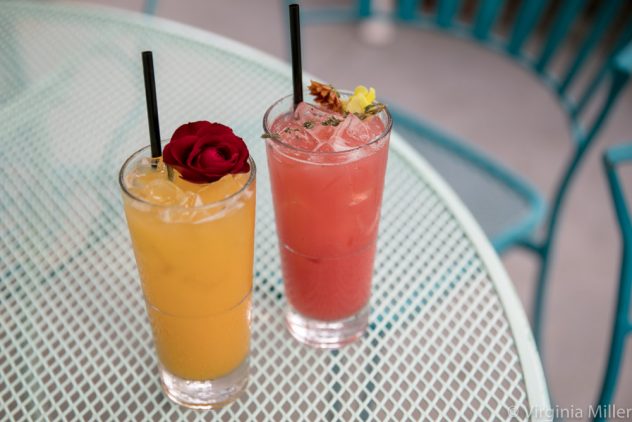 Covering the 11 hottest cocktails of the month around the US at Liquor.com, you'll find my bar and drink recommends this month at these bars/restaurants (click on each for the featured cocktail):
It's November but in Sacramento, San Antonio, Austin, St. Helena and San Diego, to name a few, it's still summery and cocktail menus reflect that. New York to Portland, it's more of a mix where mild days give ways to crisp fall nights. Whether corn or curry refreshers, boozy Baijiu or fruit-forward sippers, these 11 bars/restaurants are crafting cocktails worth drinking now.
Can't make it to any of the bars this month? Try making The Apple Fell Far From the Tree from San Diego's Kettner Exchange at home.
Raspberry Thyme Rickey (The Flamingo House, Sacramento, CA)
There's a lively new bar in Sac: The Flamingo House. Look for the pink house on K Street with a front patio of mint-green lawn furniture, black and white-striped umbrellas and pink flamingos. Inside, velvet pink and purple couches, bright floral wallpaper and tropical-etched wall mirrors evoke a Miami-meets-California-circa-1980s vibe. Open late summer, Matthew Byrd and Bobby Falcon built out the vibrant, covered back patio as they decorated this one of a kind house themselves with designer Dacy Kolsky. Over ceviche, guacamole and Cubano sandwiches, their crushable drinks change weekly, following seasonality and drinkability. Recently, a Raspberry Thyme Rickey felt both summery with fresh raspberry and strawberry, but also fall-like with aromatic thyme, mixed with Malfy Italian Gin (from Italy's Amalfi Coast), lemon and lime juices and agave for balance.
Revolution Calling (Library of Distilled Spirits, New York, NY)
Open this summer in Union Square, the lofty Library of Distilled Spirits in the Hyatt Union Square is dramatically lined with over 1000 spirits, accessible by rolling ladders, opened by industry vets Dushan Zaric (Employees Only) and Kyle Tran (Aviary, Chicago). Tran and principal bartender Federico Avila craft fascinating, layered cocktails. While it's easy to love matcha fizzes and black truffle with Japanese whisky, a refreshing highball, Revolution Calling, just may be the sleeper hit. This smart blend of three rums — Cana Brava Rum, Plantation 3 Star Rum and Rhum JM White — gets the elevated Rum & Coke treatment with Mexican Coca-Cola, given minty depth from Branca Menta.
Margarita Los Alcobas (Acacia House, St. Helena, CA)
You could call this a "buttoned-up" Chris Cosentino restaurant… but that doesn't mean it's not fun. When you are served a Margarita Los Alcobas at the casual-chic Acacia House, the drink's salty foam and savory-tart goodness makes the Margarita feel fresh. This newcomer from Cosentino and Oliver Wharton (Cockscomb in SF; Jackrabbit in Portland, OR) is housed in a gorgeous white house at Las Alcobas, A Luxury Collection Hotel, complete with a bar mixing drinkable cocktails and pouring thoughtful wines. A round of Iberico pork schnitzel and this foamy margarita makes for one fine Napa Wine Country meal.
If You Like Pina Coladas (The Faculty Lounge, Charleston, SC)
In Charleston's North Central 'hood, Faculty Lounge has managed to stay an under-the-radar, industry favorite since husband-wife duo Erik Hutson and Nayda Freire took over in 2014. The space has a storied past, getting its name from its 1970s days a neighborhood hangout for local teachers. A poster child for "high-low", this is a dive bar where the music energizes and cheap beers flow next to quality cocktails, spirits and Corpse Reviver shots. If You Like Pina Coladas sounds like it's going to be too sweet with Plantation Pineapple Rum and coconut cream. But it's not. Served in a tall, plastic 70's diner tumbler, the green pepper kick of Ancho Reyes Verde and bubbly of LaCroix sparkling water keeps it lush yet vegetal, dry yet tropical.
The Apple Fell Far From the Tree (Kettner Exchange, San Diego, CA)
From its spacious upstairs patio and dining room, to a sleek downstairs area, Kettner Exchange is one of San Diego's great restaurants, serving chef Brian Redzikowski's inspired dishes (think buffalo wing-style Louisiana frog legs with bleu cheese or foie gras Cubano sandwiches). Bar manager Steven Tuttle has also made Kettner a drink destination for years, thanks to Tiki-esque beauties like a Piña Colada Old Fashioned. The Apple Fell Far From the Tree is a fall refresher, SoCal-style. Butterfly pea-infused Blanco Tequila means the drink turns a rich shade of blue to purple, hinting at Autumn with the allspice-rum notes of Hamilton Pimento Dram, brightened by lime and Fuji apple syrup… all without losing the vibrancy of the tequila.
LandRace (Downstairs at The Esquire, San Antonio, TX)
The Esquire Tavern is already a beloved San Antonio restaurant/bar, a historic space since 1933, reopening in 2011 as drink destination. In the more intimate Downstairs at The Esquire, beverage director Houston Eaves plays with corn on his ambitious cocktail menu, nodding to a Mexican classic with a boozy Champurrado (traditional Mexican chocolate and corn masa drink) or showcasing ingredients like burnt tortilla salt. The LandRace is a savory, purple corn-infused gin cocktail inspired by a Martini. The gin gains earthy, funky complexity from a dry vermouth infused with huitlacoche, a Mexican delicacy otherwise known as corn smut/fungus. Think of it as a sort of Mexican truffle martini.
Curried Favor (La Chasse, Louisville, KY)
Laid back bistro, La Chasse, is a Louisville local's favorite since 2015 for French-Spanish fare and a warm neighborhood welcome. Isaac Fox and his team turn out a range of cocktail classics and aperitifs that pair well with food. But peruse the "Savory" section of the menu and you'll find cocktails playing with Kummel (caraway liqueur) and cilantro (the Spanish Gimlet) or sweet corn and bell pepper (the Elote). Curried Favor is a creamy, piquant delight of Ypioca Crystal Cachaca and a house coconut curry syrup, lively with lime and cilantro. It goes down like tropical vacation drinking for a foodie.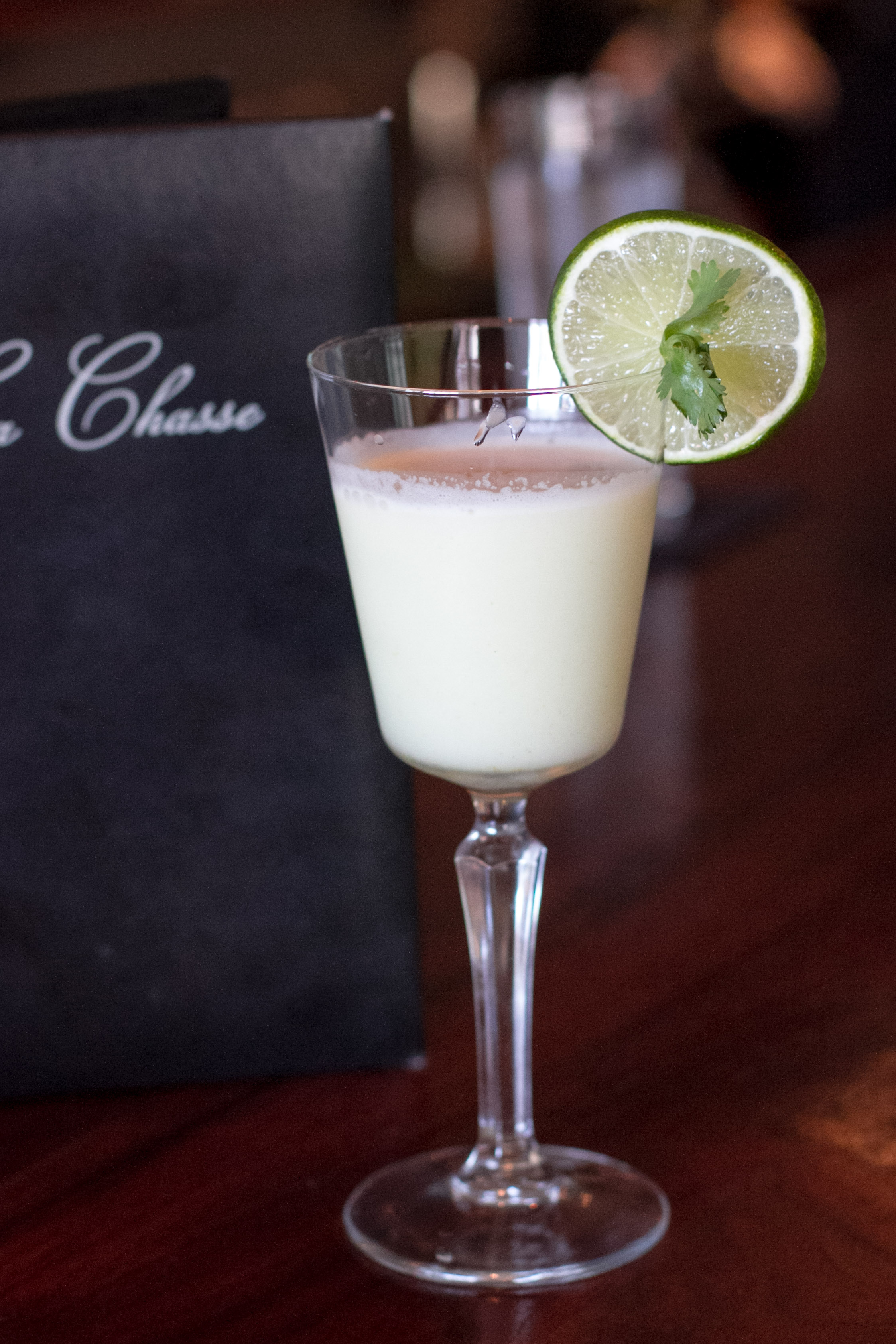 Chimpan-Chiote (PCH — Pacific Cocktail Haven, San Francisco, CA)
The number of irresistible cocktails (featuring everything from saké to Cognac) across Kevin Diedrich's menu at P.C.H. (Pacific Cocktail Haven)? Almost all of them. When it comes to a master like Diedrich, there's not much dead weight. Bartender Francis Stanksy contributed one of the gems on the latest menu: Chimpan-Chiote. This cocktail features Monkey Shoulder Scotch and amontillado sherry. But instead of being spirituous and heavy, it's buoyant with a fruity-savory guava-cumin combo, accented by orange bitters and achiote shrub (grapefruit juice and peel, Filipino vinegar). It stimulates the appetite as it also drinks like a sunny day.
Beet-On (Miss Ada, Brooklyn, NY)
Miss Ada is a Brooklyn destination for rounds of dreamy dips (hummus to labneh) or silky za'atar-crusted salmon on a magical back patio in Fort Greene. It's one of NYC's best modern Israeli-Mediterranean restaurants. Period. While orange wines certainly pair beautifully with the food, the Beet-On cocktail feels meant for the dishes here. The bracing goodness of anise-forward Arak is the base spirit, made earthy and lush purple-red with beets, brightened by mint and lemon.
Export Only (Interurban, Portland, OR)
Opened in 2011 by Dan Hart and Chris Navarra, Portland's Interurban is that ideal high-low bar pouring easy drinking craft beers alongside American whiskey with quality pub fare. Whether upstairs or downstairs in the wood-lined space — or sitting by covered fire pits outside — GM/lead bartender Jon Green crafts cocktails that warm as the weather cools. Export Only deftly mixes three beautiful spirits — Four Roses bourbon, Plantation 5 year rum and Quinta do Infantado 10 year tawny port — in one seamless-yet-complex whole, balanced by a touch of cane syrup.

M (RPM Italian, Chicago, IL)
As an upscale Italian restaurant in Chicago, RPM Italian draws out summer at least in ethos with their short-but-sweet Spritz menu, utilizing seasonal ingredients (like blackberry or blueberry) and combinations like amari and bubbles. Bar manager Michael Trow turns out spritzes named after the restaurant's R.P.M. namesake. M was created by lead bartender Stephanie Tadd and is a showcase of Seattle's layered Brovo Amaro #1. Aromatic with clove, cinnamon and orange, the herbaceous spice of the amaro plays with the drier bitter of Cocchi Dopo Teatro and a generous splash of Chinotto Italian Soda.