At Liquor.com, you'll find my 9 top whisk(e)y cocktails on menus around the country at these bars/restaurants: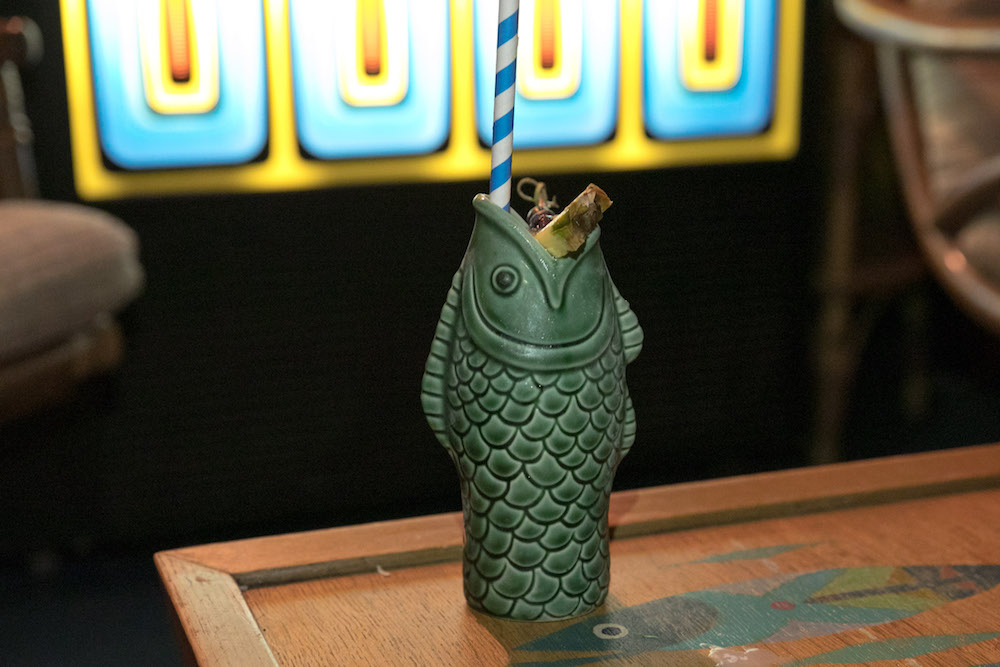 While much of the US is gripped by the season's chill, we all are craving a great drink to warm up even a mild winter's night. Whisk(e)y of all kinds — bourbon, rye or wheat whiskey; Japanese, Irish, Taiwanese or Scotch whisk(e)y — is the ideal winter dram. These 11 national bars and restaurants oblige with crushable whisk(e)y cocktails on menus now. 
Can't make it to any of the bars this month? Try making a bourbon Three Dots & A Dash from The Limbo at home.
Old Fashioned Breakfast (Cold Drinks at China Live, San Francisco, CA)
Hidden upstairs at China Live, Cold Drinks is one of the country's great Scotch bars, pouring rare whiskys and cocktails mostly featuring Scotch with wide-ranging ingredients from coconut to curry. Feeling like a sleek bar in Asia with greens, golds, Transamerica pyramid views and a Blade Runner futuristic vibe, Yong Zhu (who bartended in both Tokyo and Shanghai) crafts whisky beauties. Try the savory, spiced, silky, smoky Old Fashioned Breakfast: curry spices and green onion-washed Speyburn Scotch are balanced by Avion tequila, Carpano Antica sweet vermouth, gum syrup and Angostura bitters.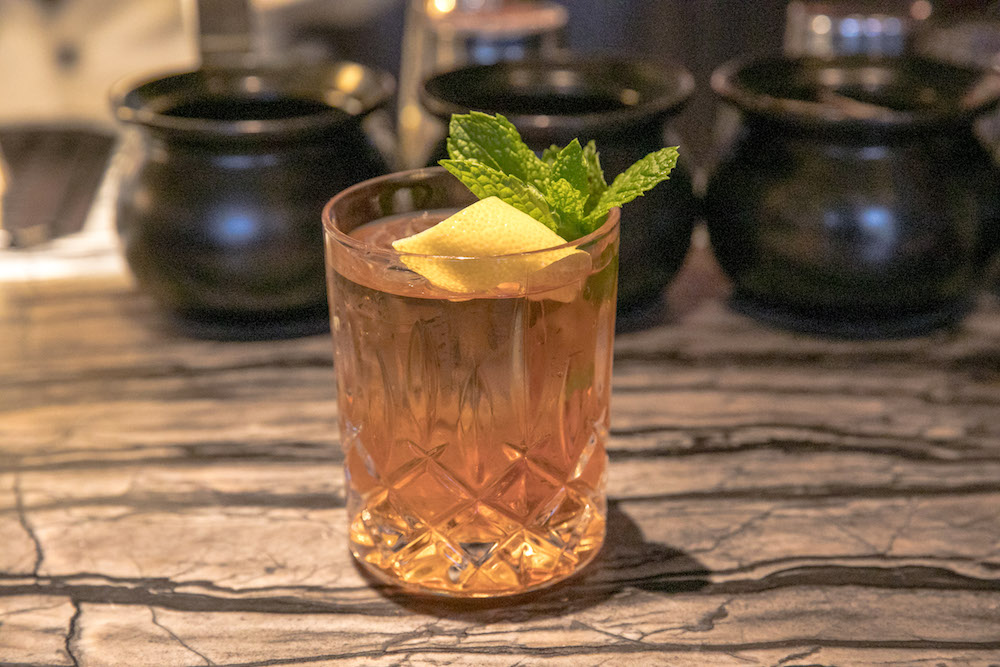 Finial Ward (Proof on Main, Louisville, KY)
Artwork, elegant cocktails and over 120 Kentucky whiskies alone, Proof on Main in the original 21c Museum Hotel has been a Louisville cocktail pioneer since 2006. The bar remains strong under current beverage director Jeff Swoboda and a bar team that collaborates on the evolving cocktail menu. Finial Ward (winner of the Bourbon Classic 2018 best classic cocktail) goes down easy but boldly. A house bottling of 21c's 1792 Bottled in Bond bourbon plays nicely with yellow chartreuse and milkfat-washed Chamomile di Sibona. A clarified acid base imparts tart citrus silkiness to the spirituous drink. 
Sun Also Rises (Bar Arbolada, Oklahoma City, OK)
Open Spring 2018 by Edmond, Oklahoma, native Riley Marshall, Bar Arbolada offers OKC a sophisticated yet relaxed bar — with great food from chef Tehra Thorp. During Marshall's Los Angeles years in the music industry, he met bartender Dustin Lancaster (who opened Bar Covell in 2010 and eight other LA bars, restaurants, a brewery and hotel). They discovered they were both native Oklahomans who had even lived on the same street: Arbolada. When they moved back to OK, they decided to open a bar together. The airy space lined with picture windows and tan booths is timeless and welcoming. The rosy deep red of the Sun Also Rises cocktail comes from cherry juice, while a base of Scotch whisky, brandy and sherry sings with tart cherry and herbaceous sage. 
Three Dots & A Dash (The Limbo, New Orleans)
Whether spoken word, karaoke, string quartets or drag shows, The Limbo is a communal gathering and perpetual party, thanks to San Francisco transplant and hatmaker (at her neighboring The Mysterious Rack shop), Olivia Griffin. She opened Louisville's first Tiki bar, a relaxed, multi-room space with outdoor patio and vintage furniture. Here, tiki cocktails often go Kentucky with bourbon in place of rum, as with the great Three Dots & A Dash. This WWII-era Tiki classic (created by the famed Donn Beach) goes Bourbon Country with Coopers' Craft Bourbon, St. Elizabeth Allspice Dram, Bitter Truth Golden Falernum, Angostura bitters, fresh lime and orange juices and a touch of honey.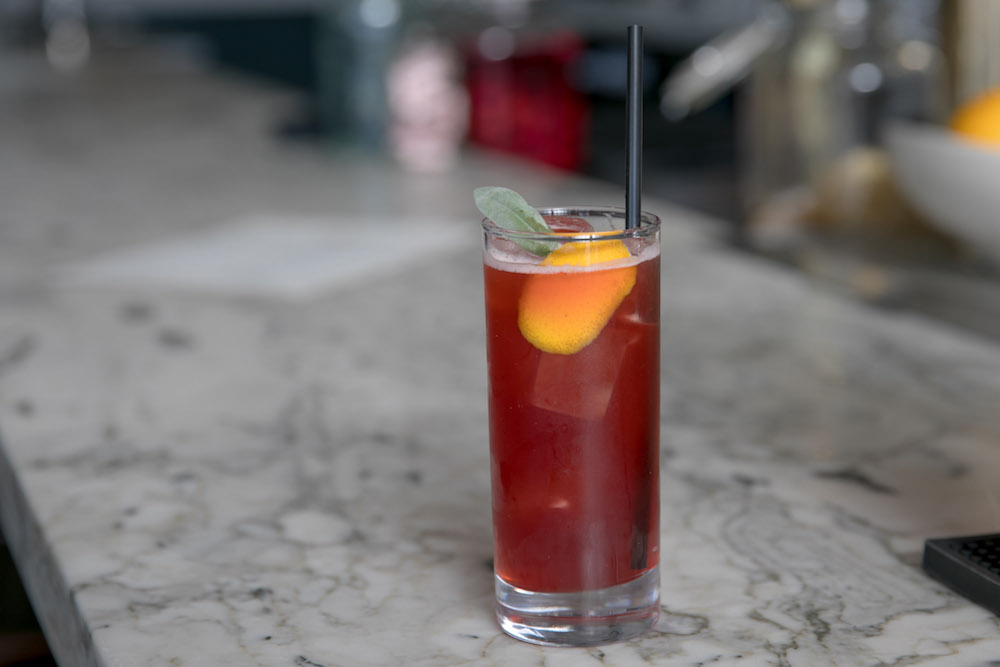 Hot Daisy (Rapscallion, Dallas, TX) 
Since 2015, Rapscallion has been a rowdy, Lower Greenville hotspot for quality cocktails, Nashville hot chicken or rotisserie chicken. Bar manager Ivan Garcia and team keep the drinks playful and refreshing with all those biscuits and shrimp and grits. Hot Daisy showcases a base of Rapscallion's house Patron Single Barrel Reposado Tequila and Gracias a Dios Joven Mezcal, bright with passionfruit, lime and habanero, given a Tiki touch from orgeat and falernum. A balanced mix of smoky, spice and citrus-sweet benefits from an unfolding spicy finish of habanero bitters. 
Pink Lady & Jeff (Bon Voyage, San Francisco, CA)
Trick Dog owners (BVHospitality's Josh Harris and Morgan Schick) opened Bon Voyage! late 2018, an old school journey across Southeast Asia and Africa — think of menagerie of wooden and ceramic parrots, monkeys, giraffes and elephants — contrasted by disco balls and bowls of chow fun fried noodles. Pink Lady & Jeff is playfully served in a black ceramic glass with a Japanese Kit Kat (in flavors like wasabi or matcha tea). The drinks mixes Suntory Toki whisky with Dubonnet, Luxardo apricot liqueur and strawberry, given acidic balance by red vinegar and lime. 
Sleepy Monkey (Gunther & Co., Baltimore, MD)
Taking over the historic, lofty Gunther Brewery in 2016, Gunther & Co. is a Baltimore destination for seasonal dishes ranging wildly from Thai seafood hot pot to hanger steak and frites. Pull up to the massive bar for collaborative cocktails from bar manager Andy Chandler and team. Sleepy Monkey is anything but sleepy. Monkey Shoulder Scotch Whisky stands out but doesn't overpower sister ingredients of local Baltimore Spirit Company's Fumis Pumila Apple Brandy and Bènèdictine, vibrantly kicked up with a house apple-cardamom shrub and lemon juice. 
Say It With Your Chest (Pinewood Social, Nashville, TN)
A bowling alley, restaurant, bar, lounge, coffee shop and general hangout in one, Pinewood Social has also been one of Nashville's pioneering cocktail bars since 2013. Matt Tocco and team continue to ensure easy-drinking but never dumbed down drinks. Bartender Chris Visic created Say It With Your Chest, an Irish whiskey crusher that is essentially a Thai-inspired buck or mule. Calvados adds an elegant hint of funk, brightly balanced by lemon and ginger, tart with tamarind juice and an intriguing umami, saline element from five dashes of soy sauce. 
Winfield & Vega (Orchard City Kitchen, Campbell, CA)
Though the strip mall setting in suburban Campbell belies the offerings, Orchard City Kitchen (OCK) delivers in the 'burbs with Michelin Bib Gourmand-awarded casual food (think Dungeness crab and bay shrimp louie salads or tempura fish ssam) and a Silicon Valley-worthy selection of rare, pricey spirits. In a county where top-notch cocktails aren't around every corner, OCK's bar can deliver in delights like the Winfield & Vega cocktail. Rye whiskey is balanced by Cognac, infused with roasted peanuts for a nutty, creamy texture contrasted by the sweet-tart of Crème de Noisette, medjool dates, huckleberries and a grape juice kick from MD 20/20 red grape wine and fresh Concord grape juice. It's an amped up, boozy peanut butter and jelly. 
Island Radio (Lola and Butchertown Grocery, Louisville, KY)
Housed in a 19th-century brick building, Butchertown Grocery offers chef/owner Bobby Benjamin's pitch-perfect rotisserie chicken over bourbon barrel-smoked grits or cauliflower with spicy carrot hummus. This upscale comfort food calls for beverage director Nic Christiansen's cocktails, whether dining downstairs in the restaurant or upstairs in the seductive Lola bar. Island Radio partners Coopers' Craft Bourbon with oloroso sherry and Grand Marnier, given a breezy, island boost from lime, orgeat and house bitters. It's one sunny whiskey cocktail to brighten up a winter's night.