Covering 9 top vodka cocktails on menus around the US at Liquor.com, you'll find my top national drinks on menus at these bars/restaurants:
Some deem vodka the "blank canvas" spirit, neutral and understated. Bartenders around the country are painting that canvas vibrantly, infusing vodka with sesame, cucumber and even gummy bears. These 9 bars and restaurants are having more than a little fun with vodka cocktails across the country now.
Can't make it to any of the bars this month? Try making Life On Mars from Ponyboy at home.
Gummy Cat's Meow (Tropical Thunder at Don Pisto's Marina, San Francisco, CA)
Don Pisto's Marina recently launched the Tropical Thunder pop-up "tiki cantina" from longtime drink pro Ken Luciano (former partner at Forgery and Wildhawk) and Elizabeth Montana (of Forgery). Look for rare mezcals, tiki drinks featuring agave spirits and killer bites from Don Pisto's/Chubby Noodle owner Peter Mrabe, all priced $4-11 (think adobo ribs, tuna poke, mushu pork carnitas tacos). Then you have vibrant floral wallpaper, tiles and tropical decor making it feel like a party. Cocktails are sheer fun, from top-notch low ABV sippers like the Fortified Zombie, to Gummy Cat's Meow, served in a sunny yellow kitty mug. This sweet-tropical-vegetal drink features pineapple gummy bear-infused Tito's Vodka, Italicus Bergamot liqueur, pineapple, coconut cream and cilantro.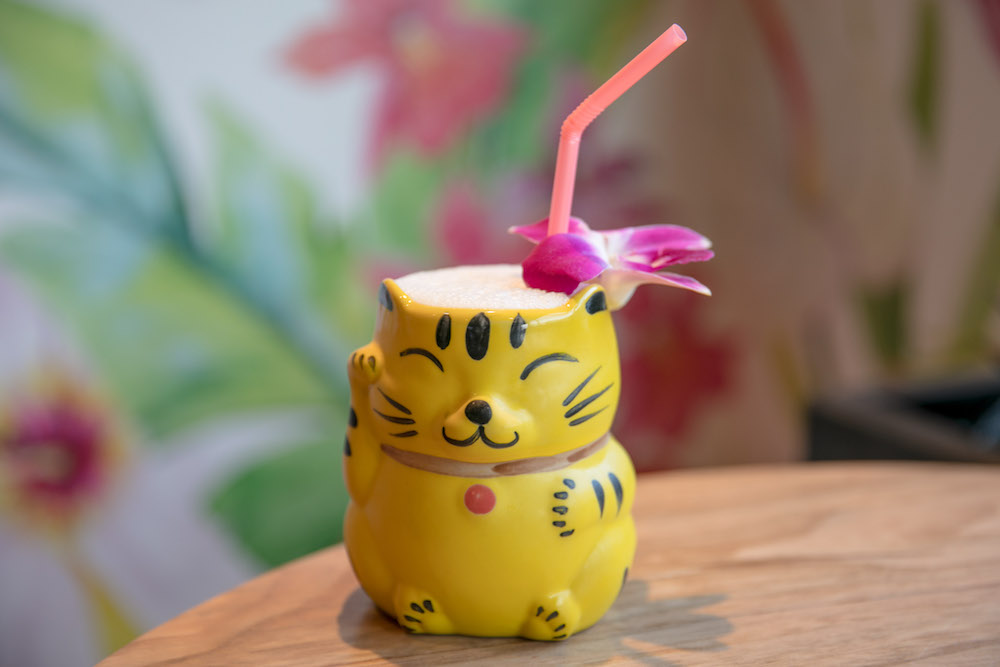 Life on Mars (Ponyboy, Oklahoma City, OK)
OKC's Ponyboy takes inspiration from S. E. Hinton's beloved novel (and the 1983 film), The Outsiders, written in Oklahoma. Marked by old timey wallpaper and family portraits, the chill bar rocks beers, $6 classic cocktails and boilermakers named after Outsider characters. Bar manager Ryan Goodman and team's easy drinking cocktails keep it fun, like Life on Mars, named after David Bowie's song and created by bartender Erin Heatly. Light and refreshing, the drink sips like spring with acid (citric, lactic and malic) and a sweet-and-sour profile from Grey Goose La Poire vodka, Pomp & Whimsy Gin Liqueur and a house lavender lychee syrup.
Life on Mars by bartender Erin Heatly
¾ oz. CLM Blend* (or substitute with ¾ oz. lemon juice)
½ oz. Lavender-Lychee Syrup**
1 ½ oz. Grey Goose La Poire Vodka
½ oz. Pomp & Whimsey Gin Liqueur
2 oz. soda water
Combine ingredients and do a short shake. Strain into ice-filled Collins glass. Top with soda water. Garnish with David Bowie lightning bolt peels (trim orange and lemon peels into lightning bolt shapes).
* – CLM Blend – 6% Citric- Lactic – Malic acid solution (recipe courtesy of Andon Whitehorn)
800 grams warm water
12 grams powdered citric acid (1.5% by weight)
12 grams powdered malic acid (1.5% by weight)
24 grams powdered lactic acd (3% by weight)
10 grams granulated sugar (1.25% by weight)
Combine all ingredients and stir to dissolve. Store refrigerated for up to 6 weeks. Works well as a 1:1 substitute for citrus juices.
** – Lavender-Lychee Syrup
16 oz. can of lychees in heavy syrup
5 oz. granulated sugar
5 grams dried lavender
(Provides roughly 10 oz. of syrup)
Drain syrup from can. Bring to a boil over medium heat and add dried lavender. Remove from heat and steep 10 minutes. Strain solids, add granulated sugar and stir to combine. Refrigerate and store. Will last at least 4 weeks.
Duck Fried Rice (The Up Room at The Robey, Chicago, IL)
It looks — and sounds — like a dish, but Duck Fried Rice is a drink. Head to the 13th floor of Chicago's The Robey hotel to The Up Room for twinkling city views, comfy sofas, soothing neutral and black tones and the Duck Fried Rice cocktail. Lift the lid off a little black bowl and breathe in aromatic notes of sesame-infused Aylesbury Duck Vodka and lemongrass-infused Ford's Gin. This base is kicked up with the fermented pineapple spice of Bitterman's Tepache Spiced Pineapple Liqueur.
Simmer Down (Bookmakers, Baltimore, MD)
Bookmakers Cocktail Club has been one of Baltimore's most advanced cocktail bars since opening in 2014. Sawyer Janney continues to draw cocktail geeks to the sleek, spacious bar marked by cathedral-esque arches. The Simmer Down cocktail features Wheatley Vodka from Buffalo Trace, given bittersweet turmeric and carrot notes from Don Ciccio and Figli Ambrosia aperitivo and a bright-tart kick from Giffard Passionfruit liqueur and acidified orange juice.
Jessica Rabbit (LSXO, Huntington Beach, CA)
Although intimate LSXO (hidden inside popular Bluegold) is in OC's Huntington Beach, it has LA roots in chef Tin Vuong's Little Sister restaurants. But LSXO is his sexiest and most inspired space, where chef Vuong's modern Vietnamese cooking shines in dishes like seasonal spring rolls (the Autumn roll is packed with sweet potato, jicama, egg, Chinese lap cheung sausage, sweet shrimp in a coconut peanut sauce). Pacific ocean, pier and palm tree views from the lofty space also make it special, paired with cocktails like the bright orange Jessica Rabbit. Its cucumber vodka base unfolds with genepy, fresh carrot juice, fresno chiles, Thai basil and yuzu citrus.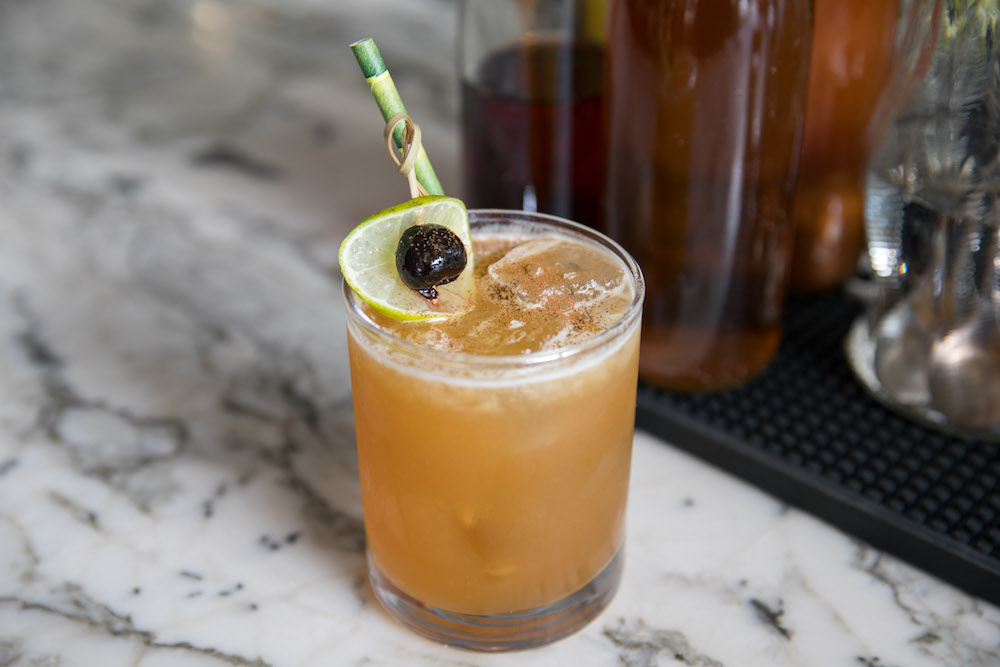 Champagne Cocktail (Bywater American Bistro, New Orleans, LA)
Bywater American Bistro is one of New Orleans' best newcomer restaurants in 2018, from lauded chef Nina Compton and Levi Raines. Housed in a former rice mill, the industrial chic is warmed by paintings, rugs, exposed brick and cobalt blue tiles. Try to resist rabbit curry or crab fat rice paired with a strong wine list shines and easy cocktails like the spring-to-summer breezy Champagne Cocktail. A bubbly balance of fruit and floral notes result from Mississippi's Cathead Honeysuckle Vodka, lemon and elderflower liqueur, going herbaceous and tart with fresh thyme and green strawberries.
Frost on Windowpane (Blue Hound Kitchen & Cocktails, Phoenix, AZ)
Blue Hound Kitchen & Cocktails remains a Phoenix cocktail go-to, alongside chef Dushyant Singh's meat-centric menu. Head bartender Phil Clark keeps cocktails fun and tight with unique ingredients like a house mountain dew shrub. His bar team crafts different drinks on the latest tropical-themed menu and Jimmy Pederson's Frost on Window Pane cools those scorching hot Arizona summers. A base of Absolut Elyx and Giffard Crème de Poire (pear liqueur) sings with a housemade pinot grigio syrup. A splash of lime, soda and fresh sage lighten up and balance the bold, spiced sweetness of the wine syrup and pear.
Honey Lavender Lemonade (Garage, Louisville, KY)
Follow the colliding cars in front of a former auto service garage to Garage Bar, a modern day Louisville staple in the hip NuLu 'hood. Chef Richard Sible's ultra-fresh salads, pizzas, house sausage and pepperoni accompany a tight wine, beer and cocktail list from head bartender Jeremy Salmon. On those open air warm days when the outdoor, astroturf-accented patio melds into the restaurant, drink their Honey Lavender Lemonade, now a Louisville classic. A mere $8, it's a crushable refresher of vodka, lemon, soda water and house-made honey lavender syrup.
PSF (Bar Arbolada, Oklahoma City, OK)
One of OKC's best bars since opening early 2018, Bar Arbolada is a sunny, chic yet chill space for Riley Marshall and Dustin Lancaster's balanced drinks combining their Oklahoma roots and LA restaurant/bar years with fun food (like a pot of pimento cheese or stuffed deep fried pork chops) from chef Tehra Thorp. PSF drinks like fall spice and a tropical summer combined with a vodka base enhanced by pumpkin cordial, spiced pie syrup, orgeat, lemon and aquafaba for silky texture.