Published by Where Traveler (my other Where articles here) in September 2019, my article on 6 top new Bay Area restaurants, from modern Thai to retro supperclub:
— Nari (Inspired Thai in Japantown)
— Selby's (Retro-Elegant Night Out in Atherton/Redwood City)
— Square Pie Guys (Detroit Pizza & Decadent Goodness in SoMa)
— Um.Ma (Hip Korean in Inner Sunset)
— Bac Lieu (Neighborhood Vietnamese in Outer Mission)
— Tselogs Van Ness (Affordable Filipino in the Mission)
Article here: www.wheretraveler.com/san-francisco/eat/top-6-new-bay-area-restaurants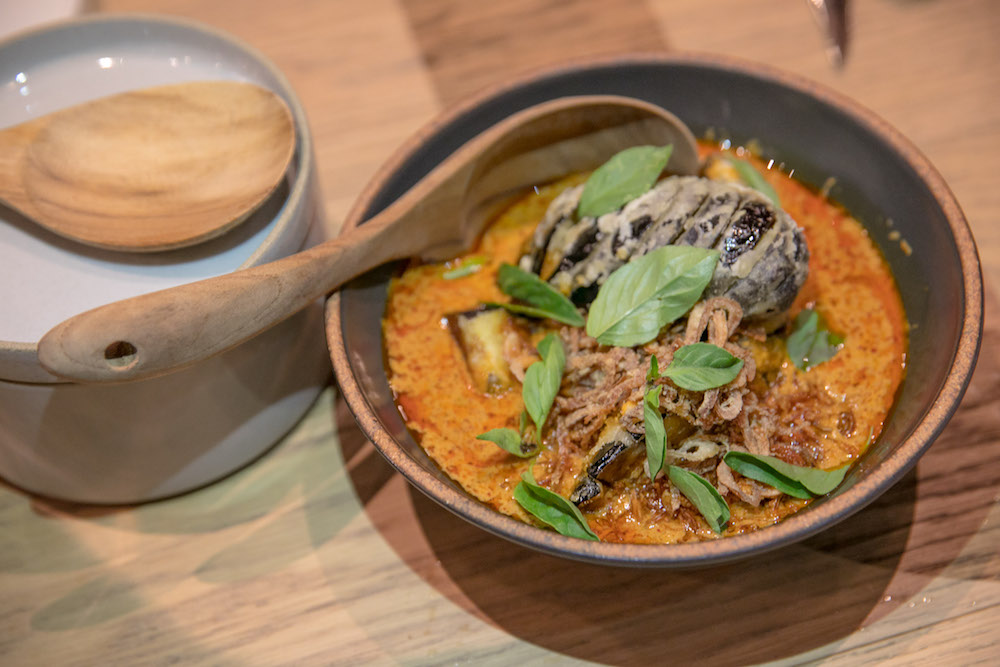 San Francisco is a city where new openings continue at a rate so steady, even those of us who spend most nights dining out, can't keep up. But if you want to know what's new, hot and worth visiting, we've got these six standouts from upscale to order-at-the-counter fast casual (including one Peninsula destination).  
Inspired Thai: Nari
It's a rare hands-on chef who has a Michelin star in two countries (without having a restaurant chain empire), but our own Pim Techamuanvivit does exactly that, splitting her time between SF and the more casual Kin Khao as well as upscale Nahm in Bangkok. Her August newcomer Nari (Thai for "women") hit SF's Japantown with style, greenery and natural light, designed by Lundberg Design (Mourad, Maum, Hard Water, Maum). The modern Thai menu —  with chef de cuisine Meghan Clark and bar manager Megan Daniel-Hoang — is pure Pim: bold and flavorful, showcasing NorCal bounty and innovation with pure Thai flavors. Her version of classic miang (betel leaves) shows this off, filling the leaves with stone fruit, coconut, lemongrass, cured trout roe, makrut lime and cashews. As at Kin Khao, shareable curries also shine, like a vibrant Gaeng Bumbai aubergine (eggplant) curry or juicy Gaeng Rawaeng (whole Cornish game hen in turmeric & lemongrass-scented rawaeng curry) served with pitch-perfect roti bread.
Retro-Elegant Night Out: Selbys, Atherton/Redwood City
The latest from chef Mark Sullivan and the Bacchus Management Group (of SF greats like The Saratoga and Spruce and Peninsula classics like The Village Pub), Selby's opened late July in Atherton. The two-floored space's swank olive-green and black vibe recalls old  Hollywood restaurants like Chasen's and Romanoff's or NYC's 21 Club. A brass martini cart (serving martinis tributing the legendary Duke's martini bar in London), Andrew Green's wine list of nearly 20,000 bottles (including rare Coravin by-the-glass selections) and the sleek marble bar exude decadence. Then there is chef Sullivan's cooked-to-perfection steaks (from prime Holstein cattle sourced exclusively for Selby's) and a divine braised rabbit vol-au-vent (puff pastry). Save room for a dessert of Stilton blue cheese "cheesecake" with strawberries in 15-year balsamic vinegar and black pepper streusel.
Detroit Pizza & Decadent Goodness: Square Pie Guys
It's worth the calories gained at Marc Schechter and Danny Stoller's new order-at-the-counter Detroit-style pizza haven, Square Pie Guys, open in July after their pop-up days at Vinyl on Divis. But it's not just Detroit pizza that rocks here (but don't miss the off-menu Spicy Ellen with their killer vodka sauce, or thesweet-spicy-savory Mean Green Sausage Machine pizza). The "Guys" also nail dry-fried Szechuan chicken wings and, you heard right, a cheeseburger salad laden with a double grass-fed patty.
Hip Korean: Um.Ma
The bright white and black space of Inner Sunset's new Um.Ma has greenery dripping down from high ceilings, playful artwork, young staff and an inviting back patio. A welcome change of pace, this was the hip Korean spot missing amid the hundreds of traditional Asian restaurants in the neighborhood. Some of the flavors still need a little help coming together, but a healthy brown rice is being used in kimchi fried rice, while bulgogi prime ribeye runs a tad sweet but is tender, quality beef.
Neighborhood Vietnamese: Bac Lieu
Open late June in Outer Mission, Bac Lieu takes the space of Lotus Garden Cuisine, housed there for 19 years. This family-run Vietnamese spot is bare bones but serves hearty portions authentically done, whether addictive banh khot (savory mini-shrimp rice flour and coconut milk "pancakes"), or an exemplary version of bánh xèo (a savory crepe stuffed with shrimp, pork, bean sprouts, onions and mung beans).
Affordable Filipino: Tselogs Van Ness
Tselogs now has three locations (one in Colma and another in the Tenderloin), but their newest hit the Mission in July. Decor is simple but tasteful and service sweet and effecient. It's an ideal take-out/home delivery option, too. Sisigsilog (chopped chicken in lemon, soy sauce, onion, jalapeno) is best ordered in-house as it arrives sizzling in a hot skillet. Filipino-style spaghetti — ground beef, tomato sauce, banana ketchup, slices of hot dog, and shredded cheddar cheese — may sound awful but it tastes like childhood: sheer comfort.