Less than 30 minutes drive from the city, Half Moon Bay has long been a charming excursion offering stunning Pacific vistas along Highway 1 and an idyllic small town both on Main Street and in the canyon.

I love wading through tide pools and seeing seals (go at low tide or you won't see a thing!) at nearby Fitzgerald Marine Preserve in Moss Beach; walking Main Street to check out chicks and bunnies for sale at Half Moon Bay Feed & Fuel; or checking out records, books and magazines in the "attic" of antique shop, Half to Have It. I make annual excursions through the canyon's fabulous pumpkin patches or Christmas tree groves.
LUNCH or DINNER:
Flying Fish Grill: This is my favorite place to eat in Half Moon Bay, kitschy though it may be. This colorful shack serves some darn great fish tacos and addictively good (if a little too small) cheesy crab bread. Quirky charm and good food all in one little roadside spot. I always leave satisfied.
Barbara's Fish Trap:
281 Capistrano Road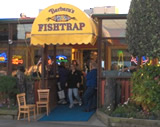 Princeton, CA 95970,  650-728-7049
Maybe not the best seafood you've ever tasted, but great fish and chips and a seaside vista make for a nostalgic, New England-style 'seaside shack' . Rather than braving long waits for the restaurant, I prefer to order from the "to go" hut next door and sit on the sandy rocks behind Barbara's with my fish and chips.
Sushi Main Street: When looking for something besides ever present, touristy seafood joints, this spot just off of Main Street is one unusual surprise. Small towns in general don't often have great sushi, but at reasonable prices in a Zen-like dining room (except for the roar of too many children), this place does it right.
DRINKS:
Moss Beach Distillery: Please believe me and don't ever go for the expensive, below average food… but do go through the restaurant to the big deck out back, sit on a rocking chair, snuggle under a comfy blanket (or bring your own if you don't want to use theirs) and order a plain 'ole cup of coffee or a Bloody Mary as you watch the waves roll in. I love to bring a good book and start my weekend off right in this special place, then take a walk on the dunes beyond (access from the parking lot).
Sam's Chowder House: Again, beware the high-priced, crappy food… despite appearances, don't be tempted to eat here. They got recent accolades from NBC but among other expensive, lackluster dishes, I had a lobster roll, and trust me, it's completely sub par and less fresh than others in SF. Accompanied by diner quality clam chowder, the high price tags really irk. But spectacular ocean views, fire pits and Adirondack chairs welcome you, begging you to sit awhile on the tiered patios out back… order some oysters, drinks and watch the sunset. Sometimes the view is enough to lure you in. But don't say I didn't warn you about the food.