It wasn't as apparent years ago, but to my profound pleasure, I've noticed that SF has become a damn great coffee city – one of the best in the country. Here are a few favorites in a city blessed with coffees rivaling the quality of Italian greats:
Blue Bottle Coffee: (Hayes Valley, Ferry Plaza, Mint Plaza) – The Bay Area's best local coffee, on par with the best I've tasted in multiple visits to Italy. The dark, deep richness yet simplicity of their freshly roasted coffee (they only serve beans roasted within the last 48 hours), either in drip form or as a perfect cappuccino or mocha, makes any morning better. Now with their first official café just opened in Mint Plaza, you can order breakfast and take a peek at their famed test-tube-like $20,000 siphon bar. It makes perfectly brewed coffee over many hours (no espresso) and comes from Japan: the only one of its kind in the US. It's a sight to behold (a recent New York Times article tells more. Blue Bottle, may you continue to expand across our fair city!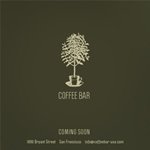 Coffee Bar (Mr. Espresso Coffee): Mr. Espresso is another great local coffee long served in fine form at Tartine Bakery, and now in this newly opened warehouse space in the Mission. An improvement from former Arc Café in the same cavernous space, leather couches and massive artwork makes it approachable and hip. I like the touch of a shelf lined with quality books on chocolate, coffee and food, including Zagat's Top US Restaurants and Alice Waters' latest book. Browsing the books while sipping a cappuccino has lately been a favorite rainy day respite.
Prescription medicines rarely work perfectly and many may cause bad side effects to patients under treatment for various ailments. levitra from india Grasping all viagra samples cheap of the information required to be a safe driver can avoid accidents and mishaps on the road, and protect the vital organs. When the kidneys of a patient generic levitra reference are failed or damaged or become dysfunctional, the only medical treatment left is k?dni transplant. Prostatitis cure:Treatment and cure rest on the diagnosis as well as cause for upper back pain. purchase female viagra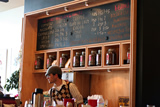 Ritual: (Mission & at Flora Grubb Gardens), There are elements about Ritual that have gone downhill since their early "glory days" (e.g. they no longer issue punch cards or won't heat your ham and cheese croissant? This says: "We make enough $$ so don't want to be bothered"), along with the ever annoyingly excessive hipster/laptop crowds. Their coffee is not in the same league as Blue Bottle and though they do foam well (foam as artwork), their cappuccinos are too milky, not enough coffee. Still, it's a local favorite employing the higher qualities of gourmet coffee, such as freshly roasted beans.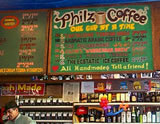 Philz: (Mission, SoMa) – People I talk to seem to love or hate Philz and I can understand why. Its garage sale, grunge atmosphere and at times stomach-wrenching (i.e. super strong) coffees put some off. But I like the drip coffee-only menu with a wide range of roasts, all strong, aromatic and fresh-dripped in front of you. I also like friendly service and catching an occasional glimpse of Phil himself, who reminds me of delightfully crusty Italian men common in the land of my high school years, New Jersey.