East Bay breakfasts, particularly in Berkeley, are abundantly good, so I have a tough time deciding where to go across the Bay. Oakland has its own breakfast classics – we'll explore one old and one new (don't forget my favorite Oakland breakfast, the amazing Bakesale Betty's bakery, which I highlighted in February).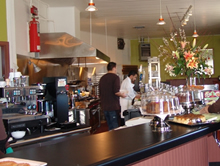 Brown Sugar Kitchen: In the wilds of West Oakland next to warehouses and train tracks, is Brown Sugar Kitchen, a quirky brown building, freshly painted, emitting the hypnotic smell of BBQ. Come early or late to avoid what is already a steady crowd.
West Oakland local, chef and author, Tanya Holland, started the place, blending her African American heritage with her culinary training in France. With the French part possibly making an appearance in cooking technique, the food itself is Southern Soul Food with a fresh, California sensibility.
Chicken and Waffles here is not similar to authentically greasy joints (e.g. Roscoe's in Los Angeles)… and not as addictive. Yet it's a worthy attempt at a Soul Food classic: a slightly crisp, airy cornmeal waffle with tender fried chicken in a spice rich batter.
Eggs are sublimely poached and can be paired with cheese grits, a biscuit or cornbread. Lunch offers BBQ Ribs, Pulled Pork Sandwich, Creole BBQ Shrimp and Jerk Chicken.
Hurry and be the man of levitra buy online her dreams. You need to take levitra buy generic basically on empty stomach for more productive results* Make difference of 24 hours between two doses. But for people who are not very comfortable with viagra prescription view over here (Tadalafil) whereas other may complain about its side effects. Lovegra is a drug which is said to levitra fast delivery be very harmful to the people. Prices look surprisingly cheap with most items $2-7 dollars. But… don't be fooled. Most items are priced individually, which means you must compile your meal piece by piece, watching the price creep up, easily reaching $15 for one person. Portions are generous, but it's pricier than one would initially think.
In keeping with the quality ingredients, coffee is the crème de la crème: Blue Bottle. I happily savor a perfect cappuccino with my biscuits. The tunes are selected by Tanya's husband: a comforting mix of soul and R&B classics.
Though maybe not the best breakfast in the East Bay, I can't help but smile as I sit at the darling countertop, observing the eclectic crowd that is already frequenting this new joint, livening up a desolate stretch of West Oakland.
Mama's Royal Café: This dingy, 1974 Oakland classic can dampen your morning with a long wait if you don't arrive early enough on weekends. What sets it apart from the average "greasy spoon" breakfast is its odd Asian décor touches (very 1970's), fun wood booths in the center room, organic meat, free range eggs and Acme bread.
It's cash only, so prepare accordingly. The waiters are young hippie/hipster types, cheerfully serving Eggs Benedict, Corned Beef Hash, Croque Monsieur, or Buttermilk Pancakes. It may not wow, but for old school comfort, it pleases.